Florence is one of our favorite cities in the world. The city is blooming with culture and culinary delights at every corner. However, being vegetarians, we had to do a lot of research before deciding on where to eat our meals during our 3 days in Florence. Hence, we have created this amazing list of restaurants to help you be a vegetarian in Florence.
From mouth-watering pasta dishes to delectable pizzas, we have scoured the city to bring you the top restaurants that cater to vegetarians. No more settling for plain salads or bland dishes! Our carefully curated list of vegetarian restaurants in Florence will have you indulging in the finest Italian cuisine while staying true to your vegetarian lifestyle.
At our recommended restaurants, you'll be spoilt for choice with an array of amazing vegetarian food in Florence, that are sure to satisfy your taste buds. Whether you're looking for a romantic dinner spot, craving some street food or wish to sit down for drinks with friends, we've got you covered.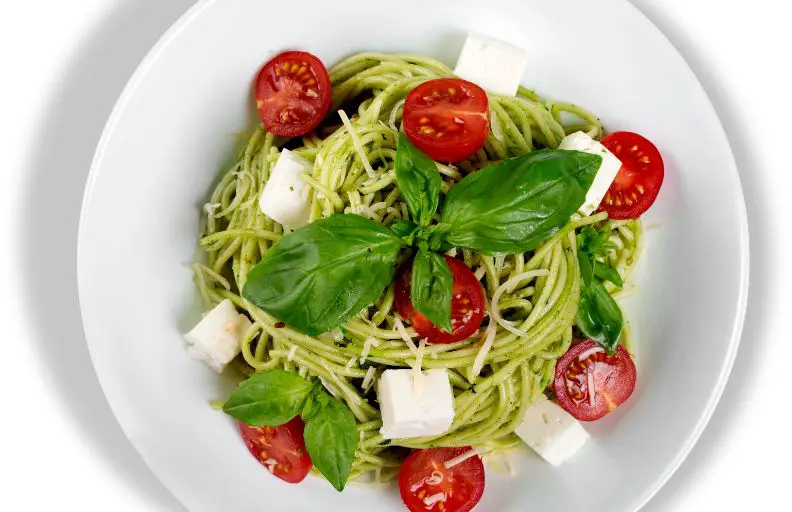 This article contains affiliate links. This means that we earn a small commission for purchases made through these links at no extra cost to you. Kindly read our full disclosure and privacy policy for more details.
Also, if you refer the following Italy travel blog posts, you can upgrade a good Italy trip to a GREAT Italian Adventure!
We've classified this list in three categories – Sit-down restaurants, Street food joints and aperitif spots & bars.
Vegetarian Food in Florence – Fine Dine Restaurants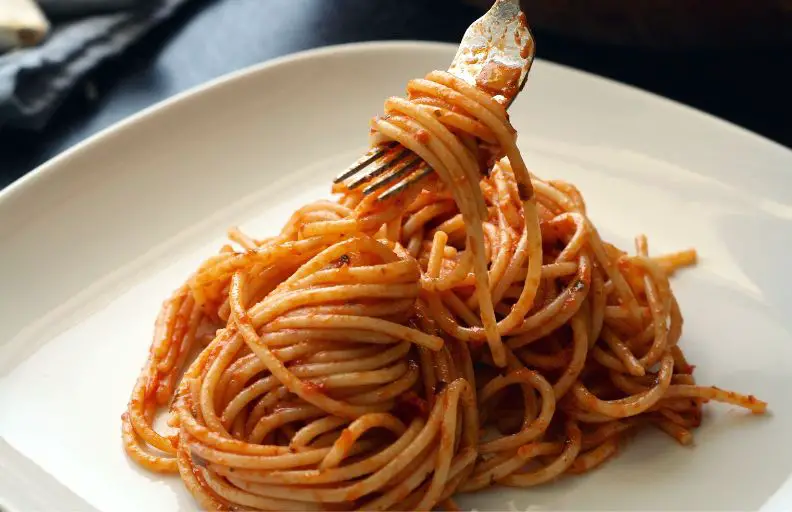 Florence is home to some of the best restaurants in Italy. However, making a reservation in one and then finding out that they don't have any vegetarian options can be a buzzkill. Hence, we have created this list fo great sit-down restaurants that serve vegetarian food in Florence.
Please note, it's important to make reservation at these restaurants in advance as walk-ins are mostly not entertained.
La Giostra
This restaurant located in the heart of Florence is known for its romantic ambiance, excellent wine list, and traditional Tuscan cuisine. They offer vegetarian options such as homemade pastas and salads. Our favorite vegetarian dish was the eggplant parmesan – it was perfectly cooked and perfectly flavorful. They have a whole page of vegetarian dishes in their menu.
Trattoria ZaZa
This charming restaurant is known for its authentic Tuscan cuisine and warm atmosphere. The menu offers a variety of vegetarian options such as pasta, pizza, and a couple of vegetable dishes. We absolutely loved the "Spaghetti allo Scarpariello" and the "Tagliatelle alla Boscaiola." Just let them know that you don't eat meat and they'll happily comply. This restaurant has some of the best service in Florence.
Osteria Santo Spirito
Located in the picturesque Santo Spirito neighborhood, this restaurant serves up traditional Florentine dishes with a modern twist. The service is fantastic and the staff is super friendly. The restaurant has vegetarian options in the entrees and first course. We highly recommend all the amazing pastas they serve in this place especially the Gnocchi with soft cheese and truffle oil. They also serve great aperitifs and cocktails!
Fuoco Matto
This cozy restaurant serves up delicious wood-fired pizzas and has a great selection of vegetarian options. If there's one place you need to have pizza in Florence, this is that place. We loved the 'Pizza Napulitana' – it's made with tomato, mozzarella cheese, capers. Olive oil and wild oregano. Their Ravioli stuffed with peppers and Cacio cheese with French butter in sage flavour and liquorice powder, is to die for.
Il Vegetariano
As the name suggests, this restaurant specializes in vegetarian cuisine. This restaurant is a must-visit for vegetarians as they only serve vegetarian and vegan dishes since its inception in 1981. It's always packed during lunch time but the service is fast and tables become available rather quickly. The menu keeps changing every day and serves some amazing dishes. We particularly loved the Lasagna and have been recommending it to everyone looking for vegetarian food in Florence.
Il Santo Bevitore
A restaurant and pub that serves a host of great beers but is also known for its excellent wine selection and creative Tuscan cuisine. The menu offers several vegetarian options, including our favorites 'Tagliatelle al Limone.' And Gnocchi di Patate al Pomodoro e Basilico. The staff is really friendly. You can ask them if any of the dishes in the menu can come without meat and they will happily oblige.
La Buchetta Food & Wine
This charming restaurant is tucked away in a quiet street in Florence's historic center. While the highlight of the restaurant is the famous Florentie steak, the menu offers a variety of vegetarian options, including the delicious 'Bruschetta con Mozzarella' – a classic Italian appetizer made with fresh tomatoes, basil and mozzarella cheese. There are great options in the pasta sections as well. Finish off the evening with their scrumptious cheesecake.
Il Santino
This rustic wine bar serves up a variety of delicious small plates, including several vegetarian options. We highly recommend the 'Bruschetta al Formaggio' – it's made with creamy, melted cheese and is the perfect snack to pair with a glass of wine. We're mentioning the bruschetta not only because it was delicious but it looked like a proper work of art!
Vegetarian Food in Florence: Street Food Joints
Lets face it, with all that sight-seeing, you're definitely going to need to catch a small bite before you can head on to the next destination in your Florence itinerary. This is where small food cards, street food vendors and panino shops come in.
A vast majority of street food in Florence are panini stalls selling meat between bread. However, there are a few that can serve us vegetarian in Florence. Read on, and you shall not only be able to experience Florence like a local but also save money on high-end dining!
All'Antico Vinaio
Located in the heart of Florence, this street food joint is known for its delicious sandwiches and friendly staff. You will always see a long line here, but don't worry, it'll move fast. They have only one vegetarian option though – a warm, crispy flatbread filled with roasted vegetables and spices.
Semel
This cozy bakery and café is located in the trendy Sant'Ambrogio neighborhood and has amazing vegetarian food, including delicious pastries and sandwiches. We highly recommend the 'Puccia Vegetariana' – a warm, toasted bread filled with fresh vegetables, mozzarella cheese and a honey dressing. Also amazing was this unusual panini we had with pear, cheese and truffle filling! What's more, you can wash down your sandwich with a delightfully cheap, €1 glass of wine!
Il Triangolo delle Bermude
This budget-friendly restaurant is tucked away in a quiet street in the city center and offers a variety of delicious vegetarian options. Our favorite dish was the 'Gnocchi alla Sorrentina' – soft, pillowy potato dumplings in a creamy tomato sauce. It also serves some delicious pizza and the gelato is the highlight of this budget-friendly joint. Also, the owner is an absolute delight to meet and interact with.
Gustapanino
This street food joint specializes in delicious paninis and is located near the historic Piazza della Signoria. We loved the 'Panino Vegetariano' – a hearty sandwich filled with fresh vegetables, mozzarella cheese, and pesto sauce. The place also serves some great pizza and pasta options that you can try.
Pino's Sandwiches
This popular sandwich shop is located in the bustling San Lorenzo market and it has a whole section of menu dedicated to vegetarian and one vegan option. Our favorite sandwich was the '4 cheese sandwich' – a warm, crispy flatbread filled with 4 cheeses – ricotta, mozzarella, fontina and smoked cheese, topped with pesto or truffle sauce. We also loved the Campagna sandwich which was filled wit ricotta, sun dried tomatoes and a delicious mushroom sauce.
Il Cernacchino
This rustic wine bar and restaurant is located in the charming Oltrarno neighborhood and is an amazing place to people watch. This place has very less tourists as it is not located in a touristic neighbourhood. The quaint little place serves some amazing vegetarian food. We highly recommend that you ask the staff if they have vegetarian lasagne on that day. If not, you can gorge on some delicious vegetarian paninis.
L'Antico Noè
This cozy sandwich shop is located near the Santa Croce Basilica and is famous for being visited by a lot of celebrities. It is a place often visited by more locals than tourists for some great €5 paninos. There's only one or two vegetarian friendly sandwiches but they're definitely worth it. They've recently started serving other food like pasta as well.
Panini Toscani
This budget-friendly sandwich shop is located near the Duomo. The best thing about this place is that they let you sample the ingredients – bread/meat/cheeses and then you tell them what you want in your sandwich. The staff speaks good English which is very convenient for us tourists. Just avoid the meats and select your veggies, bread and cheeses and you're good to go!
Vegetarian Food in Florence: Bars and Apperitivo Joints
You cannot visit Florence without enjoying the epic night life. Head to a great bar or apertivo joint to enjoy some wine and delicious food like the locals in Florence. You will be served a range of appetizers with your wine in almost all bars. The following are some of our favorites with great vegetarian food in Florence.
Zoe
This trendy bar is located near the Piazza del Duomo which makes it a convenient spot after sightseeing. It offers some great vegetarian starters, including delicious bruschetta and antipasti platters. We highly recommend the 'Crostini alla Salsiccia Vegetariana' – toasted bread topped with vegetarian sausage and melted cheese.
Volume
This cozy bar and café is located near the Santa Croce Basilica that serves some delicious cocktails and snacks. Aperitif options include a side of focaccia, olives, peanuts and dips  You can also goge on some delicious tomato and mozzarella croissant sandwiches after several rounds of amazing cocktails.
La Menagere
This trendy café and bar is located near the Piazza della Repubblica and offers a variety of vegetarian options, including delicious salads and appetizers. While the hero of this bar are the amazing cocktails, they also serve some great vegetarian friendly appetizers. Additionally, they have a flower shop and a home decor store, making it a unique dining experience.
Kitsch
This colorful bar and restaurant is located near the Sant'Ambrogio neighbourhood. What's unique about this restaurant is that once you order your drinks, you can go to the buffet and get your snacks and dinner. A majority of these items are vegetarian friendly like pasta, pizza and small bites. It's a great place for a budget outing with friends who like to eat a lot!
Signorvino
This elegant wine bar and restaurant is located near the Arno river and the Ponte Vecchio. It's a great wine shop that also offers great views and some delicious platters to go with your drink. There is a decent amount of vegetarian options available in the restaurant. We particularly loved the tomato and mozzarella bruschetta and the pasta with mushroom sauce.
Le Volpi e L'Uva
This charming wine bar and restaurant is located near the Ponte Santa Trinita and it has great outdoo seating for people watching along with a glass of wine. It is a great place for some delicious, and rather photogenic, cheese and charcuterie boards. Order your drinks, a platter of Italian or French cheeses, some savoury snacks and enjoy a beautiful evening Florence from the tables outside.
Sesto on Arno
We had to include this elegant rooftop bar, located near the Piazzale Michelangelo and offering breath-taking views of the city. We relaxed here after our amazing e-bike tour to Piazza Michelangelo. It serves great variety of unique cocktails and small bites. It's  great place to enjoy some drinks along with some bar food like chips and dips, slated nuts or cheeses. Don't count on having dinner here as the vegetarian options for dinner are very few and not recommended. But definitely go for the view, the drinks and the epic vibe!
In a Nutshell
As you can see, there are plenty of great restaurants that can make finding vegetarian food in Florence very easy. In the above list, we have concentrated on restaurants serving traditional Italian/Tuscan food. There are plenty of other restaurants that serve a variety of different cuisines that are more plant based. If nothing else, almost every pizzeria and pasta joint in Florence serves vegetarian dishes like Margherita pizza and Pasta Pomodoro. We guarantee that you shall never go hungry if you're looking for vegetarian food in Florence.