If you're planning a trip to Italy, one of the best ways to remember your trip is by bringing back a Italian souvenir. If you're wondering about what is a good souvenir from Italy, this blog post will answer all your questions.
We spent 2 weeks in Italy and our Italy souvenirs serve as a physical connection to the places we've visited and the memories we've made.
In this article, we will explore some of the most traditional Italian souvenirs, as well as unique things to buy in Italy by category. We will also provide tips on where to find the best souvenirs in Italy and how much you can expect to pay for each souvenir.
Also, if you refer the following Italy travel blog posts, you can upgrade a good Italy trip to a GREAT Italian Adventure!
This article contains affiliate links. This means that we earn a small commission for purchases made through these links at no extra cost to you. Kindly read our full disclosure and privacy policy for more details.
Without further ado, let's dive in.
Best Italy Souvenirs: Food
Food souvenirs are some of our most favorite kind of souvenirs, irrespective of the country we're visiting. They remind us of our time in the destination, don't clutter the house and are enjoyed by everyone home.
And with Italy, it gets a thousand times better! From speciality items like Balsamic vinegar and truffles to regular high quality items like dry pasta and olive oil, there's something for every budget. Here are some of our favorite Italy souvenirs that we love to eat!
Dry Pasta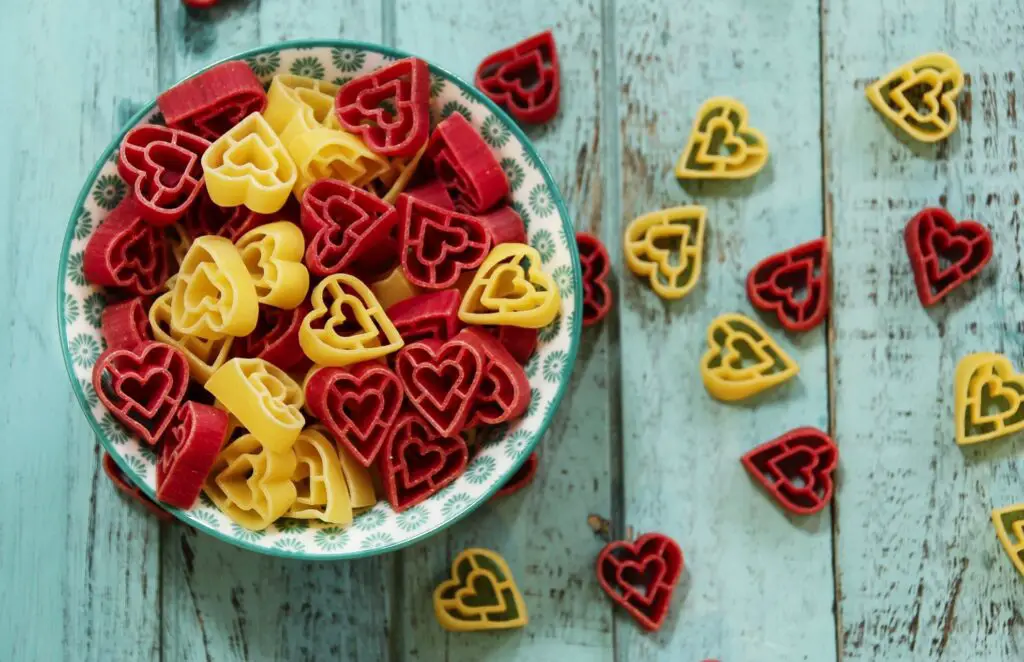 You would've already had your fill of freshly made pasta in the streets of Rome, Florence or Venice. Why not bring some of the best made pastas back from Italy?
You can get them in the regular of shapes and sizes, including spaghetti, penne, fusilli, and farfalle, among others. Alternatively, opt for the more weirdly shaped ones like the one shown above.
Where to Buy Pasta in Italy?
Supermarkets and speciality food stores are your best bet for getting some high quality pasta to take back home as souvenirs.
Some of our favorite places for buying artisanal pasta include:
Pasta Mancini in Le Marche: This family-owned pasta company produces high-quality, organic pasta made by traditional methods.
Pastificio dei Campi in Campania: This pasta maker uses only the highest-quality durum wheat and age-old techniques to produce a range of pasta shapes and sizes.
Antico Pastificio Umbro in Umbria: This pasta maker produces a range of high-quality pasta using traditional bronze dies for shaping and drying.
In case you're not visiting any of the above places, you can buy pasta from any supermarket in the major cities. Look for reputed brands like De Cecco and Barilla.
How Much to Expect to Pay
The price of dry pasta in Italy varies depending on the brand, quality, and quantity. A 500-gram package of artisanal pasta can cost anywhere from €2 to €10 or more.
What to Look for When Buying Dry Pasta
When buying dry pasta in Italy, look for pasta that is made from high-quality durum wheat semolina and has a rough surface texture. This texture allows the pasta to hold onto sauce better and creates a more satisfying mouthfeel. Additionally, consider trying different shapes and sizes of pasta, as each shape is designed to pair with different types of sauce.
Olive oil
Olive oil is special because it is a fundamental ingredient in Italian cuisine and is a source of pride for many Italian producers.
Olive oil is produced in all major parts of Italy by large as well as small producers. We recommend getting a bottle of high-quality Italian olive oil as a souvenir to add authentic flavour and nostalgia about your trip to Italy in your cooking!
Best Place to buy Olive Oil in Italy
You can find Olive Oil in supermarkets, specialty food stores, and local markets throughout Italy, but some of the best places to find high-quality, artisanal olive oil include:
Frantoio Franci in Tuscany: This olive oil producer uses only the highest-quality olives and traditional methods to produce a range of award-winning olive oils.
Azienda Agricola Mandranova in Sicily: This family-owned farm produces a range of high-quality, extra-virgin olive oils using conventional practices.
Frantoio Muraglia in Puglia: This olive oil producer uses a combination of traditional and modern techniques to produce a range of unique and flavorful olive oils.
How Much to Expect to Pay
The price of olive oil in Italy varies depending on the brand, quality, and quantity. A 500ml bottle of high-quality, extra-virgin olive oil shall cost you anywhere from €10 to €30 or more.
What to Look for When Buying Olive Oil
When buying olive oil in Italy, look for extra-virgin olive oil, which is made using only mechanical means and has no chemicals or solvents added. Additionally, consider looking for olive oil that is labeled as DOP (Denominazione di Origine Protetta) or IGP (Indicazione Geografica Protetta), which are designations that certify the oil's origin and quality.
Truffles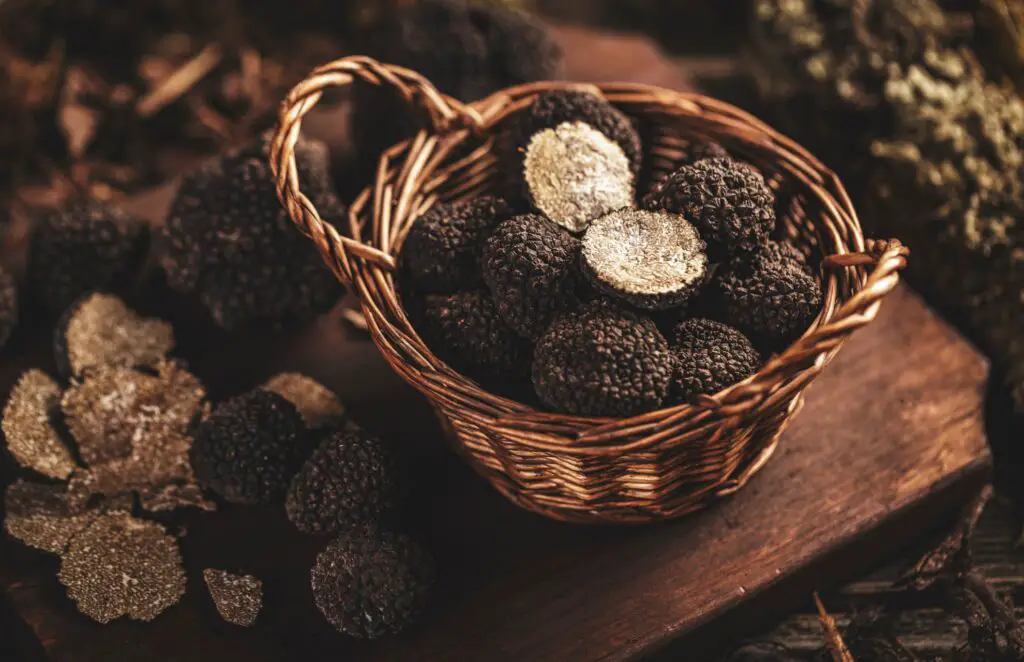 Truffles are a rare and luxurious ingredient that add a unique and intense flavor to dishes. The aroma and earthy flavour of truffles make them a prized ingredient in high-end cuisine, and you can use them in dishes such as pasta, risotto, and eggs.
Italy is the where some of the best truffles in the world are imported from.
Bringing home a small amount of truffle from Italy allows you to add a touch of luxury and sophistication to your cooking, and to experience the unique and unforgettable flavor of this prized ingredient.
Where to Buy Truffles in Italy
Truffles can be found throughout Italy, but some of the best places to find them include:
Piedmont: A region in north-western Italy, known for its white truffles, which are considered some of the finest in the world.
Umbria: This region in central Italy is known for its black truffles, which are highly prized for their intense flavor and aroma.
Tuscany: This region in central Italy is known for its black truffles, which are often used in traditional Tuscan dishes.
If you're not visiting one of the above locations, Truffles can be found at local markets, specialty food shops, and truffle festivals in all major cities in Italy.
However, please note that they can be quite expensive, especially the rare white truffles, so be prepared to spend a significant amount of money for a small amount of truffle if you're planning to buy them as your Italian Souvenir.
How Much to Expect to Pay
Not gonna lie to you, truffles are an expensive affair and it's pretty evident why they're considered an item of luxury.
We found that the rarer White truffles, can cost upwards of €3,000 per kilogram, while black truffles are generally less expensive, costing between €400 to €800 per kilogram.
Fresh truffles on the other hand, are typically sold in smaller units by weight, and prices can range from €30 to €150 per 100 grams.
When buying truffles in Italy, look for fresh truffles that are firm and aromatic. There should be no signs of decay or mold. Store your fresh truffles in a cool, dry place and use them within a few days.
Please be aware that there might be strict rules about bringing in truffles to your home country. Kindly check the rules before getting truffles from Italy. A friend of ours spent €200 euros on truffles only to be seized by the local customs unit.
Truffle Oil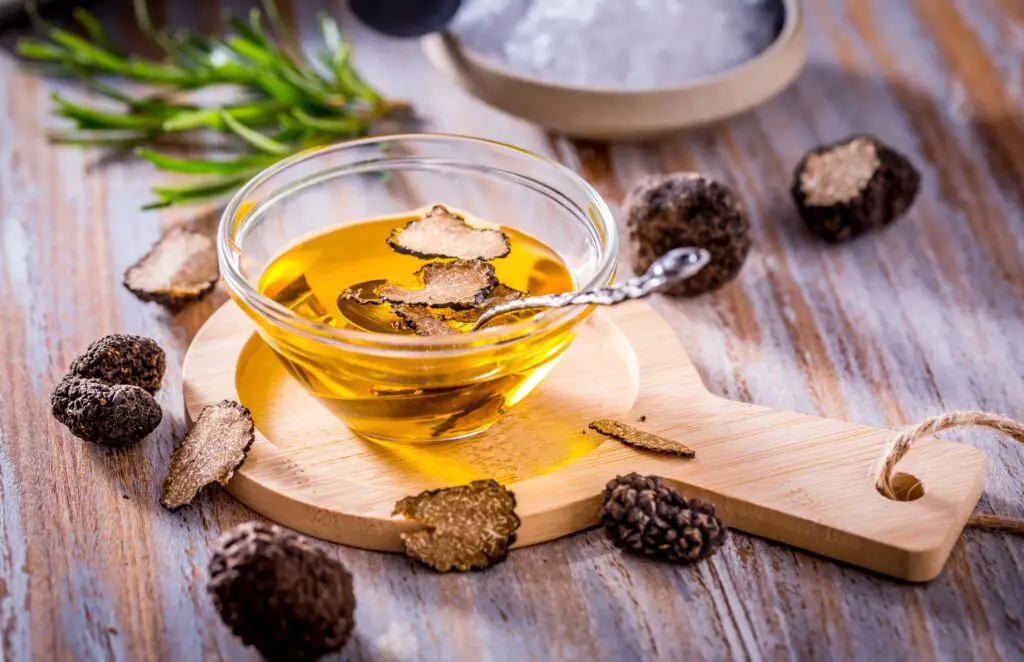 IF Truffles are a bit too expensive for you, consider bringing in a bottle of Italian truffle oil. While truffles are an expensive ingredient, truffle oil allows you to add the flavor of truffles to their dishes without the high cost. You can use Truffle oil in a variety of dishes, including pasta, risotto, salads, and roasted vegetables.
While buying Truffle oil, check the ingredients and avoid the ones that are made with synthetic truffle flavoring or that contain artificial ingredients.
Where to buy Truffle Oil in Italy
Truffle oil is widely available in specialty food stores and markets in all major Italian cities. It is particularly popular in regions where truffles are harvested, such as Umbria, Tuscany, and Piedmont.
Some of our favorite shops to buy high-quality truffle oil in Italy include:
Enoteca Pinchiorri in Florence: A wine shop and restaurant selling a wide selection of truffle oils and other gourmet food products.
Tartufi Morra in Alba: A famous truffle shop in the Piedmont region that offers a variety of truffle oils, as well as fresh truffles and other truffle products like truffle salt and truffle butter.
Enoteca Vanni in Siena: This wine shop and deli stocks a variety of high-quality truffle oils from the region of Siena.
How Much to Expect to Pay
The price of truffle oil in Italy varies depending on the quality and quantity of truffles used. A small bottle of truffle oil can cost you as little as €10, while a larger bottle of high-quality truffle oil shall sat you back by €50 or more.
💡Pro Tip: When it comes to using truffle oil in cooking, know that a little goes a long way in adding flavor to dishes. Hence, use it sparingly to preserve its charm and uniqueness.
Balsamic Vinegar
Another expensive Italian souvenir in a bottle.
Balsamic vinegar is a dark, sweet, and tangy vinegar that originates from the Modena and Reggio Emilia regions of Italy. It is made by cooking down grape must (freshly crushed grape juice with seeds, stems, and skins) and then aging it in wooden barrels for a minimum of 12 years.
By Bringing home a bottle of high-quality Italian balsamic vinegar, you can add the authentic flavor of Italian cuisine to your dishes and impress your friends and family with a touch of luxury.
When buying balsamic vinegar in Italy, look for traditional, aged balsamic vinegar that is made using only grape must and has no added sugars or thickeners. Additionally, consider looking for balsamic vinegar that is labeled as DOP (Denominazione di Origine Protetta), which is a designation that certifies the vinegar's origin and quality.
Where to buy Balsamic Vinegar in Italy
Some of the best places to find this delicious condiment include:
Acetaia di Giorgio in Modena: An award winning producer of Balsamic vinegar, who has been producing vinegar for over 100 years using traditional methods!
La Vecchia Dispensa in Reggio Emilia: This producer is more than 100 years old, and their vinegar is aged in wooden barrels for up to 25 years.
Antica Acetaia Cavedoni in Modena: This producer makes balsamic vinegar using age-old practices, and they age their vinegar in wooden barrels for up to 25 years.
How Much to Expect to Pay
The price of balsamic vinegar in Italy varies depending on the brand, quality, and age. A small bottle of high-quality, traditional balsamic vinegar can cost anywhere from €20 to €100 or more.
Pecorino Romano Cheese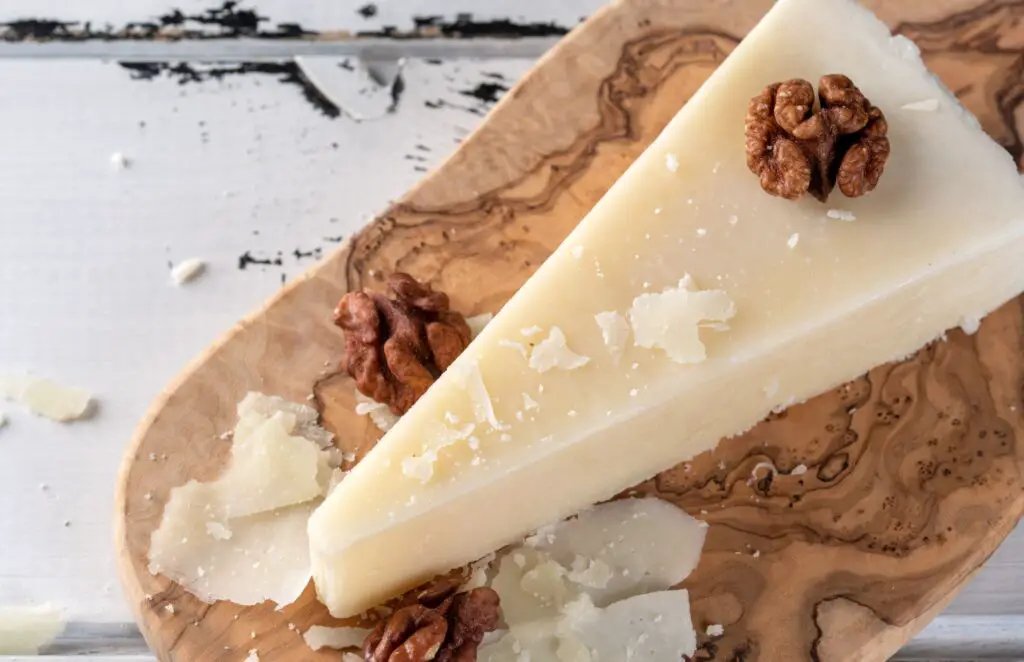 Pecorino Romano cheese is a famous hard, salty cheese made from sheep's milk. It is one of the oldest cheeses in Italy, dating back to ancient Roman times.
It also has a protected designation of origin (PDO) status, which means that it can only be produced in specific regions of Italy, including Lazio, Sardinia, and parts of Tuscany. This PDO label is an excellent way to check the authenticity when buying this cheese.
You should also consider the age of the cheese, as younger Pecorino Romano will have a milder flavor, while older cheese will be stronger and saltier.
Once you've brought it back from Italy, it is best to store Pecorino Romano cheese in the refrigerator wrapped in parchment paper or a cheese wrap to prevent it from drying out.
Where to buy Pecorino Romano Cheese in Italy?
In Rome, you can find high-quality Pecorino Romano cheese at Volpetti, a family-run delicatessen that has been operating for over 40 years.
In Sardinia, visit Caseificio Pirodda in Nuoro to sample their artisanal Pecorino Romano.
How Much You Can Expect to Pay for Pecorino Romano Cheese
The price of Pecorino Romano cheese can vary depending on the quality and where you buy it from. Expect to pay anywhere between €20-€25 per kilogram. Artisanal and aged varieties may cost more.
Limoncello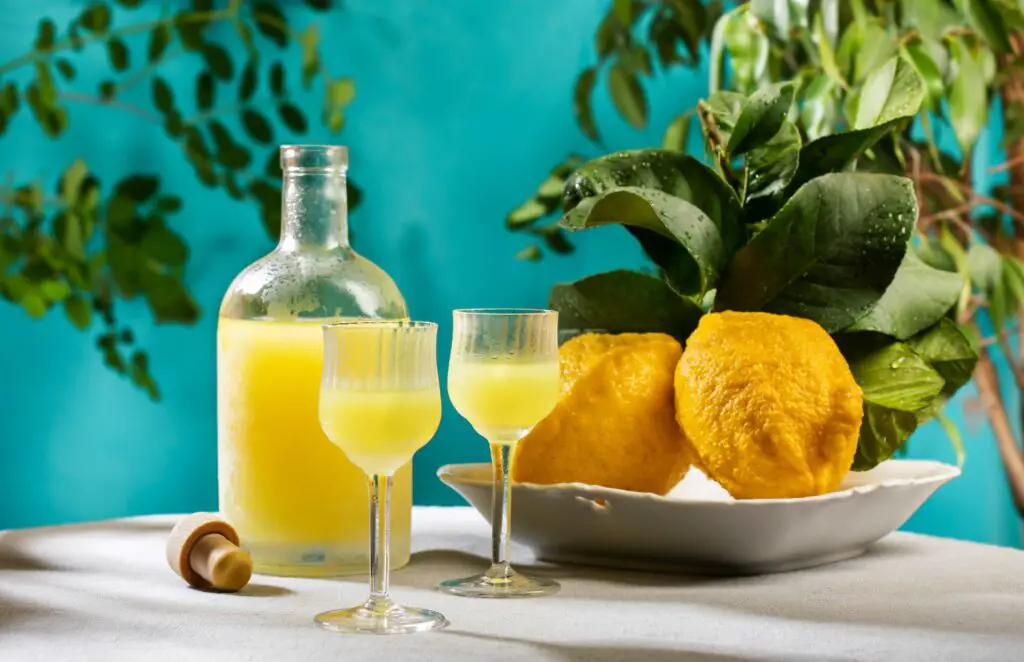 Limoncello is a lemon liqueur that is made in Italy, particularly in the Southern region. It has a sweet and tangy flavor as it is made from lemons.
We absolutely loved it and brought it home to serve at our homecoming party with friends. It is a popular Italian souvenir, and it is often served as an after-dinner digestif or added to cocktails for a refreshing twist.
When purchasing Limoncello, look for a bottle that is labeled "IGP," which stands for Indicazione Geografica Protetta (Protected Geographical Indication). This label guarantees that the limoncello is made with lemons from the designated area and is of high quality. Additionaly, remember that Limoncello has a pretty high alcohol content (usually around 30%), so it may not be suitable for everyone.
Where to buy Limoncello in Italy?
The Amalfi Coast is famous for its production of limoncello, and you can find it in small shops and markets in towns such as Sorrento and Positano. The island of Capri is also known for its limoncello production. We bought ours from the Russo Liquori store in Sorrento.
How much you can expect to pay for Limoncello?
A small 100ml bottle shall set you back about €5-€10, while a larger 500ml bottle can cost up to €30 or more depending on where you buy it from.
Italian Wines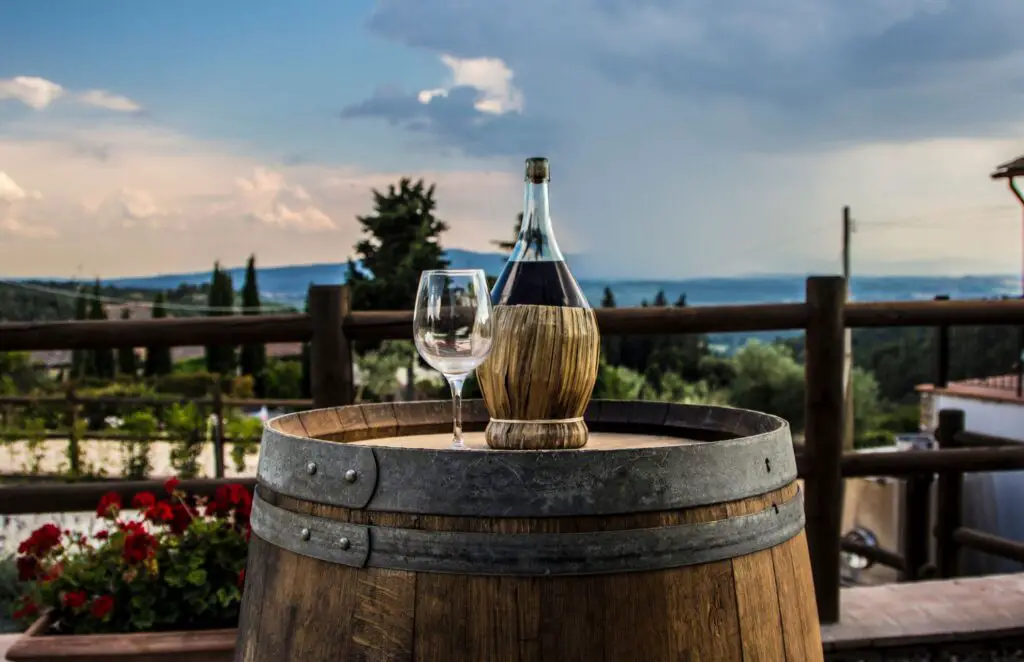 Italian wine is renowned all across the world and the region of Chianti Tuscany produces some of our most favorite wines.
From rich and bold reds to crisp and refreshing whites, Italy has a wine for every palate. Italian wine is the perfect souvenir to take home from Italy for yourself, and as a gift for family and friends as well!
When buying Italian wine, it's important that you know the region, the grape varietal, and the vintage. Each region in Italy has its own unique wine-making traditions, and some of the most popular Italian wines include Chianti, Barolo, Amarone, and Prosecco.
Be sure to ask for recommendations and advice from the experts, and don't be afraid to try something new.
Best Place to Buy Wine in Italy?
The best places to buy Italian wine are the enotecas or wine shops, which specialize in Italian wines. Many enotecas offer wine tastings and expert advice on selecting the right wine. Explore the shop, see which wine suits your palate and also ask the attendant to suggest the best pairings that go with your wine.
How much do Italian wines cost?
Some of the most prestigious Italian wines can cost hundreds or even thousands of euros, while more affordable options can be found for under 20 euros. A fine quality bottle of Italian wine can cost anywhere between 20 and 50 euros. And we even had a chance to have super market wine that cost below €10!
Some of the best Italian wines to bring back from Italy as souvenirs include:
Chianti Classico
Barolo
Brunello di Montalcino
Amarone della Valpolicella
Prosecco
Moscato d'Asti
Vermentino
Nero d'Avola
Aglianico
Sangiovese
Best Italy Souvenirs: Clothing and Fashion
Italy, along with France, is the fashion capital of the world. There's a reason why all major fashion brands and designers of repute are Italian!
What you might find in Italy, shall either not be available or will come a bit too late in our home country. It's better to stay ahead of the curve and incorporate some items in your wardrobe, depending on your budget.
Leather Goods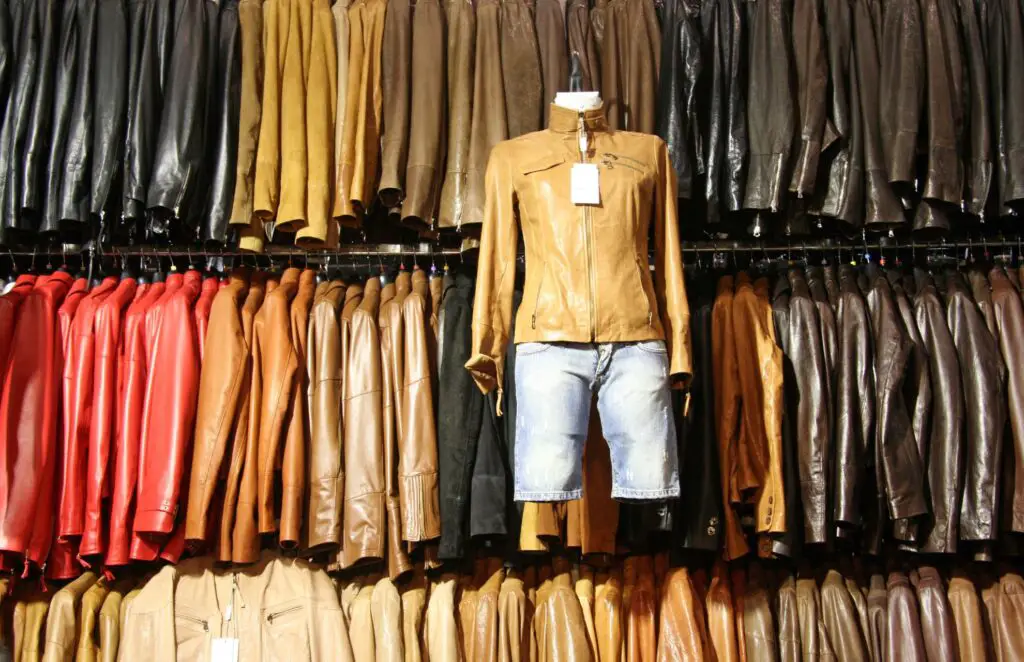 You have definitely heard terms like Italian leather or Italian shoes in the same sentence as luxury. That's because Italy produces some of the finest leather in the world. Bringing home some leather goods for your family or splurging on a leather jacket or bag for yourself is an amazing souvenir from Italy.
💡Pro Tip: When you buy any kind of leather, it should feel soft and supple to the touch. Check the stitching and construction of the item to ensure that it is well-made and durable.
It's also important to be aware of counterfeit leather goods, which are unfortunately common in tourist areas. To avoid buying a fake item, shop at reputable stores and brands, and avoid purchasing from street vendors or unauthorized sellers.
Where to buy leather goods in Italy?
The best places to find leather goods in Italy are in the major cities, especially Florence and Milan. Florence is particularly known for its leather markets and shops, such as the San Lorenzo Market and the Mercato Nuovo.
In Rome, head to the Via del Corso or the Campo de' Fiori markets to shop for exquisite leather goods. If you're visiting Naples, check out the San Gregorio Armeno market or the shops along Via Toledo. For buying leather in Venice, visit the Calle del Fabbri or the Mercerie shops.
We've experienced that leather bags and leather jackets are items that offer the maximum value as a leather souvenir from Italy.
How Much is Leather Jacket in Italy?
A mass-produced leather jacket in San Lorenzo market, shall cost you around €150. The quality is acceptable especially considering the price, esp. if you're on a budget. However, a leather jacket (that feels like butter) from one of the boutique stores will cost you somewhere between €350 to €500.
When shopping for leather goods, we have observed that the price often reflects the quality of the leather and the craftsmanship. But we believe that it's better to spend once on an item that lasts you a lifetime than a Chinese-made cheaper version that lasts hardly a year.
Silk Scarves
Silk scarves are a timeless Italian souvenir that exude luxury and elegance. Italy has been producing silk ever since the 12th century. Why not buy a beautiful Silk scarf as the perfect gift for your loved ones, or as a personal accessory to add to your wardrobe?
Where to Find Silk Scarves in Italy?
The best place to find silk scarves in Italy is in the cities of Florence and Como. Florence is known for its artisanal workshops and stores that offer exquisite silk scarves, while Como is home to some of the finest silk producers in the world.
Some of the best stores to buy silk scarves in Florence include:
La Rinascente: A high-end department store located in Piazza della Repubblica that offers a wide range of silk scarves from well-known Italian brands.
Tasselli Cashmere: Situated near the Ponte Vecchio, Tasselli Cashmere is a boutique store that offers beautiful silk scarves made in Italy.
Antico Setificio Fiorentino: Established in 1786, Antico Setificio Fiorentino is one of the oldest silk factories in Florence. The factory has a museum that showcases the history of silk production in Florence, and also sells beautiful silk scarves.
The best places to buy Silk Scarves in Come include:
Mantero: Mantero is one of the most renowned silk manufacturers in Como, and offers a wide range of high-quality silk scarves.
Lario 1898: Located in the heart of Como, Lario 1898 is a family-run business that produces luxurious silk scarves using traditional techniques.
How Much is a Silk Scarf in Italy?
You can expect to pay between €50 to €200 for a high-quality silk scarf in one of the reputed stores of Italy. The price varies greatly depending on the quality, brand, and design.
Italian Gold Jewelry
Italian gold jewelry is famous throughout the world for its superior quality and exquisite craftsmanship. From elegant necklaces and bracelets to stylish rings and earrings, Italian gold jewelry is a popular souvenir choice for those looking to take a piece of Italy home with them.
When purchasing Italian gold jewelry, it's important to look for the "750" or "18K" hallmark to ensure you're getting real Italian gold.
Check the rules for bringing in gold inside your home country before making such a huge investment.
Best Place to buy Italian Gold Jewelry in Italy
The best place to find high-quality pieces is in the historic jewelry district in Florence, specifically along the Ponte Vecchio bridge. You'll find a variety of shops with unique pieces, from the most traditional to modern designs.
How Much You Can Expect to Pay for Gold Jewelry in Italy?
The price of Italian gold jewelry varies depending on the piece and the quality of the gold. You can find more affordable options with lower karats of gold, such as 14K, but if you're looking for the highest quality gold, it can be quite expensive.
Please note that in Italy, expect to pay a premium for craftsmanship and quality. Prices range from around 100€ for a simple gold ring to thousands of euros for a more intricate piece.
Italian Perfume
 Italy has a long history of perfume-making, with some of the oldest perfume houses in the world located in Florence. A bottle of Italian perfume is hence, a pretty good thing to buy in Italy.
Italy is known for its citrus-based fragrances, as well as its floral and spicy scents.
Please note that some perfume shops may sell imitation or low-quality perfumes, so it's imperative to shop from a reputable and established store.
Where to Find Italian Perfume?
Florence is particularly famous for its perfume shops, with many of the oldest and most prestigious perfume houses located there, such as Santa Maria Novella and Aquaflor. In addition, Rome and Venice also have a variety of perfume shops and boutiques.
How Much Does an Italian Perfume cost?
Some of the most prestigious perfume houses, such as Santa Maria Novella, can be quite expensive, with prices starting at around 50 euros for a small bottle. However, there are also many smaller, artisanal perfume houses that offer unique and affordable options.
Be aware of airline regulations on liquids and consider purchasing a smaller bottle or a travel-sized spray.
Best Italy Souvenirs: Home Décor Items
If you're planning to make a long term commitment to your penchant for all things Italia, invest in an amazing home décor souvenir.
These make for excellent conversation starters when you have guests over or add an element of Italian elegance and culture to your home.
We've listed some of our favorite souvenirs below.
Murano Glass
Murano glass is a world-renowned glassmaking tradition that originated in the small island of Murano, located just off the coast of Venice. The glassmaking tradition has been passed down through generations of artisans, and the glass produced in Murano is known for its vibrant colors and intricate designs.
Where buy Murano Glass in Italy?
 The best place to find Murano glass is, of course, in Murano itself. You can take a boat tour from Venice to the island of Murano and visit the glass factories to watch the artisans at work. We recommend that you buy it directly from the factory store to get the best deal.
Venice also has many stores selling Murano glass souvenirs, but most of them are tourist traps selling cheaper replicas of Murano glass.
Look for the "Vetro Murano Artistico" trademark, which ensures that the glass was made in Murano and by skilled artisans.
How much would Murano glass cost in Italy?
You can find small, simple pieces like keychains and pendants for a few euros, while larger and more intricate pieces like vases and sculptures can cost hundreds or even thousands of euros.
Finally, keep in mind that Murano glass is delicate. Hence, if you plan on purchasing a larger piece, it's better to have it shipped home rather than carrying it with you on the plane.
Mocha Pots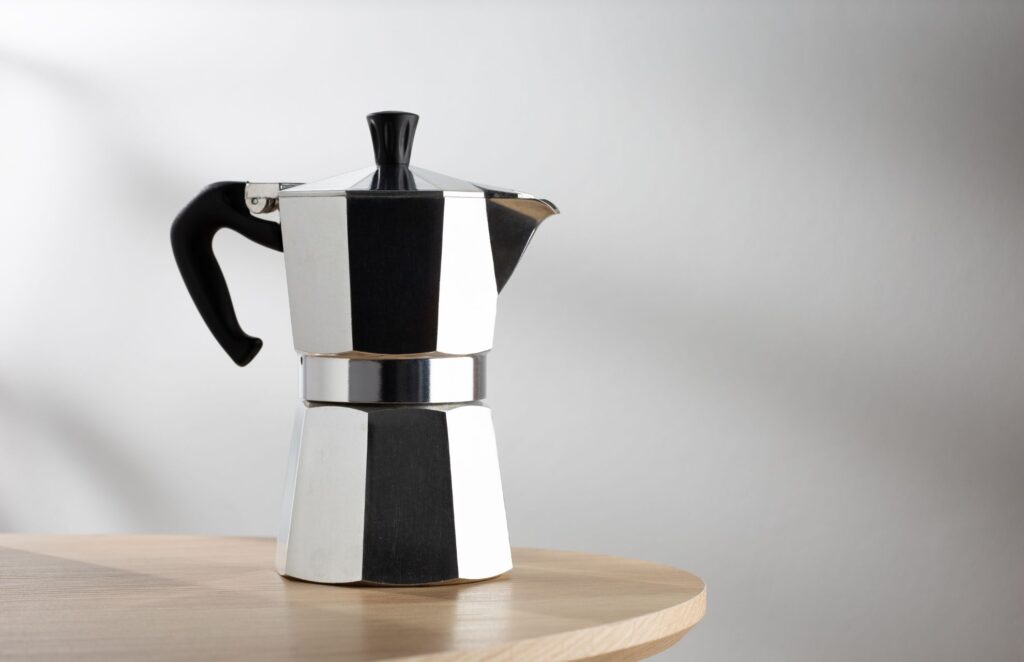 If you're a coffee lover and enjoy Italian coffee, Mocha pots are must buy Italian souvenir for you. These are stovetop espresso makers and a traditional Italian method of brewing espresso. They are known to brew a rich, flavorful coffee with a thick crema layer.
They come in a variety of sizes ranging from 1 – 12 cups. Be sure to learn the right way to use a Mocha cup, especially the correct proportion of coffee and water, to make the most of it.
Where to buy Mocha Pots in Italy?
Mocha pots can be found in a variety of sizes and styles at all major home goods stores and kitchenware shops throughout Italy. However, the most popular brands are Bialetti and Alessi, both of which have their flagship stores in Milan.
How Much is a Mocha Pot in Italy?
The price of a Mocha pot can vary depending on the brand, size, and materials used. A basic model from Bialetti can be found for around 20-30 euros, while more high-end options from Alessi can cost upwards of 100 euros.
Espresso Cups
Now that you've already created your coffee in a Mocha pot, it's best served in an Italian Espresso cup. These espresso cups are designed to enhance the experience of enjoying this strong and flavorful coffee.
They make a great souvenir to bring home and remind you of your trip to Italy, as they are a functional item that can be used and enjoyed for years to come.
💡Pro Tip: Look for cups that have a thick rim to retain heat, and a wide base to hold the crema (the creamy layer that forms on top of the espresso).
Where to buy Espresso Cups in Italy?
The best places to find unique and high-quality espresso cups include:
Illy Caffè in Trieste: This coffee shop and roastery offers a wide selection of espresso cups, including their signature Illy-branded cups.
Museo delle Tazze in Florence: This museum and shop specializes in cups of all types, including a variety of espresso cups.
La Bottega del Caffè in Rome: One of our favorite coffee roasters in Italy that also sells espresso cup sets.
How much do Espresso Cups Cost?
A set of two or four espresso cups can cost anywhere from €10 to €50 or more, depending on the quality and brand. The price of espresso cups in Italy varies depending on the material, size, and design of the cup.
Burano Lace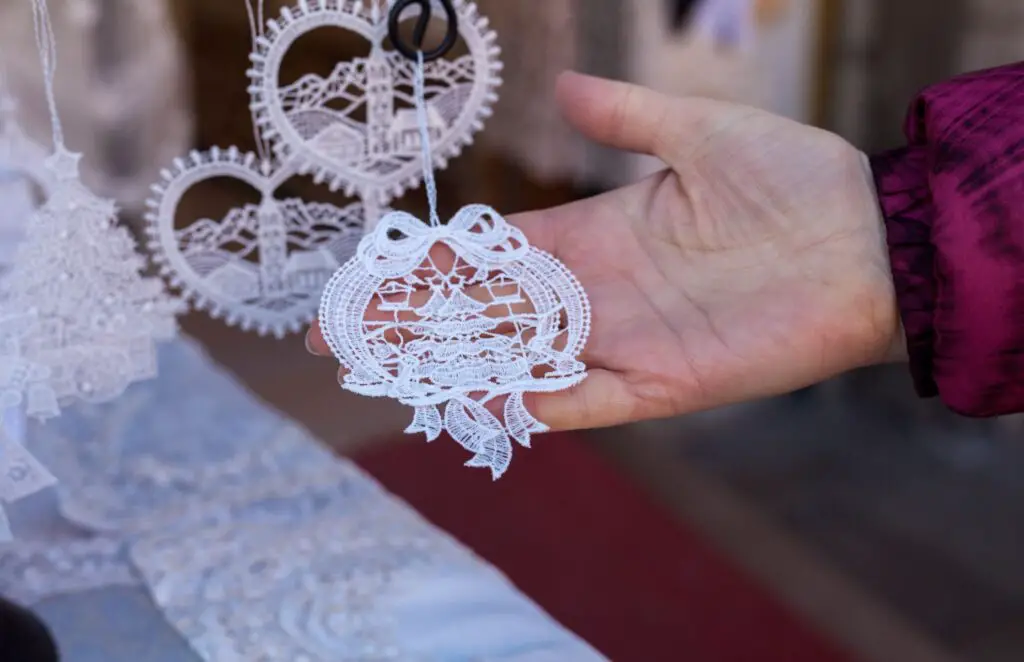 Burano lace is a delicate, handmade lace that originated on the island of Burano, near Venice. It is made using a needle and thread, and the intricate designs and patterns can take days or even weeks to create.
When purchasing Burano lace, it's important to ensure that the piece is authentic and handmade. Look for a label or tag indicating that the lace was made on Burano. If you don't find a tag, ask the shop owner or artisan about the creation process to ensure that the piece is truly handmade.
Handle and pack the lace with care, as it is delicate and can easily become damaged or tangled in your luggage.
Where to buy Burano Lace in Italy?
Burano lace can be found in specialty shops and boutiques throughout Venice and on the island of Burano itself. There are several shops and workshops on Burano where visitors can watch artisans at work and purchase handmade lace directly from them.
How Much does Burano Lace cost?
For small items such as bookmarks or coasters expect to pay around 20-30 euros, while larger pieces such as tablecloths or bedspreads can range into several hundred euros.
Venetian Masks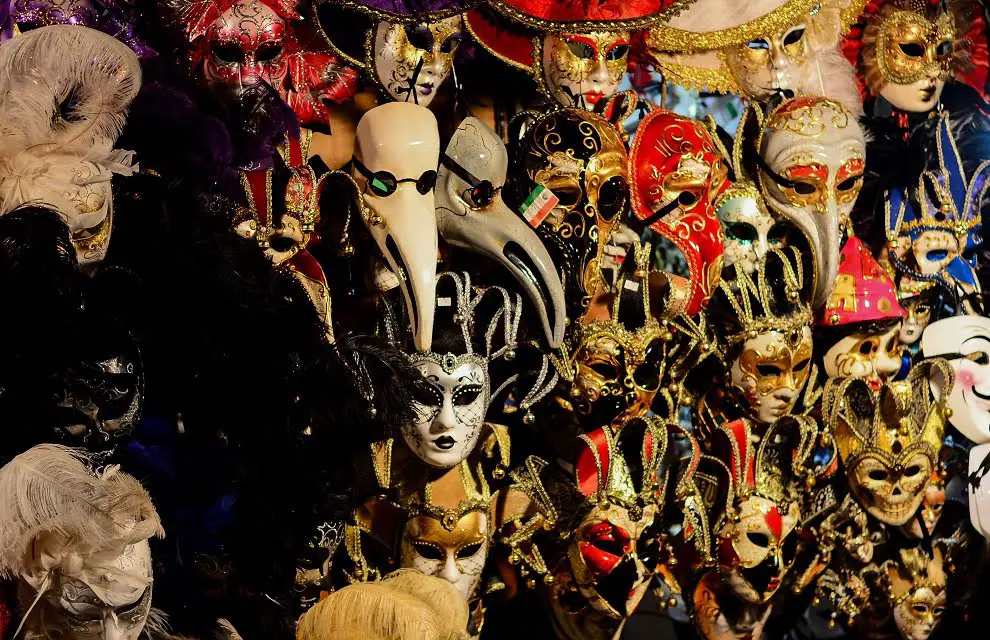 Venetian masks are an iconic symbol of Venice, and they have a rich history dating back centuries. Originally worn during the Venetian Carnival to conceal the wearer's identity and social status, they have now become a popular souvenir and home décor item.
Where to buy Venetian Masks in Italy?
The best place to buy Venetian masks are specialized mask shops, such as Ca' Macana and Tragicomica, where visitors can watch artisans at work and purchase masks directly from them.
Beware of vendors in popular tourist spots selling mass-produced masks imported from other countries.
💡Pro Tip: A good way to identify a genuine Venetian masks is the material. Venetian masks are made from paper-mache as compared to the plastic ones sold by the street vendors.
How Much do Venetian Masks cost in Italy?
The cost of Venetian masks can vary greatly depending on the quality, size, and design. Simple masks can be found for as little as 10 euros, while more elaborate and intricate designs can cost several hundred euros.
Paintings and Prints
Paintings and prints are another popular Italy souvenir, especially for those who appreciate art. You would've already witnessed the artistic talent of the country in the various elaborate museums during your visit to Italy.
Why not bring a little piece of that art to hand in your living room? It's not only a great conversation starter but also an object of great beauty and character to add to your home!
Bear in mind the following things when buying prints and paintings:
If you're buying an original work, make sure to get a certificate of authenticity from the artist or gallery.
If you're buying a print or reproduction, check the quality and make sure it's not a mass-produced print.
If you're buying from a street market, be wary of counterfeit or low-quality products.
If you're buying a large painting, make sure to check airline regulations for transporting it back home.
Best Places to Buy Paintings in Italy
Art galleries: These are the famous galleries you shall be visiting on your trip to Italy. Namely, the Uffizi Gallery in Florence, the Vatican Museums in Rome, and Galleria Borghese in Rome. These galleries often sell prints of the famous art they house. Check the gift shops for replicas and memorabilia.
Street markets: You can find paintings and prints at many street markets across Italy, such as the Mercato delle Pulci in Florence, the Campo de' Fiori in Rome, and the Mercato di San Lorenzo in Venice. These markets have a variety of art styles and price ranges to choose from.
Artist studios: Many artists in Italy have their own studios where they sell their original works. You can find them by walking around art districts like the Brera district in Milan or the San Lorenzo neighborhood in Florence.
Mosaics
Italian mosaics are a beautiful and intricate art form that can make for a stunning souvenir.
However, the following must be kept in mind while purchasing these amazing works of art:
Authenticity: Buy mosaics that are handmade in Italy by skilled artisans. Avoid mass-produced pieces that are made outside of Italy and sold on the streets.
Quality: Chose mosaics that are made with high-quality materials, such as marble or glass, and that have intricate designs with clean lines and smooth surfaces.
Transport: If you are planning on buying a larger piece, consider how you will transport it home. Mosaics can be heavy and fragile, so you may need to make special arrangements for shipping or handling.
Where to buy Mosaics in Italy?
Ravenna: Known as the mosaic capital of Italy, Ravenna is a city in northern Italy that is famous for its early Christian mosaics. Some recommended shops include Bottega dei Mosaici, Mosaici dell'Artigiano, and Mosaico di Claudio Fabbri.
Venice: Another great place to find mosaics is Venice, particularly on the island of Murano, where you can find intricate glass mosaics.
How Much You Can Expect to Pay for Italian Mosaics?
The cost of Italian mosaics, of course,  can vary widely depending on their size, intricacy, and the materials used. Small pieces of mosaics cost a a few euros, while larger or more intricate pieces can cost hundreds or even thousands of euros.
Ceramics
Handcrafted ceramics can be found all over the country, with different regions having their unique styles and designs. From intricate plates to stunning vases, the Italian ceramics make for excellent souvenirs to take back home.
When buying ceramics, keep in mind that many of the items sold in tourist areas are mass-produced and may not be of the same quality as authentic handcrafted pieces. Look for shops and studios that display the "artigianato" or "made in Italy" labels to ensure that you're buying authentic, high-quality ceramics.
Also, keep in mind that ceramics are fragile and can easily break during transport. Consider purchasing shipping insurance or having the item professionally packaged to prevent any damage during the journey home.
Best Place to Buy Ceramics in Italy:
The towns of Deruta and Gubbio in Umbria and Vietri sul Mare on the Amalfi Coast are famous for their ceramics. Some recommended shops in Deruta include Ceramica Gialletti Giulio, Ceramiche Sberna, and Maioliche Nulli.
If you're not visiting any of these places, you can find great pieces in Florence too. Montelupo Fiorentino Ceramiche, Ceramiche d'Arte Tuscia, and Ceramiche d'Arte Leonardo are popular among the locals.
How Much You Can Expect to Pay:
A small, hand-made ceramic plate can cost as little as 10 euros, while a large, elaborate vase can cost several hundred euros or more. Prices of ceramics can vary widely based on the item's size, complexity, and the quality of the work.
In a Nutshell
Italy is a treasure trove of souvenirs, ranging from delicious food and drink to beautiful artisanal crafts. We hope our article gave you enough information of what you to buy in Italy during your visit. If you have any other questions or have some recommendations, leave them in the comments below. Otherwise, go ahead, indulge in some retail therapy, and bring home a piece of Italy with you!