Thinking of planning a trip to Italy? This 2 weeks in Italy itinerary will be a perfect guide to help you plan your Italy trip.
2 weeks in Italy is, in fact, the perfect amount of time to see the major cities of Rome, Florence and Venice along with some introductory visits to the mesmerizing regions of Tuscany, Amalfi Coast and Cinque Terre.
Our own Italy trip and valuable inputs from our Worldwide Wander Community have helped us create this perfect 2 weeks Italy itinerary for first time visitors.
This Italy itinerary shall transport you back to ancient Roman times, make you bask in the Tuscan sun, sail the seas of Amalfi coast, admire the art in Florence, explore the untouched towns of Cinque Terre and traverse the canals of Venice.
All this, while continuously hogging on the best pasta, pizza, Tiramisu, pastries, Aperol Spritz and Limoncello in the world!  
You can follow this 14 days Italy travel guide step by step or simply use it as an inspiration to plan your own trip to Italy!
We're sure you'll have an amazing vacation in Italy and shall be planning your return at the end of your first trip itself!
To create the most balanced itinerary for 2 weeks in Italy, follow the outline of our suggested Italy itinerary for 14 days below:
Day 0: Arrival
Day 1 – 3: Rome
Day 4 – 6: Amalfi Coast
Day 7 – 9: Tuscany
Day 10: Cinque Terre
Day 11 – 13: Venice
Milan 14 – Milan and departure
This article contains affiliate links. This means that we earn a small commission for purchases made through these links at no extra cost to you. Kindly read our full disclosure and privacy policy for more details.
Also, if you refer the following Italy travel blog posts, you can upgrade a good Italy trip to a GREAT Italian Adventure!
Day 0: Arrival and Acclimatization
You can start this 2 week Italy itinerary in either Milan or Rome and then follow along the chronology stated above.
In our experience, flight tickets to Rome are the cheapest. Hence, we recommend beginning your Italy trip from here.
However, if you find a great flight deal to Milan, you can follow this itinerary in reverse and it'll be just as spectacular.
If you're flying from a country outside Europe, your flight might be landing in Rome by late afternoon or early evening. It shall be impossible to go straight for sight-seeing in Rome considering the fatigue and jet-lag. Hence, use this day to relax, rejuvenate and freshen up for an amazing 3 days in Rome.
If you're traveling from somewhere nearby, book your tickets in such a way that you reach Rome early in the morning. You can then drop your bags at the hotel, freshen up and start your 3 days in Rome immediately.
2 weeks in Italy Day 1-3 Rome
What better place to start your 2 weeks in Italy itinerary than the Eternal city itself. Rome drips of history from every corner and every cobblestoned street of its medieval infrastructure.
You can plan your Rome trip in the exact same fashion like we have illustrated in our fully packed 3 Days in Rome itinerary. Alternatively, you may take inspiration from it and plan according to your taste and preference.
Either which way, you must include the following must visit attractions and activities in your 3 days in Rome.
Colosseum, Roman Forum and Palatine Hill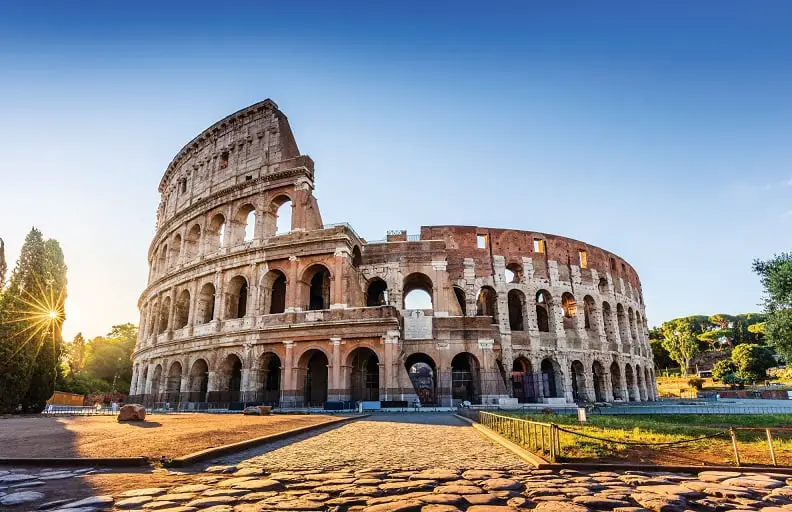 The Colosseum is the biggest and the most iconic attraction of Rome. This ancient monument was the symbol of Rome's grandeur and entertainment. It is the largest amphitheater in the world with a seating capacity of 50,000 spectators when it was operational.
Just beside the Colosseum is the Roman Forum and Palatine Hill. The Roman forum was the center of all social, political, economic and religious life in ancient Rome. On the other side, the Palatine hill is regarded as the birth place of Rome with its own set of ruins and monuments to explore.
It is imperative that you buy a skip the line ticket to the Colosseum to avoid wasting your time in lines during your 3 days in Rome. The ticket includes skip the line entry to the Roman forum and Palatine hill as well.
To enhance your experience 10-fold, we recommend you buy this highly rated guided tour of the Colosseum, Roman Forum and Palatine Hill. The guided tour shall help you optimize your time, click the best pictures for Instagram and leave you a lot more knowledgeable than you were before visiting Rome.
Trevi Fountain
The Trevi fountain is the largest and most famous Baroque fountain in the world. It was built in the year 1762 over an ancient aqueduct.
The fountain is always swarming with tourists and crowds are almost impossible to avoid during the day. Hence, visit early in the morning around sunrise to get people free pictures with the beautiful fountain.
Toss a coin in the Trevi fountain with your right hand over your left shoulder. Legend has it that if you do so, you shall be returning to Rome in the near future.
Pantheon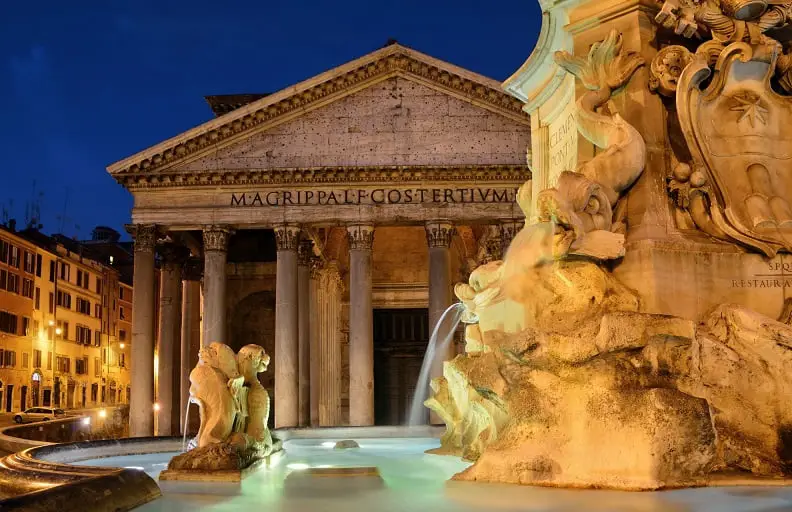 The Pantheon is the oldest preserved monument that you'll come across during your 2 weeks in Italy. It was built in 27 BC by Marcus Agripa, the name you see carved at the entrance of the building.
The architecture of the building is so grand that it was publicly acknowledged by the world-renowned sculptor Michelangelo himself.
Entrance to the Pantheon is free. However, you might have to wait in lines and may not be able to admire the beauty of this masterpiece without a guide.
This highly rated guided tour of Pantheon takes care of both of the above problems!
⏰Recommended Visit Time: 1 Hour
💶Entry Fee: €5 from July, 2023. But guided tour is recommended to avoid wasting time in lines.
🧑🏻Guided Tour: Pantheon Guided tour (⭐4.7/5)
Vatican City and Vatican Museums
Ah! The iconic Vatican City. The smallest country in the world and the residence of the Pope.
The Vatican City houses the famous Vatican museums and Gardens, the Sistine Chapel and St. Peter's Basilica.
There are REALLY long lines at all of the above spots and buying the skip the line tickets is not only recommended but also insisted.
To better understand the beautiful art of the Vatican museum, get priority access and also get a secret entry to St. Peter's Basilica, we recommend booking this official guided tour of the Vatican Museums, Sistine Chapel and St. Peter's Basilica.
If you don't book the above tour and just buy the skip the line tickets of the Vatican museums, you will still have to wait in long lines to enter St. Peter's Basilica.
We insist you to check out our fully-packed 3 days in Rome Itinerary to get a comprehensive list of all the things to do in Rome in 3 days. The itinerary has a detailed day wise guide and insider tips along with recommended restaurants and budget saving hacks. Also, if you're a vegetarian like us, you can check out our favorite restaurants to find Vegetarian food in Rome.
2 weeks in Italy Day 4-6 Amalfi Coast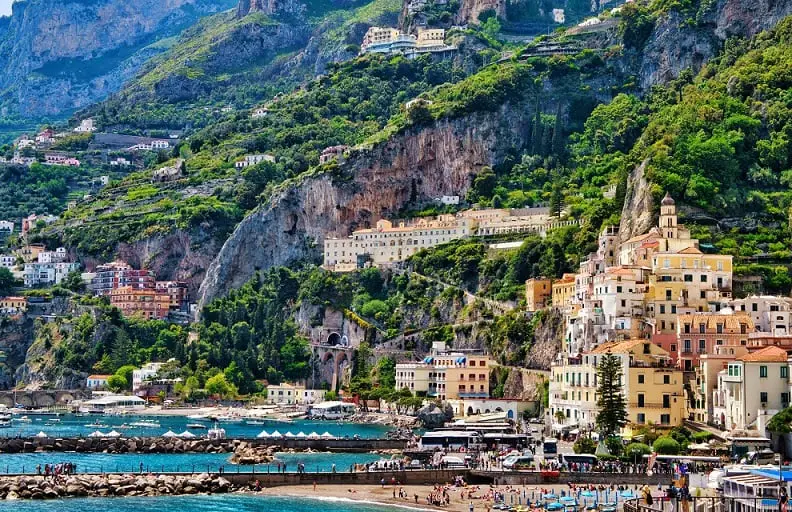 The next stop during your 2 weeks in Italy is the picturesque beach area of the Amalfi coast.
You shall be spending 3 days in this area covering the must visit towns of Sorrento, Positano and the island of Capri.
In order to keep this 2 weeks Italy itinerary convenient, smooth and budget friendly, we recommend basing yourself in Sorrento and then make day trips to Capri and Positano.
For travel between locations in Italy, trains are the cheapest and most efficient modes of transportation. Be sure to book your tickets in advance to get a cheaper rate and also ensure availability.
Another economical option is taking a bus. This is a good option in case you're traveling between locations that don't have direct train connections like from Rome to Sorrento.
Find the most competitive Rates for trains, buses and ride sharing in Italy here!
Italy Trip Day 4: Sorrento
As explained above, you need to base yourself in the beach town of Sorrento as it is the most convenient and most affordable of all the places to stay in Amalfi Coast.
How to reach Sorrento from Rome?
There are no direct trains from Rome to Sorrento, so you'll have to take a train from Rome to Naples and then change for Sorrento. However, that involves a lot of hassle especially when you have heavy luggage with you.
On the other hand, you can do what we did and take the much more convenient option – the bus! It takes about 4 hours but the ride is very comfortable and there are no transfers involved.
Check out ticket prices for your travel dates here!
Things to do in Sorrento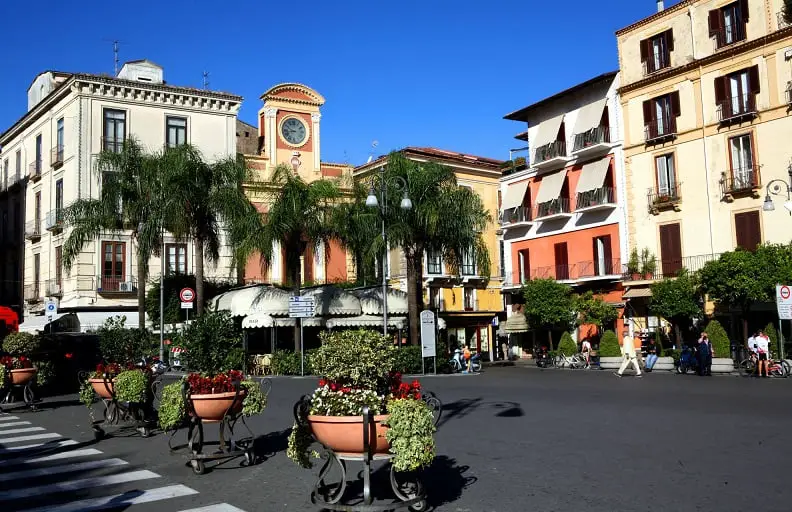 Upon reaching Sorrento, check into your hotel and set out to explore the beautiful beach town.
You can stroll across the Marina Grande and enjoy its boardwalk atmosphere by having lunch at the many sea-facing restaurants.
 Post lunch, explore the vine covered Cloister of San Fresco. Then enjoy a beautiful sunset from Villa Comunale – a park and terrace above Marina Grande, with splendid views of the Gulf of Nalples and Mount Vesuvius.
This town is renowned for its lemons and the various lemon products it makes. Our favorite is the Limoncello, an alcoholic drink made from lemons and it is also one of the best souvenirs to bring from Italy.
Sorrento is the best place to buy Limoncello as the Limoncello here is authentic, locally made and much cheaper than other popular Amalfi Coast tourist towns like Positano and Capri.
Italy Trip Day 5: Positano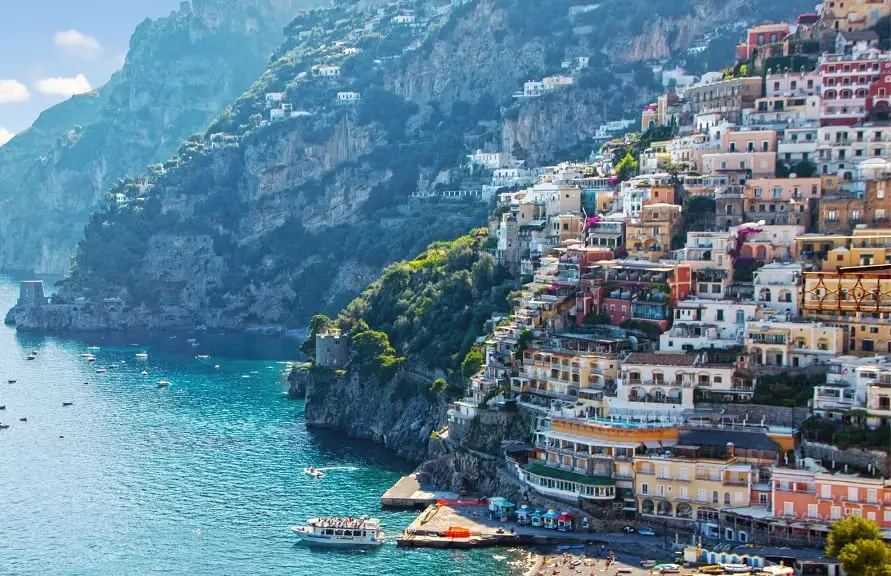 On Day 5 of your 14 days Italy itinerary, take the SITA bus from Sorrento to Positano. The ticket costs merely €2 and can be purchased from the tobacconists at the bottom staircase of Sorrento Station.
Make sure that you start early to avoid the crowds in the bus and sit on the right-hand side to enjoy beautiful coastal views of Amalfi during the ride. Starting early is a must because there have been cases where you might have to stand in the bus in case it is overbooked.
❕Note: Avoid renting a car for your visit to Positano or Amalfi as the roads are a real challenge to drive on and you will have to park the car outside the villages. The parking rates are really steep due to a lack of space and are simply not worth it.
Positano is the most beautiful of the Amalfi coast villages. It still retains its small fishing village vibe unlike the recently well-developed Amalfi.
It has a great collection of cliffside restaurants, an abundant number of private beaches and beautiful nature trails to discover some of the best vantage points.
Explore the narrow cobblestoned lanes of the village, check out the cute boutique shops, try amazing Lemon Gelato and have drink at the many amazing restaurants overlooking the Mediterranean.
If you're an avid hiker, you can hike the Path of the Gods. It is an 8 km long mule trail that connects the Amalfi villages and provides breathtaking views of the Amalfi Coast.
If you don't wish to limit this day just to Positano, you can book a chauffeured tour of the entire Amalfi coast like this one that takes you to the beautiful towns of Amalfi, Positano and Ravello.
Return to your hotel in Sorrento before dark to avoid being stranded the last few buses of the day leave around 8 but they get sold out and are often crowded. Buy your return ticket to Sorrento the moment you enter Positano.
Italy Trip Day 6: Capri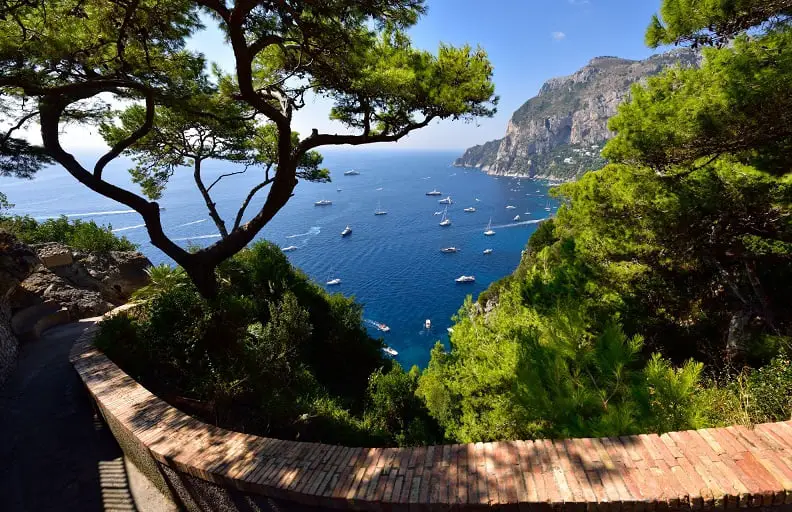 Capri is located a mere 20 min. ferry ride from Sorrento.
You can set off early in the morning before the crowds and reach Marina Grande. Book your return ticket in advance to avoid paying premium prices.
Upon reaching Capri, you will be heckled by a lot of ferry drivers for boat tours around Capri. These tours are often overpriced and a lot of our friends told us that they were sub-par.
 It's better to book your excursion around Capri with a reputed company in advance. We booked this amazing Island Boat trip around Capri (⭐4.1/5). No matter who you book with, ensure that your boat trip includes the following stops:
Punta Carena Lighthouse
Bagni di Tiberio
Sea caves of White Grotto and Green Grotto
Faraglioni Rocks
An optional visit to the Blue Grotto
❕Note: The visit to the Blue grotto involves an additional fee of €14 to enter the grotto. Do not skip this. It is a surreal sea cave where the waters glow sapphire blow. The water is the only source of light in the damp, dark cave. It is definitely one of nature's mysteries and a must visit during any trip to Capri.
If you wish swim or snorkel in the amazing blue waters near Capri or if you don't wish to get into the hassle of taking a ferry to and from Capri, book this highly rated Small group boat tour of Capri from Sorrento (⭐4.8/5).
It includes all the spots mentioned above, a Limoncello tasting, appetizers and two amazing stops for swimming in the Capri waters!
On Capri island itself, explore the Agustus Gardens, ride the scenic chairlift to the top of Monte Solaro and explore the food scene of this tiny, beautiful island!
2 weeks in Italy Day 7-9 Tuscany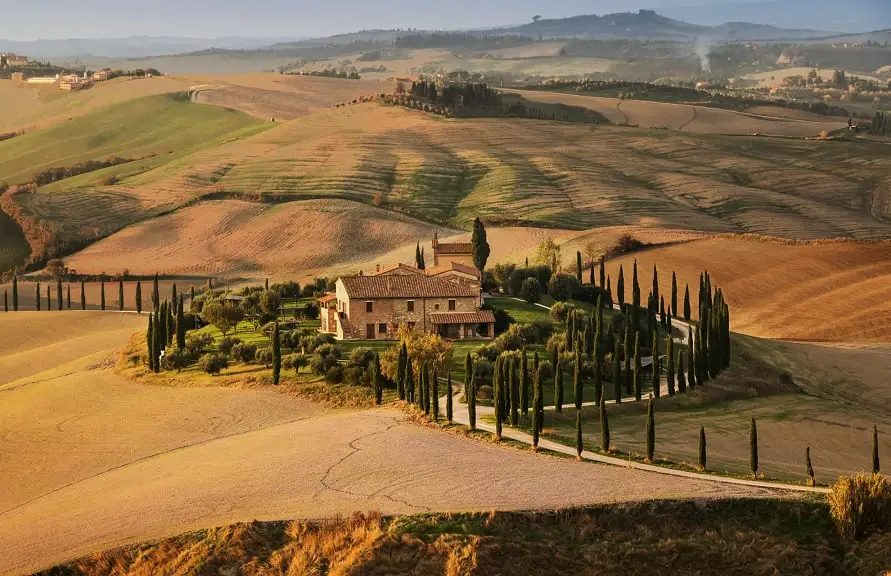 On day 7 of your 14 days Italy itinerary, take an early morning bus from Sorrento to Nalples train station. It costs barely €5 and saves a lot of time. You shall reach Naples by 8 AM. Have your breakfast at the convenient but amazing Café Vyta while you wait for your train.
From Naples, take the direct train to Florence and you shall be in the cultural city by noon!
Use the rest of the day to explore the city of Florence as stated below.
2 Weeks in Italy Day 7: Florence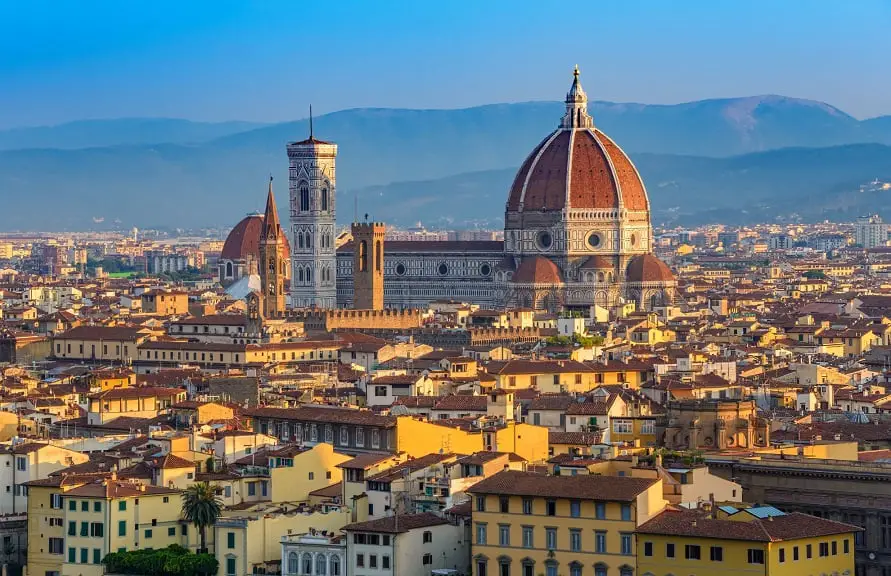 You've arrived in noon. So, to make the best of your time, drop your luggage at your hotel and set out to explore Florence. We recommend covering the following locations on your first day.
You can also check out our detailed 3 Days in Florence Itinerary for information on how to get around and best area to stay in Florence, along with other things you can include in the below mentioned itinerary. For vegetarians like us, this detailed guide on finding Vegetarian food in Florence cannot be missed.
Accademia Gallery
You can't be in Florence and not visit the Accademia! It houses the best sculptures by the renowned Italian Michelangelo, esp. the famous David! The Accademia is also Europe's first school of drawing. Hence, it boasts of an extensive collection of paintings dating back to the 15th century.
Book a timed entry ticket to The Accademia so that you don't have to wait in lines and waste time on the 7th day of your 14 days Italy itinerary.
As always, a guided tour definitely increases your experience manifold!
Florence Cathedral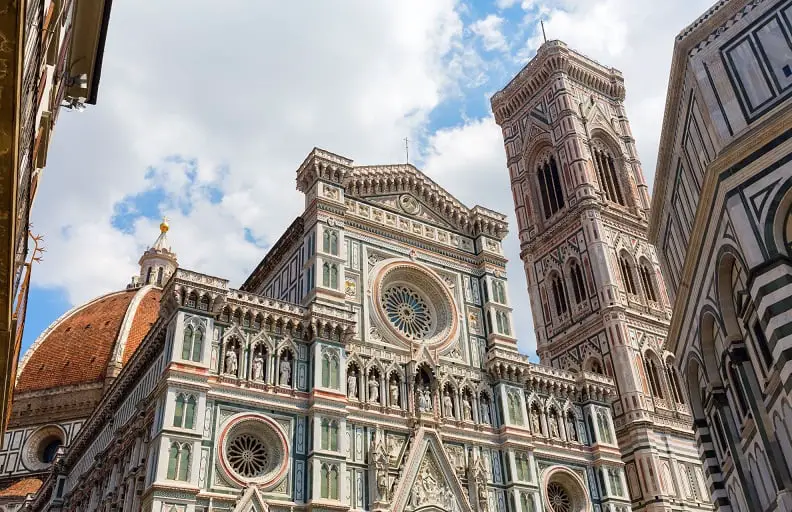 After the Accademia Gallery, walk a mere 500m to the Florence Cathedral. Admire the beauty of this 13th century Gothic Church with a majestic dome that adorns the city's skyline!
The dome (Cupola), designed by Filippo Brunelleschi was an inspiration to many architects and artists during the Renaissance period.
Even more impressive is the fresco inside the Dome by Giorgio Vasari, called the Last Judgement.
Marvel at the beauty, intricacy and the grandeur of the architecture of the Florence Cathedral and don't skip climbing up the dome! You will truly be able to admire the work that went into creating the Cupola and also get an unprecedented view of Florence.
Without skip the line tickets like this one, you shall not be able to visit the Cathedral on Day 7 of your Italy itinerary. So, make sure you book them in advance and witness the Italian sun set over Florence.
Piazza della Signoria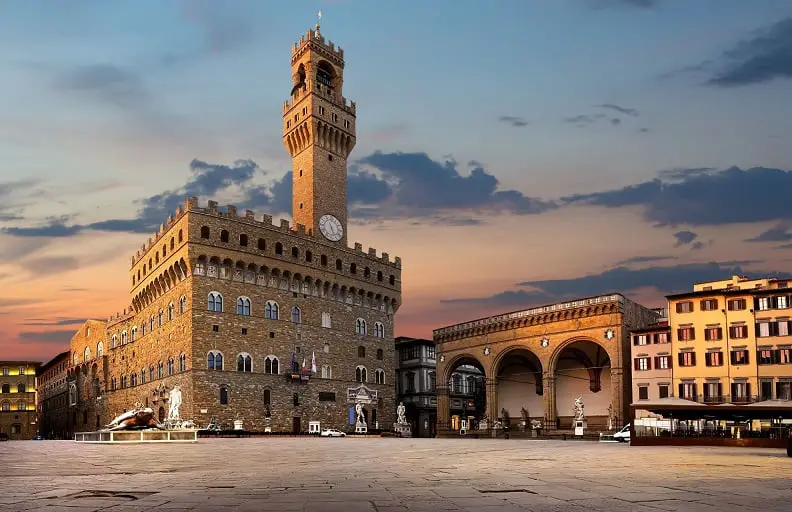 It'll be almost sunset by the time you are done visiting the Duomo. Head to Piazza Della Signoria – one of the most artistic, sculpture-laden and happening squares in Florence.
Stroll across the beautiful square and admire the various sculptures like the Neptune Fountain, the replica of David and all other amazing sculptures in the Loggia ( public Sculpture Gallery).
If you have some time left, you can also visit the Pallazo Vechio.
Have dinner in the many amazing nearby restaurants and call in an early night.
2 Weeks in Italy Day 8: Florence and Tuscan Country side in the afternoon
For Day 8 of your two week Italy itinerary, book a tour to Tuscany like this highly rated Chianti Wineries with Food and Wine Tasting. This half day tour begins in the afternoon at about 2:30 PM. As a result, you get a great amount of time in the morning, to visit other epic attractions in Florence.
Start your day at 7 AM and visit the following attractions in the order provided:
Pitti Palace and Boboli Gardens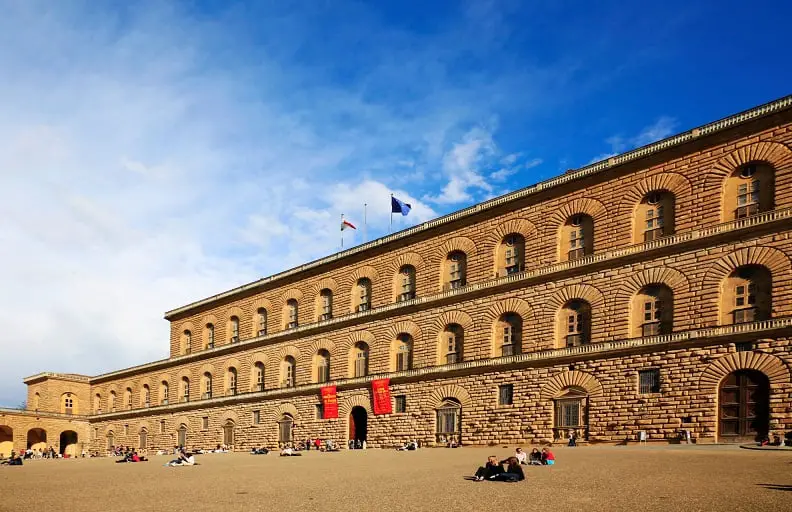 Be one of the first people to enter Paitti Palace today and book a timed entrance ticket to the Pitti Palace. Witness the grandeur and beauty of the exterior of this lavish palace. Inside the Palace, visit the Galleria Palatina that was used by the Medici family as their residence.
Your ticket also provides you access to the Gallery of Modern Art that houses an exquisite collection of art from the 18th century to World War 1.
Boboli Gardens are located directly behind the Pitti Palace. These gardens were one of the first examples of Italian landscaping which were later on emulated in many European sites.
The garden has artificial Grottos – stone caves, exquisite fountains, manicured lawns and hedges and marble sculptures throughout its vast landscape. It's a great place for a picnic too!
Ponte Vechio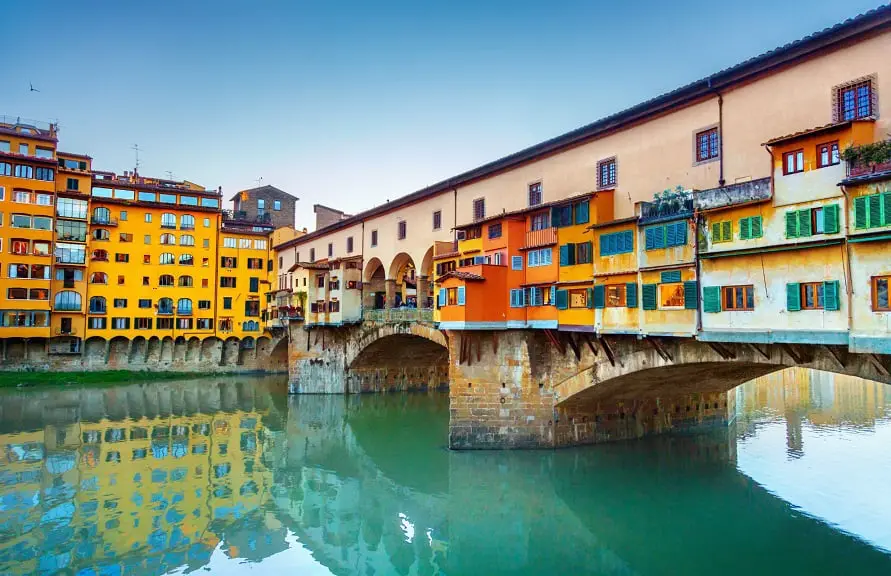 After spending an amazing morning in the Boboli gardens, take a walk across the Ponte Vechio.
The bridge is a work of spectacular engineering as it was the first segmental arch bride built in the West.
The Ponte Vechio is famous because of two very unique reasons:
It is the only bridge n Florence that survived the bombing in World War II.
It is the only bridge in the world where people still have a residence in!
That's right, people live on this bridge!
Today, this bridge is full of jewelry stores and art dealers. Grab a gelato and make your way to our next stop the Uffizi Gallery
Uffizi Gallery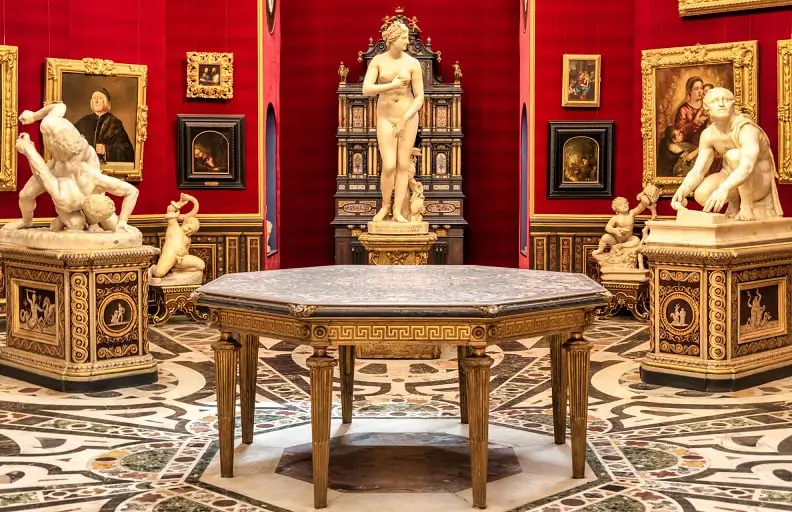 The Uffizi gallery is one of the oldest museums in Europe and houses one of the largest collections of Renaissance art in the world! You can see works of Michelangelo, Da Vinci, Raffaello and many others. One of the most revered works of art are Boticelli's Primavera and Birth of Venus.
Apart from the paintings and sculptures, the building of the Uffizi itself is greatly admired as a work of art.
Make sure you book a timed ticket to the Uffizi Gallery in advance as the tickets for your particular time slot generally sell out very fast.
You can visit all of the above 3 attractions in reverse order as well depending on what is closer to your hotel. Wither way, your target is to be free by 2 PM as that is when the pick up of you Chianti Vineyards tour is scheduled!
Chianti Wine Tour
You can't come to the region of Tuscany and not visit the Tuscan countryside! The region of Tuscany is famous around the world for its vineyards, olive plantations and the products that come from them.
You can easily spend an entire week exploring the little Tuscan villages on a 7 day Tuscany road trip. However, since we are short on time, we suggest booking a half day tour to one of the best vineyards in the region.
This Chianti wine tour includes pick up from Florence, wine tastings in two amazing vineyards, delicious cheeses, breads and cold cuts to pair your wine with a local guide.
If you have an entire day in Florence and wish to cover unique places like Pisa, Siena and San Gimignano along with Chianti, you can opt for this highly-rated Day trip that includes lunch!
The tours are cost effective and is probably the most efficient way to get a taste of Tuscany, so that you can plan an even longer trip later on!
If you still have time and wish to include more things to do in Florence or want more details on where to live in Florence or how to get around Florence, visit our detailed itinerary on spending 3 days in Florence.
Day 9: Pisa and Transit to La Spezia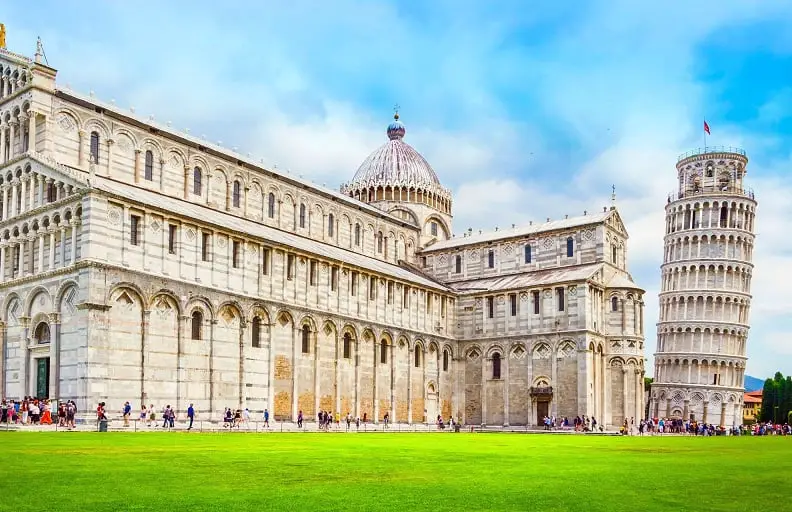 Day 9 of your Italy trip involves visiting the beautiful town of Pisa and takes care of logistics to explore the magical area of Cinque Terre. Check out of your Florence hotel and take the train to Florence.
Find the most competitive prices of trains and buses here!
You can drop your luggage in Pisa Centrale station at the storage facility located at the end of Platform 1. The charges are as nominal as €3 for 12 hours.
Once you've dropped your luggage, head to the Piazza De Miracoli which houses all the major attractions of Pisa. Take the highly efficient LAM Rossa bus service that runs every 20 minutes.
At Piazza De Miracoli, show your skip the line ticket to the Leaning Tower of Pisa and head straight to the top of the Tower to enjoy unhindered views of the Pisa skyline.
If you arrive early during the day, you shall also be able to take people-free images with the Leaning Tower.
Visit other beautiful monuments in the Piazza De Miracoli like the Duomo (Cathedral), Baptistry di San Giovanni and Camposanto.
The entire trip would take around 3 hours. Post that, you can relax in the gardens or have lunch at a nearby restaurant. We personally loved the food at La Ghiotteria for their authentic Italian cuisine.
Transit to La Spezia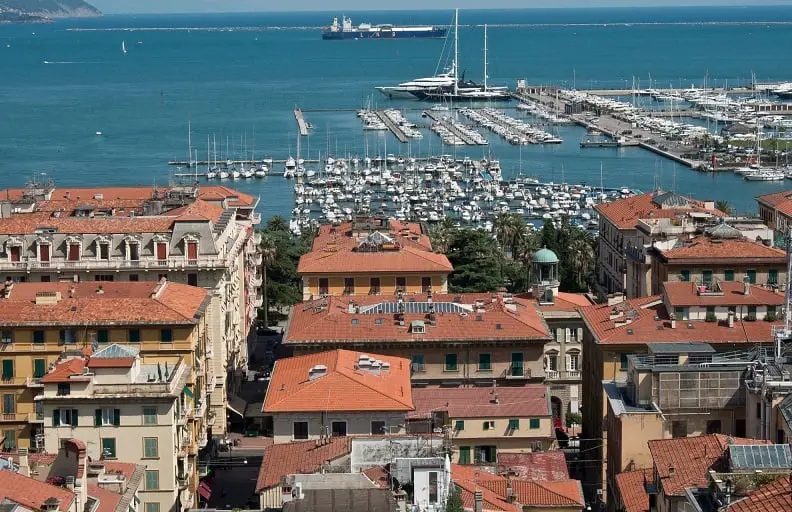 After lunch, collect your luggage at the train station and catch a train to La Spezia. La Spezia shall be your base for exploring the Cinque Terre.
We recommend staying in La Spezia as it is very well connected to all the villages of Cinque Terre by train and you can find better accommodation in La Spezia as compared to the overpriced ones in other Cinque Terre.
Book your hotel near the train station. We stayed at The Poet Hotel, one of the few 4-star hotels in the city very close to the La Spezia Centrale station. It is great value for money as well!
Before leaving the La Spezia Centrale Station collect your Cinque Terre Train Card from the ticket office for the next day.
For €16, this card not only provides unlimited train travel between all the stations but also provides access to ATC bus services, free use of public restrooms in the train stations, WiFi in park hotspots and access to hiking trails! Definitely worth it.
2 weeks in Italy Day 10: Cinque Terre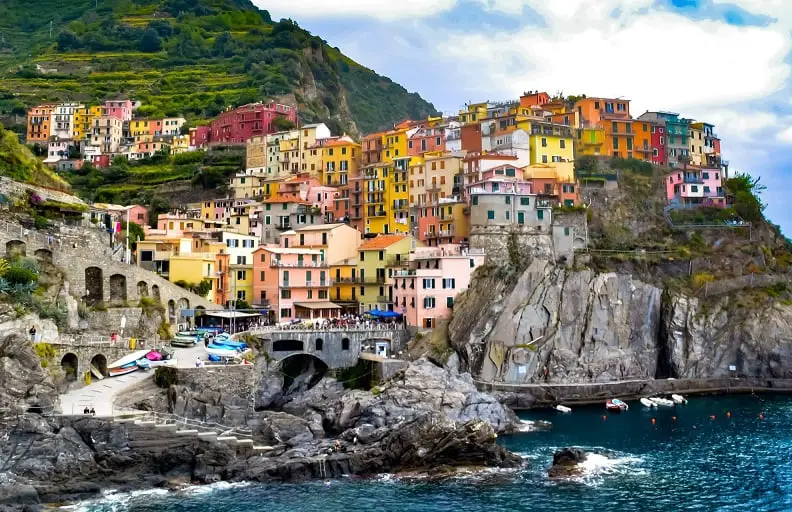 Spend your Day 10 in Italy exploring the colorful towns of Cinque Terre. You shall be visiting all the five main villages of Cinque Terre in one day by train in the order of your choice. Take the train from the La Spezia Centrale station and use your Cinque Terre train card for hassle free transit.
Each village provides a unique experience with the same cultural and scenic backdrop.
Manarola: Our favorite town in Cinque Terre. It has exhilarating cliff jumping spots, is great for swimming, has treks to incredible vantage points of the village and amazing cliffside restaurants. A great place for lunch is Nessun Dorma. The Disney movie Luca was based on this little town.
Corniglia: The town perched up higher than the others in the mountain.  Take the shuttle bus to the town from the station. In the village, grab the best Gelato in Cinque Terre at Alberto Gelateria and explore the narrow back alleys that lead to a breathtaking viewpoint.
Vernazza: Explore the colorful streets, hike to the Doria tower for unprecedented views of the village, stroll across the jeti and swim in the clear waters in the northern part of the bay. Vernazza exudes a vibe that cannot be described in words.
Monterosso: The largest of all the villages. It is the only village in Cinque Terre with an amazing sandy beach, ready with sun loungers, umbrellas and a board walk. Relax, get a foot massage and bask in the sun here.
Riomaggiore: Walk through the tunnels to reach the town from the train station. It has an amazing, stoney jetti that provides post-card perfect views of the village. This is the best town to rent a kayak and go exploring the coast of Cinque Terre!
For a detailed guide and the most perfect way to explore all the towns, check out our detailed guide on visiting Cinque Terre in One Day!
Recommended Guided Day Trips
If you don't wish to fall into the hassle of all the detailed planning, you can book this supremely convenient Cinque Terre Tour by Train that follows the same route as our 1 day Cinque Terre Itinerary. It also has additional benefits like a local guide and Limoncino tasting!
If you opted for a day trip to Pisa, Siena and San Gimignano on Day 9, you're probably still in Florence. In that case, you can opt for this extremely highly-rated tour to Cinque Terre from Florence (⭐4.9/5) like a lot of tourists do. It is efficient, cost effective and covers all the highlights!
❕Note: Cinque Terre is a hilly town and exploring it requires a lot of walking and a lot of stairs. If you're someone who has a problem with that, you should substitute these 2 days in Cinque Terre with a visit to Lake Como.
2 weeks in Italy Day 11-13: Venice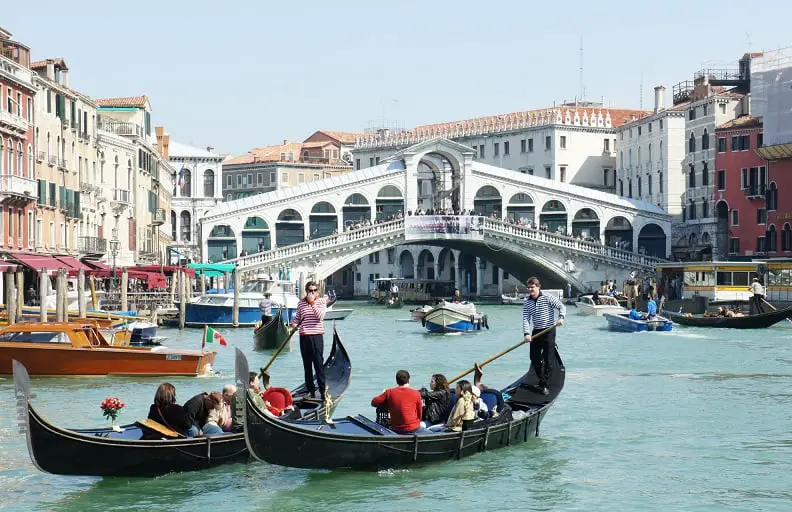 On Day 11 of your 2 weeks in Italy, you shall be going to Venice from La Spezia.
You can either make a train trip that involves two transfers or you can opt for a bus that drops you directly at Venice.
Check out the most competitive rates and timings of your bus and train tickets here!
Spend your 3 days in Venice exploring the beautiful city of Venice and enjoy the following attractions and must – do activities in Venice:
St. Mark's Square, Basilica and Doge's Palace
St. Mark's square is the most popular square in Venice. It houses two of the most iconic sights of Venice – St. Mark's Basilica and Doge's Palace.
In St. Mark's Basilica, admire the beautiful golden mosaics covering the high walls and the Pala d'Oro, the spectacular altarpiece made from enamel and gold leaf.
Visit the Doge's Palace, the seat from which the powerful family ruled the Republic of Venice. Book a skip the line ticket to Doge's Palace (⭐4.6/5) and stroll across the majestic halls. Marvel at the masterpieces of art, frescoes and the Bridge of Sighs.
To enhance your experience, book this widely loved Doge's Palace and St. Mark's Basilica Guided Tour (⭐4.6/5).
The Bridges of Venice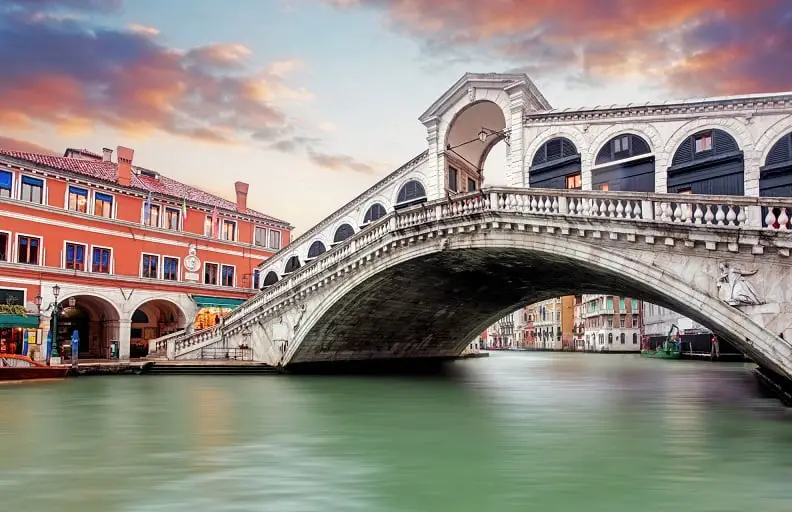 Exploring Venice on foot and getting lost in its alley ways is one of the best things to do in Venice.
What enhances this experience even more is the shear number of unique bridges in Venice.
Some of these bridges are architectural masterpieces, while others have unique story behind them. Explore Venice on foot and cross as many of these bridges.
The following are the best bridges in Venice for an Instagram shot:
Rialto Bridge
Ponte dell'Accademia
Ponte degli Scalzi
Ponte della Constituzione
Ponte del Diavolo
Ponte dei Tre Archi
Ponte della Paglia
Gondola Ride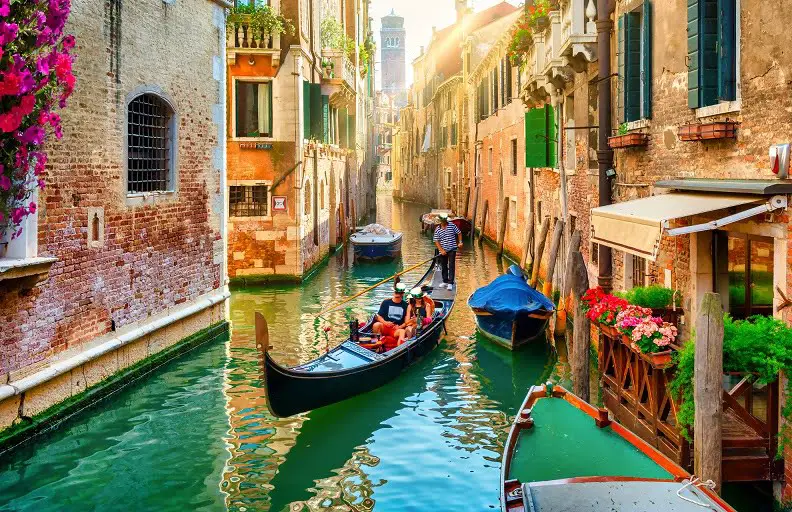 Gondola rides in the Grand Canal are so popular that they have become synonymous with a trip to Venice. However, they are a bit too expensive if you buy them on the spot.
During peak seasons, visitors have had to pay upwards of €100 per person for riding the Gondola on a shared basis! In order to avoid paying outrageous amounts of fees on the spot, we recommend booking a ticket in advance.
These are the following, most reasonably priced tickets available:
For travelers on a budget: Join a group of 5 on this Gondola Ride with App Commentary (⭐4.2/5) to enjoy a Gondola ride at barely 30% of the cost.
For Couples, groups, families and luxury travelers: Book a Private Gondola ride (⭐4.1/5) which can accommodate a group of 5. This is an ideal set up for couples and families. They can enjoy a Gondola ride privately, at their own pace and without paying the outrageous rates in Venice!
Burano, Murano and Torcello Islands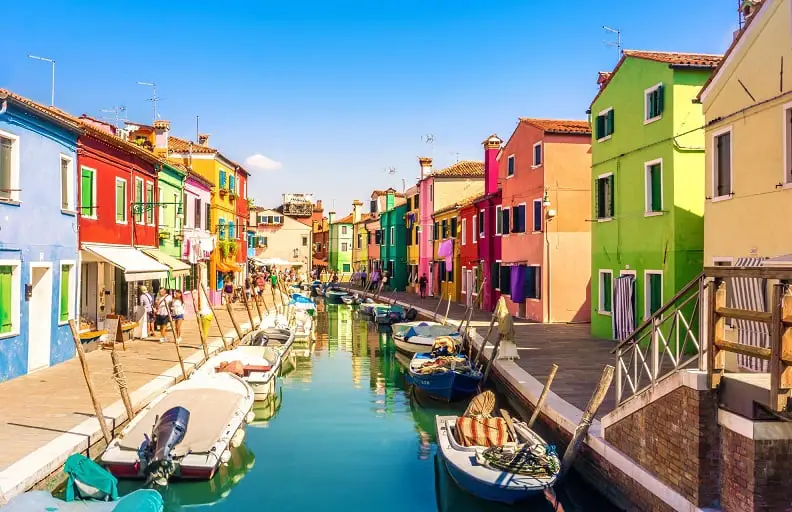 Ensure that you dedicate one day of your time in Venice to visiting nearby island villages in the lagoon. The villages of Burano, Murano and Torcello are some of the most beautiful and also the most popular!
Burano is a small fishing village that has a string of colorful houses on either side of the lagoon. It is a great spot for exploring hidden gems and getting some amazing shots for Instagram.
Murano is famous all over Italy for its glassware. You can visit a glass factory and see the entire process of crystal-making from scratch!
Torcello is another quaint little town with medieval architecture and a beautiful vibe. One of the main attractions of Torcello are the Venetian-Byzantine Mosaics of Basilica di Santa Maria Assunta. Also interesting is the Throne of Attila. You can easily spend and hour here exploring the beautiful town.
The best way to visit these three villages is by booking this Murano, Burano, Torcello and Glass factory tour (⭐4.4/5). It is, in fact, cheaper than what it would cost if you bought public ferry tickets to all three villages.
🧑🏻Guided Tour: Murano, Burano, Torcello and Glass Factory Tour (⭐4.4/5)
2 Weeks in Italy Day 14: Milan and departure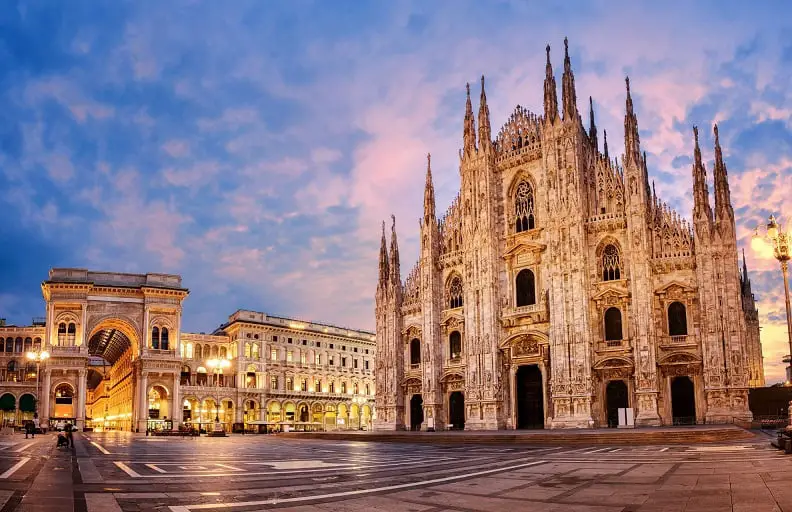 On the last day of your 2 week Italy itinerary, visit Italy's design capital – Milan.
Take a direct train or bus from Venice to Milan in the morning.
Plan your day in Milan depending on your flight time. Try to cover as many of the following must visit locations in Milan, before your flight out of Italy:
Milan Cathedral
Church of Santa Maria delle Grazie
Grand Galleria Vittorio Emanuale II
Castello Sforzesco
Leonardo Da Vinci Museum of Science and Technology
The very happening Navigli District
Tiatro Alla Scala
Don't be worried in case you think that's a lot of places to visit in Milan. Most of them are located within walking distance of each other and some even lie between two major attractions.
For example, to reach Tietro Alla Scala (the grand opera house of Milan) from the Milan Cathedral, you need to walk through the Galleria Vittorio. That's three of the 7 attractions listed above in a matter of 10 minutes!
Refer our dedicated blog post for a more detailed One Day Milan itinerary that explains everything from things to do in Milan, where to store your luggage, how to get around and how to reach the airport!
This shall be the last day of your Italy trip, so make sure you spend it in a way that captures the entire essence of your trip. Eat great food, sip on some Aperol Spritz along the Navigli Canal, marvel at the architecture of the cathedral or admire the works of Leonardo Da Vinci in his museum!
In a Nutshell!
That brings us to the end of our guide to planning a trip to Italy. The beauty of this 2 weeks in Italy itinerary is that you can do the entire trip in reverse.
Rome and Milan are two of the most well-connected transport hubs that offer the best flight rates. And for that we reason, we have kept them at the two ends of our trip to Italy.
We hope this Italy itinerary helps you in planning your own trip to Italy and inspires you to enjoy this beautiful country a little more in a confined amount of time.
Check out our other blogs on Italy or subscribe to our newsletter to be up to date with our new blogs. We have a lot of content lined up to help travelers make the most of their trip to Italy.
Ciao.