Are you planning to visit Cinque Terre in one day? Our perfect One day Cinque Terre itinerary shall help you do just that despite how daunting it might seem at first glance!
Cinque Terre literally means 5 villages. These colorful villages adorn the Italian Riviera by the cliffsides on the blue waters of the Ligurian sea. Each village has its own personality and we shall explore that in this comprehensive Cinque Terre Travel guide.
We visited Cinque Terre while we were following our amazing 2 weeks in Italy itinerary. If you're planning a trip to Italy, we recommend you to go through it as well. Our Italy Itinerary has the potential to convert a good Italy trip to a great Italy trip! It'll take you through major cities of Rome, Florence and Venice as well as help you get a taste of the splendid areas of Tuscany, Amalfi Coast and Cinque Terre!
Continuing on Cinque Terre, since we had a limited amount of time, we had to complete Cinque Terre in a single day. And yes, we were able to do justice to it and were able to visit all the amazing villages without feeling rushed.
This article contains affiliate links. This means that we earn a small commission for purchases made through these links at no extra cost to you. Kindly read our full disclosure and privacy policy for more details.
Also, if you refer the following Italy travel blog posts, you can upgrade a good Italy trip to a GREAT Italian Adventure!
Before explaining the route and detailed itinerary, it's important to clear a couple of relevant questions about Cinque Terre travel.
What is the best month to visit Cinque Terre?
The best month to visit Cinque Terre is early May or late April. The weather is pleasant, there are fewer tourists and most importantly, daylight lasts for around 14 hours! This gives you an appropriate amount of time to visit all the villages of Cinque Terre in one day!
Moreover, you can also visit the restaurants/cafes/clubs/ferries that generally shut down during the colder/wetter months.
How to get to Cinque Terre?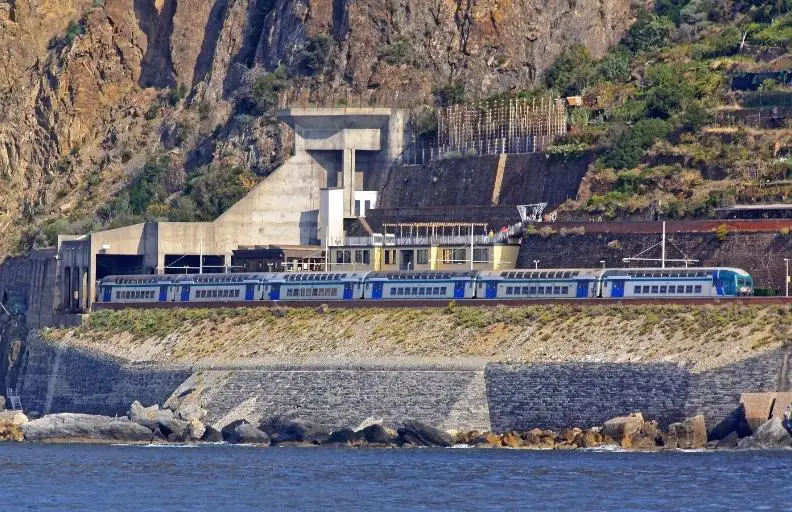 The best and the most convenient way to get to Cinque Terre is through train. All the five villages of the Cinque Terre are well connected to each other and the neighboring towns through train only.
You can also take a ferry during the warmer months to reach Cinque Terre. Ferries operate regularly from La Spezia and Porto Venere during the months of March to November.
The road connectivity is poor and in some cases, non-existent. So, if you're on a road trip in Italy, we suggest you ditch your car and buy a Cinque Terre train card.
How to get around Cinque Terre?
The most convenient, cost-effective and efficient way to get around Cinque Terre is by train. The Cinque Terre trains run three times an hour either way between La Spezia and Levanto – the two towns on either side of the Cinque Terre line.
Individual tickets between two stations cost €5 which can stack up pretty quickly. Hence, we recommend buying the Cinque Terre Train Card. The card costs €18 for a 1 day pass and allows you unlimited train travel, access to all the trails and use of the bus services within the park area.
Another great way to get around Cinque Terre is by boat. You can find a number of ferry services from port towns like La Spezia and Porto Venere. Ferries generally take a lot longer but provide a whole different vantage point while approaching the villages.
❕Note: The ferry services are suspended during the colder months i.e. November to March.
The most time and effort consuming way to traverse the Cinque Terre is by trekking the picturesque trails. It is a major activity for a number of people arriving to the Cinque Terre and for good reason!
The trails offer some spectacular views of the coastline and go through vineyards and olive groves.
You will need a Cinque Terre Trail card to access the most popular one – the Blue Trail. It runs along the coastline and connects all the five Cinque Terre villages.
A major portion of the Blue trail has been closed due to landslides. Only the stretch from Monterosso to Vernazza and from Vernazza to Corniglia is accessible. The rest of the trail is expected to be operational again by 2024.
For the sake of this one day in Cinque Terre itinerary, we recommend doing only one trail for optimum use of time and energy. That is how we did Cinque Terre in one day and were able to absorb the vibe of each village to our hearts content.
Where to Stay for Visiting Cinque Terre in One Day?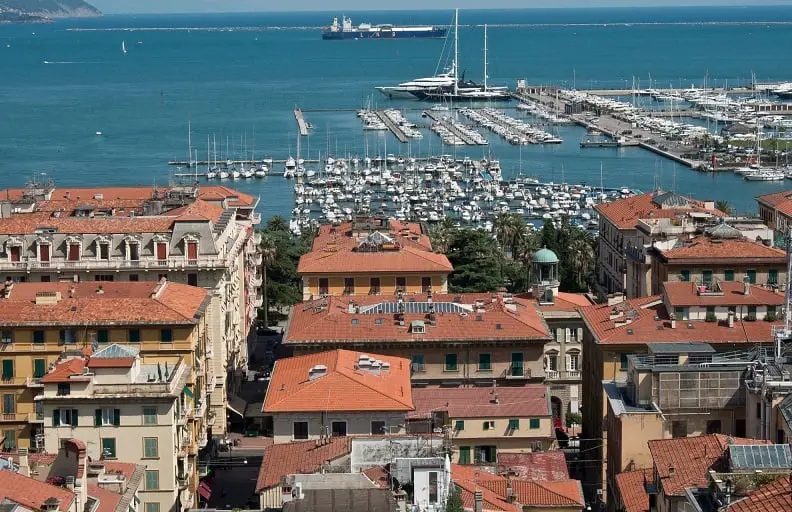 All the villages of Cinque Terre national park are well connected to each other and the towns of La Spezia and Levanto by train.
You can choose to stay in any of the villages according to your budget and taste. However, for this one day in Cinque Terre itinerary, we recommend staying in La Spezia.
La Spezia is very well connected to the rest of Italy and is the perfect base for visiting Cinque Terre in one day. It is the town where the train to Cinque Terre starts from and the farthest village (Monterosso) is located a mere 20 minutes away.
Also, the accommodation options in La Spezia are a lot more affordable and varied than the ones in the five villages of the Cinque Terre.
La Spezia has the vibe of a proper small, coastal town and the connectivity and facilities of a major city, making it the best and most convenient place to explore Cinque Terre.
💡Insider Tip: If you absolutely must stay in one of the five Cinque Terre villages, we recommend staying in Riomaggiore as it is the most developed village with a decent number of hotels and restaurants. Avoid staying in Corniglia at all costs as it is located very high above the train station (382 steps!) and doesn't have a direct sea access.
Is one day in Cinque Terre enough?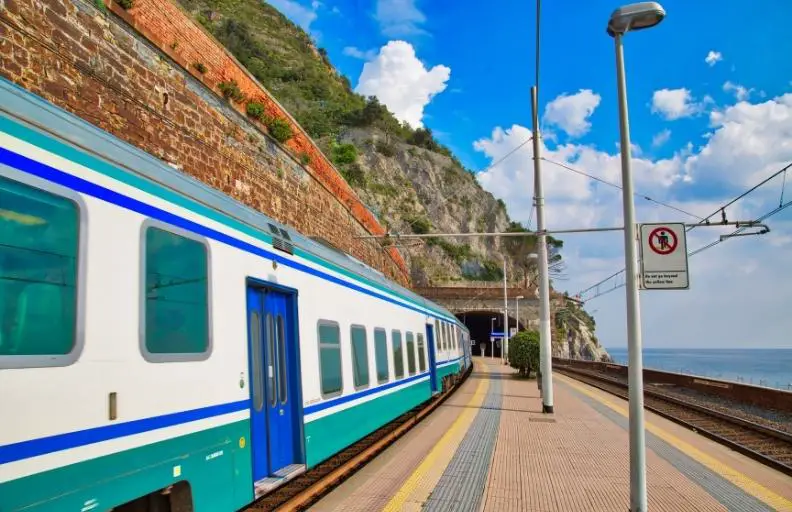 One day in Cinque Terre is enough if you wish to explore and experience the highlights of every town. However, you shall have to plan in advance, list down all the activities you wish to do and start your day early.
Also important is the sequence in which you visit the Cinque Terre villages. Starting from the wrong village can lead to wasted time, regrets and being stuck in queues due to crowds.
Follow the order stated below and you shall make the most of your one day in Cinque Terre. After a couple of visits and inputs from locals, we have created this perfect One Day Cinque Terre itinerary.
It makes optimum use of the Cinque Terre train Card, helps you experience all the amazing things to do in Cinque Terre and explore some hidden gems and our personal recommendations too!
Cinque Terre Day Trip from Florence
It is possible to visit Cinque Terre as a day trip from Florence or from Milan. A couple of our friends have gone for this option.
This highly rated Cinque Terre Day trip from Florence (⭐ 5/5 from over 5000 reviews!) is the one they took. It includes transportation, a fun and lively guide, hiking along the famous coast line and a boat tour of the Riviera! This is a trip full of hiking and involves some amazing stamina.
If you're not an avid hiker, you can opt for this Cinque Terre Day trip from Florence (⭐4.9/5 from 1500 reviews) that takes you through the villages by train. You can even opt for an optional lunch or a hike.
One Day Cinque Terre Itinerary Route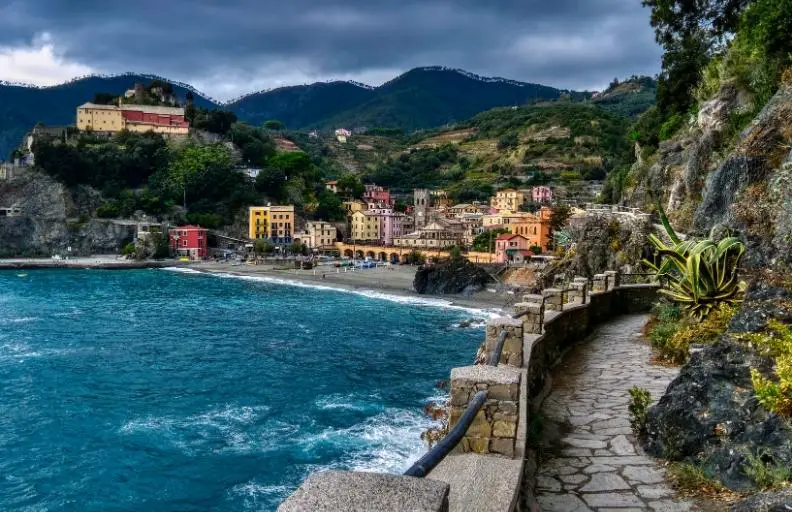 If you've decided to opt for a DIY Cinque Terre day trip, your route is what shall make or break your trip.
Selecting the wrong route could end up ruining your experience because of the crowds, the weather, wastage of time and missed sunsets.
You shall be basing yourself in La Spezia. Start early in the morning before 7 AM to avoid crowds. The villages are the most crowded between the times of 10 AM to 4 PM.
By following this route, you shall not only enjoy the spots crowd free but will also visit some places at a time when crowds make them livelier!
We recommend visiting Cinque Terre villages in the following order:
Train to Riomaggiore: The first Cinque Terre town near La Spezia with the best streets, great restaurants, amazing harbor and great kayaking options. It is the first town to get crowded.
Train to Corniglia: A town perched up higher than the other villages. It has beautifully colored narrow streets that can be a nightmare if they're too crowded.
Hike to Vernazza: Hike down from Corniglia to the scenic town of Vernazza. If you wish to do one hike, do this one as it is downhill and offers great views of the Italian Riviera.
Train to Monterosso: The only Cinque Terre town with a proper beach complete with a boardwalk and umbrellas. An amazing place for lunch and relaxing on the beach after a hectic day.
Train to Manarola: Our favorite place for cliff diving which is best done with people around (so crowds are a huge plus). It is also the most beautiful village in Cinque Terre to witness the sunset and have some early evening drinks (we have recommended our favorite bar below).
Now that we have the roadmap clear, let's get into the details of your 1 day Cinque Terre itinerary.
Cinque Terre in One Day Stop #1: Riomaggiore
Riomaggiore is the closest town to La Spezia and because of this it tends to get crowded first. We recommend that you make this the first village you explore while visiting Cinque Terre in one day.
The village has an amazing collection of artsy cafes, bakeries and gelaterias (compared to the other 4 villages). This makes it the perfect stop for having breakfast in Cinque Terre.
Since you're visiting early in the morning and without tourists, you shall be able to devour the first batch of croissants or focaccia. Sit down at a street side coffee for an amazing cappuccino and freshly made cannoli.
Post breakfast, explore the colorful and archaic streets of this beautiful village. These rustic old cobblestoned streets tend to get extremely crowded later on in the day.
So, make the most of your early morning visit, take in the epic vibe of Riomaggiore and get some unique, people-free shots for Instagram.
Riomaggiore is also our favorite of the 5 Cinque Terre villages to go kayaking into the Ligurian sea. The kayak rental shops shall just be opening when you visit and there's a good chance that you're their first customer there. This means that you can get a great deal if you negotiate well.
Rent a kayak for an hour or two, depending on your timeline and head out in the sea for some postcard views of Riomaggiore. When viewed from a boat or Kayak, Riomaggiore is our favorite of the Cinque Terre.
⏰Recommended Time: 2 hours
🚴🏻‍♀️Things to do in Riomaggiore: Breakfast in one of the street side cafes, harbor and marina walks, kayaking
Cinque Terre in One Day Stop #2: Corniglia
Your next stop while visiting Cinque Terre in one day shall be the smallest of the five villages – Corniglia. Use your Cinque Terre card and catch a train to Corniglia.
Corniglia is located high up, approximately 100 meters above sea level. This means that it can offer unprecedented views of the Italian Riviera but it is also the only Cinque Terre village with not direct access to the Ligurian Sea.
It also means that you'll have to climb a lot of stairs (382 to be exact) to reach the town from the train station.
Don't worry, there is also an option of a shuttle bus that is included in your Cinque Terre Train card. This bus is generally very crowded but since you'll be there by around 9 AM if you follow our 1 Day Cinque Terre itinerary, you'll be good.
Upon reaching Corniglia, get the best gelato in Cinque Terre at Alberto's. They also serve some delicious lemon frozen yoghurt but the most unique thing would be the fresh basil gelato made from basil grown from their own garden! 🍦
 Gelato in hand, explore the narrow alley way beside Alberto. These are some of the most beautiful, narrow and charming cobblestone streets in Cinque Terre, lined with rustic, colorful houses and cafes.
The alleyways are wide enough for only one person to walk freely! This is the reason why we're visiting Corniglia early – once the crowds come in, you can't enjoy the charm of these little streets.
The streets lead to one of the best vantage point of the Italian Riviera. Click some amazing pictures here and continue down the path that leads to our next village – Vernazza.
⏰Recommended Time: 1 Hour
🚴🏻‍♀️Things to do in Corniglia: Eat the best Gelato in Cinque Terre, explore the narrow streets, hike down the Blue Trail to Vernazza
Cinque Terre in One Day Stop #3: Vernazza
The hike from Corniglia to Vernazza is one of the easiest in all of Cinque Terre. It is mostly downhill and the uphill parts aren't very steep either. Moreover, it is covered by beautiful gardens on one side and the blue sea on the other. Needless to say, it is our favorite Cinque Terre Trail.
You can take a break midway at a popular bar called il Gabbiano. It is a great place to have a drink and enjoy spectacular views of the blue sea. It's a self-service bar, so you'll have to go down to the bar to collect your drinks and come back up at the table to enjoy the views.
The reason why we suggest taking this trail, is that you'll start experiencing Vernazza way before you enter the village:
You'll see the best view of Vernazza from this trail.
You'll also pass by the terraced olive groves of Vernazza that is renowned to produce some of the best olive oil in Italy.
Upon entering Vernazza, explore this medieval village classified as one of the most beautiful villages in Italy.
It will probably be lunch time by the time you arrive. Make the most of Vernazza's vibrant piazza lined with innumerable bars and restaurants.
Alternatively, you can head over to the harbor and walk the jetty lined with colorful fishing boats and big stones to get the best view of Vernazza.
⏰Recommended Time: 3 hours (including hike from Corniglia and lunch)
🚴🏻‍♀️Things to do in Vernazza: Hike down from Corngilia, explore the piazza, relax at the stone jeti, climb to the famous Doria Castle
Cinque Terre in One Day Stop #4: Monterosso Al Mare
To reach the next stop of our Cinque Terre in one day itinerary, take a train from Vernazza to Monterosso.
Monterosso is the largest of the Cinque Terre (five villages) and is the only village that has proper sandy beaches. We're talking white sands, umbrellas and sunbeds lined up across the shore and a proper boardwalk.
Monterosso is the best village in the Cinque Terre for families. It is mostly flat, making it an ideal destination for people who have a problem with hiking and for families with infants/toddlers who wish to walk with a stroller on the promenade.
There are numerous restaurants lining the beach as well as the old town which makes Monterosso a better option for lunch compared to Vernazza.
You can rent one of the umbrellas/sunbeds on the private beach or relax on your own towel on a public beach.
The sea is calm enough for a swim and the clear waters of the reef are great for snorkeling too.
💡Insider Tip: At the end of the long beach, marvel at the Il Gigante statue, perched up at the edge of the cliffs. Not many visitors know about it as it is easily camouflaged.
Rest in Monterosso to recover from all the early morning travel and hiking you've been doing. Rent an umbrella and enjoy a drink or explore the old town and absorb the vibe of this unique village.
As the crowds start to thin out by about 3:30 PM (in May), take a train to Manarolla – The best Cinque Terre village to witness the sunset!
⏰Recommended Time: 2-3 hours, depending on how long you wish to relax on the beach
🚴🏻‍♀️Activities: relaxing on the beach, snorkeling, walks on the promenade, visiting nearby lemon orchards
Cinque Terre in One Day Stop #5: Manarola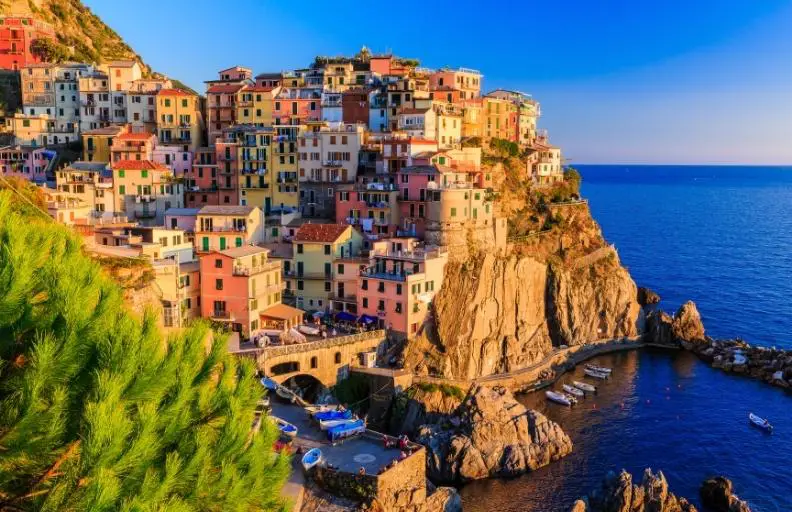 The last stop in our Cinque Terre in one day itinerary is our favorite town of Manarola. It is not only the best town in the Cinque Terre to witness the sunset but also the best deep-water swimming destination!
If you follow this one day Cinque Terre guide to the word, you shall be arriving in Manarola at around 4 PM. That gives you approximately 3 hours till sunset, which is an ample amount of time to enjoy Manarola.
The day trip crowds would've already started thinning out but not enough to kill the vibe of the village.
Head over to the harbor, which is the main spot of the village for chilling by the water and indulge in some cliff jumping. Cliff jumping requires deep waters and Manarola provides plenty of that.
There will be a good number of people already jumping off those jagged rocks, chilling on the cliffs and cheering for each other to jump. We took a couple of jumps and realized that it is, hands down, the best thing to do in Manarola.
❕Note: We tried cliff jumping in Vernazza as well but the waters there were too shallow and we recommend only going for a swim in Vernazza.
After all that adrenaline filled action, head over to one of the easy trails for a breath taking view of the little town. When viewed from one of the trails, you will see a land mass of tumbling colorful buildings over a craggy port lined with vibrant fishing boats.
The most famous among those trails is the Via dell Amore which translates to "Walkway of Love" that connects it to Riomaggiore. It is a romantic, well developed path by the cliff that offers some of the best vistas of Ligurian sea.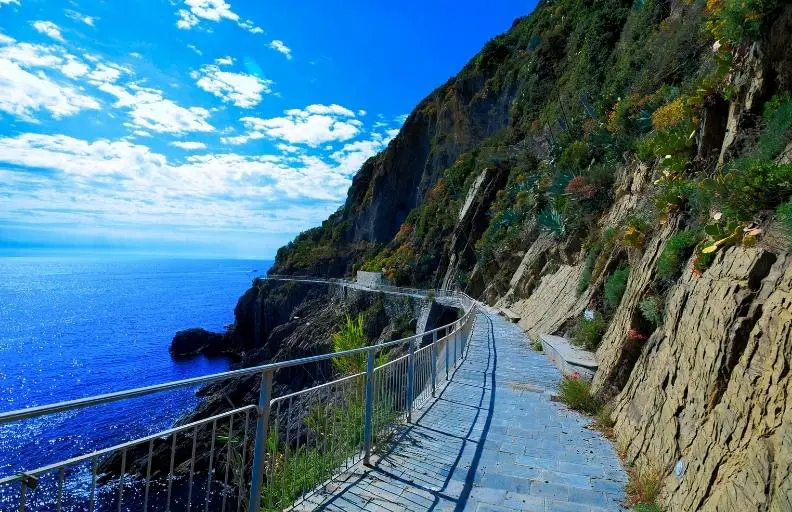 Unfortunately, it was damaged in a landslide and is expected to reopen sometime around early 2024.
However, you can still visit a small portion of the Walkway of Love and get some amazing pictures if you're Couple travelers like us!
One hour before sunset (7 PM), head to the very famous bar, Nessun Dorma. It is an absolute gem of a place to visit for evening drinks and watch the sunset on the face of Manarola. The drinks and food are delicious and cheap compared to the views it offers.
⏰Recommended Time: 3 hours close to the sunset
🚴🏻‍♀️Things to do in Manarola: Cliff Jumping, deep water swimming, small walk on the Via del Amore, drinks at Nessun Dorma
In a Nutsell
And you've done it! You managed to visit Cinque Terre in one day!
If you still have some fuel left to enjoy Cinque Terre at night, you can head to Riomaggiore. It is one of the few villages in the area to have an active night life.
We were really satisfied and exhausted after our full day tour of Cinque Terre. Hence, we called it a night and went back to our hotel in La Spezia after dinner.
As you can see, it is definitely possible to visit Cinque Terre in one day without feeling rushed or missing out on the vibe of the place.
We hope this Cinque Terre in one day guide left you more informed than what you were before reading it.
If you still have any questions, ask them in the comments below and we shall be happy to answer them. If you found this guide useful and plan to follow it, tag us (@worldwidewander_org) in one of your posts on Instagram and we shall be happy to share it with all our followers!
Check out our other posts on Italy travel to convert a good trip to Italy to a GREAT trip to Italy!
Ciao.