Planning to spend 3 days in Venice and don't know where to start? This detailed Venice itinerary for 3 days shall help you plan the best vacation to the historic yet romantic city. We spent 3 days in Venice right after exploring Cinque Terre in One day during our 2 weeks in Italy.
Because of this detailed Venice itinerary, we were able to visit not only the must-visit attractions of Venice but also the lesser known ones, hidden gems and famous Instagram spots without feeling rushed!
Venice is a lagoon that comprises of approximately 118 islands, but the main island is the major tourist attraction. It is about 15 times smaller than the size of Rome but is definitely packed with plenty of things to do!
Here's a snapshot of all the things to do in Venice in 3 days:
You might have a couple of questions for planning your 3 days in Venice. Hence, we've taken the liberty to answer some important questions to help you plan a memorable trip to Venice.
Also, if you refer the following Italy travel blog posts, you can upgrade a good Italy trip to a GREAT Italian Adventure!
How many days in Venice is enough?
3 Days is the ideal for a first timer's visit to Venice. Spend the first two days to see all the major attractions and a majority of the lesser-known hidden gems on the main island. On the third day you should take a ferry or a guided tour to the nearby islands of Burano, Murano and Torcello.
However, in order to achieve this, you must plan ahead and book your skip-the-line-tickets in advance to avoid wasting times in queues. And that's exactly what this itinerary shall help you do!
What is the Best time to visit Venice?
The best time to visit Venice would be during the shoulder season of Spring, i.e. April to June as the weather is mild, crowds are less and prices are more affordable. We spent our 3 days in Venice in the month of May and had a great time compared to what our friends had when they visited during the summer.
If you're interested in attending the famous Venice Carnival, you need to plan you trip in February. Be prepared to pay premium prices for accommodation as it is one of the busiest times of the year in Venice.
The worst time to visit Venice, as experienced by our friends, is during the summer months from July to August. It is the peak tourist season when Venice is really crowded, the heat is absolutely stifling and you shall be continuously sweating during your time there.
Flight and accommodation prices are also at their highest during this time. Moreover, the city is quite humid, sometimes even smelly, and the mosquitos can be quite a nuisance.
Another bad time to visit Venice is during the high tide season, usually from November to March. This is when the city can be affected by "Acqua Alta" (high water) which can cause the streets to flood and make it difficult and highly inconvenient to move around the city. Most of the attractions are closed and it can rain quite frequently, thus ruining your trip.
How to reach Venice?
There are mainly three ways to reach Venice and we shall be explaining them all in detail here:
✈By Air: Marco Polo airport is the most well-connected airport to all major cities in Europe. From the airport, you can take one of the following methods:
🚈By Train: Trains are the most cost efficient and convenient option to reach Venice. This is esp. true if you're arrive from within Italy like we were, after visiting Cinque Terre in a day during our 2 weeks in Italy.
❕Beware: DO NOT get down at the Venice Mestre station that comes first. Get off at St. Lucia station that is closer to the city center and is very well connected with water taxis and the Vaporetto.
From the train station, you can either book a water taxi like this one or take the Vaporetto to the area of your hotel. A Vaporetto is the boat equivalent of a bus in Venice.
More information on Vaporetto is provided down below in the "How to get Around Venice" section.
🚌By Road: If you're reaching Venice by bus, you shall be dropped off at Piazzale Roma, the last area in Venice where buses and cars are allowed. From there, you can take the Vaporetto as explained above.
🚗By Car: If you're on an Italy Road trip, you shall be able to reach Piazzale Roma by taking the A4 motorway and following the signs for Venezia. You'll have to then park your car in a parking lot and take public transportation to reach Venice.
How To Get around Venice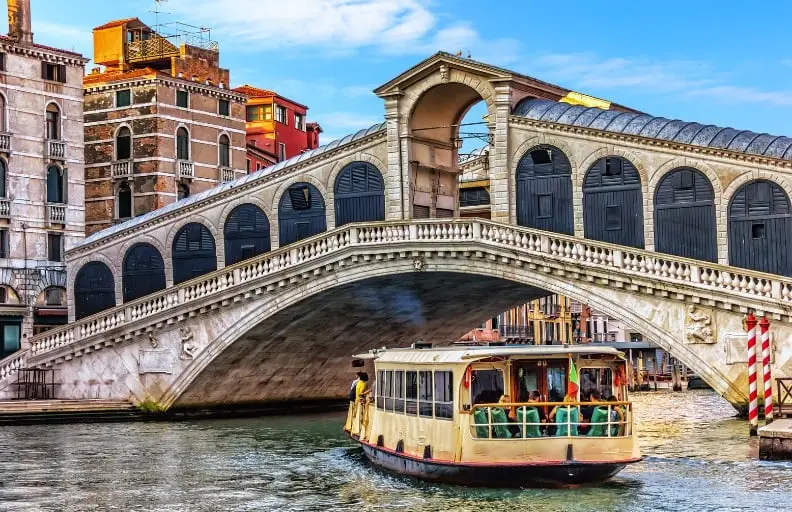 The best way to get around Venice is by walking. Most of the sites are located around the city center and close to each other.
Venice is a city full of canals and bridges. Which is why there are no cars, scooters or even bicycles allowed inside the city center. Hence, walking is the best and the most beautiful way to get around during your 3 days in Venice.
To cover larger distances, the most cost-effective way is to travel via Vaporetto or water bus. There are several lines that run through out the city, stopping at various points. You can buy the tickets at newsstands, tobacco shops and Vaporetto ticket booths.
It's important to validate your ticket by inserting them into the validation machines at the Vaporetto stops before boarding the boat. Not doing so shall incur hefty fines.
Check out the prices of a single ticket and day passes at the official ACTV website, the official public transportation company of Venice.
You can traverse Venice via Gondola too. However, these have now become tourist attractions instead of the main mode of transportation that they once were.
💡Inside Tip: Remember these two words: Gondola Traghetto. It is a short Gondola ride taken to cross the Grand Canal from one side to another by the locals. The ride lasts only for a couple of minutes and costs €2 instead of the €100 you'll pay for a shared ride in a tourist activity. It is an authentic but much cheaper alternative to ride a gondola and get that epic Instagram shot!
Where to stay in Venice
Venice is a unique and beautiful city, and there are many areas that offer different experiences. We recommend staying close to the city center but not too central to avoid tourist traps.
We recommend the following areas depending on your budget and preferences:
San Marco:
If you're looking for a luxurious and central experience, and budget is not an issue, the San Marco area is a great choice.
This area is home to some of Venice's most iconic landmarks, such as the Piazza San Marco and the Basilica di San Marco, as well as many high-end hotels, restaurants and shops. However, it is also quite touristy, expensive and can get a little noisy and crowded.
Consider the following hotels in San Marco:
Hotel Metropole: Located in a historic building, this hotel offers luxurious rooms and suites, a rooftop terrace with views of Venice, and a Michelin-starred restaurant.
Hotel Gritti Palace: This iconic hotel offers elegant rooms and suites, a private beach, and a rooftop terrace with views of the Grand Canal. It is truly a hotel for those who love to splurge on luxury.
Dorsoduro:
For a more authentic and peaceful experience, the Dorsoduro area is a great option. This area is located on the southern part of the city and it is known for its beautiful canals, charming squares, art galleries and traditional local restaurants.
It is connected with the San Marco area via the iconic Accademia bridge. We stayed in this area during our 3 days trip to Venice.
Hotel American Dinesen: This charming hotel is housed in an 18th-century building and offers beautiful rooms and great views of the city. It is located very close to the Accademia bridge and San Marco Square is just an 20 minute walk from here.
Hotel Palazzo Stern: This elegant hotel is located in a restored 18th-century palace and offers luxurious rooms, a private garden, and a rooftop terrace with views of the city. It is close to the Vaporetto station and some of our favorite restaurants and eating joints in Venice.
Casa Accademia: A cozy Bed & Breakfast close to the Peggy Guggenheim collection with elegant rooms, a chill vibe and budget friendly options. It has a great vibe and provides free maps of the city too!
Santa Croce:
For those looking for a more budget-friendly option, the Santa Croce area is a good choice. This area is located on the northern part of the city, it is a bit more residential and less touristy.
 It has many budget-friendly hotels and apartments, and it is also well-connected to the rest of Italy via the Vaporetto water bus system and the train station. However, you shall have to either walk more or use the Vaporetto extensively to see the city.
Day 1 of 3 days in Venice
Your first day in Venice shall naturally involve your arrival in Venice, checking into your hotel and creating a base for the coming 3 days. If you're following our 14 days Italy itinerary, you shall be arriving by noon.
That's the perfect time to arrive in a destination as it is close to the check in times of most hotels and you are fresh enough to start exploring right away. So, drop your bags at the hotel and head of to St. Mark's square to visit the most popular attractions of Venice.
Basilica San Marco
The most iconic monument in St. Mark's square and one of the most beautiful churches in the world is Basilica San Marco. Built in the 11th century, the basilica is a stunning example of Byzantine architecture and is adorned with mosaics, marble, and gold leaf.
It is also home to some of the most important relics in the Christian world, including the remains of St. Mark the Evangelist, which are said to be interred in the basilica's high altar.
The exterior of the basilica is breathtaking, with its ornate domes and intricate carvings. But the real highlight is the interior, where you'll find a dazzling display of Byzantine mosaics and other works of art.
Don't miss a chance to see the Pala d'Oro – a stunning altarpiece that is one of the most important treasures in the basilica. Made of gold and precious stones, it dates back to the 10th century and is a true masterpiece of Byzantine art.
We also loved the four bronze horses that are one of the most iconic symbols of Venice. They were brought to Venice in the 13th century from Constantinople and originally placed on the façade of the basilica. Today, replicas are on display outside, while the originals can be seen inside the basilica.
Like most churches in Italy, St. Mark's Basilica has a dress code. Visitors are required to cover their shoulders and knees, so be sure to dress appropriately. Please do not show up in your shorts.
We recommend buying a skip-the-line-ticket. If you don't, you shall have to wait in queues till evening. We also recommend taking a highly rated guided tour like this one to make the most of your visit.
💡Insider Tip: Your St. Mark's Basilica tickets also include access to the beautiful terraces. These terraces provide an amazing vantage point to take an Instagram shot with St. Mark's Square. Also, if you visit the terrace just before the hour mark, you can see the bells of the clock tower (explained below) in action!
💶Entry Ticket: Skip the Line ticket to St. Mark's Basilica
🧑🏻Guide Tour: Guided tour with priority Entrance to St. Mark's Basilica and Doge's Palace (⭐4.8/5)
Clock Tower
The Clock Tower, or Torre dell'Orologio in Italian, is a features a beautiful clock located in St. Mark's Square, right across St. Mark's Basilica.
It is a true masterpiece of Renaissance engineering, and it's one of the most iconic landmarks in Venice. The tower was originally built in the late 15th century, and it still functions today, telling the time with incredible precision and accuracy.
In fact, it not only tells time, but also the position of the Sun, the phase of the moon and the dominant zodiac it is currently residing in!
Twice a day, at noon and 6 pm, the Clock Tower comes to life with a special show. The figures of the Magi, or Wise Men, come out of the clock and parade before a statue of the Virgin Mary, while a bell tolls in the background. This is best witnessed from the terrace of St. Mark's Basilica as explained above!
When we visited, there were guides offering to give us a tour of the clock tower, but we were a little short on time and didn't find it worth the money. The beauty of this tower is from the outside!
Bell Tower
The Bell tower or the Campanile is the highest structure in St. Mark's Square. It offers a bird's eye view of Venice and is a great photo spot for Instagram.
You can buy a ticket and climb up the 323 steps for an amazing view of Venice, clad in the orange hues of the setting sun.
We didn't opt for this one as we were pretty tired and we knew about a secret spot to get similar views absolutely free of cost! It's a great option if you're planning to visit Venice on a budget! We've covered this spot in day 2 below.
Palazzo Ducale or Doge's Palace
Located perpendicularly to St. Mark's Basilica, is Doge's Palace. This architectural marvel was once the center of Venetian politics. Today, it's one of the most important museums of Venice housing an incredible collection of art and historical treasures.
We enjoy architecture and landscaping and this place exuded elegance and grandeur. Explore the courtyards and the gardens to enjoy the unique architecture of each area.
Especially appealing was the Grand Council Chamber. This grand hall was the center of Venetian political power for centuries, and it's a true masterpiece of Renaissance art and architecture. Be sure to take some time to admire the stunning ceiling and wall frescoes.
If you're not into architecture like us, Doge's Palace is home to several museums, including the Museo Civico Correr, the Museo Archeologico Nazionale, and the Biblioteca Marciana. Each museum has its own unique collection of art and artifacts, so take some time to explore them all.
Your ticket shall also give you access to cross the famous Bridge of Sighs (explained below) and have a look inside the prison cells that housed the famous Cassanova!
It's best to buy a reserved ticket to the Doge's Palace like this one so that you don't waste time in lines. Even better, your St. Mark's Basilica tour will generally include Doge's Palace as well. Hence, make the most of it.
💶Entry Ticket: Skip the Line ticket to St. Mark's Basilica
🧑🏻Guide Tour: Guided tour of Doge's Palace and St. Mark's basilica with pre-reserved admission (⭐4.8/5)
Bridge of Sighs
The bridge of Sighs has become particularly famous in Venice.
This ornate bridge connects Doge Palace to a prison across the canal. Legend has it that prisoners would sigh as they crossed the bridge, knowing that they would never see the outside world again.
Your entry ticket to the Doge's Palace shall include access to cross the Bridge of Sighs.
However, if you wish to get an amazing picture with the beautiful bridge from outside, you need to go on a parallel bridge – the Ponte dela Paglia.
Day 2 of your 3 days Venice Itinerary
As this shall be your only full day in Venice, we recommend starting your day early to make the most of your time and avoid crowds. The first few activities listed below can be completed by 9:30 AM if you start early and are really efficient.
Rialto Bridge
Of the plethora of bridges that you shall cross in Venice, the Rialto bridge is the most iconic, the most popular and probably the oldest one!
It was built in the 16th century and is an architectural masterpiece, with two imposing stone arches and a beautiful portico. The bridge is also an important historical site, as it was once the center of commerce in Venice and played a significant role in the city's economy.
It is imperative that you visit the bridge early in the morning. We're talking close to 7 AM to get some crowd free pictures with bridge and to admire the bridge at your own pace. Visit any time after 9 AM and you shall see more people than the bridge itself, and hence ruining your experience.
The Rialto bridge is also the starting spot for our next activity, the iconic Gondola ride in Venice.
Gondola Ride
You can't come to Venice and miss out on one of the most quintessential things to do in Venice! A gondola ride across the Grande Canal or even one of the smaller, quaint canals is a must do attraction when visiting Venice.
Because of its popularity, Gondola rides have become quite pricey but the experience is something out of this world. We recommend taking a gondola ride early right after visiting the Rialto bridge. This way you shall be able to enjoy your ride during the serene, misty morning as compared to the crowded and humid hot pot that Venice becomes later in the day.
The most economical and convenient way is to book a gondola ride in advance here. This is a shared gondola ride with 5 other people in the boat. However, if you take the morning slot, there's a chance that you get the entire boat to yourself!
If you're a group of 4 or more people, we recommend booking a private gondola ride as it's more economical and there's nobody else but your group in the boat.
We recommend booking one of the following highly rated rides:
Grand Canal Gondola Ride with App Commentary (⭐4.2/5 from 2000+ reviews)
Private Gondola Ride across Grand Canal (⭐4.1/5)
Libreria Acqua Alta
The next stop on Day 2 of your Venice itinerary is Libreria Acqua Alta. We visited this place because of its popularity on Instagram and immediately realized what an amazing hidden gem it is!
The name of the library literally translates to Library of High water, named after the high tide that Venice experiences in the colder months.
Most of the books in the library are arranged in bath tubs or mini-gondolas. This is to protect the books as the canals flood and the water levels rise.
Apart from books, we also found a lot of cats napping inside the library. The locals told us that they enjoy sleeping on the soft pages of the age-old books. Hence, it you're allergic to cat-hair, we recommend that you wear a mask.
The library also has a courtyard where the damaged books are kept and arranged to form a wall and steps that lead to it! In recent years, this wall made of damaged books has become a very popular Instagram photo spot in Venice.
💡Insider Tip: Speaking of Instagram spots, the book shop has a gondola parked outside one of its windows to the canal. Climb out of the window, into the gondola and you have a cheap and FREE picture of yourself in a gondola in one of the canals of Venice!
Fondaco dei Tedeschi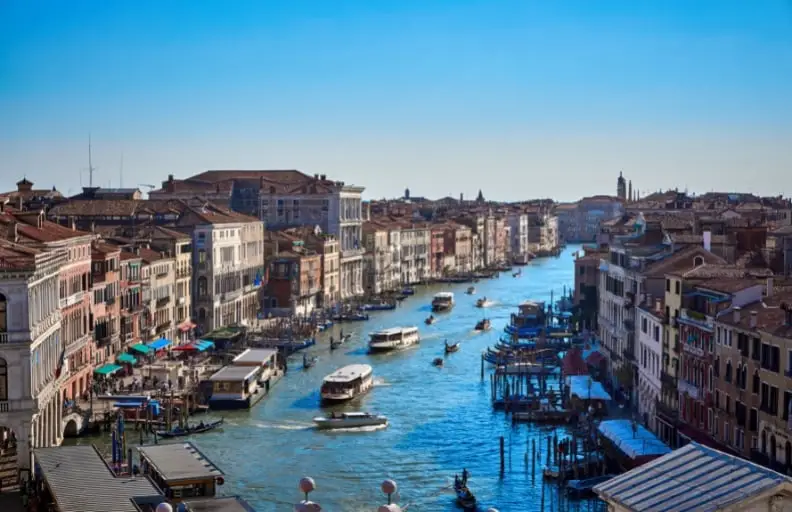 Well this is an attraction that no other Venice travel guide shall be able to tell you, apart the locals.
Fondaco Dei Tedeschi is a regular shopping mall located pretty close to where you're at after visiting Libraria Acqua Alta. Take a short walk to the mall and climb to the terrace. The Terrace offers some of the best views of the island of Venice and it's completely free!!
This is a great option if you're traveling to Venice on a budget and don't wish to spend money on climbing the bell tower just for the view. It might get a little crowded in the summer months and hence, prior booking may be required.
Contarini del Bovolo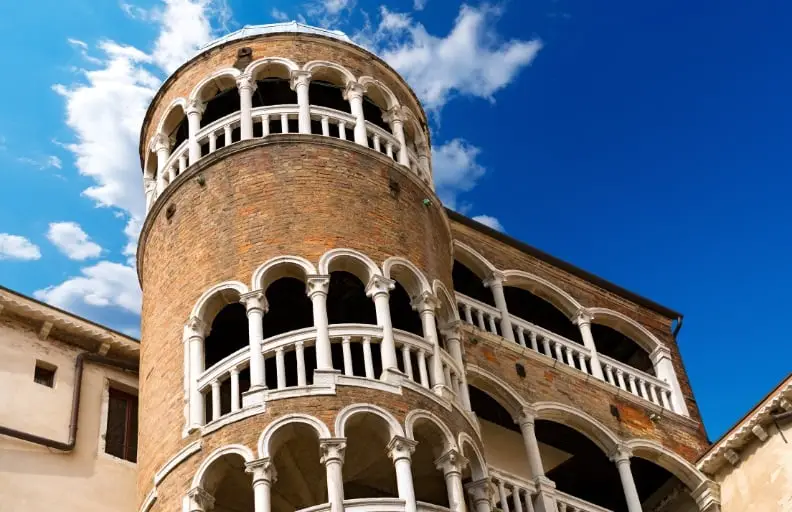 Another historic place and now a popular Instagram spot that falls on the list of things to do in Venice on day 2 is the Contarini del Bovolo. It is a famous staircase that forms part of the Contarini palace, the palatial residence of the influential Contarini family.
History says that the rich Contarini palace was really annoyed as their beautiful palace was not noticed enough by the people as it was located among narrow alleyways. As a result, they added this majestic, baroque staircase (known as Bovolo in Venetian dialect) at a later date in history.
And boy, did it pay off! Today, this staircase is one of the more popular Instagram spots in Venice. You can buy a ticket to climb the beautiful stone staircase to admire the splendid arches and the incredible view it offers over the roofs of Venice.
Teatro La Fenice
Next, head over to the opulent La Fenice Grand Opera. The magnificent opera house was constructed in the 18th Century and it hosts around a hundred premiers of famous International opera.
The ornately decorated opera boasts of a seating capacity of over 1,000 people and can easily accommodate a 98 member orchestra or a 66 member opera chorus!
You can envision the grandeur of this monument by opting for one of the following:
Choose from either of the above experience, but don't skip this attraction even if you've seen other great opera houses in Europe.
Accademia Bridge
The Accademia bridge falls on the way to the next Venice attraction in this 3 Days Vencie Itinerary, but it can easily be considered an attraction in itself!
It is a high-arch wooden bridge that connects St. Mark's square with Accademia Gallery.
However, what makes this bridge one of the highlights of Venice, is the fact that it is the last bridge on the Grand Canal before it merges into the lagoon. As a result, you shall be able to enjoy unprecedented views of the Grand Canal from the bridge.
If you follow this Venice itinerary well, you shall be arriving when the sun is setting. This gives you a great opportunity to snap some golden hour photographs with the Grand Canal and the setting Venetian sun!
Peggy Guggenheim Collection
Once you cross the Accademia Bridge, you can visit two iconic galleries the Gallery dell 'Accademia di Venice and the Peggy Guggenheim Collection.
If you're a bigger art buff than us and have enough to time to visit both the galleries, definitely go for both the galleries. We were short on time and hence, opted to visit the Peggy Guggenheim collection as recommended by a local friend. And we were so glad that we did!
Peggy Guggenheim was a fascinating and influential figure in the art world, and the museum is dedicated to preserving her legacy.
The museum is housed in the stunning Palazzo Venier dei Leoni, which was Peggy Guggenheim's home for many years. IT houses a vast collection of artworks from the 20th century, including masterpieces from artists such as Jackson Pollock, Salvador Dali, Max Ernst, and Pablo Picasso. The Surrealist room was certainly our favourite.
However, art is not the only reason why you must visit this beautiful Villa. The museum's garden is a peaceful oasis in the heart of Venice, and it features a number of sculptures. Take some time to relax and enjoy the beauty of the garden, and be sure to look for the famous sculpture of a giant spider by Louise Bourgeois.
Also, the gallery is located right on the Grand Canal, and it offers some incredible views of this iconic waterway. Be sure to to admire the views from the museum's windows, balconies and click some epic photographs at golden hour from the terrace touching the canal!
If you're somebody with a sweet tooth, the chocolate cake in the Museum café is delicious. The café is definitely on the pricier side but serves great pasta and desserts.
💶Entry Ticket: Peggy Guggenheim Collection Entrance Ticket
Basilica di Santa Maria di Salute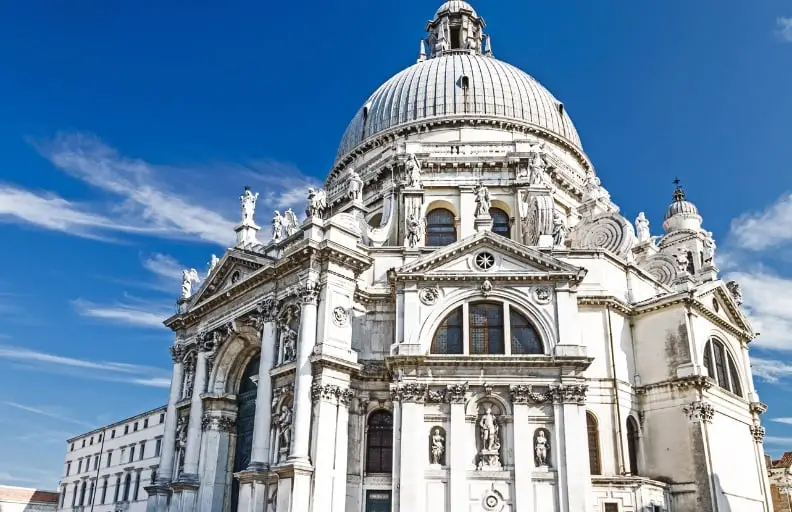 The last stop of this fully packed Day 2 of your 3 days in Venice itinerary is the Basilica di Santa Maria di Salute located just a 5 min walk from the Peggy Guggenheim museum. Entry is free of cost, which is great if you're on a budget.
The Basilica is one of the most famous landmarks in Venice. The church was built in the 17th century as a thanksgiving offering for the end of the plague, which had ravaged the city for several years.
It is an excellent example of Baroque architecture and is adorned with marble sculptures, frescoes, and paintings. Explore the intricate details of the building and appreciate the beauty of the design to your hearts content (we are architecture buffs, remember?).
It is also home to some of Tintoretto's impressive works including the famous "Marriage at Cana" painting. That along with the high altar that has a beautiful sculpture of the Virgin Mary and a gold tabernacle add to the charm of this beautiful church.
As the basilica is located at the entrance of the Grand Canal it offers stunning views of the Grand Canal and the city, especially from its large terrace. It is one of our most favorite views of the grand canal and we urge you to not miss it!
As with all other places of worship, we request you to dress appropriately and be respectful in maintaining the decorum of the Basilica.
Day 3 of Venice Trip
Dedicate the third day of your 3 days in Venice to the nearby islands of Murano, Burano and Torcello. These islands must be included in any trip to Venice as it adds another dimension to your experience in Venice.
A very convenient and highly rated option is this trip to Burano, Murano and Torcello that offers a comprehensive experience of exploring all the three islands in a day without the hassle of managing transportation. A tour manager shall accompany you throughout the trip.
🧑🏻Guided Tour: Murano, Burano, Torcello Island and Glass Factory Tour (⭐4.4/5)
Check out below what each of the towns have to offer so that you know what to expect from your trip.
Murano
If you've ever delved in the activity of purchasing beautiful glassware, you've definitely heard of Murano glass.
This small island located just a short ferry ride away rom Venice is famous for its centuries-old tradition of glassmaking.
Naturally, it is imperative for you to visit a glass factory while in Venice. There are many glass factories on the island where you can see artisans at work creating beautiful pieces of glass.
It is also the best place to get Murano glass as you shall be buying directly from the factory and hence, can be sure of the quality.
💡Insider Tip: Beware of fake Murano glass in Venice as well as Murano. While purchasing, look for the "Vetro Artistico Murano" trademark, which ensures that the glass is made in Murano by a certified glassmaker.
Make sure that your tour visits Murano first like this tour here, as it gets pretty crowded later in the day.
Burano
By now you might have realized that we're obsessed with beautiful and picturesque Instagram spots.
Enter Burano, a colorful and charming island located in the Venetian Lagoon, known for its brightly painted houses and lace-making tradition.
You shall find rows of brightly painted houses in a rainbow of colors on either side of the main canal. Take a stroll, click some amazing pictures and admire the colorful facades, and don't forget to visit the historic leaning bell tower.
While the brightly painted houses along the main streets are iconic, don't be afraid to venture off the beaten path and explore some of the quieter canals and alleyways on the island. You never know what hidden gems you might find.
Also, Burano is famous for its tradition of lace-making, and there are several shops and museums on the island where you can learn about the intricate process and see examples of beautiful lacework.
A high quality, hand-made piece of lace is not only one of the best Italian Souvenirs, but also a great way to support the local artisans practicing this slowly dying art form.
Torcello
The last stop in this 3-island tour is the peaceful and serene island of Torcello. After a day of exploring Murano and Burano, we loved the refreshing change of strolling across this quaint little island and enjoy the views of the lagoon at sunset.
The island is home to a 7th century cathedral – the Basilica of Santa Maria Assunta. The Cathedral features stunning Byzantine mosaics that are some of the oldest in the Venice area. Don't miss the intricate mosaic of the Last Judgment in the apse.
Make sure you bring cash as there are hardly any ATMs in Torcello and credit cards aren't widely accepted.
An evening in this calm and beautiful island is the best way to end your 3 days in Venice.
In a Nutshell
As you can see, we have covered almost all the things to do in the above itinerary including all the major tourist attractions in Piazza San Marco and the hidden gems in the surrounding area, a few secret Instagram spots in Venice and the must-visit surrounding islands.
We hope you find this 3 days in Venice itinerary useful. Leave us a comment if this Venice travel guide helped you in planning your trip. It gives us more confidence in creating such content if we feel that we're making a difference.
If you have any questions or need more information, leave us a comment below. We shall definitely love to answer all your questions as soon as we could. Cheers!