Planning to spend only one day in Milan? In this article, we'll provide a step-by-step guide to help you explore all the things to do in Milan in just 24 hours.
Milan, the fashion capital of Italy, is a beautiful city filled with incredible architecture, stunning art, and delicious food. If you have only one day to explore this magnificent city, you need a well-planned itinerary to ensure you make the most of your time.
We visited Milan on the last day of our 2 weeks in Italy. We had our flight out of Milan and hence, we were able to put together this perfect itinerary that helped us explore most of the major attractions and also enjoy the bustling night life of Milan.
Here's a good overview of our One Day Milan Itinerary:
Morning: Breakfast, Milan Cathedral, Piazza del Duomo, Galleria Vittorio
Afternoon: Teatro Alla Scala,Lunch, Sforzesco Castle, Last Supper, Leonardo da Vinci Museum
Evening: Explore Milan's Epic Night life in Navigli – Appertivo, Dinner and Departure
Let's explore these points one by one.
Also, if you refer the following Italy travel blog posts, you can upgrade a good Italy trip to a GREAT Italian Adventure!
This article contains affiliate links. This means that we earn a small commission for purchases made through these links at no extra cost to you. Kindly read our full disclosure and privacy policy for more details.
One Day Milan Itinerary – Morning
Start your day early in the morning at the place that will definitely be extremely crowded later in the day – the historic city center. But before exploring the sites, fuel up at one of our favorite breakfast places in the whole world!
Breakfast at The Most Beautiful Starbucks in the World
Yes, we know, it's almost a sin to recommend a Starbucks in an cultural location like Milan, but here us out. This is the Starbucks Reserve Roaster, located in an old post office building that has reserved its charm and it fits perfectly in Milan's beautifully medieval architecture.
The exquisite bronze interiors shall make you feel like you're in Willy Wonka's Coffee factory. The brewery is a work of art and the décor is out of this world!
There're some amazing sweet and savory snacks in extravagant displays and a lot of specialty coffee including our favorites – pistachio latte and smoked butterscotch cold coffee.
This is without a doubt, the most beautiful Starbucks in the world.
Milan Cathedral
After you're fuelled up for the day, it's time to visit the most famous landmark in the city – Duomo di Milano a.k.a. the Milan Cathedral. This magnificent Gothic cathedral is located in the heart of Milan and is the third-largest church in the world.
Buy a skip the line ticket and enter the Cathedral through the main entrance, which is located in the front of the building and faces the Piazza del Duomo. Inside the cathedral, you can admire the impressive stained-glass windows, frescoes, and sculptures.
However, our favorite highlight of the Milan Cathedral is the terrace, which offers panoramic views of the city. To reach the terrace, you can take the stairs or elevator to the top of the building. From there, you can enjoy breath-taking views of Milan and see the spires and statues up close.
Take the elevator to the top and buy a skip the line ticket to the terrace in advance to avoid wasting time and energy in lines or climbing the stairs.
We recommend buying a combined ticket of the Cathedral as well as the terrace.
You can also take a guided tour of the cathedral, which will provide you with more insight into the history and significance of the building. Finally, if you have time, consider visiting the cathedral at night when it's illuminated, which is a truly magical experience.
Note: The cathedral is a religious site, so it's recommended to dress modestly and avoid wearing shorts, tank tops, or revealing clothing.
💶Entrance Tickets: Cathedral | Terrace | Combined Ticket
🧑🏻Guided Tour: Guided Tour of the Milan Cathedral
Galleria Vittorio Emanuele II
Located right next to the Cathedral, adjoining the Piazza dell Duomo from the other side, is one of the oldest shopping arcades in the world. It was built in the late 19th century and named after the first king of Italy, Vittorio Emanuele II.
The arcade is home to some of the world's most luxurious brands, including Prada, Gucci, and Louis Vuitton. However, even if you're not interested in shopping, the Galleria is still worth a visit for its stunning architecture and its lively atmosphere.
It is known for its beautiful glass dome and mosaic floors, which feature the emblems of the four main cities of Italy: Turin, Rome, Florence, and Milan. One of the highlights of the Galleria is the mosaic of a bull on the floor near the entrance of the arcade. Legend says that if you spin around three times on the bull's testicles with your right heel, it will bring you good luck. We didn't try it but you can if you believe in such things!
Enter the Galleria from the side of the Duomo, enjoy its amazing vibe and exit from the opposite side to visit the next location in our Milan itinerary.
One Day Milan Itinerary – Afternoon
It'll be late morning/early afternoon by the time you're done with the above activities. Dedicate this part of the day to exploring the art and culture of Milan. It's perfect timing as this allows you to stay indoors and avoid the sweltering heat, especially if you're visiting Milan in summer.
Teatro Alla Scala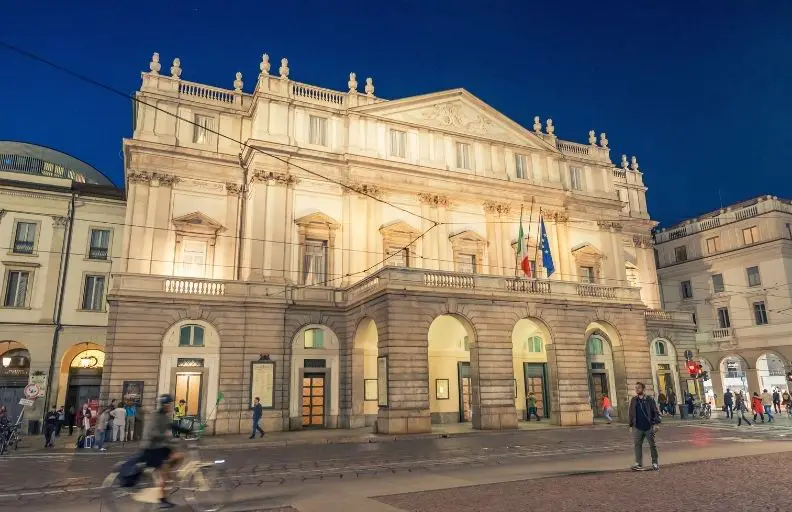 Once you exit from the other side of Galleria Vittorio, you shall be able to see the cultural landmark of Milan – Teatro Alla Scala.
Often known as simply La Scala, this iconic theatre has been operational since 1778. It is renowned for its beautiful architecture, exceptional acoustics, and world-class performances. Many of the world's greatest opera singers, conductors, and composers have performed at La Scala.
Before heading inside, admire the beauty of the theater from the outside. The façade of the building is adorned with statues of famous composers and musicians, and the square in front of the theater is a popular spot for people-watching and taking photos.
Take a guided tour of the theater, which will give you a behind-the-scenes look at the history and workings of the opera house. We highly recommend this as tour as it's a great way of getting know the stories and some funny anecdotes of various performances.
If you're interested in opera, you can visit the Museo Teatrale alla Scala, which is located next to the theater and showcases the history of opera in Milan.
You can also attend a performance, which is a truly unforgettable experience. Keep in mind that tickets for performances can be quite expensive and sell out quickly, so it's best to book them in advance if possible.
🧑🏻Guided Tour: Guided Tour of the Teatro Alla Scala
Sforzesco Castle
The next attraction in our one day in Milan is a 15 min. walk from Teatro Alla Scala. Along the way, there are a lot of amazing restaurants. Stop for lunch before heading further in this one-day Milan itinerary.
Once you've had your fill of some amazing Italian food, head to the medieval castle of the powerful Sforza Family, who ruled Milan for several decades.
Built in the 15th century, the castle has undergone numerous renovations and expansions over the years and today it is a sprawling complex that houses several museums and art collections.
One of the highlights of the castle is the Pinacoteca di Brera, which is home to a stunning collection of Italian Renaissance art, including works by Raphael, Caravaggio, and Botticelli. The castle also houses several other museums, including the Museum of Ancient Art, the Museum of Applied Arts, and the Museum of Musical Instruments.
In addition to the museums, there are several other notable features of the castle, including the beautiful courtyards, the impressive walls and towers, and the imposing statue of Francesco Sforza on horseback. The castle also has a large park surrounding it, which is a popular spot for picnics and leisurely walks.
We recommend taking a guided tour to learn more about the history and significance of the fortress. If you're interested in visiting the museums, you can purchase a combined ticket that will allow you to access all of the museums in the castle complex.
💡Insider Tip: There's a beautiful monument behind the castle that looks just like the Arch de Triumph in Paris. There's not a lot of tourists here as it's a lesser known gem. Admire the beauty and grandeur of the Arc and get some great shots for Instagram. The nearby Branca tower is the highest point in Milan and offers the best and most amazing views of the design capital.
🧑🏻Guided Tour: Guided Tour of Sforzesco Castle
The Last Supper at Santa Maria Delle Grazie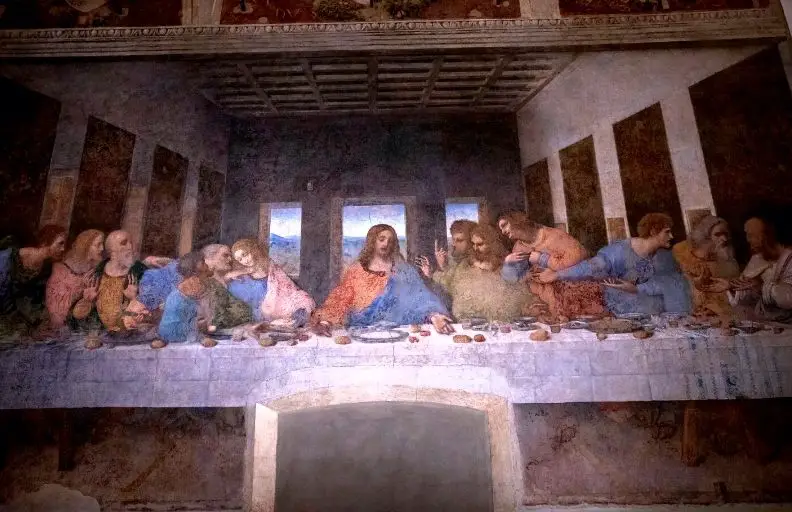 The Last Supper is one of the most famous works of art in the world and it'll be a shame if you're so near to it and not see it up close. Take a 15 min walk from Sforzesco Castle to reach the Santa Maria Delle Grazie, a medieval church that houses the famous mural.
The Last Supper is a mural painting by Leonardo da Vinci, created in the late 15th century. It depicts the scene from the Bible where Jesus and his disciples share their last meal before his crucifixion. The painting is known for its exquisite detail and masterful use of perspective, and it is considered one of the greatest masterpieces of Western art.
Book your guided tour tickets in advance here, as access to the painting is limited to small groups at specific times throughout the day. It's important to note that the painting is located in a climate-controlled room to help preserve it, and visitors are only allowed to view it for a short period of time, approximately 15 minutes.
When visiting the Last Supper, it's important to dress appropriately and arrive on time for your scheduled visit. You won't be allowed to click pictures in the room where the painting is located, and you shall be asked to remain quiet and respectful while viewing the painting.
While you're at Santa Maria delle Grazie, we recommend taking some time to explore the rest of the church. The church itself is a beautiful example of Renaissance architecture, and it houses several other works of art and historic artefacts.
💶Entrance Tickets and tour: Tickets to the Last Supper
Leonardo da Vinci Museum of Science and Technology
Next on your One day Milan itinerary, take a 5 minute walk to reach the uber-popular Leonardo da Vinci museum of Science and Technology. It's a fascinating museum dedicated to the life and work of the famous artist, inventor, and scientist.
The museum is located in a former monastery that has been converted into a modern exhibition space, and it houses a wide range of exhibits related to science, technology, and innovation. The museum's collection includes several of Leonardo da Vinci's original drawings and designs, as well as working models of his inventions.
One of the highlights of the museum is the section dedicated to flight, which features a full-scale replica of one of Leonardo da Vinci's flying machines. The museum also has exhibits on astronomy, physics, and mechanics, as well as interactive displays and hands-on activities for visitors of all ages.
It's a really immersive experience especially if you enjoy science or if you're visiting Milan with children!
When visiting the Leonardo da Vinci Museum of Science and Technology, we recommend setting aside at least a few hours to explore all of the exhibits. Book your tickets in advance here, as the museum can get quite busy during peak tourist season.
💶Entrance Tickets: Skip the Line Ticket to Leonardo da Vinci Museum of Science and Technology
One Day Milan Itinerary – Evening
If you've followed this 1 day Milan itinerary this far, you shall be free from all of the above activities by evening. Depending on how much more time you have in Milan, plan to enjoy the happening night life of the fashion capital of Italy.
And when it comes to nightlife in Milan, the Navigli district definitely is the best choice!
Enjoy Apertivo and dinner in the Navigli District
The Navigli area is known for its picturesque canals, lined by trendy cafes and bars and a lively nightlife scene. Apertiff is the Italian tradition of having drinks in the evening before dinner. It is usually accompanied by some small plates and snacks.
For an aperitivo in Navigli, we recommend checking out one of the many bars that line the canals. They not only have great views and a hip atmosphere but also great deals on food and drinks.
Many of these bars offer aperitivo specials, which typically include a drink and a selection of snacks or small plates. Some of these small plates can be pretty filling, so don't be surprised if you're already full before dinner!
 These are two of our favorite bars in Navigli:
Rita & Cocktails: A bar popular among locals for its apertivo and unique cocktails. If you want to experience something completely unique in Italy, visit Rita's Tiki Room next door. It is operated by the same owner but the theme is Hawaiian.
Mag Café: An amazing, old-school bar that serves great cocktails with a little twist to make them one-of-a-kind. The menu is themed to astrological sign where you order a cocktail as per your zodiac sign or order from the cross-sign menu! Such a cool Concept!
One local tip for enjoying dinner in the Navigli district is to dine al fresco, if the weather permits. Many restaurants have outdoor seating areas that overlook the canals, providing a lovely atmosphere for dining. Also, 6 PM to 8 PM is generally happy hours at most bars. Take full advantage of it and enjoy the famous Milan nightlife on a budget!
Some Practical tips for Visiting Milan in One Day:
We've taken the liberty to answer a couple of questions most of our readers ask us about visiting Milan.
How Many Days do you need in Milan?
1 day is enough to visit the highlights of Milan if you plan in advance and pre-book your entry tickets and tours. However, ideally it'd be better if you can spend 2 or 3 days in Milan to absorb the essence of Milan and take a couple of day trips like Lake Como, Bellagio and Varenna.
How to get around Milan?
For the above Milan itinerary, we were able to do this entire itinerary on foot. If you're not comfortable with that, Milan has an extensive public transportation system that includes buses, trams, and a metro system.
A single ticket costs €2.2 and is valid for 90 minutes of travel on all forms of public transportation. You can purchase tickets at metro stations, newsstands, or tobacco shops.
Alternatively, you can also use ride-sharing apps like Uber or Bolt as they are readily available.
Where can I store my luggage for spending one day in Milan?
There are convenient luggage storage facilities at Milan Central Station and the Duomo metro station. We stored our luggage at Milan central station for €3.8 for the first 5 hours and €0.6 per hour for upto 12 hours and €0.2 per hour after that. These are prices per bag which totalled to €8 per bag for 15 hours of freedom!
How to reach Milan airport from city center?
Milan's main airport, Malpensa Airport, is located about 50 km from the city center. If you need to travel to the airport, this bus here is the most cost-effective option. If you're a group of 4 with reasonable luggage, an Uber or Bolt cab might be more economical!
How much does it cost to visit Milan in one day?
As a general guideline, you can expect to spend around €100 – €150 on transportation, food, and activities. Needless to say, the cost of visiting Milan for one day will vary depending on your itinerary and travel preferences. General rule of thumb applies – higher the convenience, greater the price.
In a Nutshell
We hope this one day Milan itinerary was able to answer all your questions regarding things to do in Milan in one day. Our itinerary is easily doable especially if you're arriving to Milan in the morning and leaving by midnight like we were. If you have more time, feel free to add a couple of other places like the Brera Art Gallery to the above list.
Let us know in the comments if this article helped you plan your Milan itinerary. There's nothing more satisfying than knowing that you're making a difference. Check out all of our blog posts on Italy travel for an epic trip to Italy.