Planning a trip to explore Barcelona in 3 days can be a challenging task. The city is brimming with culture, architecture and gastronomical delights. We spent 3 days in Barcelona during our 14 days in Spain, and we were able to cover all the major attractions, gorge on delicious Tapas, have the best Sangrias and also make a trip to Mount Tibidabo, without feeling rushed. We are thus, sharing our 3 Days Barcelona itinerary with our readers so that you can make the most of their time in the Catalonian city.
Along with our day wise itinerary of Barcelona, we have also taken the liberty to answer some of the most important questions that tourists might have to plan a trip. These are at the end of this blog post.
The Best 3 days Barcelona itinerary
Arrival, La Sagrada Familia, Park Guell, Casa Vicens, Flamenco Show
Gothic Quarter, La Boqueria, Arc de Triomf, Palau de la Música Catalana, Casa Batllo, Casa Mila, La Rambla
Barceloneta Beach, Camp Nou, Mount Tibidabo, Montjuic Fountain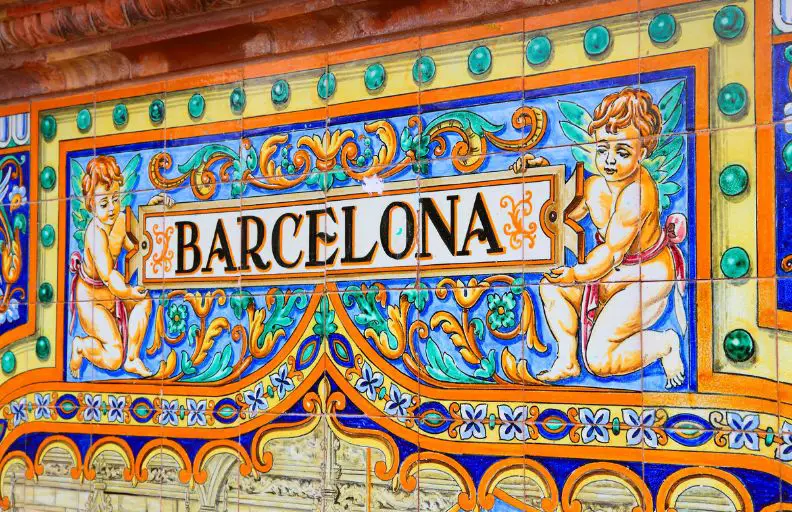 Day 1 of 3 Days in Barcelona
Arrival and Check in
First things first, you need to check into your hotel or hostel, drop off your bags and freshen up before heading out to explore Barcelona.
If you're following our 14 Days Spain itinerary, you shall be arriving from Ibiza by over-night ferry, early in the morning. This gives you a great opportunity to drop your bags at the hotel or hostel and start your 3 days in Barcelona right away. Lots of hotels and hostels provide this option.
We recommend the Grupotel Gran Via 678 hotel as it is centrally located, easy on the pocket, has good rooms and great service.
If you're a solo traveler, are on a budget or are just a sucker for great hostels like us, we recommend our favorite – The Generator Barcelona. It has great private rooms, comfortable dorms and the best common areas in town.
If you're arriving in Barcelona from another country via a long-hour flight, consider this as Day zero. Spend this day getting accustomed to the city, getting rid of jet-lag and follow this 3 Days Barcelona itinerary from the next day.
Sagrada Familia
Start your 3 days Barcelona itinerary with a bang by visiting the famous LA Sagrada Familia. It is an unfinished masterpiece of the famous Spanish architect Antoni Gaudí. Construction began in 1882, and it's still not complete. Gaudí dedicated the last 15 years of his life to the project, and it's now considered one of the most famous attractions in Barcelona.
It is an architectural wonder, featuring a unique combination of Gothic and Art Nouveau styles. The cathedral has 18 towers, with the highest one reaching 172 meters in height. Its intricate details and stunning stained-glass windows are sure to leave you in awe.
Buy a skip the line ticket with an audio guide to avoid long queues and wasting precious time. We recommend this skip the line ticket with audio guide to understand the masterpiece better.
If you'd like to be explained the great history and lesser known stories of the iconic monument, you should opt for this amazing guided tour which is highly rated (⭐4.9/5)
It's best to visit the Sagrada Familia in the morning when it's less crowded. Plan to spend at least 1-2 hours exploring the cathedral, depending on how much time you have.
⏰Recommended Time: 2- 3 hours
💶Entry Ticket: Skip The Line Tickets with Audio Guide
🧑🏻Guided Tour: La Sagrada Familia Guided tour (⭐4.9/5)
Park Guell
Post lunch, head to the next stop on your first day in Barcelona is also another Gaudi Masterpiece – Park Guell. Don't be surprised if a majority of the locations in Barcelona are works of Gaudi.
Park Guell was originally intended to be a housing development but ended up becoming a public park instead. It was opened to the public in 1926 and has since become a UNESCO World Heritage Site.
The park features many of Gaudí's signature elements, including whimsical mosaics, colorful tiles, and organic shapes. One of the most famous features of the park is the long bench covered in colorful tile shards (picture above), which offers stunning views of the city.
Similar to the Sagrada Familia, you'll need to purchase tickets in advance to enter Park Guell. Buy your ticket online here to avoid long lines.
Park Guell is a large park, so plan to spend at least 1-2 hours exploring. We recommend visiting early in the morning or late in the afternoon to avoid the crowds and enjoy the beautiful views of the city.
After your visit, explore the Gracia district where the park is located. It is a vibrant neighborhood filled with cafes, boutiques, and street art.
⏰Recommended Time: 2 hours
💶Entry Ticket: Advance Entry Tickets
🧑🏻Guided Tour: Park Guell guided tour with skip the line access (⭐4.3/5)
Casa Vicens Gaudi
The next Gaudi masterpiece, located very close to Park Guell but often skipped by a lot of uninformed tourists, is Casa Vicens. This hidden gem of Barcelona is a small but absolutely stunning piece of architecture as you can see in the picture above.
It was built between 1883 and 1888 as a summer house for the wealthy Vicens family. It was Gaudi's first major commission, and it's considered one of the earliest examples of Art Nouveau architecture in Spain.
It is a stunning example of Gaudi's unique style, featuring colorful tiles, ornate ironwork, and intricate details. The house is a mix of different styles, including Moorish and Gothic, and is unlike anything you'll see elsewhere in Barcelona.
Buy your skip the line ticket here and save time as well as money to visit this lesser known attraction of Barcelona.
⏰Recommended Time: 1 hour
💶Entry Ticket: Skip The Line Tickets with Audio Guide
Flamenco Show at Barcelona City Hall Theatre
End your first day in Barcelona on a high by attending a passionate performance of Flamenco artists in the City hall theatre.
For the uninitiated, Flamenco is a traditional Spanish dance form that originated in Andalusia, but it's also popular in Barcelona. The music exudes passion and emotion and the dance performances extrapolate it to a level that needs to be experienced to be understood.
While there are other places to witness flamenco performances in Barcelona, but they're more of a tourist trap that include food, drinks and inflated prices for a mediocre performance.
The Flamenco show in the City hall theatre, however, is authentic, enjoyed by locals and is probably the cheapest way to enjoy a Flamenco performance in Barcelona. The show takes one hour, which leaves you with an ample amount of time to have a drink and dinner at one of Barcelona's best rooftop bars.
Needless to say, book your tickets in advance here before they get sold out.
DAy 2 of 3 Days in Barcelona
Day 2 of your 3 days Barcelona itinerary is absolutely packed with the best things to do in Barcelona.
Hence, we recommend that you start your day early around 7 AM to make the most of it.
Stroll across the Gothic Quarter
The Gothic Quarter is one of the most charming and historic neighborhoods in Barcelona. It is also one of our preferred area to stay in Barcelona (more on that below).
However, it gets really crowded later during the day as tourists and locals traverse the area to visit the nearby attractions. Hence, we recommend starting your day by exploring the narrow streets and admiring some of the most beautiful Gothic architecture in Barcelona.
Exploring the area during the misty mornings of Barcelona before all the shops open and the crowds start bustling in, is a whole different experience.
You can have your morning coffee and breakfast in one of the many cafes that might've just opened, or you can save your appetite for our next attraction, that offers a culinary treat like none other in Barcelona.
La Boqueria Market
La Boqueria is one of the oldest and most famous markets in Europe, dating back to the 13th century. It was originally an open-air market but was eventually covered by a metal roof in the 19th century. Today, it's a bustling marketplace that's popular with locals and tourists alike.
La Boqueria is a foodie's paradise, with hundreds of stalls selling everything from fresh produce to seafood to cured meats and cheeses. These days, there are also a lot of sit-down food stalls that serve everything from delicious churros, great breakfast, coffee, local Catalonian cuisine and decadent gelato. Now you know why we recommended you to save your appetite in the Gothic Quarter.
In addition to food, La Boqueria also has many stalls selling souvenirs, spices, and other specialty items. It's a great place to pick up unique gifts for friends and family back home.
It is open Monday to Saturday from 8 am to 8:30 pm, but it can get very crowded during peak tourist season. We recommend visiting early in the morning to avoid the crowds and get the freshest food.
❕Note: Remember to bring cash, as not all vendors accept credit cards. Also, be aware of pickpockets in the market and keep your valuables safe.
⏰Recommended Time: 1-2 hours
Arc De Triomf
You've definitely heard about the Arc De Triomphe in Paris, but did you know there's a, rather similar looking, Arc De Triomf in Barcelona as well!
It is located at the end of Passeig de Sant Joan, a beautiful boulevard that's popular with locals and tourists alike. It's easily accessible by public transportation and is a short walk from many other attractions you'll be visiting today.
It was built in 1888 as the main entrance to the Universal Exhibition held in Barcelona that year. It's a beautiful example of the Neo-Mudéjar architectural style and is made of brick and terra cotta.
It is a great spot for taking some amazing pictures for Instagram, both during the day and at night when it's illuminated. There's also a wide pedestrian promenade leading up to the monument, which makes for a great photo backdrop.
The area around the Arc de Triomf is also a great place to relax and enjoy a picnic or a stroll. There are many green spaces, benches, and fountains in the nearby Ciutadella Park, which is a popular spot for locals to hang out. If you have time, we highly recommend visiting this park for a short picnic or just to get away from all the hustle and bustle of the streets.
⏰Recommended Time: Abut 1 hour if you visit the Ciutadella Park as well
Palau de la Música Catalana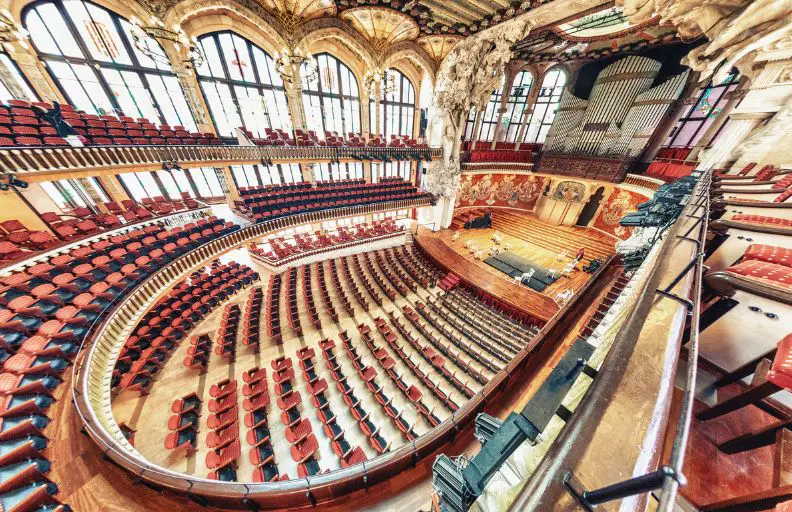 Another hidden gem during your 3 day trip to Barcelona, The Palau de la Música Catalana is one of the most beautiful concert halls in the world.
It was built in the early 20th century as a concert hall for the Orfeó Català, a choral society that still performs there today. The hall is a masterpiece of modernist architecture, with a stunning stained glass ceiling, intricate mosaics, and ornate sculptures. It's a feast for the eyes and a must-see attraction for architecture lovers.
The best way to experience the Palau de la Música Catalana is by taking a guided tour. You'll learn about the history of the building, see the beautiful interior, and even get to hear a short performance on the organ.
If you're a someone who likes to explore things at their own pace, you can just buy a self guided tour ticket and check out the enchanting concert hall at leisure.
The Palau de la Música Catalana is still an active concert hall and hosts many performances throughout the year. Check the local events calendar to see if there's a show that interests you during your visit.
Whichever ticket you book, be sure to arrive early to take in the beauty of the building before your tour or show begins.
⏰Recommended Time: 2 hours
💶Entry Ticket: Self Guided Tour
🧑🏻Guided Tour: Palau de la Música Catalana Guided tour (4.6⭐/5)
Casa Batllo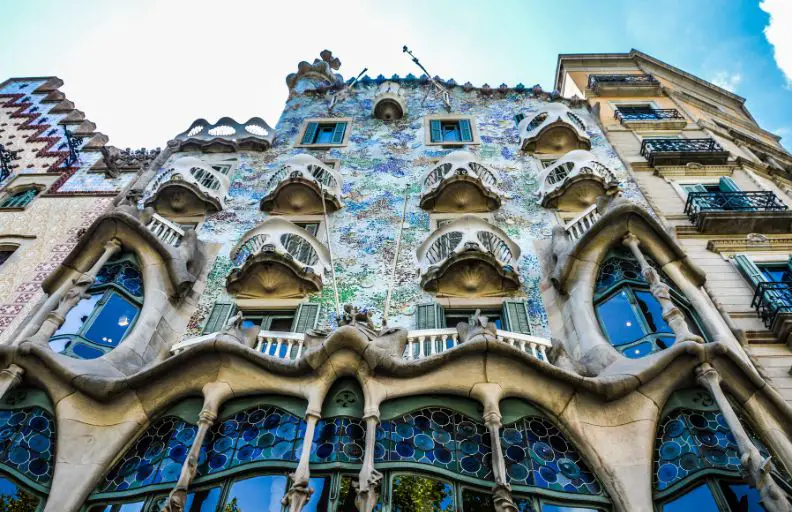 After lunch, visit another one of Gaudi's master pieces that is located nearby, Casa Batllo.
It is one of the most famous completed buildings of Antonio Gaudi built in the early 20th century as a private residence for the Batllo family. Gaudi redesigned the building in his signature modernist style, with a facade covered in colorful mosaics and a stunning interior filled with organic shapes. The eye-mask shaped balconies help you spot this beautiful monument from afar.
Also known as the House of Dragons, Casa Batllo is a masterpiece of modernist architecture, with a facade that resembles a giant dragon, colorful mosaics, and an interior filled with flowing lines and natural light.
Our favorite way to explore Casa Batllo was with the help of this an amazing audio guide. This skip the line ticket with audio guide lets you explore the beautiful building at your own pace. Also, these days there's a light and sound show that is projected on Casa Batllo in the evening. It is absolutely free of cost and an enthralling experience. Don't miss it if you're in that area.
⏰Recommended Time: 1-2 hours
💶Entry Ticket: Skip The Line Tickets with Audio Guide
Casa Mila
Located just a couple of steps away from Casa Batllo is Casa Mila, another one of Gaudi's masterpieces.
The building was built in the early 20th century as a private residence for the Mila family. It is a masterpiece of modernist architecture, with a facade that resembles a series of waves and an interior that features curved walls and organic shapes. It's a must-see attraction for architecture lovers.
The highlight of Casa Mila is its stunning rooftop terrace, which offers panoramic views of Barcelona. It's a great spot for taking photos and enjoying the sunset. This is exactly why we've scheduled our visit to this attraction later in the day.
You can buy a skip the line ticket with audio guide to explore it without sticking to any schedules.
⏰Recommended Time: 1 – 2 hours
💶Entry Ticket: Skip The Line Tickets with Audio Guide
La Rambla
La Rambla is a long, tree-lined pedestrian street that runs through the heart of Barcelona's old city. It stretches from Plaça de Catalunya to the Christopher Columbus Monument at the waterfront.
There's a very good chance that you'll cross La rambla a couple of times while moving between the above locations on your Day 2 in Barcelona.
La Rambla is not an attraction, it is a vibe. It is known for its lively and vibrant atmosphere, with street performers, artists, and vendors selling souvenirs, flowers, and food. It's a great place to soak up the local culture and people-watch.
Along the this beautiful street, you'll find several notable attractions, including the famous La Boqueria Market, the Gran Teatre del Liceu opera house, the Plaça Reial square and the Christopher Columbus Monument at the end of the lane. Enjoy these attractions to your heart's content, bask in the amazing vibe, gorge on the amazing street food and end your day 2 in Barcelona on the perfect note.
❕Caution: While La Rambla is generally safe during the day, it's important to be cautious of pickpockets and scammers. Keep an eye on your belongings and avoid engaging with street vendors who may try to sell you fake goods or rip you off.
Barcelona Itinerary Day 3
On the last of your 3 days in Barcelona, we recommend taking a short, half day trip to Mount Tibidabo (from that famous backpacking story in the TV show FRIENDS). You can spend the other half day as per your interests and schedules.
Many attractions in Mt. Tibidabo open after 11 AM. Hence, utilize the morning to visit the following attractions and then head to the famous mountain for some spectacular views of the sun setting over Barcelona.
Here are some of our favorite options to visit on day 3 in Barcelona.
Barcelona Beach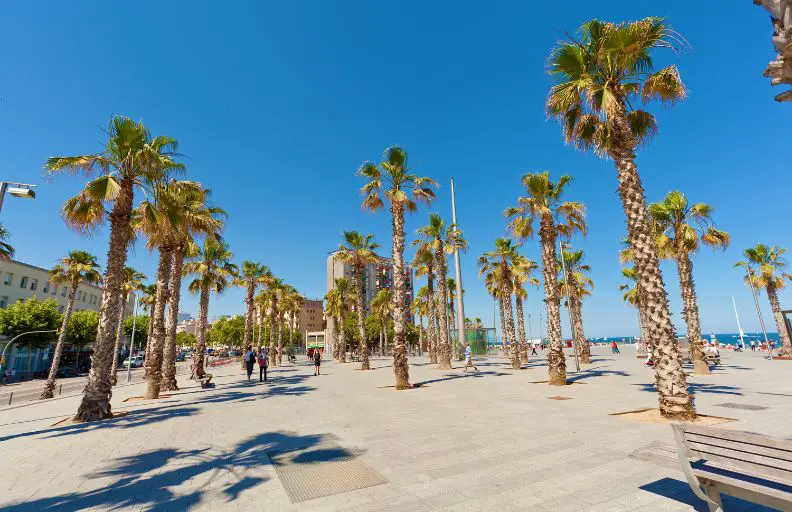 Start your day early with a walk across the beautiful Barcelona beach. It is also one of the only attractions in Barcelona which might be open this early in the morning. Visiting the beach in the morning allows you to enjoy the sea before it is crowded by swarms of people.
The beach has plenty of facilities to make your visit comfortable and enjoyable. There are showers, changing rooms, and public restrooms available along with numerous beach side shacks and cafes.
Relax under an umbrella, have a stroll, play beach volleyball with the locals, swim in the sea or have breakfast at one of the many beautiful cafes lined up across the shoreline.
There's no better way of starting the last of your 3 days in Barcelona.
Camp Nou
If you're a football/soccer fan, you're already familiar with the legendary Barcelona football club.
It is located in the Les Corts district, which is about 5 kms from the city center.
A stadium tour is a great way to explore Camp Nou and learn about the history and culture of FC Barcelona. You can take a self-guided tour or join a guided tour that includes access to areas such as the press room, changing rooms, and the pitch itself.
The FC Barcelona Museum is located within the stadium and is a great place to learn about the history and achievements of one of the world's most famous football clubs. The museum includes a range of interactive exhibits, trophies, and memorabilia.
There are also plenty of photo opportunities around the stadium, including with the iconic statue of former player Lionel Messi.
Buy your tickets for the stadium in advance here, to avoid unavailability issues as they get sold out pretty fast.
We recommend that you book your slot close to the opening time of 9 AM so that you can dedicate the rest of the day to all the other attractions in day 3 of your Barcelona itinerary.
⏰Recommended Time: 1 – 2 hours
💶Entry Ticket: Spotify Camp Nou Stadium and FC Barcelona Museum tickets
Mount Tibidabo
Mount Tibidabo is a mountain in Barcelona that offers stunning views of the city and a range of attractions that you can enjoy. It is located in the Collserola Natural Park, about 20 minutes from the city center by car or public transportation.
The easiest way to reach Mt. Tibidabo is by public transportation. You can take the FGC train from Plaça de Catalunya to the Peu del Funicular station. From there, you can take the funicular train up to the top of the mountain. Alternatively, you can take the T2A bus from Plaça de Catalunya, which also goes to the mountain top.
If you have your own car, you can take the B-20 motorway and exit at the Vallvidrera tunnels. From there, you can follow the signs to Tibidabo.
Once you reach, there are several attractions on Mount Tibidabo, including the Tibidabo Amusement Park, the Temple Expiatori del Sagrat Cor church, and the Tibidabo Observatory. You can easily spend an entire day here. All of the above attractions start post 11 AM, hence, plan your visit accordingly.
Also, if you're an avid hiker (like Joey in that FRIENDS Mount Tibidabo story), the mountain offers several hiking trails of easy to medium difficulty, for those who want to explore the natural beauty of the mountain. You can hike to the summit or take a leisurely stroll through the forest.
⏰Recommended Time: 5-6 hours
Montjuic Castle and Fountain
If you still have a little bit of time left, after your visit to Mount Tibidabo, head to the Montjuic Fountain located at the base of the Montjuic hill. A lot of tourist also visit the Montjuic Castle located on the top of the hill, via this cable car ride. The cable car ride offers some of the best eagle-eye views of Barcelona. We weren't able to experience this as we returned from Tibidabo in the evening.
However, we were just in time for the mesmerizing light and water show that takes place at the majestic fountain. The Montjuic Fountain show is free to attend and runs several times a week, with different showtimes depending on the season. You can check the schedule in advance to plan your visit and make sure you don't miss the show.
After the show, head back to the Barcelona beach for some drinks by the sea and to end your 3 days in Barcelona on a beautiful, nostalgic and peaceful note.
Convert your 3 Days Barcelona itinerary to 4 Days in Barcelona
If you can afford to spend 4 days in Barcelona, you can add a day trip to the nearby towns of Montserrat, Girona or Costa Brava. They all offer unique experiences and are barely a couple of hours away from Barcelona. This unique day trip from Barcelona covers all three in one day!
When is the best time to visit Barcelona?
May (Spring) and October (Fall) are the best months to visit Barcelona. The weather is amazing and it is still shoulder season in Spain, which means lesser tourists and cheaper prices.
July and August are the worst times to visit Barcelona and should definitely be avoided. It is peak tourist season which means crowded streets and sky-high prices. Plus, the summer heat can be a bit too much for some.
How Many Days are enough in Barcelona?
3 days is enough to explore the highlights of Barcelona, immerse in the culture, explore the cuisine and get a hint of the Catalonian culture if you're on a tight schedule.
However, if you wish to make day trips to nearby attractions like Girona, Montserrat and Costa Brava, we recommend adding a couple more days. That being said, we truly believe that you can never absorb the entirety of a city any amount of time.
Best Area to stay in Barcelona for tourists?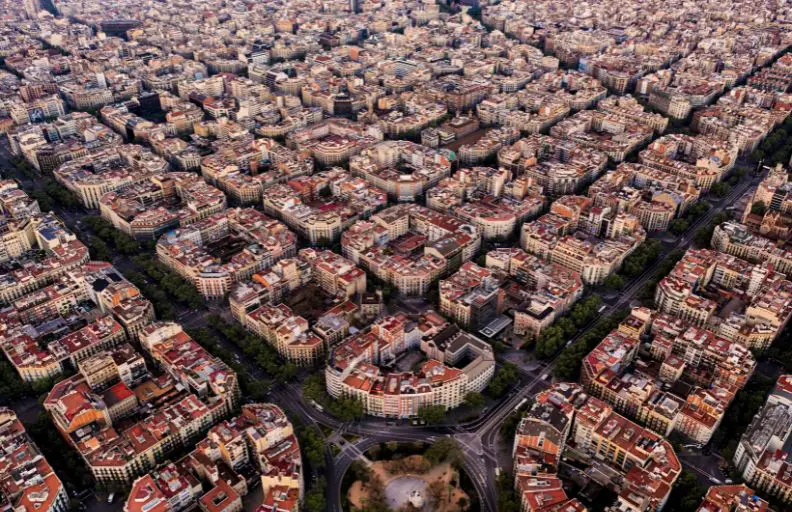 The best area to stay for tourists are the Gothic Quarter and Eixample. Both of these are very centrally located and close to a number of major attractions. The Gothic quarter is closer to Las Rambla, the cathedral, La Boqueria market and lots of trendy cafes, bars and restaurants. Eixample is closer to La Sagrada Familia, La Batllo and La Mila.
There are also other lesser popular neighborhoods that can provide great value and savings like Gracia which is close to Park Guell and El Born that's near Park Ciutadella and the Arc de Triomf.
How to get around Barcelona?
Barcelona for the most part is a very walkable city. Our favorite mode of getting around the city was by walking as it allowed us to explore every street of Barcelona and marvel at the Gothic architecture and town planning.
For larger distances, the public transportation systems of Barcelona are second to none.
 8 Metro lines that that run frequently from morning to midnight
3 tram lines that run through the city, connecting the outer areas to the city center.
An extensive bus network to help you see more of the city above ground during your commute.
The best advice we got was to purchase this 2 day/3 day city pass that allows us to take unlimited rides on public transportation for 2 or 3 entire days. You will save a lot of time and money if you use this card to commute between all the attractions in our Barcelona itinerary for 3 days mentioned above.
Apart from public transport, Barcelona is a bike-friendly city, and there are many bike rental companies that offer bikes for rent by the hour or day. There are also bike lanes throughout the city, making it easy and safe to cycle around.
If you're comfortable driving a scooter like us, you can also rent a Vespa for 24 hours or more and explore the city very easily. Click here to check the latest Vespa rental prices.
In a Nutshell
As you can see, it is totally possible to see the highlights of Barcelona in 3 days. With this 3-day itinerary, you can explore some of the most iconic attractions in Barcelona while also taking time to visit some of the attractions outside the city center. With efficient transportation options and a variety of accommodations, Barcelona is the perfect destination for your next adventure. So pack your bags and get ready to fall in love with the charm of Barcelona!