Madrid is the Capital of Spain. And just like Paris in France or Rome in Italy, the Capital has a lot ot offer. If you're looking to spend 2 days in Madrid and don't know where to start planning your Madrid vacation, we have good news for you. This 2 Days Madrid itinerary tells you everything you need to know.
You'll learn about all the amazing things to do in Madrid, some hidden gems, the best Madrid hotels, where to party in Madrid and how to get around, without feeling rushed or missing on anything.
Madrid is where we started our two weeks Spain itinerary as it had the best flight deals. Chances are that you'll be entering Spain via Madrid as well. If you're coming via Barcelona, do check out our detailed 3 days Barcelona itinerary as well.
We really love this itinerary as it was able to deliver on every flavour that Madrid had to offer. We've answered some very important questions that people encountered while planning a trip to Madrid. Read on so that you're better prepared for your limited time in the Spanish Capital.
How Many days in Madrid is enough?
2 full days is a fairly good amount of time to see all the major attractions of the city in a relaxed manner and to enjoy the nightlife. If you're a shopper or are planning on taking day trips from Madrid, you can stay longer. Otherwise, you might be better of spending those days in other cities of Spain.
How To Get Around Madrid?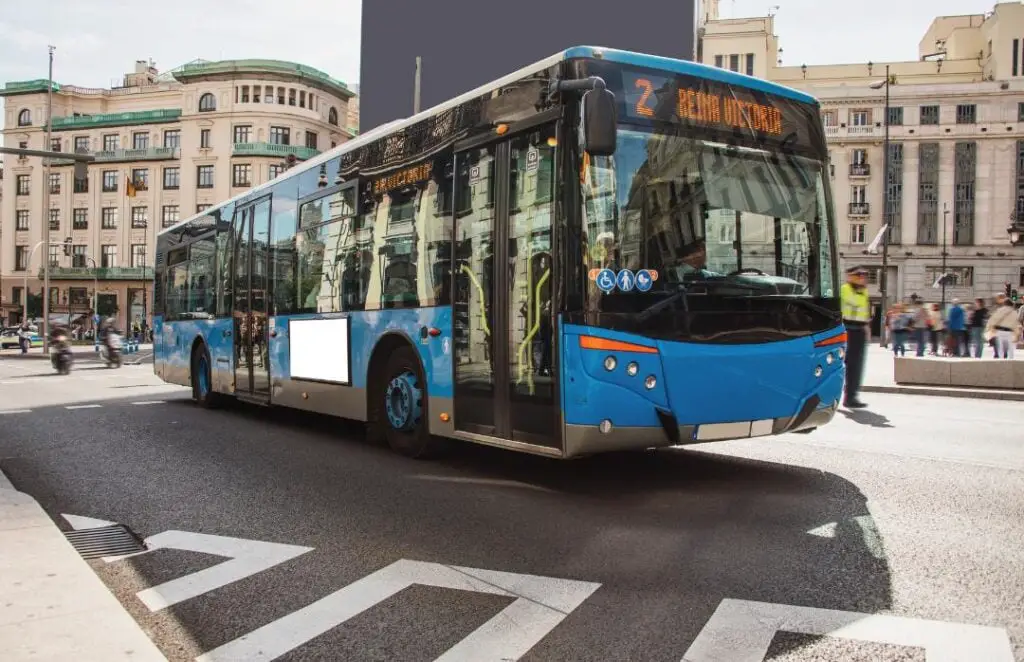 The best way to get around Madrid is by walking as all the major attractions are located pretty close to each other. However, we suggest that you book a hotel in the nearby areas to make this possible. We're recommended our favorite places to stay in the "Where to Stay in Madrid" section below.
If walking is too tiring or time-consuming, we recommend using bicycles. Madrid has implemented a bike-sharing program called BiciMAD, which allows you to rent bikes from various stations throughout the city. It's a fun and eco-friendly way to explore Madrid's streets and parks. There are also several bike rental shops if you prefer to rent a bike for the day.
If you're a couple, a really fun way to travel between sites is by renting a Vespa or a scooter. We did this as it helped us save a lot of time and energy, without missing out on the charming streets of Madrid. Check out rates for scooter or bikes here.
If you're staying far away from the attractions, you can make use of Madrid's extensive public transportation including metro and buses. However, we found this unnecessary as it wasted a lot of time in waiting.
Where to Stay in Madrid?
Where you stay in Madrid shall make or break your 2 days in Madrid. We recommend staying in the city center to avoid spending time in commute. Here are some of our favorite places to stay in Madrid for every budget. Check out the prices for your dates by clicking on the links below.
Boutique Hotel: Only YOU Hotel
This is a quaint little hotel located right next to EL Retiro Park. This hotel is an epitome of comfort and convenience. The stylish rooms, the chic neighbourhood, a rooftop terrace and a lively cocktail bar just add to its appeal. Great for couples, small families and groups of friends who like classy things but wish to stay in budget.
Happening Hostel: The Hat Madrid
Situated in the La Latina neighbourhood and just 2 minutes from the happening Plaza Mayor, this modern hostel features stylish dorms and private rooms, a rooftop terrace, and a lively bar. The décor and the views from the terrace are epic. Great for solo travellers, groups of friends and couples on a tight budget. Check out prices and pictures here!
Affordable Luxury Hotel: NH Collection Madrid Suecia
A 5-star hotel with 3-star prices! Great rooms, amazing service, classy neighbourhood and 5-star amenities at unbelievable prices. Great for everyone who enjoys luxury and but doesn't wish to spend like crazy on it!
2 Days Madrid Itinerary: Day 1
Start day 1 of your 2 days Madrid itinerary as early as possible. If you're landing in Madrid from another country like we were, we recommend booking a flight that reaches early in the morning. This way you can drop your bags at the hotel, freshen up and head out exploring the Spanish capital.
Visit the places below in the following order to minimise commute time and fatigue.
Royal Palace
The Royal Palace of Madrid, or Palacio Real de Madrid, is the official residence of the Spanish royal family. It is located in the heart of Madrid and is one of the most important cultural and historical landmarks of the city. It was built in the 18th century and has more than 3,000 rooms, making it one of the largest palaces in Europe.
When visiting the palace, check out the State Rooms, which are some of the most impressive rooms in the palace. These include the Throne Room, the Banquet Hall, and the Royal Chapel. The opulence and grandeur of these rooms are adorned with beautiful frescoes, chandeliers, and other exquisite decorations.
In addition to the State Rooms, you can also visit the Royal Armory, which houses a collection of armor and weapons used by the Spanish royal family over the centuries. Marvel at the suits of armor, swords, and other artefacts that will transport you back in time.
If you're an art lover, check out the Royal Palace's art collection, which includes works by famous artists such as Caravaggio, Velázquez, and Goya. The collection is housed in the Royal Palace's Royal Pharmacy, which is a stunning building in its own right.
Finally, take a stroll through the palace's beautiful gardens, which are free to the public. Enjoy the lush greenery, beautiful fountains, and stunning views of the city.
The Royal Palace is open to visitors every day of the week except for certain holidays. Buy your skip the line tickets in advance to avoid waiting in queues. We highly recommend a guided tour like this one so that you learn more about the history and significance of the palace.
Almudena Cathedral
Located right next to the Royal Palace, The Almudena Cathedral is a beautiful and unique cathedral. It was consecrated by Pope John Paul II in 1993 and is one of the newest cathedrals in Europe. Despite its modern construction, it is still steeped in history and is a great example of the blending of old and new in Madrid.
When visiting the Almudena Cathedral, be sure to check out the stunning architecture and design. The its façade features beautiful sculptures and intricate details, while the interior is adorned with beautiful stained glass windows and ornate decorations.
One of the most interesting things about the Almudena Cathedral is that it houses several works of art by famous artists such as Francisco de Goya and Antonio López García. These works include paintings, sculptures, and other religious artifacts that will be of great interest if you're an art and history lover like us.
Another highlight of the Almudena Cathedral is the crypt, which houses the remains of several Spanish bishops and cardinals. The crypt is decorated with beautiful mosaics and is a peaceful and contemplative place to visit.
Finally, take a walk through the cathedral's beautiful chapels, which are dedicated to various saints and other religious figures. These chapels are filled with beautiful religious art and provide a peaceful place for prayer and reflection.
The Almudena Cathedral is open to visitors every day of the week and admission is free. However, a guided tour shall help you admire this beautiful building even better. This combined guided tour of the Royal Palace and the cathedral offers great value.
San Miguel Market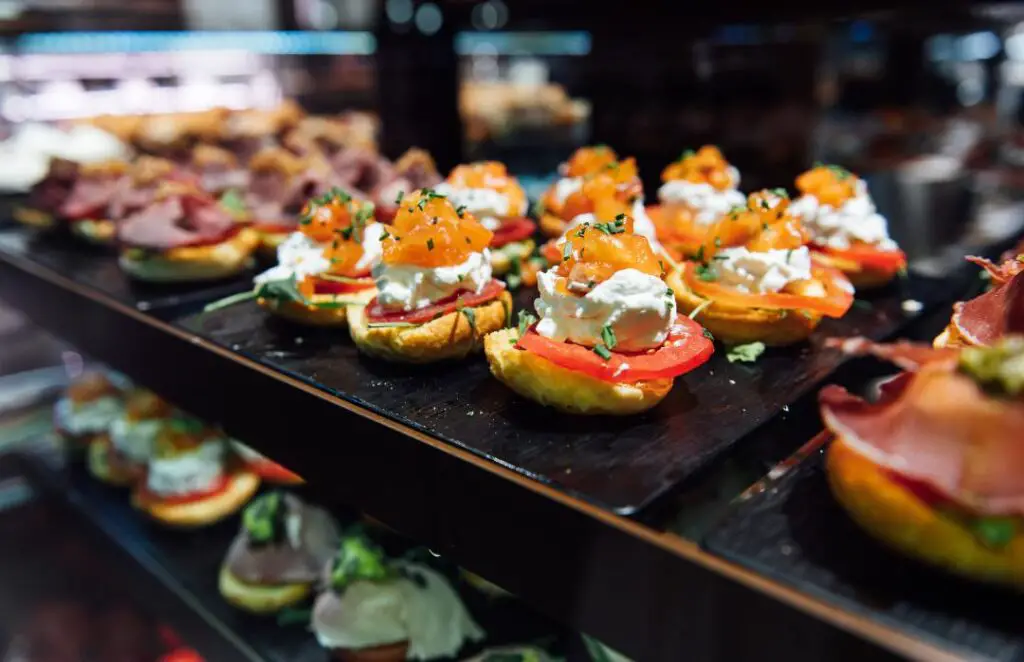 Once you're done visiting the Royal Palace and the cathedral, it'll be time for lunch. Instead of opting for restaurants near these tourist spots, head over to the local's favourite, San Miguel Market.
The San Miguel Market is one of the oldest and most popular markets in the city and is known for its incredible selection of gourmet food and drinks. Gorge on delicious food that includes everything from traditional Spanish dishes to modern fusion cuisine, all prepared with the freshest and highest-quality ingredients.
A great thing about the San Miguel Market is that you can try a little bit of everything. There are dozens of food stalls and vendors selling everything from fresh seafood and meats to tapas and desserts. Grab a few small plates to share with your friends or family, or indulge in a larger meal at one of the sit-down restaurants within the market.
Some of our favorite dishes at the San Miguel Market include the vegetarian croquettes and the paella. If you're a not a vegetarian like us, we've heard a lot of good things about the Iberian ham and the oysters. And of course, no visit to the market would be complete without trying some of the most delicious Spanish wines and Sangrias.
In addition to the food, the San Miguel Market is also a great place to soak up the atmosphere of Madrid. The market is always buzzing with locals as well as tourists. Whether you're a foodie or just looking for a fun and unique lunch experience, the San Miguel Market is definitely worth a visit.
San Miguel market is open every day of the week, and the opening hours vary depending on the day. It gets quite busy during peak times, hence, it's a good idea to arrive early if you want to avoid the crowds. And don't forget to bring some cash, as some of the vendors don't accept credit cards.
Plaza Mayor
No visit to Madrid would be complete without a trip to the iconic Plaza Mayor. After a hearty lunch in the bustling San Miguel market, walk to Plaza Mayor located nearby.
The Plaza Mayor is one of the most famous and recognizable landmarks in Madrid. It dates back to the early 17th century and has been a center of activity and commerce for centuries.
It is known for its stunning architecture, with beautiful buildings surrounding the square on all sides. The most impressive of these is the Casa de la Panadería, a striking red building with intricate details and frescoes on its façade.
When visiting the Plaza Mayor, be sure to take a stroll around the square and soak up the atmosphere. You'll find street performers, artists, and vendors selling souvenirs and snacks. It's also a great place to people-watch and see the locals going about their daily lives.
After roaming around the Plaza and taking your pictures for Instagram, sit down at one of the many cafes or bars that line the square the square. Relax and enjoy the stunning views of the surrounding architecture while sipping on a decadent coffee, a cold beer or a glass of wine.
🍽Restaurant Recommendation: Located just 1 minute away from Plaza Mayor is the best place to have Churros in Spain! Chocolateria San Gines serves the most decadent hot chocolate and the crispiest yet fluffiest churros to dip in it! DO NOT miss this place!
It might be happy hours when you decide to visit these places, hence, make the most of it. However, our next destination offers a night life scene like no other.
Experience Madrid's Nightlife in La Latina
If you're looking for a vibrant and exciting nightlife scene during your two days in Madrid, then La Latina is definitely worth checking out. Here's what you need to know about this lively neighborhood:
It is a vibrant neighborhood located in the heart of Madrid, known for its narrow streets, historic buildings, and lively atmosphere. It's a popular spot for locals and tourists alike, and it's particularly known for its nightlife scene.
One of the best things about La Latina is the variety of nightlife options available. Whether you're looking for a cozy wine bar, a trendy cocktail spot, or a lively nightclub, you're sure to find something to suit your tastes in this neighborhood.
Some of the top nightlife spots in La Latina include Casa Lucio, a historic restaurant and bar known for its traditional Spanish cuisine and cozy atmosphere, and El Viajero, a trendy rooftop bar with stunning views of the city. If you're in the mood for dancing, head to El Rincón de La Rodriguez, a popular nightclub with a lively and energetic crowd.
Another great thing about La Latina is the street life. The neighborhood is filled with bars, cafes, and restaurants that spill out onto the streets, creating a lively and festive atmosphere. This is a great spot to grab a drink and people-watch, or to strike up a conversation with locals and other travelers.
2 Days Madrid Itinerary – Day 2
The second day of your 2 days in Madrid shall involve the lesser known attractions of Madrid. Start your day early and visit the only major attraction of Madrid that opens before 10 AM, El Retiro Park.
El Retiro Park
El Retiro Park is a beautiful and expansive park located in the heart of Madrid. It is one of the largest parks in Madrid, covering over 125 hectares of land. It's known for its lush greenery, beautiful gardens, and tranquil atmosphere, and it's a popular spot for locals and tourists alike.
One of the highlights of El Retiro Park is the Crystal Palace, a stunning glass building that dates back to the 19th century. The palace is surrounded by a beautiful pond and gardens, and it's a great spot for taking photos or simply enjoying the peaceful surroundings.
Another must-see attraction in El Retiro Park is the Monument to Alfonso XII, a grandiose statue that dominates the southern end of the park. The statue is perched atop a large stone staircase and provides stunning views of the surrounding landscape.
El Retiro Park is also home to a number of smaller gardens and fountains, each with its own unique beauty. Be sure to take some time to explore the park's many pathways and hidden corners, and keep an eye out for the various sculptures and monuments scattered throughout the space.
Our favourite activity in El Retiro Park was rowing on the lake. It was a fun and unique way to experience the park's beauty. You can rent a rowboat and take a leisurely cruise around the lake, enjoying the scenery and soaking up the sun.
When you visit El Retiro park, a lot of the locals might have come there for their morning workout. Hence, enjoy the park but also be respectful to other's space and routines. You can also book a relaxing segway tour like this one to add another dimension to your Retiro park visit.
You can easily spend an hour or two here. After your visit to the park and breakfast, visit our next destination, the Prado museum. It'll be close to opening time which means that you'll be one of the first people in.
Prado Museum
The Prado Museum is one of the most famous and popular museums in Madrid, and it's a must-visit destination for art lovers and history buffs alike.
It is home to one of the largest and most comprehensive collections of European art in the world, with over 8,000 works on display. The museum's collection spans from the 12th century to the early 20th century, and includes works by some of the greatest artists in history, including Goya, Velázquez, and Rubens.
One of the highlights of the Prado Museum is its collection of Spanish art, which includes some of the most iconic and influential works in the country's history. Be sure to check out Goya's "The Third of May 1808," a powerful and emotional depiction of the Spanish War of Independence, as well as Velázquez's "Las Meninas," a masterful portrait that has become an icon of Spanish art.
In addition to its Spanish collection, the Prado Museum also features an impressive array of Italian, Flemish, and Dutch art. Don't miss the museum's collection of Renaissance and Baroque art, which includes works by Titian, Bosch, and Rubens, among others.
The Prado Museum is housed in a beautiful neoclassical building that dates back to the 18th century, and the building itself is worth admiring as you make your way through the museum's galleries. The museum is also home to a number of temporary exhibitions throughout the year, so be sure to check the schedule to see what's on display during your visit.
Buy your skip the line tickets in advance to avoid wasting time in lines. Furthermore, we recommend opting for this amazing guided tour which not only includes skip the line tickets but also helps you enjoy the museum with stories, anecdotes and trivia regarding the art and the artists!
Puerta Del Sol
Located just a short walk away from the Prado museum, is one of the most iconic and lively public squares in Madrid – Puerta Del Sol, and it's a must-visit destination for anyone exploring Madrid.
It is located in the heart of Madrid and is known for its iconic clock tower, which serves as a popular meeting spot and a symbol of the city. The square is also home to a number of important buildings, including the Real Casa de Correos, the headquarters of the regional government.
One of the most popular attractions in Puerta del Sol is the famous bronze statue of the Bear and the Strawberry Tree, which has become a symbol of the city of Madrid. The statue is located at the eastern end of the square and is a popular spot for taking photos and selfies.
Puerta del Sol is also a popular shopping and dining destination, with a wide variety of shops, restaurants, and cafes located in the surrounding streets. This the reason why we planned our visit to Puerta Del Sol close to lunch hour.
If you're in Madrid during New Year's eve, Puerta del Sol hosts an amazing New Year's Eve celebration, which is broadcast live on television and attracts thousands of revelers from around the world. During the celebration, the clock tower counts down to midnight, and revelers eat 12 grapes at the stroke of midnight, a tradition believed to bring good luck for the coming year.
If you're there on a regular day like we were, it's best to enjoy the square's atmosphere during the day from a street side café.
After lunch and some much needed leisure time in the square, head to the last and probably the most surprising attraction in our 2 days Madrid itinerary, the Temple of Debod.
Temple of Debod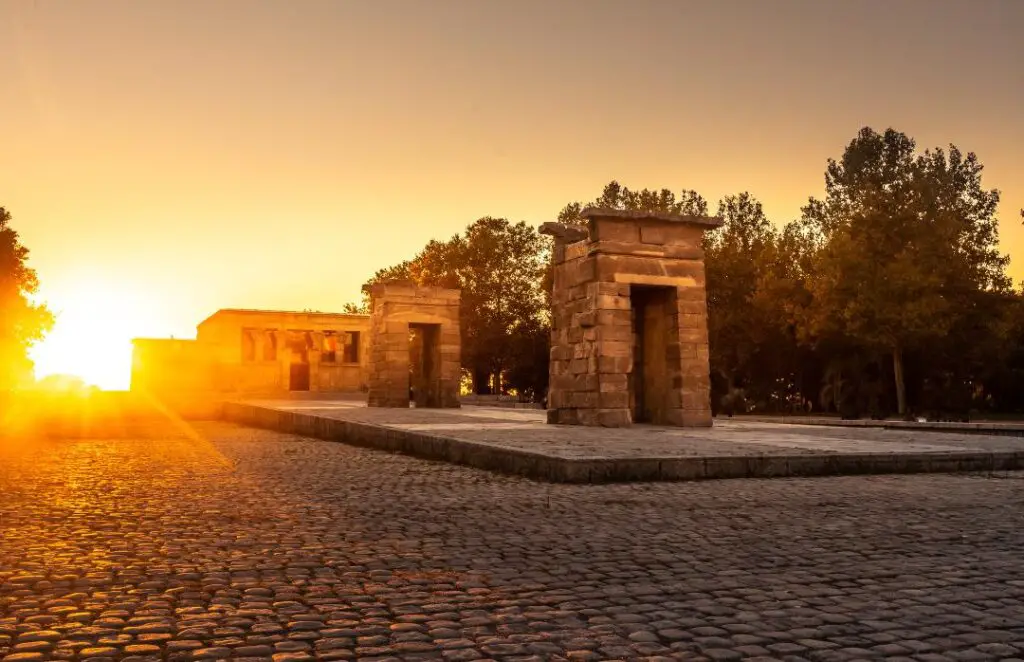 The Temple of Debod is an ancient Egyptian temple that was originally built in the 2nd century BC in southern Egypt. The temple was dedicated to the goddess Isis, and was later dedicated to the god Amun by the pharaohs of the 25th dynasty.
In the 20th century, the temple was threatened by the construction of the Aswan Dam, and the Egyptian government donated it to Spain as a gesture of gratitude for the country's help in preserving other Egyptian monuments. The temple was dismantled, transported to Madrid, and rebuilt in the Parque del Oeste in the 1970s.
Today, the Temple of Debod is one of the most unique and unusual attractions in Madrid, and it's a popular spot for both locals and tourists alike. Explore the temple's interior, which is decorated with beautiful hieroglyphics and carvings, and learn about the history of ancient Egypt and the temple's journey to Madrid.
We've kept this location at the end of the day because one of the best times to visit the Temple of Debod is at sunset. It is when the temple is bathed in warm golden light and the surrounding park is filled with joggers, families, and couples enjoying the beautiful setting. From the temple, enjoy stunning views of the city and the Royal Palace. We cannot think of a better way to end your 2 days Madrid itinerary.
In a Nutshell
That brings us to the end of our 2 days in Madrid. Post dinner, we collected our bags from the hotel and caught our overnight bus to spend 2 days in Seville, which was our next destination during our 2 weeks in Spain. Check it out if you need help planning your own amazing 14 days Spain trip.
We hope you enjoyed this practical and compact 2 days Madrid itinerary. As you can see, we covered all the major things to do in Madrid, some great food joints, a couple of hidden gems and a lively Madrid nightlife. Show some love in the comments if this Madrid itinerary helped you plan your own trip to the Spanish capital or inspire you to plan one! If you have a question, leave them in the comments as well and we'll try to answer them at the earliest. Cheers!