Looking to Spend 2 weeks in Turkey? This detailed 14 days Turkey itinerary shall help you explore everything that this beautiful country has to offer.
We spent 2 weeks in Turkey and this fully-packed Turkey itinerary allowed us to explore major cities like Istanbul, surreal landscapes like Cappadocia and Pamukkale as well as beach towns like Antalya and Alanya, without feeling rushed!
Read on for more details on our experience, recommendations and essential travel tips that comprise this 14 days Turkey itinerary.
Turkey is one of the most underrated travel destinations in the world. It offers a rich heritage to explore, a beautiful and diverse landscape, delicious food, plenty of unique experiences and city vibes similar to those in Europe. All this while being one of the most budget friendly destinations in the world. With a plethora of things to do, it is quite difficult to create a Turkey itinerary that provides a wholistic experience of visiting the country.
If you're planning a trip to Turkey, the follow blog posts may prove to be the difference between a good trip and a GREAT trip!
Without further ado, let's begin our 14 Day Turkey Itinerary.
This article contains affiliate links. This means that we earn a small commission for purchases made through these links at no extra cost to you. Kindly read our full disclosure and privacy policy for more details.
Day 1 to 3 of 14 Day Turkey Itinerary: Istanbul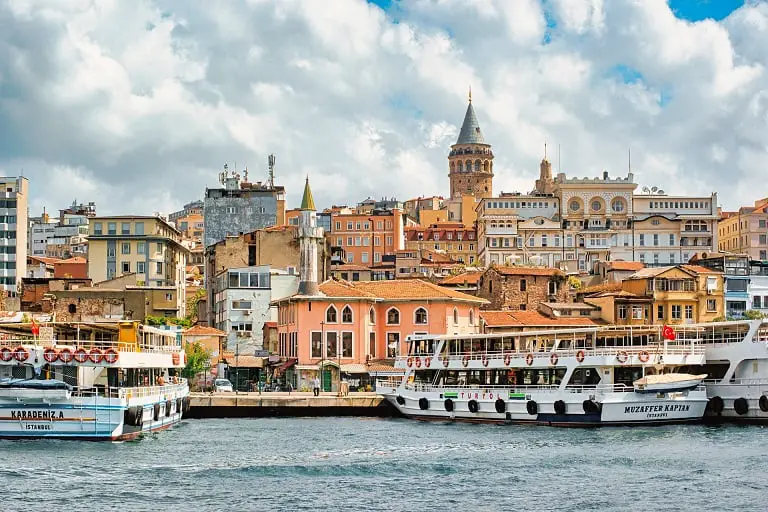 Istanbul is the most popular and the best connected of all the cities of Turkey. Hence, there is a very good chance that you shall be entering Turkey via the Istanbul airport. We also recommend leaving Turkey via Istanbul airport as it offers the best and cheapest flights to any part of the world.
Because of this, we have split our 5 days in Istanbul itinerary in two parts. Three days in the beginning of our Turkey trip and another three at the end of it.
The first part of your trip to Istanbul shall majorly involve sight-seeing while your second part shall focus more on shopping and visiting the party neighborhoods of Istanbul.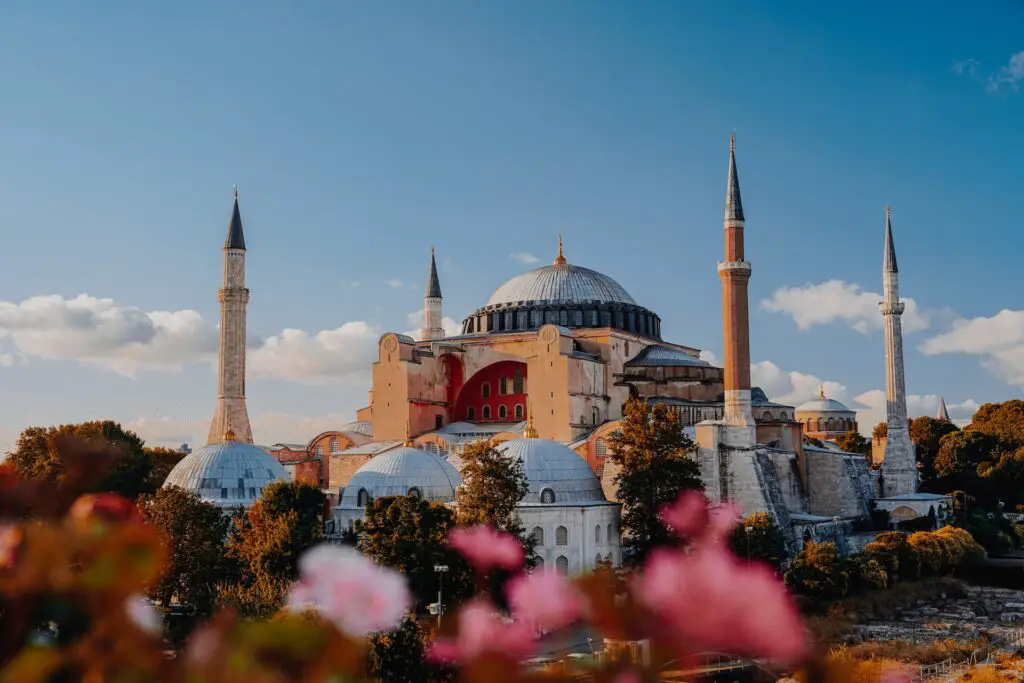 Hence, we recommend staying in the Sultanahmet area during your first trip to Istanbul. This area houses the most famous attractions of Istanbul, has a wide range of hotels, the main attractions can be easily covered on foot, it has plenty of good and cheap restaurants and is the best place to start your Turkey vacation.
Your first day in Turkey shall involve, checking into your hotel, changing your Dollars to Turkish Lira and getting a general look and feel of the area around the hotel. If you arrive in Istanbul early in the morning, you should target visiting one or more of the below mentioned places in the first day itself.
To know where to go and how to get around Istanbul for the next few days, make sure you check out our detailed itinerary for Istanbul that covers the following highlights:
Hagia Sofia
Hagia Sofia is one of the most iconic UNESCO World Heritage Sites of Turkey. Built as an Orthodox Christian Cathedral, this landmark was converted to a Mosque during the Ottoman Rule and declared as a museum in 1934. In 2020, the museum was converted back to a mosque by the Turkish government. Ever since it was converted to a mosque, there are no entrance fees for visiting Hagia Sofia but tourists are not allowed during prayer hours like all other mosques in Istanbul.
The Blue Mosque
Right across from Hagia Sofia is the next big landmark of Istanbul – The Sultan Ahmet Mosque. It is the image that you see when you google Istanbul. The mosque has beautiful blue tiles that adorn its interiors, and has hence become popularly known as the Blue Mosque. Strict dress code is to be followed while visiting the Blue Mosque where your knees and shoulders are covered. In case of women, your heads need to be covered as well- head scarfs are available free of charge at the entrance.
Topkapi Palace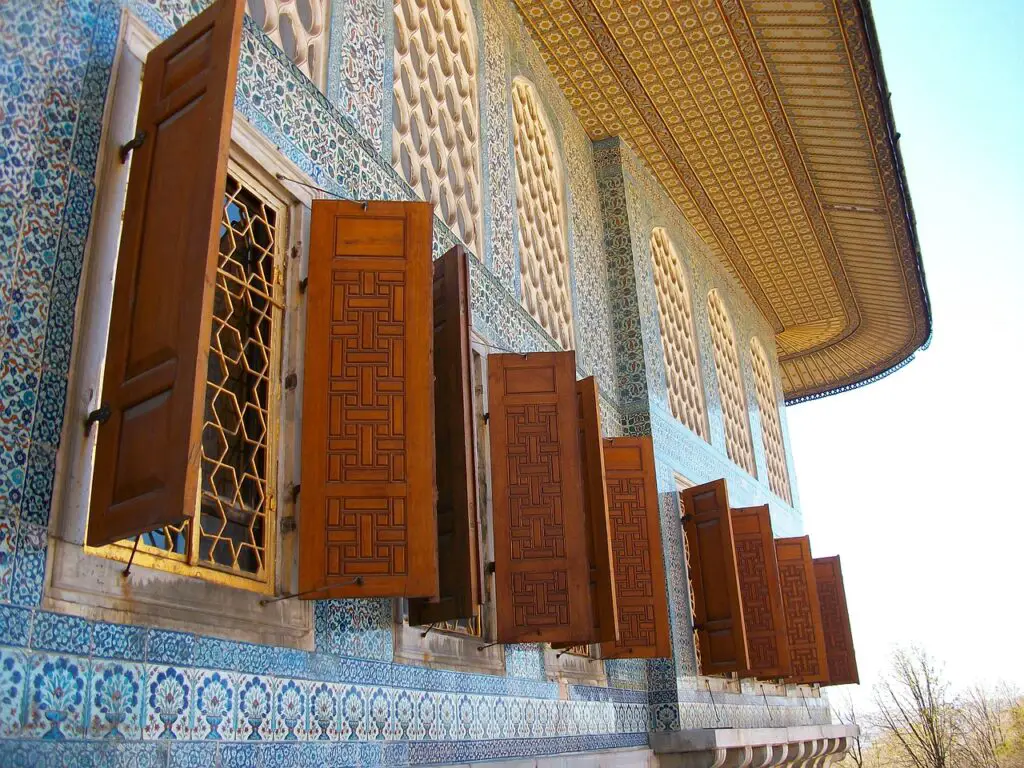 Topkapi Palace museum used to be one of the main residence and administrative blocks of the Sultan during the Ottoman Empire. The palace complex consists of the administrative blocks, the high court, the treasury and the royal kitchens.
However, the most beautiful a part of the palace complex is the Harem, where the Sultan's many wives and concubines lived.
The Palace Complex and the Harem are exemplary pieces of Turkish architecture and history, making them an absolute must during your trip.
The entrance fee to the Harem is charged separately at 70 TL while the palace ticket costs about 100 TL. Buy a skip-the-line combination ticket to the Palace and the Harem, so that you don't spend most of your time in queues.
Cisterns under Istanbul
There are over a hundred cisterns underneath Istanbul and only two are open to the public. The larger and more famous of the two is the Basilica Cistern. This cistern was built in the year 532 to meet the water needs of the Royal Palace. The medusa head under two of the columns, has become popular among photographers and Instagrammers. The entrance to the cistern costs about 30TL for foreign nationals.
If you wish to save some money in Turkey and don't want to pay to visit a cistern, head over to Theodosius Cistern. It is just a short walk away from the Blue Mosque, is equally beautiful, is way less crowded and is absolutely free to enter!
You can buy a combination ticket for all the above locations in the form of a Turkey pass to save money and time by not waiting in queues. Along with guided tours to the above, the pass also includes various day trips and special experiences like the whirling dervishes show and airport shuttles.
Suleymaniye Mosque
The Suleymaniye Mosque is a lesser known but equally beautiful mosque in Istanbul. It is located a bus ride away from the Sultanahmet square and is often less crowded compared to the Blue Mosque. When we visited Turkey, the Blue Mosque was covered in scaffolding due some refurbishment work and we weren't able to admire its beauty like we hoped to. Hence, our hotel manager advised us to visit the Suleymaniye Mosque and we did not regret it. The mosque is beautiful, less crowded and more importantly already refurbished, so no scaffoldings!
Like for all mosques in Istanbul, make sure you are appropriately dressed and don't visit during prayer hours.
After visiting the mosque have Turkish tea or smoke a Nargile at one of the many rooftop cafes in the adjoining street. The cafes offer amazing views of the mosque on one side and the Bosphorus river on the other.
Balat
Balat is a quiet, colorful neighborhood of Istanbul. It has beautifully colored houses, unique street art and an overall hipster vibe. Rainbow stairs of Istanbul or the Insta-famous colorful houses are located in Balat. If you reach there early in the morning, you will find the entire place to yourself. Marvel at Balat's artistic beauty to your hearts delight, click a few Instagram worthy pictures and grab breakfast at one of the many cool cafes.
Balat is just a 9-minute bus ride away from Suleymaniye mosque, so you would've covered two beautiful places in Istanbul by late morning.
Galata Tower
The Galata Tower is a medieval stone tower that was built as a light house by the Byzantines. The top of the tower offers sweeping views of Istanbul and the neighborhood is lined with cute cafes.
To reach Galata Tower from Balat, catch a five-minute ferry from the Fener Ferry Terminal to the Kasimpasa Terminal. From the ferry Terminal, it is a 15-minute walk to the Tower through alleys with great street and small street side cafes.
Pro Trip: The ferry is a great way to avoid spending on an expensive Bosphorus river cruise. Admire the Golden Horn, the primary inlet to the Bosphorus river, while on the ferry and feed the seagulls flying by for a unique Istanbul photo.
For a detailed itinerary and a day-wise suggestions for things to do in Istanbul, check out our 5 Day Practical Guide to Istanbul article.
At the end of the third day, catch an overnight bus to Goreme, Cappadocia for the next part of Turkey vacation.
Note: If you are in Istanbul for more than three days, consider buying this Istanbul E-pass for 2, 3, 5 or 7 days that includes not just guided tours to all the famous attractions listed above, but also special experiences like Turkish Night shows, Whirling dervishes show, Luxury Bosphorus cruises with dinners. The pass proves to be a huge way to save money on your trip to Istanbul.
Day 4-7 of 14 Day Turkey Itinerary – Cappadocia
Cappadocia is a region in the middle of Turkey that has recently become a must visit destination during your two weeks trip to Turkey.
With its other worldly landscape, an abundance of things to do, hospitable locals and Instagram fame, Cappadocia has something to offer for every type of traveler.
We recommend spending 4 days in Cappadocia as a majority of its activities are weather dependent and you can reschedule these activities on the next day if the weather is not supportive.
Also, out of all the towns in Cappadocia, we recommend you book your stay in Goreme. Goreme is very well connected to the rest of Turkey, has some of the best cave hotels in Cappadocia and is the most tourist-friendly part of Cappadocia. By staying in Goreme, you shall be in the middle of all the action.
How to reach Goreme?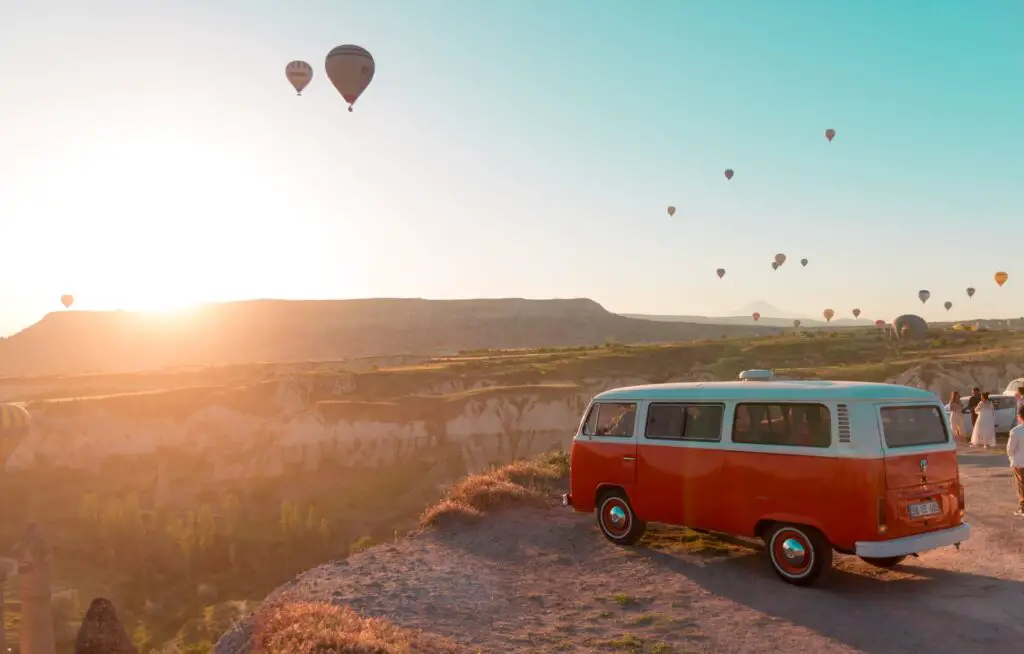 By Air: You can catch a direct flight from Istanbul airport to Nevsehir or Keyseri Airport. Upon landing, catch a shuttle bus to Goreme.
The direct flights are convenient and cost almost as much as an overnight bus if you are not carrying any heavy luggage.
Overnight Bus: This is our preferred way of traveling to Cappadocia. The bus service in Turkey is cheap, efficient and comfortable. Not only can you carry heavy baggage without incurring an additional cost but you can also save on a night of accommodation in a hotel by taking a night bus.
Also, the bus drops you in Goreme itself as compared to flight where you shall have to take a shuttle bus to reach Goreme from the airport.
Cappadocia Experiences to include in Your Turkey Itinerary:
Hot Air Balloon Ride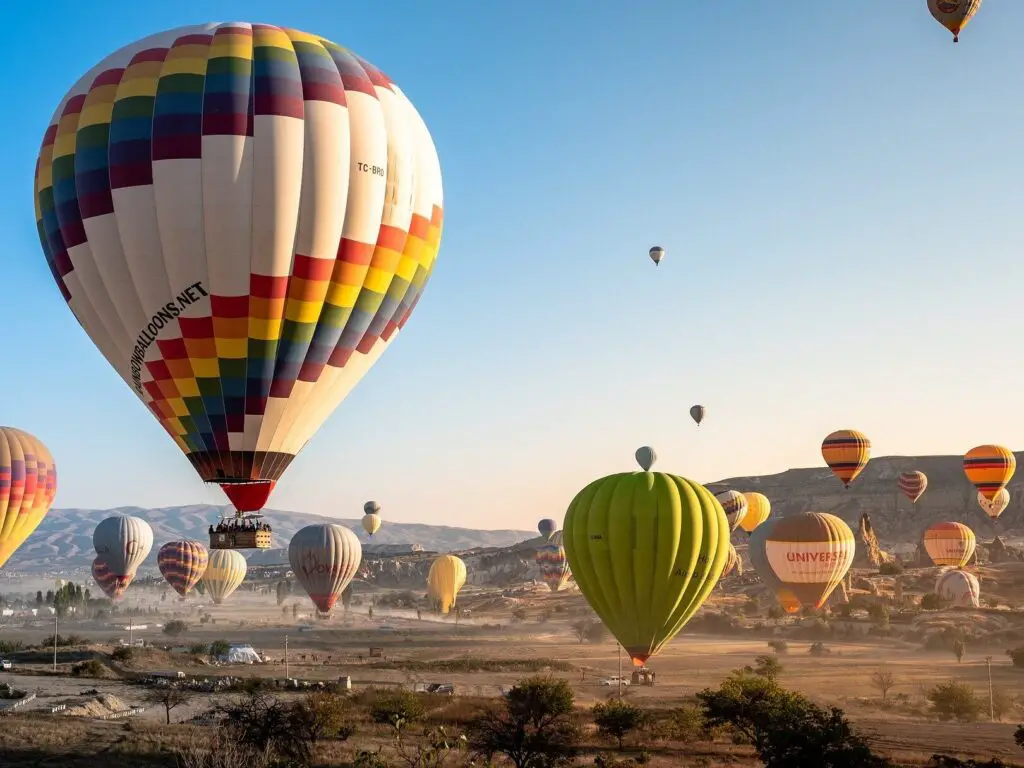 Exploring Cappadocia's surreal landscape in Hot Air Balloon is the quintessential thing to do on your trip to Turkey. Lift off is generally early in the morning just before sunrise in your colorful balloon with hundreds of others.
We advise you to book your Cappadocia hot air balloon flight on your first full day in Cappadocia. In this way, even if your flight gets cancelled due to unfavorable conditions on your first day, the company can reschedule it for free on the next day.
You need to book your ride in advance as tickets are limited and either get sold out or become costlier.
In our experience, the best way to book a balloon flight is via a booking website like Getyourguide. They have the best tour operators in Cappadocia and have very flexible cancellation policy.
Our favorite is this Hot Air Balloon Ride as it is cost-effective, does not compromise on quality and is the most reviewed ride!
Alternatively, you can also book via your hotel. However, in our experience, it was more expensive compared to the above price as the hotel had its own mark ups.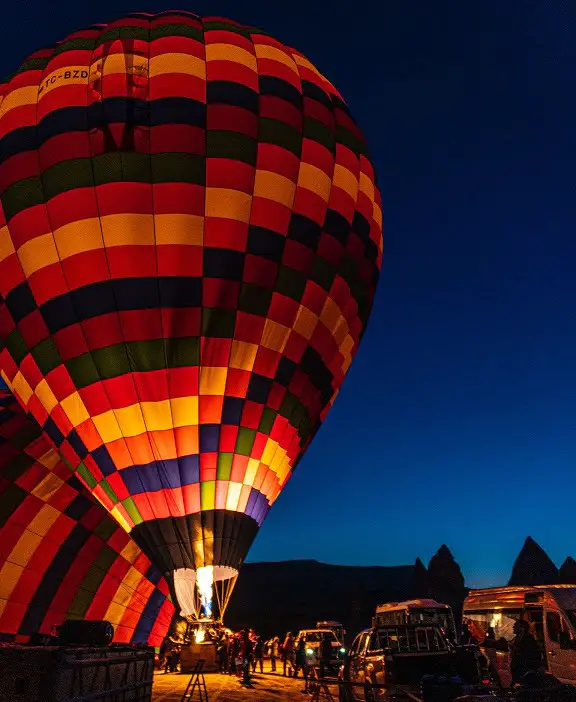 What is included in your Cappadocia Hot air Balloon Ridfe:
A good hot air balloon ride should involve pick up form your hotel, a decent breakfast, at least one hour of flight, a champagne celebration after landing and drop off to your hotel.
The cost of this activity depends on three factors:
The no. of people on the basket – generally ranges from 16 to 24
The duration of flight (one hour to 3 hours)
The availability of slots – prices are higher during peak tourist season or if you book last minute.
book your balloon flight in advance here to avoid missing out or super-high last minute prices.
Cappadocia on Horse-back
After hovering over the valleys of Cappadocia in a hot-air balloon, exploring them on the ground is a must. You can hike the valleys with a guide, go for an adrenaline boosting ATV tour or opt for our favorite option, exploring it on horseback.
Horses of Cappadocia are some of the best in the world. In fact, the name of the region -Cappadocia literally means "Land of beautiful horses". 
A horseback tour allows you to tread along pathways that cars or ATVs can't access.
If you book this tour, the ranch will pick you up from your hotel about 3 hours before sundown. Upon reaching the ranch, you shall be introduced to your cowboy guide and your horse. You'll be given proper horse riding gear and instructions on how to control your horse.
The tour shall start 2 hours before the sun sets which is an ideal time to explore the valleys.
Your guide shall take you across the Red Valley, Love valley and Rose valley, making photo stops wherever the scene becomes compelling.
Make sure you book this tour in advance as the slots are limited and often get sold out quickly.
Alternatively, you can also book a sunrise tour on horseback or Camelback, where you shall travel across Red Valley and Rose Valley as the Hot Air Balloon Rise around you.
Goreme Open Air Museum
The Goreme Open air museum is a collection of churches, chapels and monasteries about 1 km uphill from the Goreme city center. What makes these churches special is the fact that they're carved into the huge rocks that you see everywhere in Cappadocia.
It gets crowded because of its beauty and popularity so book your tickets in advance.
You can buy separate tickets for the Goreme Open Air museum or opt for the Red Tour (explained below) that includes a tour of this must visit UNESCO World Heritage site.
Visit the Underground City of Derinkuyu
Cappadocia was repeatedly under attack by Arab raiders from the East. To safeguard themselves and their possessions from the raiders, the residents built cities deep underground. Some of these cities are said to go 18 levels below the earth and are interconnected via secret tunnels.
They could easily accommodate 20,000 people and had dedicated places for their horses, food and water storage, recreational activities and even council halls!
Book a guided tour of these cities which take care of your transportation and entrance fees.
These guided tours are a must to explore the 9-storeys of the underground city of Derinkuyu and understand how the residents lived and protected themselves from the raiders. 
 You can also book the Green Tour of Cappadocia (explained below) that includes a tour of the Underground city.
Red Tour 
The Red tour is a tour of all the things to do in North Cappadocia.
It generally starts with pick up from your hotel at around 10 o clock in the morning. The Red Tour lasts for about 8-9 hours and includes the following must visit sites of Cappadocia:
1. Goreme Open Air Museum
2. Uchisar Castle
3. Avanos Town and pottery workshop
4. Pasabag or Monk's Valley
5. Devrent Valley aka Imagination Valley
6. Love Valley
7. Urgup wine cellars.
Some tour operators exclude one or more of the above from the tour to scam tourists so it's better to pre-book these tours via a legit booking site here. Check if your tour operator provides lunch so that you can plan your meals accordingly.
Green Tour
All the notable things to do in the Southern part of Cappadocia constitute the Green Tour.
Our tour lasted a little longer than 9 hours from 9 AM to almost 7. Expect to visit the following attractions in the Green Tour:
1. Underground City
2. Ihlara Valley Hike
3. Selime Monastery
4. Pigeon Valley View Point
5. Goreme Panorama Viewpoint
6. Onyx Jewelry factory
Each of the above sites represent an important aspect of the culture, traditions, history and landscape of Turkey.
We advise that you book a tour that includes lunch as it'll be difficult to manage in this area without prior knowledge. This Green Tour operator arranges lunch in the middle of a river! Check it out!
We booked the above tour via getyourguide as it offered a certain sense of security and flexible cancellation policies.
We have explained all of the above activities including the sites mentioned in the red and green tours in our detailed 4 day Cappadocia itinerary. Make sure you check them out to plan your trip to Cappadocia.
Insider Tip: Recently, many tour operators have started providing paragliding activities as well. along with Hot Air Ballooning, Paragliding has also started becoming one of the best experiences Cappadocia has to offer.
At the end of your stay in Cappadocia, catch an overnight bus from Goreme to Antalya for the next phase of this detailed Turkey Itinerary.
Day 8-10 of 14 Day Turkey Itinerary – Alanya
Your overnight bus from Goreme shall drop you off at Antalya bus terminal at around 7 AM in the morning.
Although our final destination is Alanya, it is not directly connected to other cities of Turkey.
You can take a shuttle to Alanya that runs every half an hour or you can make the best of the situation like we did.
There are plenty of cheap baggage storage locations in Antalya Bus Terminal. Drop your luggage there, freshen up in the squeaky clean public restrooms and head out to explore Antalya.
Places to include in Antalya for your Turkey Itinerary:
Antalya Old City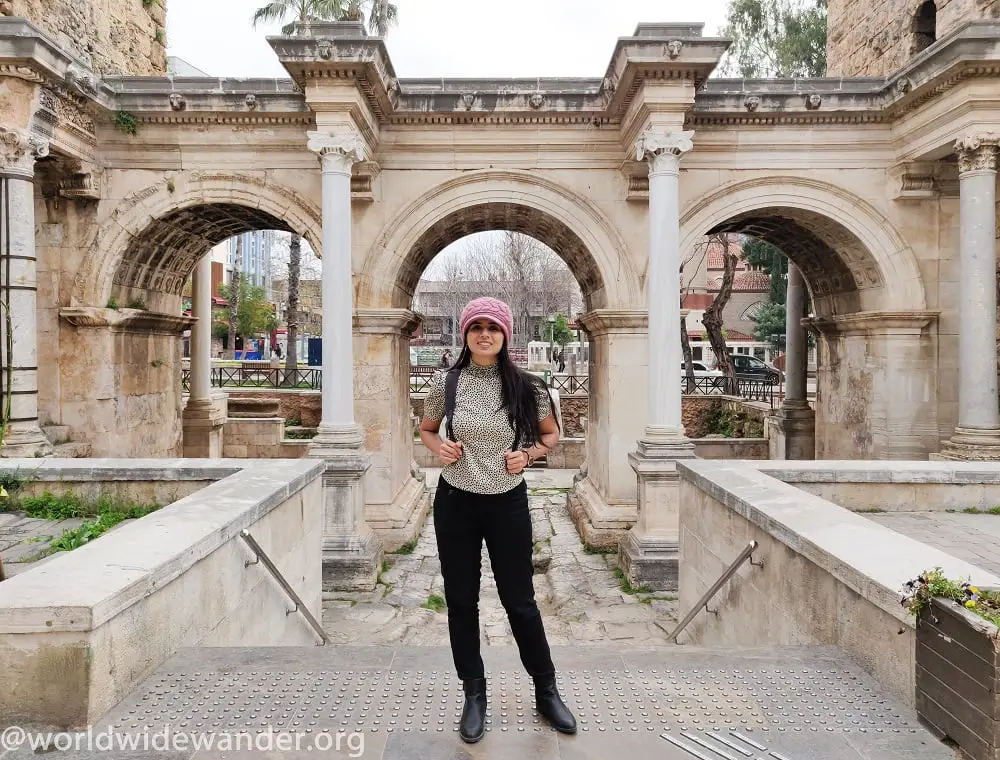 Since you've arrived in Antalya early in the morning, the best way to utilize your time is to explore Kaleisi, the old city of Antalya.
Kaleisi is a labyrinth of cobblestoned streets surrounded by structures built during the Byzantine and Roman eras.
The area gets pretty busy later in the day, making early morning the best time to explore the archaic alleyways.
Marvel at the quirky street art and learn about age old monuments like Hadrian's gate.
Once you're done, sit down at one of the many colorful, street side European style cafes for breakfast.
Antalya Archaeological Museum
If you're a history buff, don't miss the Anyalya Museum. The museum houses pieces that are from the Byzantine, Roman and Ottoman empire.
There are around 5000 exhibits at any point of time and they are arranged in an exemplary fashion to showcase the complex history of the region in a simple manner.
The most fascinating artifacts for us were the ancient sarcophagi and the carvings Roman Gods of Zeus, Aphrodite, Hermes and Artemis.
After visiting the museum, collect your baggage from the cloak room and catch a shuttle to Alanya. The journey takes about an hour and you shall reach your hotel exactly at your check-in time.
You can easily spend three days in Alanya which has really cheap all-inclusive hotel deals. Our hotel was $60 per night for two people inclusive of accommodation, 4 meals a day, drinks, free tour guides, discount on Spa services and free drinks and food at a restaurant at the famous Kleopetra beach.
Read all about it in our 3-days in Alanya blog post where the following were the highlights of our stay.
Alanya Castle
Alanya Castle or the Alanya Forress is a 6 km stretch of walls that sit atop a plateau overlooking the Mediterranean sea.
The castle walls and the hill, separate the old city of Alanya away from the new, bustling city down below. The best way to reach Alanya castle is by taking the gondola/cable car from Cleopetra Beach.
After reaching the top, explore the area on foot to discover ruins of the medieval city, magnificent gardens and unprecedented views of the Mediterranean sea.
Red Tower
The Red tower is an octagonal, 30 meter high tower that used to be a defense tower during the Seljuk area.
Apart from being an amazing Instagram spot, the tower also offers some gorgeous views of the harbor. Ticket prices can be as less as a dollar in off season.
From the top of the tower, you can also see the walls that used to connect the harbour to the Alanya castle.
Damlatas Caves
Located right at the Kleopetra Beach near the cable car station to Alanya Castle, are the Damlatas Caves. These caves were accidentaly discovered by engineers while building the Alanya Harbor. 
During World War 2, the German soldiers hid here and legend says that the air inside the cave healed their respiratory disorders.
As the cave is pretty small, you can visit it in about 20 min. There are benches provided in the cave in case if you want stay around for a longer period of time.
Kleopetra Beach
Kleopetra beach is the most popular beach strip of Alanya. The best resorts are located close to this beach.
One of our favorite things to do in Alanya was to go on an early morning walk or bike along the beautiful promenade created along the beach.
A number of beach shacks and restaurants are located across the beach, offering cheap drinks, good food and crystal clear views of the azure waters of the Mediterranean.
The beach restaurants are affiliated with with several resorts. Hence, if you're staying at an all inclusive resorts like we were during our 3-day trip to Alanya, your food, drinks and a beach bed is taken care off! If you are a vegetarian like us, you will have plenty of Vegetarian Turkish cuisine options everywhere in Turkey.
After a refreshing and rejuvenating break in Alanya, catch a 4 – hour bus to Denizli for your next destination – Pammukale.
Day 10-11 of 14 Day Turkey Itinerary – Pamukkale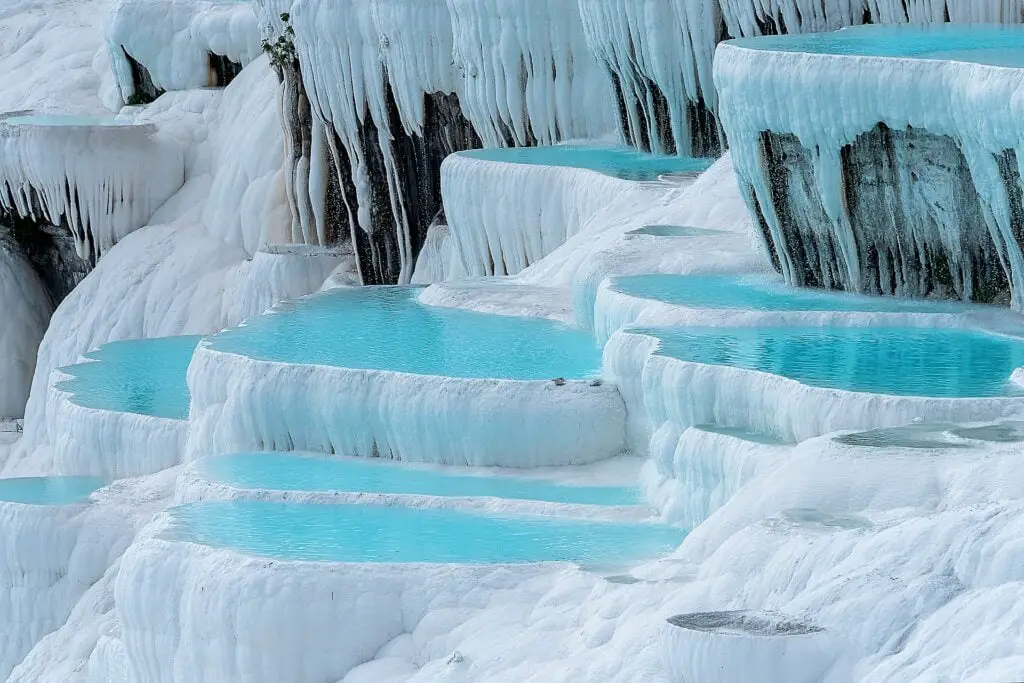 Pamukkale is going to be one of the highlights of your trip to Turkey. Pamukkale literally translates to "Cotton Castle" in Turkish.
Centuries of calcium deposits from the stream originating atop the mountain have created this white marvel of nature. The flowing water has created terraces on the side of the mountain resulting in natural thermal pools for you to relax in. 
How to Reach:
A lot of people get this wrong. Pamukkale is the name of the monument and not the city.
So, to visit Pamukkale, you need to reach the city of Denizli.
You can arrange a pick up from your hotel as the taxis at the airport or the bus stand quote exorbitant prices.
Alternatively, you can also board the shuttle that runs between the Pamukkale complex and the bus stand and then walk to your hotel nearby.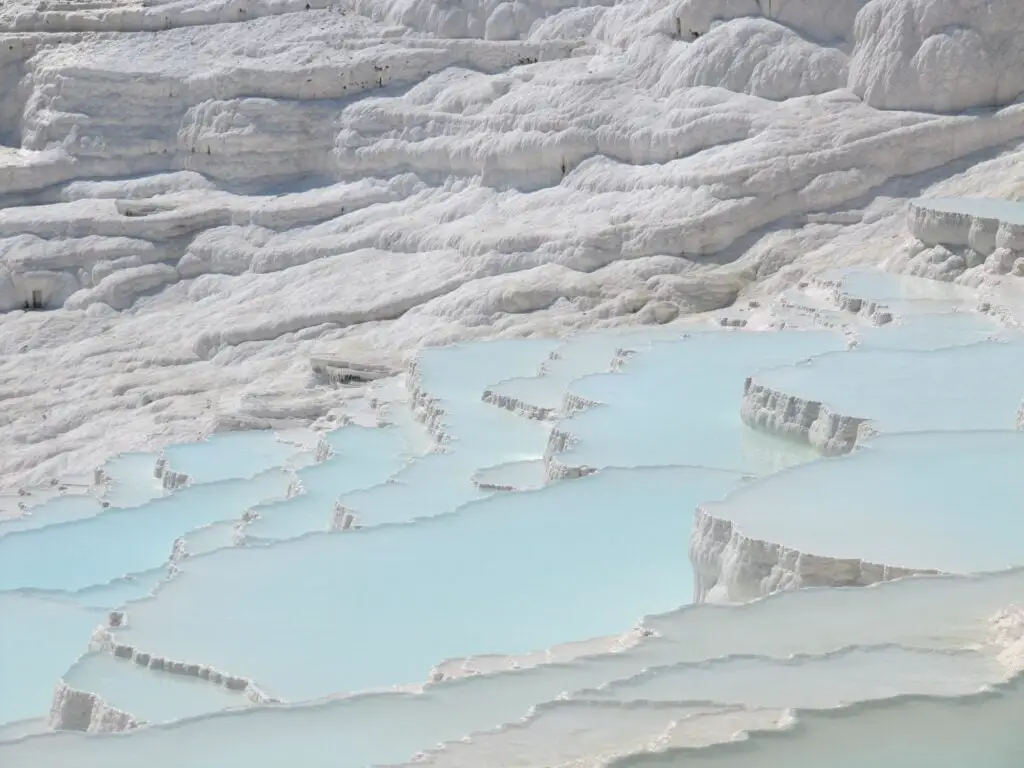 Where and how long to stay in Pamukkale:
Apart from the Pamukkale complex, there isn't a lot to do in Denizli. Hence, one night in Pamukkale is enough.
We recommend getting a hotel near the Pamukkale complex so that you don't spend a lot of time or money on transport. There are dozens of good properties with clear views of the white mountain. Book your stay in one of them.
If you arrive by mid day, check in and relax by the pool of your hotel. Do not visit Pamukkale in the afternoon. It is crowded, extremely hot and the highlight of your trip might just become a disappointment.
Visit the Pamukkale complex early in the morning on the next day.
The complex allows entry from sunrise (approximately 6 AM) but the ticket window doesn't open before 8 AM.
It's better to pre-book your tickets here and have the entire complex to yourself before the tour buses bring in their crowds by 9 AM.
Bring your swimsuit along and relax in the mineral rich thermal pools or sit in one of the hot water furrows to experience a natural jacuzzi.
You can also visit the ruins of the ancient Roman city of Heirapolis on top of the mountain and have lunch at one of the restaurants of the complex.
If you have a little more time, you can also take a Hot Air Balloon ride over the beautiful Cotton Castle.
End your day in Pamukkale with sunset views from the white terraces of the mountain. 
Grab dinner at one of the many restaurants around and catch an overnight bus back to Istanbul.
Day 12-14 of 14 Day Turkey Itinerary – Istanbul
Like i explained above, we have divided our Istanbul trip in two parts.
Spend the last couple of days of your 2 week Turkey Itinerary enjoying the party vibe of Istanbul and shopping for some of the best souvenirs you should get from Turkey.
To minimise internal and airport travel time, chose to stay in the Taksim/ Beyoglu area which is conveniently connected to the airport.
This second trip to Istanbul shall involve shopping for cheap souvenirs, amazing street food, hip areas like Besiktas (explained below) and a little bit of sight seeing.
Again, you can check out a detailed guide for the same in our 5 day Istanbul Itinerary and ensure that the following are a part of your last few days in Istanbul, Turkey:
Grand Bazaar
The Grand Bazaar is the biggest and oldest shopping complex in the world. It has 5000 shops selling everything from cheap knock offs of luxury brands to genuine turkish carpets worth thousands of dollars.
The Grand bazaar and the area around it is probably the best place to get souvenirs. But like all popular tourist attractions, the goods are often overpriced so make sure you haggle well.
I have provided a detailed explanation on how to haggle in the Grand Bazaar in our 14 must have experiences in Turkey post. Check it out and never pay more than 50% of the quoted price.
Egyptian spice bazaar
The spice bazaar is where you should be buying your annual supply of Turkish Tea from.
The Bazaar is located a 20 minute walk away from the Grand Bazaar but the prices are more reasonable here.
You can buy various spices like cinnamon, saffron, peppers and anise as well as dried fruits like almonds, pine nuts, hazelnuts, apricots and figs.
The spice bazaar is also the best place to buy Turkish Delight for your friends and family back home. Chose from a wide range of flavors like coconut, pomegranate, pistachio, Nutella and even tiramisu.
Apart from spices, dried fruits and Turkish delight, the spice bazaar also sells artistic Turkish cutlery, nargiles and carpets. However, the collection is smaller compared to the Grand Bazaar.
Besiktas
Besiltas is a vibrant neighborhood of Istanbul and is known for its markets, student culture, art and night life.
It has a number of great cafes, bistros, pubs and live-music restaurants lined along the Bosphorus.
The Bosphorus riverfront was our favorite spot in Besiktas. The riverfront is lined with benches where people can sit and enjoy a Turkish Tea or eat some food from a nearby Kumpir stall.
It is the best place to enjoy a sunset after a long day of sight-seeing with some relaxing street music, a cup of Turkish Tea and the beautiful views of the Bosphorus.
Ortakoy Mosque
While in Besiktas, visit the Ortokoy Mosque located right by the river.
If you arrive to Besiktas by ferry, this beautiful mosque shall be the first thing you see as it is right by the pier. The pier itself has become a very popular Instagram photo stop to capture the Ortakoy Mosque.
Although not as grand as the Blue Mosque, the beauty and appeal of the mosque is quite evident from the picture above. 
Like all other mosques in Turkey, a strict dress code is mandatory to enter the mosque and visitors are not permitted during prayer hours. 
Dolmabahce Palace
The Dolmabahce Palace is the largest single block palace in Turkey and it served as the main administrative building of the Ottoman empire.
The palace has probably the most decorated interiors I have witnessed. 14 tonnes of gold leaf was used to adorn the ceilings of the palace.
The palace has the largest collection of Bohemian and Baccarat crystal chandeliers in the world.
At the center of the main hall, you shall find the largest Bohemian crystal chandelier in the world. It weighs 4.5 tonnes and holds 759 lamps. The Chandelier was a gift from Queen Victoria.
Another notable gift is a 150 year old bear skin from the Tzar of Russia.
All this information is not easy to come by and hence it's imperative that you book this epic Guided Tour of the Dolmabahce Palace. The tour is steal as it includes transportation from your accommodation and also dinner on a Bosphorus and Black Sea Cruise at night.
The palace is closed on Mondays and book a guided tour of the palace to make the most of your visit.
This brings us to the end of our trip in Turkey. If you have a spare day or two, you can add a trip to the ruins of Ephesus to this trip. We weren't really that interested in ancient ruins and its inclusion made our trip a little more hectic.
Do check out our other posts on Turkey travel.
Hope this article helps you in planning your two week trip to Turkey.