Alanya is a beach town in the Southern Coast of Turkey. It is often not considered while planning a Turkey Itinerary not just because of its more popular neighbor Antalya, but also because of a lack of sufficient information on the internet. We have created this Alanya Travel Guide to provide all the necessary information you need to plan a trip here including how to reach, where to stay, things to do and also comparison between Alanya and Antalya.
We spent 3 days in Alanya, that also included a morning in Antalya, during our Two Weeks in Turkey. Check out our Turkey Itinerary to know how to accommodate Alanya without missing Antalya during your visit to Turkey.
If you're planning a trip to Turkey, the follow blog posts may prove to be the difference between a good trip and a GREAT trip!
This article contains affiliate links. This means that we earn a small commission for purchases made through these links at no extra cost to you. Kindly read our full disclosure and privacy policy for more details.
Alanya Travel Guide: Alanya Vs. Antalya
Antalya is a major beach city and tourist hub in Turkey known for its beach town vibes, wild cruise parties, day trips to nearby attractions and low cost beach resorts.
Guess what? Alanya does all this and better!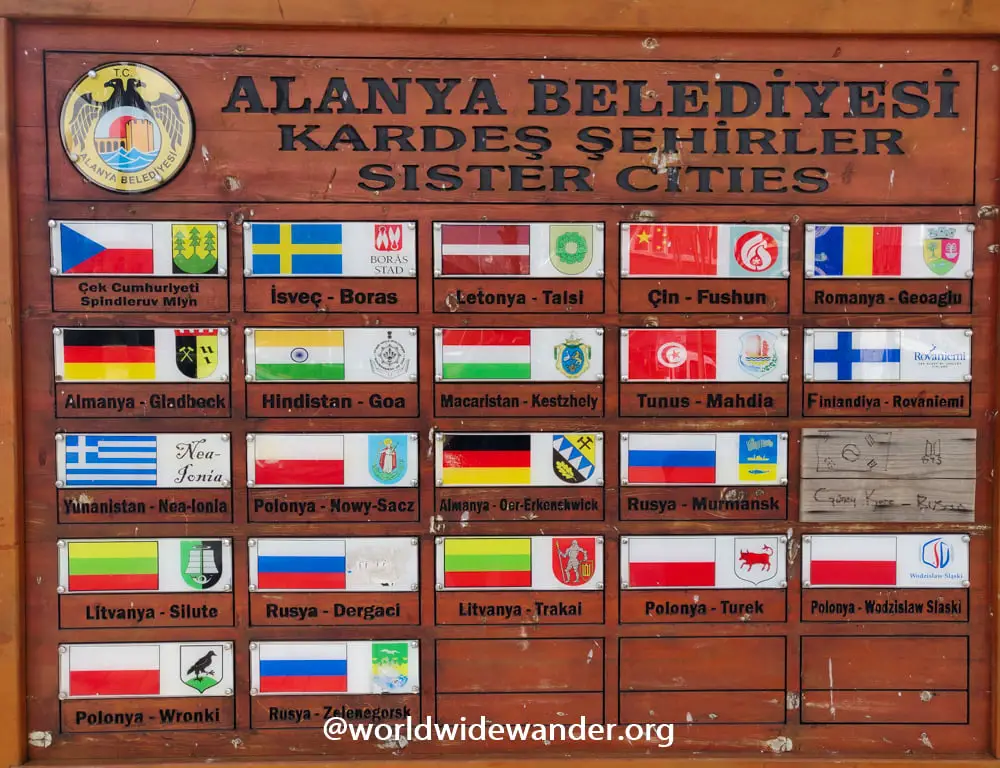 Here is why we feel Alanya is a better beach destination than Antalya:
Attractions: If you google things to do in Antalya, 50% of those attractions are located in Alanya. People go for day trips to Alanya Castle, the Red Tower, Koprulu Canyon. All of these things, are in Alanya. Why waste 4 hours of your precious time, traveling between Antalya and Alanya?
Activities: All the activities and day trips that can be done from Antalya like the Dim Cave, private yacht parties, pirate cruise parties, etc. can be arranged from Alanya itself and for half the price!
Accommodation: Resorts in Alanya are cheaper and offer greater value than the ones in Antalya. We paid $50 per night for two people which included an amazing room in a 5-star resort, three meals a day, drinks, discounts on activities (which are already cheap) and also free food and drinks on the beach! No other town around the Mediterranean Sea offers a deal like this.
 Family Friendly: While there is no dearth of parties in Alanya, but there are parts of town that are perfect to visit with your children. Most resorts have a plethora of activities for your kids like a pool or a jungle gym while the parents can lounge by the beach and sip free cocktails.
Antalya: Alanya is not directly connected to rest of Turkey. So you will be arriving in Antalya first and then proceeding to Alanya. You can make the most of this arrangement and visit the unique Attractions of Antalya in a single morning.
Alanya Travel Guide: How To Reach Alanya
As explained above, you will have to reach Antalya first in order to reach Alanya.
There are mainly two ways to reach Antalya by public transportation:
By Bus:
The bus system in Turkey is one of the most advanced in the world. This was our preferred mode of transportation during our Two Week Trip to Turkey.
If you travel by an overnight bus, you not only save time but also money on one night of accommodation. The buses are cheap, very comfortable because of reclining chairs, have an entertainment system for every seat and have frequent restroom stops for the convenience of the passengers.
Numerous overnight buses run regularly to Antalya from Istanbul, Goreme (Cappadocia), Denizli (Pamukkale).
Upon reaching Antalya, take a shuttle bus to Alanya that runs every half an hour from Antalya Bus Terminal.
By Air:
Air travel in Turkey is quite cheap. Sometimes comparable to a bus ride!
Take a flight to Antalya and then a shuttle bus to Alanya as explained above.
We chose to travel by bus because of the convenience it offered to catch the shuttle to Alanya and to store our luggage as we explored Antalya.
Alanya Travel Guide: How To Include Antalya in your Trip to Alanya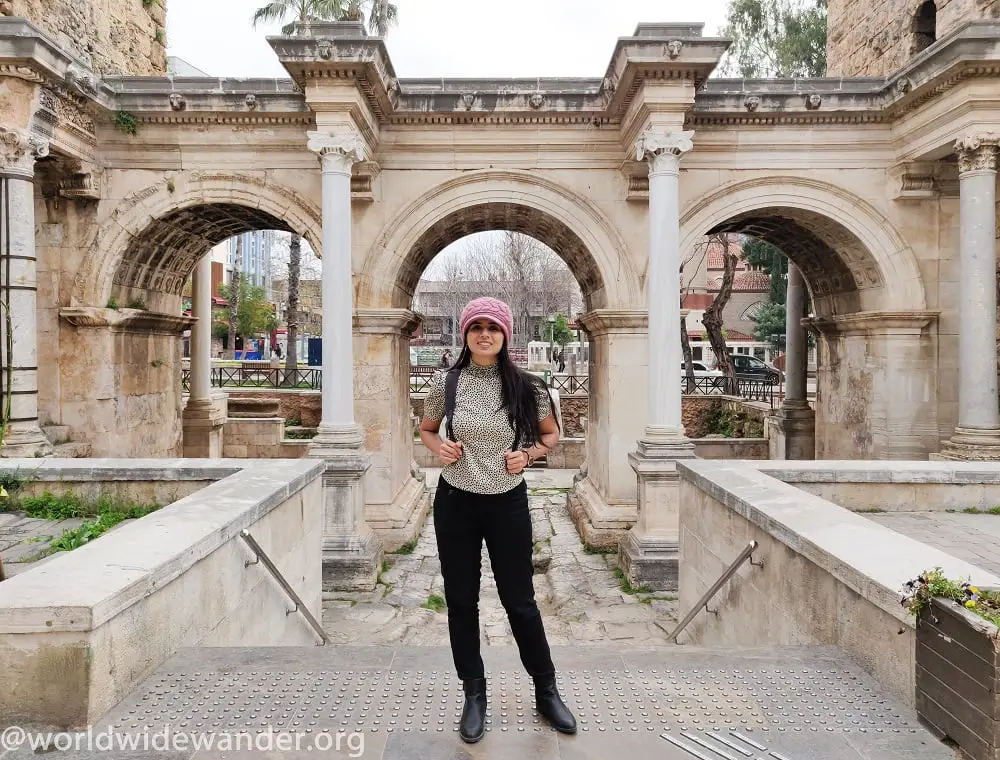 We chose to stay in Alanya to relax in the middle days of our Turkey Itinerary that was packed with activities. As explained above, we were in Antalya because it was the only way to reach Alanya.
However, it seemed criminal to be in Antalya and not visit its most famous and unique attractions: Old Town Kaleici and the Antalya Archaeological Museum. Here's how you can include Antalya on your way to Alanya:
Select a bus that reaches Antalya at around 7 AM in the morning like we did.
You can freshen up in the squeaky clean public restrooms of the terminal and drop your luggage at the safe and reliable storage facilities available.
The storage charges were 6 TL (~$1) per bag for up to 24 hours when we visited.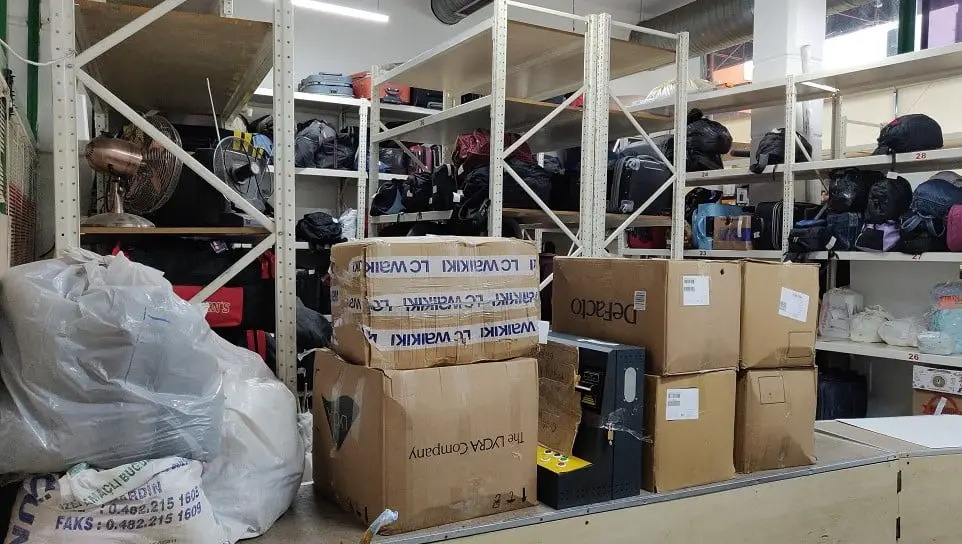 The bus terminal is located 9 kms from Old Town Kaleici and it will take you about 20 minutes in a public bus.
This way, you can explore Antalya Old Town early in the morning before the crowds arrive and have breakfast at a beach side café.
Thereafter, proceed to Antalya Archaeological museum that opens at 9 in the morning and is only a 15-minute walk away from Old Town Kaleici.
It would take about 2 hours (more if you are a history buff) to explore the amazing museum that has nearly 5,000 exhibits from the Byzantine, Roman and Ottoman eras.
After visiting the museum, head back to the bus terminal, collect your luggage from the cloak room and catch your bus to Alanya.
By following this route, you shall reach your Alanya Hotel exactly at the time of your check-in.
Alanya Travel Guide: Must Do Things in Alanya
Stay in a Cheap, All-inclusive Resorts
Alanya is one of the cheapest places in the world when it comes to 5-star, all-inclusive accommodation.
There are plenty of resorts offering the best amenities like beach access, swimming pools, Turkish Bath and spas.
We recommend staying in a resort near the famous Kleopetra beach as that will make visiting all the other places in this list very convenient.
Our resort cost us approximately $50 per room per night and included accommodation, Wi-Fi, drinks, buffet spreads for breakfast, lunch and dinner, bar snacks, a massage session at the spa and free drinks and food at a beach shack on Kleopetra Beach.
The above price is per room, meaning it'll cost only $25 per person per night to stay in Alanya!
If you are a vegetarian in Turkey like us, you will be pleased to know that 70% of the menus in the buffet spreads of these hotels are vegetarian friendly.
Alanya Castle
The Alanya Castle, also sometimes known as the Alanya fortress, is a 6 km stretch of walls that sit atop a plateau overlooking the Mediterranean sea.
The castle walls house the old city of Alanya away from the new, bustling city down below. You can take the gondola/cable car from Kleopetra Beach to reach the entrance of the castle. Explore the castle area on foot to discover the ruins of the ancient city, beautiful gardens and spectacular views of the coastline from the top.
Red Tower
The Red tower is an extension of Alanya Castle. It is an octagonal, 30 metre high tower that used to be a defence tower during the Seljuk area.
You can climb up the tower for as little as a dollar to enjoy some gorgeous views of the harbour.
From the top of the tower, you can also see the walls that connect the harbour to the Alanya castle.
Damlatas Cave
The Damlatas caves are right at Kleopetra Beach near the cable car station for Alanya castle. These caves were discovered by accident while building the harbour in Alanya. 
During World War 2, the German soldiers hid here and it's said that the air inside the cave healed their respiratory problems.
As the cave is pretty small, you can visit it in about 20 min. There are benches provided in the cave in case if you want stay around for a longer period of time.
If you have time, we recommend visiting the Dim cave instead. This cave is much larger compared to the Damlatas Cave and has a beautiful lagoon at the lower most level!
Kleopetra Beach
Kleopetra beach is a very popular beach strip of Alanya. Most of the resorts are located near this beach.
The beach side is lined with very picturesque pathways making them an ideal place to walk or cycle around.
Numerous beach restaurants inhabit the beach offering cheap drinks, good food and clear views of the crystal blue waters of the Mediterranean sea.
The beach restaurants have tie-ups with several resorts, so if you're staying at an all-inclusive resort like we were during our 3-day trip to Alanya, you'll get free food and drinks right at the beach!
Alanya Travel Guide: Must Have Experiences in Alanya
Sunset Foam Party Cruise
A very popular experience among solo backpackers as well as couples, Sunset Party Cruises from Alanya are a lot cheaper than those from Antalya.
We highly recommend this experience where you shall be picked up from your hotel and taken on a 4-hour dinner cruise. Unlimited soft drinks, wine and beer shall be included in the price.
You shall be able to admire Alanya's coastline from afar and will also participate in some boat jumping and swimming in the sea.
You will also be able to participate in very lively foam party on the cruise before dinner or sunbathe on the deck. Check out the pictures of the foam party here. They're wild!
Paragliding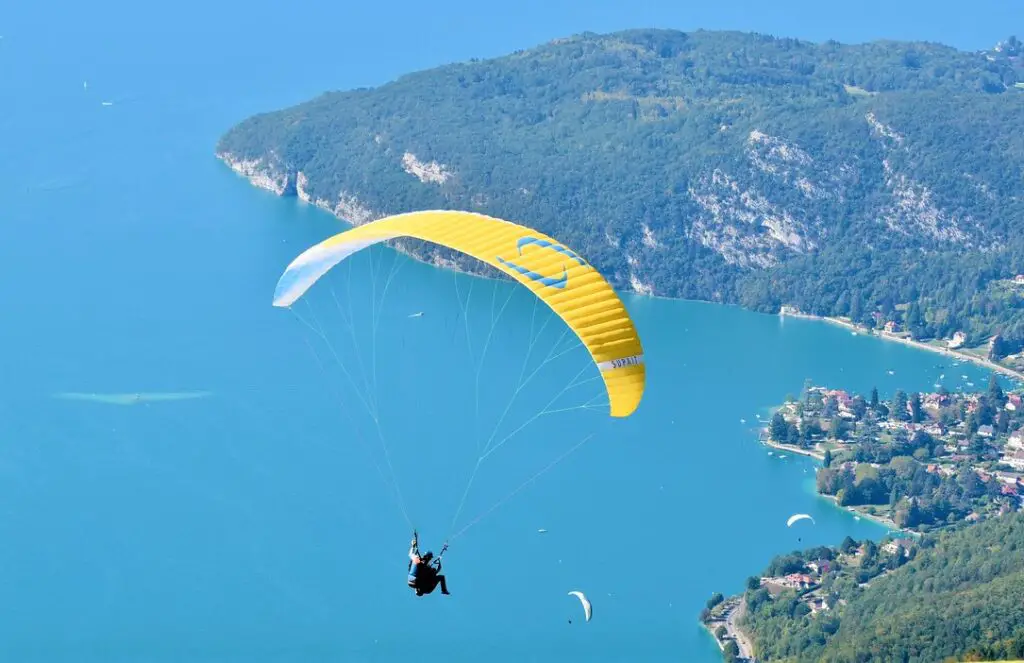 Paragliding has become a hugely popular thing to do in Alanya.
If you are not a certified paraglider, you will have to book a Tandem Paragliding Experience. You shall be safely secured to a certified instructor who shall control your jump and your flight.
All you will have to do is marvel at the beautiful coastline and the views of Alanya Castle from above.
River Rafting and Safari in Koprulu Canyon
The Koprulu Canyon National Park located about 70 kms from Alanya is a very popular spot for outdoor activities.
We recommend going for a Jeep Safari and River rafting experience. Book this experience that includes lunch as there are not many restaurants around the canyon.
The tour includes transportation from your hotel to the canyon, a jeep safari, a river rafting experience, all safety gear, lunch and the services of a tour leader.
For additional thrill, you can opt for a Buggy Cross Safari instead of a Jeep Safari.
If Road Safari's are not your thing, opt for a River Kayaking experience which is equally thrilling if not more.
So that brings us to the end of our article. We did these activities in the three days that we spent in Alanya before leaving for Istanbul to spend the remainder of our 5 Day Istanbul Trip.
These three days were a welcome change from our otherwise packed Turkey Trip.
Hence, our final advice to you for Alanya is to not pack it up with activities. It is the best place to just chill and do absolutely nothing.
Hope this article helps you capitalize on your trip to Alanya.