Skydiving is a part of every adventure sports lover's bucket list and Dubai is probably the best place to skydive in the world. All other locations offer the thrill, the rush, the adrenaline, but skydiving in Dubai offers something unique – Jumping over The Palm Jumeirah. We had booked our Dubai skydive on the 3rd day of our 7 Day Dubai itinerary that you can refer for planning your trip.
Palm Jumeirah is a palm tree shaped man-made archipelago in Dubai. It houses upmarket hotels, posh residential towers and the best restaurants Dubai has to offer.
Dubai offers a range of experiences to explore the Palm Jumeirah like a jet ski around the palm or a helicopter ride from the Palm to Burj Khalifa. However, the best way to appreciate it in all its glory, is from the sky, falling at approximately 200km/h.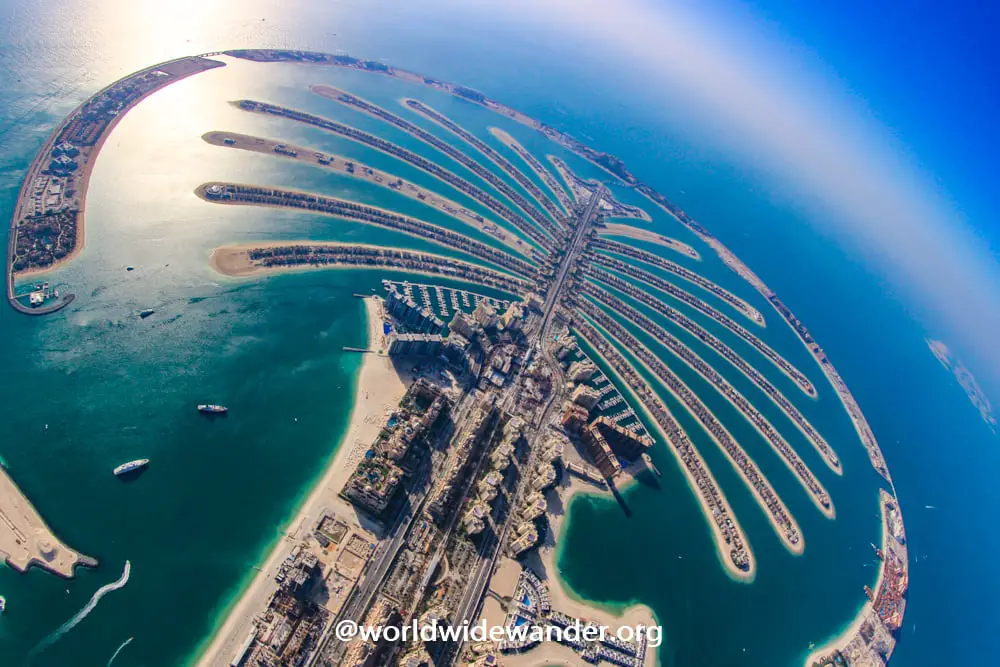 We spent a week in Dubai and Abu Dhabi and have been asked a lot of questions about our experience of skydiving in Dubai. Hence, we have created this post to tell you everything you need to know about this once-in-a-lifetime experience.
Also, check out our other blogs on Dubai to convert a good trip to Dubai to a GREAT trip to Dubai:
Skydiving in Dubai: A Brief Introduction
There is only one agency that conducts skydiving in and around Dubai – Skydive Dubai.
However, skydiving is an adventure sport that requires days of training and only certified sky divers can jump independently in Dubai.
For anyone who is not a trained sky diver, the experience that they can avail is called a tandem skydive. This means that you shall be jumping while being securely strapped and harnessed to an experienced, professional skydiving instructor.
Photographs and video footage of your entire experience are also included in the total cost of your tandem dive. Hence, another professional diver in a wing suit shall also be accompanying you to click your pictures and capture your video.
You shall be jumping from an airplane from 14,000 feet above sea level. The entire experience from take-off to landing takes approximately 20 minutes which includes a free fall of roughly 20-30 seconds.
Skydiving in Dubai: What is included in a tandem dive package?
Your Tandem Dubai Skydive Package shall include the following:
Transportation in a small but reliable airplane to your dive spot in the skies.
One-time tandem jump with two professionals (main dive instructor and photographer) at your designated date and time.
All safety gear, safety harnesses that strap you to your diver and parachute charges.
A USB drive that contains your photographs and a standard edited video of the entire experience including your interview, free fall experience and landing.
A rush of adrenaline and a view of Dubai you'll never forget!
Skydiving in Dubai: Specific Requirements and Eligibility
You need to be eligible in the following categories to be able to sky dive. If, during the time of your jump, it is discovered that you don't meet these requirements, your jump might be cancelled and you won't get a refund. Read on for the specifics.
BMI:
Your weight and your body mass index(BMI) is an indicator of your overall fitness and it needs to be in a certain range for Skydiving in Dubai. You need to comply with the following BMI requirements:
For Men: 
Weight: 100.0 kg/220 lbs or less.
BMI: 30.0 or less.
For Women:
Weight: 90.0 kg/ 198.0 lbs or less.
BMI: 27.5 or less.
Age:
You need to be 12 years or older on the day of your tandem jump. People aged between 12 to 17 years of age, you will need the signed consent of a parent or guardian on the Parent Consent Tandem Waiver. Please bring a valid and official government photo ID (government ID, driver's license, passport) on the day of your dive.
If you are 70 years old or older on the day of your jump, you need to submit the declaration of fitness form that is explained below.
Medical Conditions
If you suffer from or have previously suffered from any of the conditions listed below, you need to download a declaration of fitness form from the website, fill it completely and get it signed and stamped by a certified medical practitioner.
Epilepsy
Fits
Severe head injury
Recurrent blackouts or giddiness
Disease of the brain or nervous system
High blood pressure
Heart or lung disease
Dislocated shoulder or other limb(s)
Recurrent weakness
Diabetes
Mental illness
Drug or alcohol addiction
Any past or present medical conditions
No Alcohol or Drugs
Make sure that there are no drugs or alcohol in your system for at least 24 hours before the jump.
No Scuba Diving
You shouldn't have participated in any underwater activity like scuba diving in the 24 hours leading your tandem jump
Dubai Skydive Cost
As of 2021, the tandem jump over The Palm Drop Zone costs a total of 2,299 AED inclusive of medical insurance, standard video and photos.
The cost of skydiving over the desert drop zone is a lot cheaper at 1,799 AED inclusive of medical insurance, standard video and photos.
An additional cost of 100 AED is charged if you want an Instagram video.
If you don't need photographs and videos, the cost comes down to 1,999 AED for the palm drop zone and 1,599 AED for the desert drop zone.
Skydiving in Dubai: When should you reach?
After booking the experience and making the payment, you will receive an email with your designated time on the day of your jump.
You need to reach the location on the date of your jump at the designated time. The designated time is your reporting time and not the time of your jump.
Skydiving in Dubai: Can your jump be cancelled?
Yes. There are mainly two reasons why your jump may be cancelled:
You are not eligible for the jump
You shall be checked for the eligibility criteria mentioned above when you reach Skydive Dubai.
If it was discovered that you booked the experience despite not meeting the eligibility criteria mentioned above, your jump shall be cancelled. In this case, you shall not be eligible for a refund. So, ensure that you abide by the requirements to avoid losing any money.
Skydiving is a weather sensitive sport and if the weather conditions on the day of your jump are not favourable, your jump can be cancelled.
In this case, you shall either be offered a full refund or the option to reschedule your jump on the next available date.
Skydiving in Dubai: Worldwide Wander Secret Tip
So your Dubai skydive jump was cancelled and you were offered a refund or an alternate date. But what if the next available date is not favorable as you shall be flying out of Dubai and you really want to tick this off your bucket list?
This happened with me. It rained in Dubai on the day of my jump and the next available date was 15 days after my departure from Dubai.
There is a provision for this. You need to reach the location just when it opens the next day and register as a walk-in candidate. Since your jump was cancelled the other day, you shall be given preference on a first-come-first-serve basis. Make sure you're the first in line the next day as the number of walk-in jumps are limited and there's no guarantee that you shall get to jump.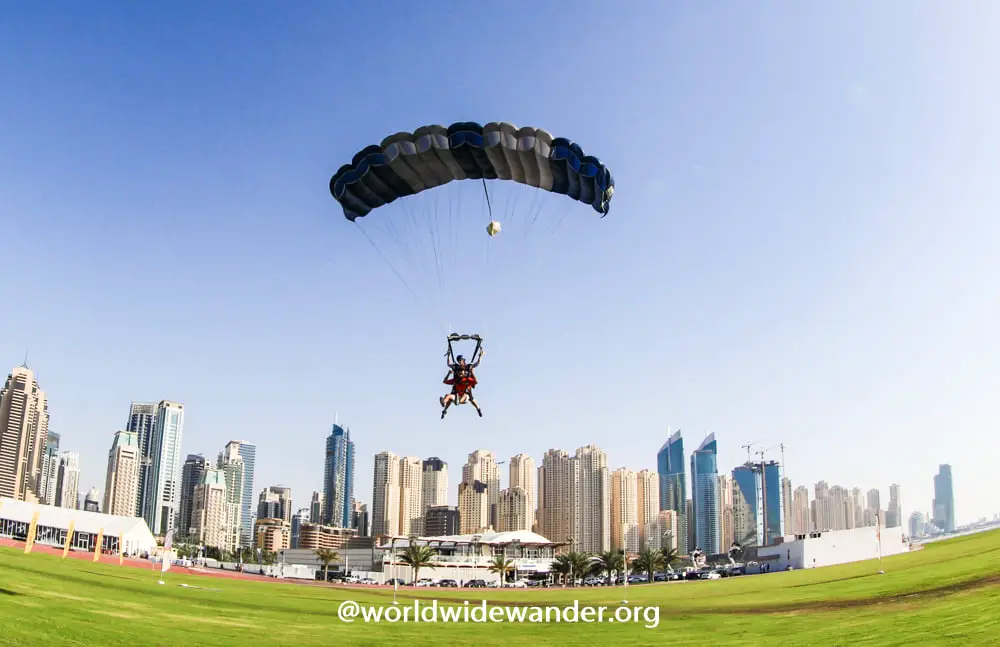 Skydiving in Dubai: Conclusion
I hope this article helps you in your pursuit of this unique experience of skydiving over the Palm Jumeirah. You can also visit their official website for more details or feel free to drop any other questions you have about the experience in the comments.
If you are planning a trip to Dubai, check out our other posts on Dubai to make the most of your visit.