Since you are reading this article, I am assuming that you are visiting Dubai or are planning to visit Dubai in the foreseeable future. Hence, we have created this very efficient or rather hectic 7 Day Dubai Itinerary that you can copy.
Please note: This is a fairly longer blog post than normal as it contains a lot of details. We recommend you to pin this post or bookmark it so that you can revisit or refer it later.
Also, check out our other blogs on Dubai to convert a good trip to Dubai to a GREAT trip to Dubai:
Don't have time to read the entire article right now? Pin it for later!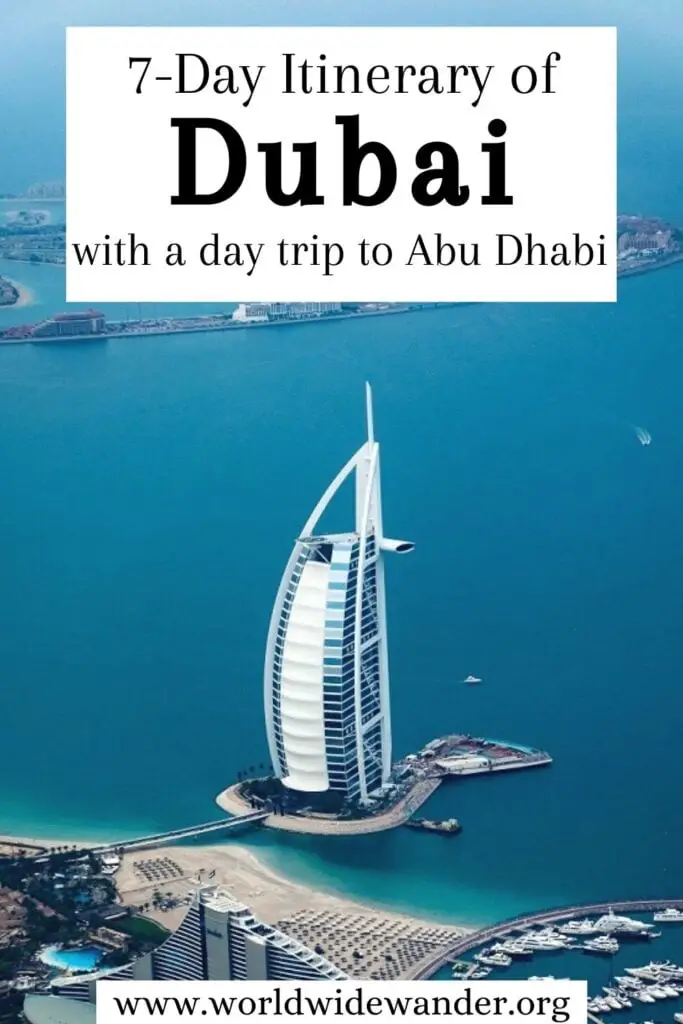 This 7 day Dubai itinerary contains a day-wise break up of things to do in Dubai with a day trip to Abu Dhabi. We have packed 6 days of this Dubai Itinerary with as many must-visit attractions and activities as we could and have kept the 7th day free, for you to customize as per your taste. If you have a few extra days in Dubai, we have also suggested other options for you to accommodate in your spare day.
Please Note: There have been certain changes in Dubai post the COVID-19 pandemic such as the closing of ticket counters and booking your tickets to the attractions online. Hence, we have also provided links to as many attractions as we could.
Before diving into the day-wise break up of our Dubai Itinerary, here is some basic information for visiting Dubai.
This article contains affiliate links. This means that we earn a small commission for purchases made through these links at no extra cost to you. Kindly read our full disclosure and privacy policy for more details.
7 Day Dubai Itinerary: Where to Stay In Dubai
Dubai is a really huge city. You shall be spending a considerable time commuting if you wish to do everything in this itinerary no matter where you stay.
For the sake of this Dubai itinerary and to stay close to the best nightlife and restaurants, we recommend staying in Downtown Dubai. However, if you're on a budget or if you're traveling to Dubai with kids, we recommend going through our detailed guide on where to stay in Dubai. Choose a place that is close to most of the activities you wish to participate in and you shall save a lot of commute time.
7 Day Dubai Itinerary: How To Get Around Dubai
As mentioned above, Dubai is a huge city. You will have to dedicate a considerable part of your budget and time to get around. The most cost efficient way and sometimes even the best way is, is to use Dubai's extensive public transportation system.
During our 7 days in Dubai, we used the metro system extensively and wherever the metro did not reach, we used the tram, monorail or bus networks.
Since we were a group of four, it was often a lot more convenient and cost-effective to use the taxi as well. The regular taxi drivers in Dubai are quite honest and there are very heavy penalties for cheating tourists. So don't be scared of getting scammed in Dubai.
However, there might be times when a taxi driver is not nearby. In such cases, you can use Dubai's alternative to Uber – Careem. This is the Go-To app for getting a taxi, hiring a car, ordering food or renting a bike!
All of the above modes of transportation made covering the huge distances between the attractions of our Dubai Itinerary, a breeze.
7 Day Dubai Itinerary: How To Stay Connected in Dubai
Dubai in general is a very Wi-Fi friendly city. The Dubai airport, your hotel, certain grocery stores and all the big malls offer free Wi-Fi. Hence, even if you don't wish to spend any money on local sim cards, you can easily stay connected.
However, it's better to have local no. to call someone for emergencies or even to register with the Taxi app – Careem. We recommend getting a DU sim card as it is one of the best network service providers in Dubai. DU sim also provides free sim cards at the Dubai airport. However, the minimum recharge in these sim cards is AED 49 (~$14).
We got a free SIM card on our first day while window-shopping in the Dubai Mall. We recharged the SIM with AED 10 and combined with the free Wi-Fi from our hotel, it was more than enough to cover our one week trip to Dubai.
With all the basics covered, let's dive into a day wise break up of things to do on your 7 days in Dubai.
7 Day Dubai Itinerary: Approach to Sight Seeing
As Dubai is a fairly large city to explore, we have dedicated every day of this 7 Day Dubai Itinerary to a specific area. This shall reduce commute time and travel cost as well.
The idea is to reach the dedicated area via metro in the morning and explore the attractions in that specific area on foot or via cabs.
We recommend booking a flight that lands in Dubai in the morning to make the most of your 7 days in Dubai in the UAE. However, if your flight is landing any time after 12 PM, consider the next full day as Day 1 of your itinerary.
7 Day Dubai Itinerary Day 1 – Downtown Dubai
🚝How To Reach: Take the Dubai Metro and get down at the Dubai Mall station. From there, it is 10 minutes on foot.
Burj Khalifa
On the first day of your 7 day Dubai Itinerary, visit the tallest building in the world. The structure that dominates Dubai's skyline and is a modern engineering marvel.
COVID 19 Update: As a COVID -19 precaution, ticket offices have been closed. You will need to buy the ticket online only.
We recommend you to buy the ticket in advance via a booking site like this. The cost is more or less the same and it saves you a lot of time by avoiding queueing for tickets. Plus, you can add various experiences to your visit to the top. The following are some of the most popular:
This is the regular ticket to the 124th and 125th floors. This is the basic ticket which includes going up the Burj Khalifa in the world's fastest elevator. However, a big downside of buying this ticket is the crowds.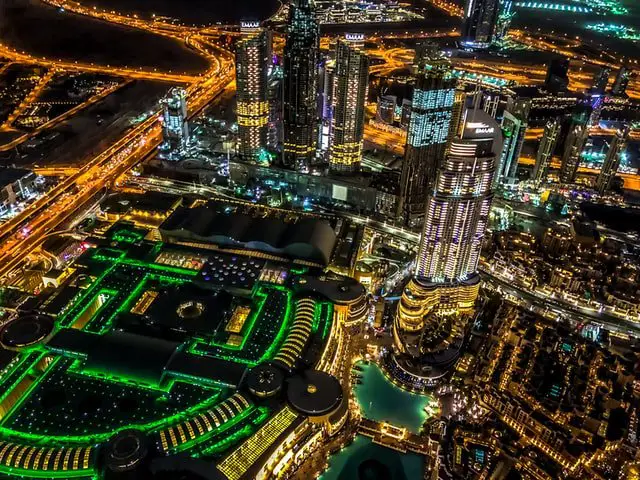 This ticket allows you to avoid the crowds, visit the 124th,125th and the amazing observation deck on the 148th floor. The experience includes Arabic tea and coffee and various interactive sessions.
A dinner or Lunch experience in the Burj Club
This ticket involves a visit to the 124th floor and a once in lifetime 3-course dinner or lunch at the Burj Club overlooking the Dubai Fountain. Click here for menu options and cost.
Dubai Mall
The Dubai Mall is the second largest mall in the world. Explore the decorated levels and indulge in some retail therapy or just window shop in the 1300 retail outlets of some of the biggest brands in the world.
Once tired, have a meal at some of the best restaurants serving everything from All American Burgers to Sushi.
There are tonnes of different activities and attractions in the Dubai Mall for adults and kids. The list was so long that we had to create a separate post about it. Check out of all the amazing things to do in Dubai Mall here.
Dubai Ice Rink
Located on the ground floor of the Dubai mall is the Dubai ice rink. It is an Olympic size indoor ice skating rink and is an amazing activity to do with your family while in Dubai.
Buy your tickets in advance here as the booking offices have been closed since the COVID-19 pandemic.
Dubai Aquarium and Underwater Zoo
The Dubai Aquarium is located right in the center of the Dubai mall. It is famous for housing the largest fish tank in the world holding 2.6 million gallons (or 10 million litres) of water. It also has the largest viewing panel in the world measuring 8.3m high and ~33m wide.
The panel is visible from outside and no additional ticket is required to view the same. You can expect to view sharks, stingrays and 150 other species of sea life.
Book the following experiences online to make the most of your visit as ticket offices have closed due to the COVID-19 pandemic:
Aquarium Day Ticket: This is the basic ticket that allows entry into the aquarium tunnel and underwater zoo.
Aquarium and Burj Khalifa combo ticket: Save money with a combo ticket for the 124th floor and the Dubai aquarium.
Explorer Ticket: This experience includes the Dubai Aquarium day ticket plus a glass bottom boat ride to see the aquatic animals. You will also get a special behind the scenes tour of the underwater zoo.
Dubai Fountain: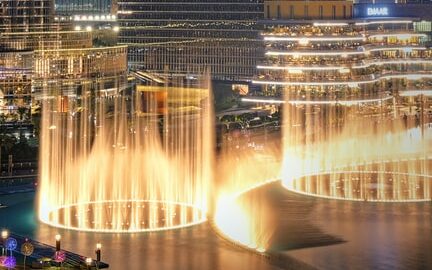 Marveling at the Dubai Fountain show is one of the many amazing free things to do in Dubai.
Witness the world's largest choreographed fountain in the lake adjoining the Dubai Mall.
The show takes place every half an hour from 6 PM to 11 PM. Make sure that you get a good view point to witness the show in all its glory. Our favorite viewpoints were the bridge over the lake and the 124th floor of the Burj Khalifa. You can also go for a glorious private boat ride in the Burj lake be in the middle of the fountain show!
Dubai Itinerary Day 2 – Dubai Marina and Palm Jumeirah
🚝How To Reach: Take a metro and get down either at Sobha Realty Metro station or DMCC metro station. The Dubai Marina is about 10 minutes walking distance. For everywhere else, it's better to take a cab.
Skydiving
According to us, Dubai is the best place to skydive in the world and this 7 day Dubai itinerary has provision for that. Choose the Palm Jumeirah Dive location and tick off the best and the most thrilling experience from your Bucket list.
You can book the experience directly from their site and choose the earliest time slot available so that you have the rest of the day to explore all the other activities listed here for this day.
We have already published a very comprehensive guide to Skydiving in Dubai including cost, eligibility criteria and a secret tip in case your dive gets cancelled due to weather. Check it out here.
Fly Boarding
As far as bucket list items go, fly boarding is another great activity that you can tick off today. Fly above the water with the Dubai skyline as the back drop. Take a friend with you for some amazing pictures or ask the instructors to take one for you.
Book this Flyboarding Experience online to make the most of your visit to the Dubai Marina. Do bring your swimsuit or a change of clothes as you shall fall in the water more frequently than you would've expected.
Please note: A pre-requisite for fly boarding is that you should know swimming.
Speed Boat Tour Around Palm Jumeirah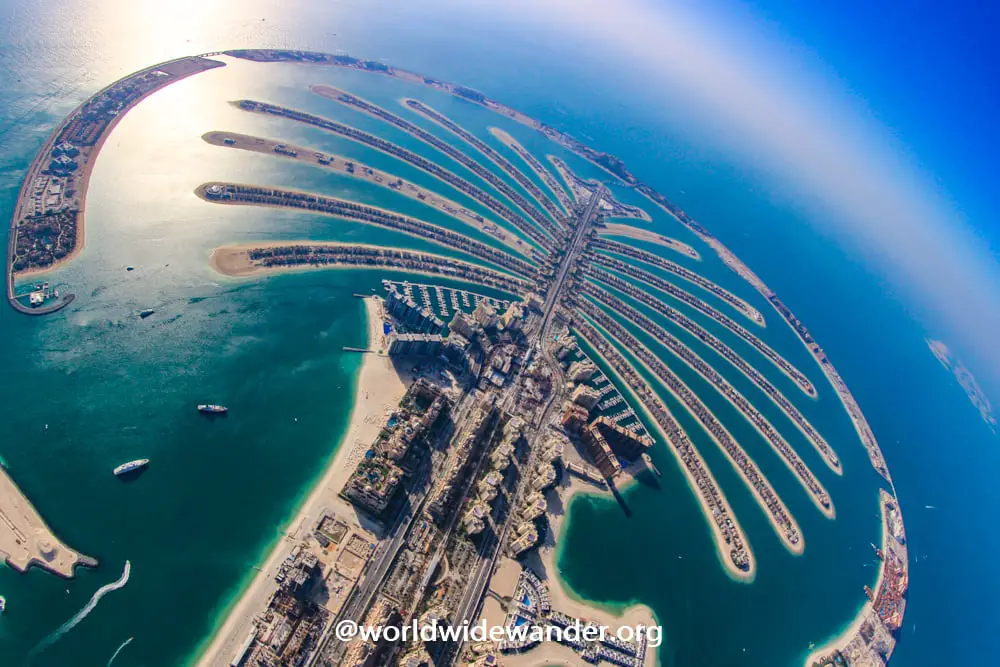 Every 7 day Dubai itinerary must include a trip around the Palm Jumeirah. And Dubai Marina offers a plethora of options to do the same.
All the options we have curated below, take you around the Palm and stop for photo-ops at the Dubai Marina, JBR, Atlantis and Burj Al Arab.
Book your experience in advance as these are very popular activities and generally sell out fast:
99-minute Speed Boat Tour
This is the best option for single tourists or for those on a budget. You shall be taken on a speed boat that can accommodate 6 people for a thrilling experience around the Palm. This 99-minute option includes all the attractions listed above.
3-Hour Luxury Yacht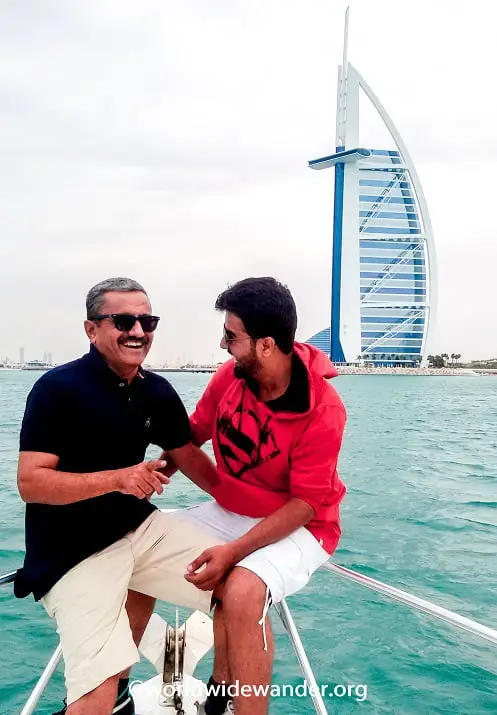 If you wish to enjoy luxury on a budget, this is the experience for you. You shall be taken on a luxury yacht to the amazing sights around the Palm. After taking the best pictures, you will be anchored at the lagoon where you can take a refreshing dip in the sea. This shall be followed by lunch and a scenic ride back to the marina.
We personally went for this option and there was nobody else on the yacht apart from our group which made us feel like it was our private cruise!
1-Hour Jet Ski Adventure
If you are an adventure lover and don't just like to sit around and sunbathe on the cruise, you can opt for a Jet-ski adventure around the Palm. The tour includes instructions on how to handle the jet ski, life jackets and pictures and videos taken by the instructor. The experience and thrill are out of this world!
Dubai Marina
The Dubai Marina is arguably the most happening part of Dubai. Surrounded by skyscrapers, accommodating the best restaurants near the promenade and the most luxurious yachts parked alongside the jetty. This is where the rich and wealthy of Dubai hangout.
Take a walk along the marina admiring the vibe or sit down at one of the many cool cafes for coffee or a hookah.
The best time to visit is definitely in the evening when the place comes to life. All the clubs and bars open their doors as the expats get back from work for a drink.
The most luxurious experience you can have in the Dubai Marina (or in Dubai itself) is to dine in the sky.
The experience involves dining on a table suspended 50 meters in the sky by a special crane. You shall be served a fixed three course meal involving an entrée, mains and a dessert prepared live before your eyes.
Bring your camera along as you shall be able to take amazing pictures of Dubai's landmark. Sights such as the Palm Jumeirah, Dubai Maria and the Burj Al Arab shall adorn the backdrop of your dinner.
If you are a vegetarian like us, there is a vegetarian option for you as well.
If dining in the sky is not in your budget, you can opt for a 5 Star Dinner Cruise in Dubai Marina.
Dubai Itinerary Day 3 – Dubailand and Mall of the Emirates
🚝How To Reach: Take the metro till the Mall of the Emirates station. The metro station is located inside the mall. Step out of the mall and take a cab to Miracle Garden. You shall reach there in 15 minutes.
If you are a single traveler or are on a budget, taking the taxi might be expensive. In that case, take the RTA bus 105 from the Mall of the Emirates Metro Station. The journey takes 20 minutes and costs ~5 AED per person.
Miracle Garden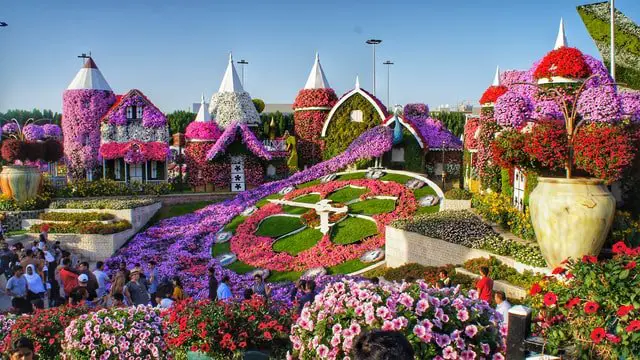 The Dubai Miracle Garden is one of the most Instagram worthy places in Dubai. The garden is an artificially created modern marvel of landscaping and is the largest flower garden in the world since 2013. It is spread across 72,000 Square meters and has more than 60 million flowers on display.
Please note that the Miracle Garden is only open during the cooler months from November to May.
We advise you to book your tickets to the Miracle Garden here in advance to avoid any last minute surprises.
Dubai Autodrome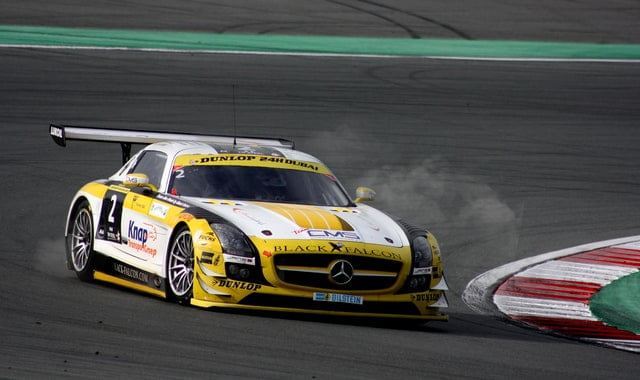 One of the most spectacular things you will notice on your visit to Dubai is the ubiquitous presence of sports cars. The city is full of car enthusiasts and they all flaunt their priced possessions on every given opportunity.
If you are an auto-enthusiast yourself, you would definitely wish to drive one of these. You can do so for a relatively small fee at the Dubai Autodrome. Book a driving experience for yourself if you have the confidence to take on a Ferrari, McLaren or Porche. If not, you can also book a passenger experience.
If you are up for it, you can also go for a Formula experience where you can drive an actual Formula One car.
If either is a bit too expensive or extreme for you, you can visit the Kartdrome next door and go karting on the magnanimous circuit.
Mall of The Emirates
Another day, another huge Mall in Dubai to explore.
We generally don't include more than one mall in our itineraries but Dubai is an exception. Due to the extreme weather, majority of the best activities to do in Dubai are located inside the mall.
We have included the Mall of the Emirates mainly because it is at the center of our 3rd of our 7 day Dubai itinerary. You will enter the mall as you take the metro for everything we have listed here in Day 3. So you might as well explore the most happening mall while you're there.
The Dubai Mall is undoubtedly the bigger of the two, but many people believe that The Mall of the Emirates has better brands.
Among activities, you can visit Bounce – a trampoline park to be enjoyed by adults as well as kids. Also, you can head to Astro Blasters – a thrilling gaming experience set in space. It is termed as the best activity in the Mall of Emirates.
There is also the amazing snowy expanse of Ski Dubai that we have explained in detail below.
Ski Dubai
Yet another man-made miracle of Dubai – an indoor snow park in the middle of the desert!
Ski Dubai was not only our most favorite thing to do in Dubai but also the most awe-inspiring one! It was absolutely unfathomable for us that you can snowboard down a Ski Slope in an arid land like Dubai.
The snow park has a range of rides from ice caves and bob sleds to zip lining and zorbing. It is also one of our favorite things to do in Dubai with kids.
You can and definitely must have the following experiences in Ski Dubai. Book your tickets online as ticket counters have been closed due to COVID-19.
Snow Classic Pass
This is the ultimate ride pass giving you access to all the Snow Park rides. It includes bobsledding, tubing, zorbing, wall climbing, snow bumpers and much more! You will also get gloves and socks to use and keep as a souvenir along with proper ski clothes that you will have to return back.
Slope Sessions
If you already know how to Ski or Snowboard, you can tick snowboarding in a desert off your bucket list! Book a 2-hour or full day slope session at Ski Dubai and take on the 5 mighty indoor ski runs, the longest of which is 400 meters. Your pass includes Ski attire, Ski Boots, Skis and Poles/snowboards.
Penguin Encounter
Yes, you read that right. You can meet penguins up and close in Dubai.
This experience includes an exclusive interaction with these remarkable birds up close. You shall be meeting the Gentoo and King penguins in this experience of a lifetime.
The ticket price includes Attire hire and underwater viewing. In addition to that, a personal encounter with your own snow penguins where you shall meet at least two penguins!
Book here in advance as tickets sell out very very quickly and there are limited slots.
Chill Out Ice Lounge
Exit the Mall of the Emirates and continue your adventure with sub-zero temperatures at the Chill Out Ice Lounge for an evening drink.
The Ice Lounge is a short cab ride away and is entirely made up of ice. Yes. The seats, tables, the decorations, the glasses and the cutlery are all made up of ice.
This experience is a must not only because of its uniqueness but also because it is happening in Dubai, in the middle of an arid desert!
Your Ticket includes the use of thermal clothing (a hooded parka, woolen gloves, socks and shoes) as well as a complimentary drink. You can also have your lunch here as the lounge serves hot soups, sandwiches and desserts.
7 Day Dubai Itinerary Day 4 – Atlantis the Palm
Spend the fourth day of your 7 day Dubai Itinerary at the Diamond that sits atop the crown (the Palm) of Dubai – Atlantis.
The iconic hotel has a luxurious number of unique things to do from shopping to scuba diving and none of them can be missed.
Palm Monorail
🚝How To Reach Atlantis: Reaching the Atlantis Palm is an experience in itself.
From the Dubai Marina, take a 10-minute tram ride to the Palm Gateway station. From the palm gateway catch the monorail to Atlantis.
The Palm monorail is a splendid way to see the Palm Jumeirah up close. Also, it is the most cost efficient way to visit Atlantis if you don't have your own car.
Aquaventure Waterpark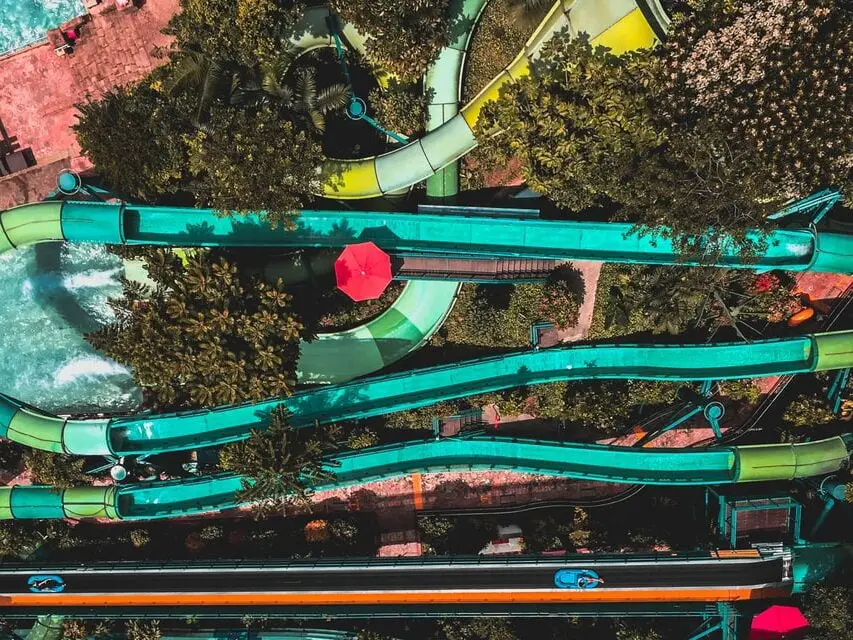 Every 7 Day Dubai Itinerary shall include a visit to the largest water park in the world! The waterpark houses a total of 105 slides, attractions and experiences!
The most famous slide is The Leap of Faith. It involves plunging from a point 9-storeys high, in a near vertical drop, right through a lagoon filled with sharks!
Also famous is The Odyssey of Terror – the tallest waterslide in the world where you experience near-weightlessness right before the "Big Drop".
These are just some of the many group and individual water slides and water coasters with moderate to high thrill levels.
For those of you who like more of a laidback experience, there are cabanas, loungers, wave pools and Aquaventure rivers. There is also very good Splashers Kids' area, so those of you with kids need not worry.
You need to book your Aquaventure tickets in advance here as the counters are closed due to the pandemic.
Dolphin Experience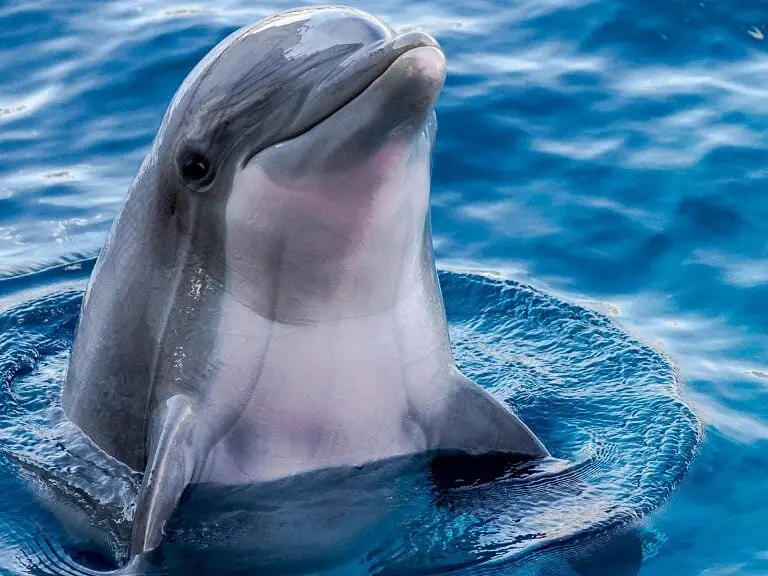 This experience is your best chance to see, swim with, play with and touch dolphins as you meet them in the Dolphin Bay of Aquaventure.
The experience involves a 15-minute orientation with a marine animal expert. After that you shall be taken into a waist-deep, shallow pool to pet and interact with the dolphin in groups of no more than 10 people.
Check out the availability and prices here for pre-booking this experience as it gets sold out very quickly.
The Lost Chambers of Atlantis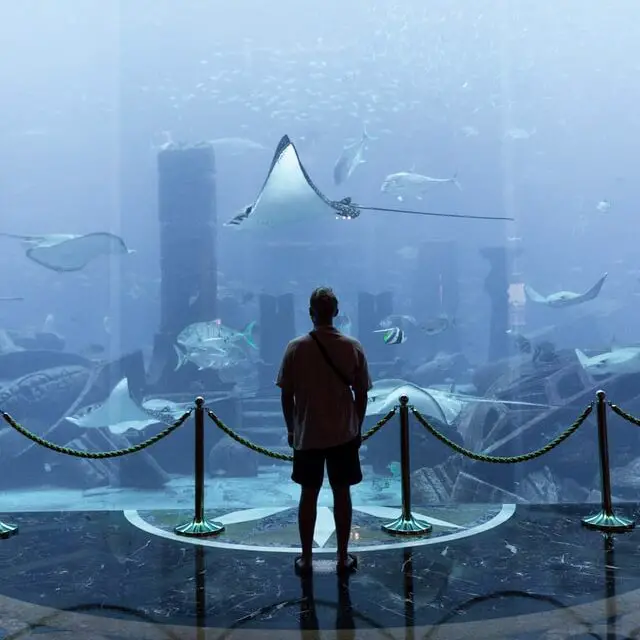 Explore the Lost Chambers of Atlantis where you will see around 65,000 species of marine life. This includes the world's largest fresh water fish the Arapaima of the Amazon region.
Book an entrance ticket online here to explore this reconstructed ancient underwater city of Atlantis.
You will encounter a huge variety of fish including sea horses, jellyfish, sharks and my personal favorite – the sting ray that appears to be smiling at you! Also, learn about the marine life via the various interactive displays or the available marine experts on site.
If you are an adventurous one, you can book a scuba diving experience in the Ambassador Lagoon – the largest exhibit to swim with sharks, sting rays and other marine life in the lagoon.
Dubai Itinerary Day 5 – Day Trip to Abu Dhabi
On Day 5 of your 7 day Dubai itinerary, we head out early in the morning to Abu Dhabi for a perfect day trip to the capital of UAE.
Catch a bus from the Dubai Bus terminal to Abu Dhabi for as little as 25 AED. The bus is air-conditioned, runs every 15 minutes and takes only 2 hours to reach. Upon reaching, take the no. 54 bus to the Sheikh Zayed Grand Mosque if you are on a budget. You can also book a cab if you are willing to trade time for money.
The Grand Mosque
The Grand Mosque, also known as the Sheikh Zayed Grand Mosque is the largest mosque in UAE. It was constructed across 12 years by 3,000 workers costing a whopping 2 billion dollars.
The mosque has been carved out of white marble, has been adorned with Swarovski Crystal Chandeliers molded in 24-carat gold and 96 interior columns are studded with jewels.
There is a strict dress code for everyone visiting the mosque. No shorts for men and women need to wear something that covers their entire body. A head scarf may be provided at the entrance, but it's better to bring one yourself.
The mosque is free to enter and visitor entry is prohibited during prayer hours.
Ferrari World
After visiting the mosque in the morning, head out to Yas Island to visit the first Ferrari theme park in the world. The Ferrari World in Abu Dhabi houses some of the most spectacular rides including La Rossa – the Fastest Roller Coaster in the world.
Choose from a range of high speed, epic roller coasters, simulation experiences and go-karting challenges to have the ultimate experience. Have lunch at the many amazing Authentic Italian Restaurants and explore the legacy of racing technology through the displays and shows.
Book your tickets online here as the counters may be closed due to COVID-19.
Emirates Palace
The Emirates Palace is an embodiment of Abu Dhabi Luxury. Being a hotel, entry is permitted at any time of the day around the year.
You can go for a guided tour around the magnificent hotel or relax at the 1.3 km long stretch of private beach.
Pro Tip: An extremely convenient and cost effective way to do the above day trip, is this very highly rated Abu Dhabi Tour from Dubai. It takes care of your transportation from Dubai, internal transportation within Abu Dhabi, tickets and visits to the Grand Mosque, Capital Gate, Al Bateen Beach, Emirates Place, Etihad Tower (of Fast and Furious 7 fame), Le Louvre Abu Dhabi, photo spots to capture Abu Dhabi's epic skyline and entry tickets to the Ferrari World! The tour certainly adds a lot of value at a price that might turn out to be cheaper if you do these things individually.
7 Day Dubai Itinerary Day 6 – Old and Traditional Dubai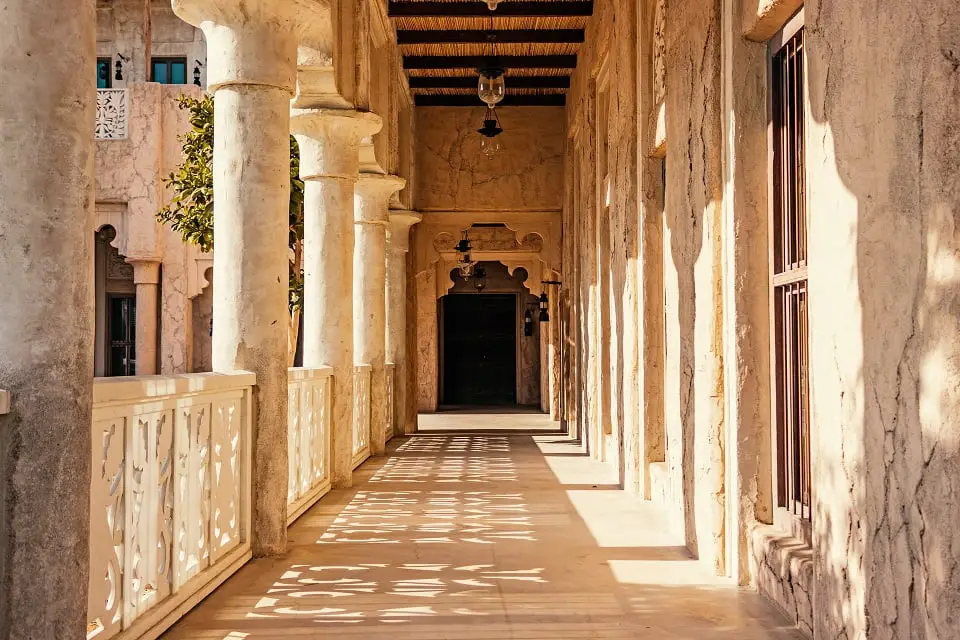 This day of your Dubai Itinerary is all about visiting old Dubai. This includes visiting the souks, the older neighborhoods, various museums and traditional boat rides across the Dubai Creek.
🚝How to Reach: Take the metro and get off at the Al Fahidi metro station or the Sharaf DG metro station. You can arrange for your guide to meet you at the metro station.
The best way to explore Old Dubai is with a guide and we recommend this highly rated guided tour of Old Dubai. This guided tour not only helps you make the most of your trip to a historical place but also provides you various tips on how to bargain in the souk and where to shop for souvenirs.
Your visit to Old Dubai shall entail the following attractions and activities.
Al Bastakiya Quarter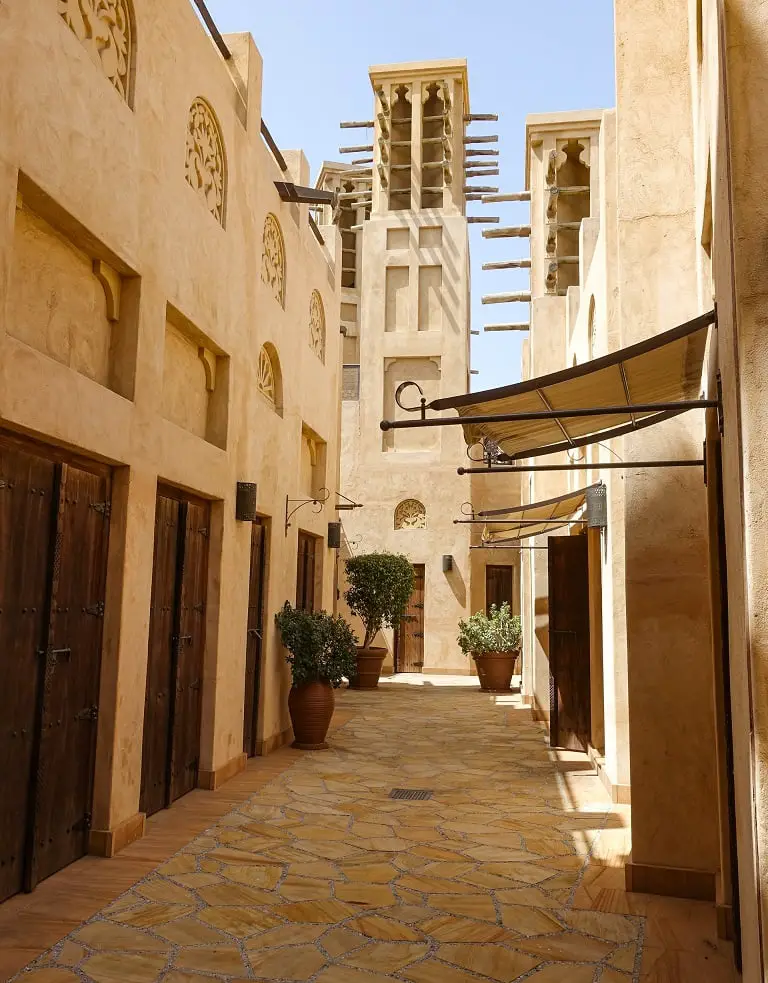 This is the oldest area of Dubai before the oil rush. The buildings in this district were constructed by the textile and pearl merchants of Persia. You can visit a number of interesting venues here like the Coffee Museum or the coin museum where you can see the ancient coins of Arabia.
Visit the Sheikh Muhammad Centre for Cultural Understanding (SMCCU) for a Lavish Cultural lunch that includes traditional Emirati dishes.
Ride an Abra
An Abra is a traditional boat that can accommodate no more than 15 people. The driver sits in the middle while the passengers sit on a low seating around in. The ride costs only 1 AED and it is the easiest and cheapest way to reach our next destination – the gold souk. This might be the most authentic Dubai experience in your entire Dubai Itinerary.
Gold Souk
The Gold Souk is a huge, sprawling market full of shops selling exquisite jewelry. You can find the world's largest gold ring here. The 21-carat ring weighs around 60 kilograms and is studded with precious gems that weigh around 5 kilograms!
You can shop here for elegant jewelry that are either not available anywhere else or cost a lot otherwise. Even though the pre-dominant choice of precious metal is gold, shops also specialize in silver and imitation jewelry. Whether you wish to shop for gold or not, this is a must visit place in Dubai.
Spice Souk
After feasting your eyes with all the yellow metal you will ever see in one place, it's time to treat your other senses.
The Spice Bazaar is full of condiments, that you may or may not have heard of, sourced from all over Asia.  Here, you can find very high quality and cheap daily cooking spices like black and white pepper, cinnamon, vanilla bean, turmeric, dried ginger and much more. Not only that, you might also come across exotic items that you never knew you needed like dried yogurt, saffron, preserved lemons, jasmine tea, basmati rice and many more, high quality products that you have been bereft of.
Desert Safari
If you start this day early like we did, you should be done with the above activities by afternoon at around 2 PM. That is ideal for your 7-hour desert safari experience. A desert safari is the quintessential thing to do in Dubai and can be done at night or as a morning safari. However, advance booking is necessary.
A good desert safari like this one, includes the following activities:
Pickup and drop-off at your preferred location in Dubai
Transportation in an air-conditioned 4WD vehicle
English-speaking licensed driver
Dune bashing for 30 to 40-minutes
Sandboarding
Camel ride
Professional photography coverage (if 7-hour option chosen)
Barbecue meal with vegetarian and non-vegetarian options (if 7-hour option chosen)
Luqaimat (sweets), Gahwa (coffee), and dates (if 7-hour option chosen)
Unlimited mineral water and soft drinks
Henna painting (if 7-hour option chosen)
Shisha pipe (if 7-hour option chosen)
Tanoura and ladies Khaleeji dance show (if 7-hour option chosen)
Belly dancing show (if 7-hour option chosen)
Please note: The desert safari experience depends entirely upon the tour operator. We have done it twice and we suggest you to select an option that is the most recommended or has the best reviews like this one. Do not select any particular experience just because it is cheaper. Our friends have had experiences where the food was stale, the performances were lackluster and the dune bashing was minimal. Select an experience only from the ones available online to avoid getting scammed.
7 Day Dubai Itinerary Day 7: Buffer Day
We mentioned in the beginning of this article that we have kept one day in this 7 day Dubai itinerary as a buffer day for you to customise. Here is a list of activities you can mix and match to have the perfect day in Dubai:
Yas Island, AbuDhabi
You can also extend your Abu Dhabi trip to Two days. You should spend an entire day exploring Abu Dhabi and the second day at the magnificent Yas Island.
Buy a One Day Two Park ticket to the Ferrari World and either Warner Bros. World or Yas WaterWorld. We bought the two park ticket during our visit and made the most of the two amazing parks!
If you love cars, you cannot miss the once-in-a-lifetime Aston Martin GT4 Driving Experience on the internationally renowned Yas Marina Circuit – where the Abu Dhabi Grand Prix took place!
You can choose to spend an entire day in the Biggest Indoor Theme Park in The World! IMG World offers a host of events for the entire family with 5 distinct zones, two of which are Cartoon Network and Marvel! We missed this during our trip but all our friends who visited, said that it is a must do thing in Dubai with kids.
Dubai Frame and Glow Garden
Book your tickets online and visit the Dubai Frame – an extra-ordinary feature of modern structural design. Get a Panoramic View of Dubai, admire the vast contrast of old and new Dubai from the sky deck and learn about the history, heritage and the future of the city. The best time to visit would be golden hour to catch the sunset.
After Sunset, visit Dubai Garden Glow and Ice Park located nearby. Garden glow houses glittering lights and glow in the dark displays inspired by nature while Ice Park contains sculpture displays carved out of 5,000 tons of ice. This tour also includes private round trip transfers!
So this was our very efficient (and borderline hectic) 7 day itinerary of Dubai. You may exclude some of the things that don't interest you and spend that time chilling at the many beach clubs of Dubai.
Did we miss out on anything? Let us know if this comprehensive 7 day Dubai itinerary helped you plan your trip. Share this post with your fellow travelers or with someone who can use it to plan their trip to Dubai. If you have any more questions, drop them below in the comments section and we'll be happy to answer them all.
Hope you have an amazing trip to the Shining Jewel of the Emirates!