Since you are reading this article, I am assuming that you are visiting Dubai or are planning to visit Dubai in the foreseeable future. Hence, we have created this very efficient or rather hectic 7 Day Dubai Itinerary that you can copy.
Please note: This is a fairly longer blog post than normal as it contains a lot of details. We recommend you to pin this post or bookmark it so that you can revisit or refer it later.
Also, check out our other blogs on Dubai to convert a good trip to Dubai to a GREAT trip to Dubai:
Don't have time to read the entire article right now? Pin it for later!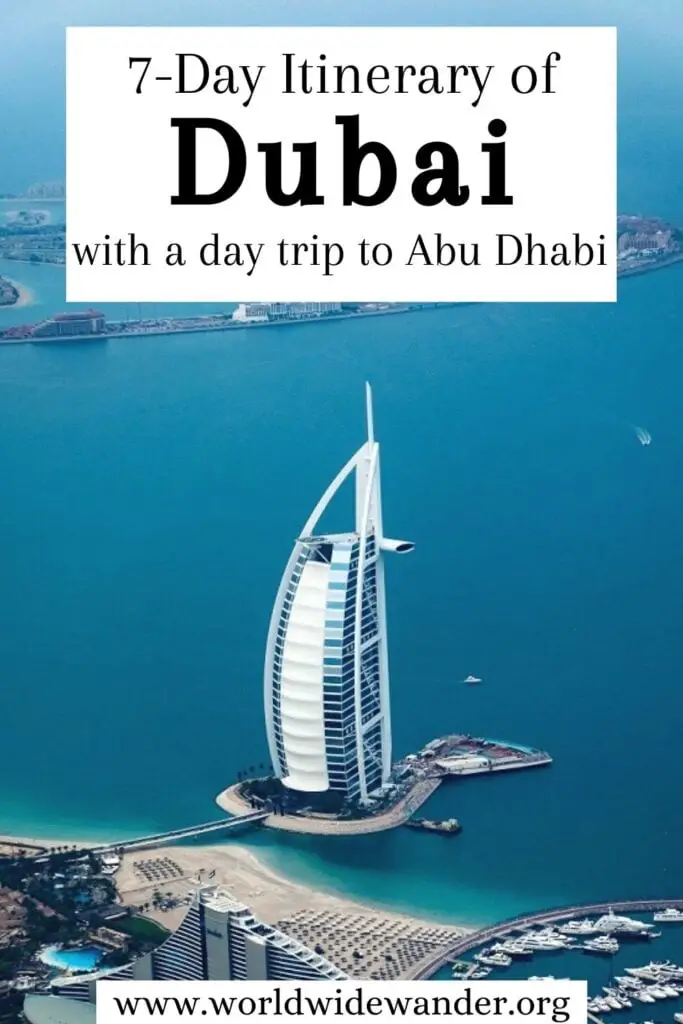 This 7 day Dubai itinerary contains a day-wise break up of things to do in Dubai with a day trip to Abu Dhabi. We have packed 6 days of this Dubai Itinerary with as many must-visit attractions and activities as we could and have kept the 7th day free, for you to customize as per your taste. If you have a few extra days in Dubai, we have also suggested other options for you to accommodate in your spare day.
Please Note: There have been certain changes in Dubai post the COVID-19 pandemic such as the closing of ticket counters and booking your tickets to the attractions online. Hence, we have also provided links to as many attractions as we could.
Before diving into the day-wise break up of our Dubai Itinerary, here is some basic information for visiting Dubai.
This article contains affiliate links. This means that we earn a small commission for purchases made through these links at no extra cost to you. Kindly read our full disclosure and privacy policy for more details.
7 Day Dubai Itinerary: Where to Stay In Dubai
Dubai is a really huge city. You shall be spending a considerable time commuting if you wish to do everything in this itinerary no matter where you stay.
For the sake of this Dubai itinerary and to stay close to the best nightlife and restaurants, we recommend staying in Downtown Dubai. However, if you're on a budget or if you're traveling to Dubai with kids, we recommend going through our detailed guide on where to stay in Dubai. Choose a place that is close to most of the activities you wish to participate in and you shall save a lot of commute time.
7 Day Dubai Itinerary: How To Get Around Dubai
As mentioned above, Dubai is a huge city. You will have to dedicate a considerable part of your budget and time to get around. The most cost efficient way and sometimes even the best way is, is to use Dubai's extensive public transportation system.
During our 7 days in Dubai, we used the metro system extensively and wherever the metro did not reach, we used the tram, monorail or bus networks.
Since we were a group of four, it was often a lot more convenient and cost-effective to use the taxi as well. The regular taxi drivers in Dubai are quite honest and there are very heavy penalties for cheating tourists. So don't be scared of getting scammed in Dubai.
However, there might be times when a taxi driver is not nearby. In such cases, you can use Dubai's alternative to Uber – Careem. This is the Go-To app for getting a taxi, hiring a car, ordering food or renting a bike!
All of the above modes of transportation made covering the huge distances between the attractions of our Dubai Itinerary, a breeze.
7 Day Dubai Itinerary: How To Stay Connected in Dubai
Dubai in general is a very Wi-Fi friendly city. The Dubai airport, your hotel, certain grocery stores and all the big malls offer free Wi-Fi. Hence, even if you don't wish to spend any money on local sim cards, you can easily stay connected.
However, it's better to have local no. to call someone for emergencies or even to register with the Taxi app – Careem. We recommend getting a DU sim card as it is one of the best network service providers in Dubai. DU sim also provides free sim cards at the Dubai airport. However, the minimum recharge in these sim cards is AED 49 (~$14).
We got a free SIM card on our first day while window-shopping in the Dubai Mall. We recharged the SIM with AED 10 and combined with the free Wi-Fi from our hotel, it was more than enough to cover our one week trip to Dubai.
With all the basics covered, let's dive into a day wise break up of things to do on your 7 days in Dubai.
7 Day Dubai Itinerary: Approach to Sight Seeing
As Dubai is a fairly large city to explore, we have dedicated every day of this 7 Day Dubai Itinerary to a specific area. This shall reduce commute time and travel cost as well.
The idea is to reach the dedicated area via metro in the morning and explore the attractions in that specific area on foot or via cabs.
We recommend booking a flight that lands in Dubai in the morning to make the most of your 7 days in Dubai in the UAE. However, if your flight is landing any time after 12 PM, consider the next full day as Day 1 of your itinerary.
7 Day Dubai Itinerary Day 1 – Downtown Dubai
🚝How To Reach: Take the Dubai Metro and get down at the Dubai Mall station. From there, it is 10 minutes on foot.
Burj Khalifa
On the first day of your 7 day Dubai Itinerary, visit the tallest building in the world. The structure that dominates Dubai's skyline and is a modern engineering marvel.
COVID 19 Update: As a COVID -19 precaution, ticket offices have been closed. You will need to buy the ticket online only.
We recommend you to buy the ticket in advance via a booking site like this. The cost is more or less the same and it saves you a lot of time by avoiding queueing for tickets. Plus, you can add various experiences to your visit to the top. The following are some of the most popular:
This is the regular ticket to the 124th and 125th floors. This is the basic ticket which includes going up the Burj Khalifa in the world's fastest elevator. However, a big downside of buying this ticket is the crowds.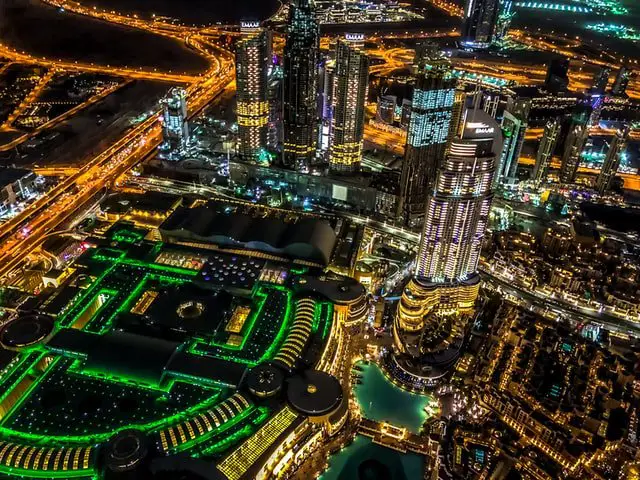 This ticket allows you to avoid the crowds, visit the 124th,125th and the amazing observation deck on the 148th floor. The experience includes Arabic tea and coffee and various interactive sessions.
A dinner or Lunch experience in the Burj Club
This ticket involves a visit to the 124th floor and a once in lifetime 3-course dinner or lunch at the Burj Club overlooking the Dubai Fountain. Click here for menu options and cost.
Dubai Mall
The Dubai Mall is the second largest mall in the world. Explore the decorated levels and indulge in some retail therapy or just window shop in the 1300 retail outlets of some of the biggest brands in the world.
Once tired, have a meal at some of the best restaurants serving everything from All American Burgers to Sushi.
There are tonnes of different activities and attractions in the Dubai Mall for adults and kids. The list was so long that we had to create a separate post about it. Check out of all the amazing things to do in Dubai Mall here.
Dubai Ice Rink
Located on the ground floor of the Dubai mall is the Dubai ice rink. It is an Olympic size indoor ice skating rink and is an amazing activity to do with your family while in Dubai.
Buy your tickets in advance here as the booking offices have been closed since the COVID-19 pandemic.
Dubai Aquarium and Underwater Zoo
The Dubai Aquarium is located right in the center of the Dubai mall. It is famous for housing the largest fish tank in the world holding 2.6 million gallons (or 10 million litres) of water. It also has the largest viewing panel in the world measuring 8.3m high and ~33m wide.
The panel is visible from outside and no additional ticket is required to view the same. You can expect to view sharks, stingrays and 150 other species of sea life.
Book the following experiences online to make the most of your visit as ticket offices have closed due to the COVID-19 pandemic:
Aquarium Day Ticket: This is the basic ticket that allows entry into the aquarium tunnel and underwater zoo.
Aquarium and Burj Khalifa combo ticket: Save money with a combo ticket for the 124th floor and the Dubai aquarium.
Explorer Ticket: This experience includes the Dubai Aquarium day ticket plus a glass bottom boat ride to see the aquatic animals. You will also get a special behind the scenes tour of the underwater zoo.
Dubai Fountain: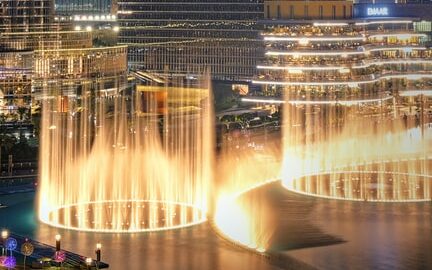 Marveling at the Dubai Fountain show is one of the many amazing free things to do in Dubai.
Witness the world's largest choreographed fountain in the lake adjoining the Dubai Mall.
The show takes place every half an hour from 6 PM to 11 PM. Make sure that you get a good view point to witness the show in all its glory. Our favorite viewpoints were the bridge over the lake and the 124th floor of the Burj Khalifa. You can also go for a glorious private boat ride in the Burj lake be in the middle of the fountain show!
Dubai Itinerary Day 2 – Dubai Marina and Palm Jumeirah
🚝How To Reach: Take a metro and get down either at Sobha Realty Metro station or DMCC metro station. The Dubai Marina is about 10 minutes walking distance. For everywhere else, it's better to take a cab.
Skydiving