Dubai is an absolute treasure chest of activities. It houses the biggest malls, hosts the most unique experiences and has the best spot to skydive in the world!
We have explained all these amazing things in our detailed 7 Day Dubai Itinerary. However, to make the most of your trip to the jewel of the Middle East, incorporate these day trips from Dubai in your itinerary.
Also, check out our other blogs on Dubai to convert a good trip to Dubai to a GREAT trip to Dubai:
This article contains affiliate links. This means that we earn a small commission for purchases made through these links at no extra cost to you. Kindly read our full disclosure and privacy policy for more details.
Day Trips from Dubai: Abu Dhabi
Distance from Dubai: 140kms. 2 hours by car
One of the most obvious day trips from Dubai is a trip to Abu Dhabi. The capital of the UAE is not just a business hub but is a cauldron of culture and beauty.
It not only houses the eternal beautiful Sheikh Zayed Mosque, but also has the only other Louvre outside of Paris!
While you can definitely take the DIY route and explore Abu Dhabi, we recommend taking this highly rated Abu Dhabi Sight-seeing tour from Dubai (⭐4.8/5 from 9,000 ratings).
It includes hotel pick up from, transfers, visit to the Grand Mosque, The Croniche, Emirates Palace, Etihad Towers from the Furious 7 movie, Marina Mall and the opulent Qasr Al Watan Palace.
If you're an art enthusiast, you can book a ticket to the Louvre Abu Dhabi where you can explore classic and modern works of art from around the world.
However, the highlight of the Louvre Abu Dhabi is the majestic dome that houses the museum.
If you wish to DIY this trip, the best option is to hire a car from Dubai and explore all the sites yourself.
However, if you're on a budget, make use of the extensive bus transport system between Dubai and Abu Dhabi.
Of all the day trips from Dubai in this post, Abu Dhabi is an absolute must visit.
And we have explained how to incorporate it into your Dubai trip in our highly detailed 7 days Dubai itinerary.
Day Trips from Dubai: Yas Island
Distance from Dubai: 113 kms. 1 hour by car
Another one of the most popular day trips from Dubai. Yas island is located right next to Abu Dhabi and it hosts a number of attractions that are really popular among tourists and locals alike.
Hence, it is also in our list of epic day trips from Dubai Visit the following attractions on your trip to Yas Island:
Ferrari World: The only Ferrari branded theme park and the largest indoor theme park in the world! It houses the fastest roller coaster in the world – La Rossa. Experience some of the best roller coasters, Ferrari themed shows and marvel at the jaw-dropping Ferraris on display. If you're traveling to Dubai with kids, there are loads of child-friendly rides too!
Get your Tickets to Ferrari World here!
Warner Bros. World: Right next door to the Ferrari World is Warner Bros. World. The theme park is divided into various areas according to different characters from the Warner bros. franchises. There's Bedrock (Flintstones), Gotham (Batman), Metropolis (Superman), Dynamite Gulch (Road Runner), Cartoon Junction (Scooby Doo, Jetsons, etc.) and a Grand warner Bros Plaza connecting them all! 29 epic rides and attractions along with all your favorite Warner bros. characters!
Get your tickets to Warner Bros. World here!
Yas Waterworld: One of the largest water parks in UAE. It boasts of 40 exhilarating rides and attractions and the longest suspended water roller coaster in the Middle East! The rides are certified safe and everyone aged 1 to 100 can enjoy some or the other attraction.
Get your tickets to Yas Waterworld here!
We recommend reaching early in the morning and booking a 1 Day 2 Parks ticket like this one to make the most of your visit. Buy your ticket in advance to avoid wasting your time in lines.
Both the amusement parks listed in this post, are excellent options for day trips from Dubai if you're visiting Dubai with kids.
Day Trips from Dubai: Dubai Parks and Resorts
Distance from Dubai: 50 kms. Half hour drive from Dubai
If you're traveling to Dubai with kids, a great option from the numerous a day trips from Dubai is Dubai Parks and Resorts.
It is a single destination with multiple theme parks. It isn't exactly far away from the Dubai as it is reachable by the Dubai metro itself.
 Choose from the following theme parks:
Legoland: A Lego based theme park where adults need to be accompanied by a kid under 12 years of age instead of the other way around.
Get your tickets to Legoland here
Legoland Water Park: A Lego based water park, ideal for kids under 12 years of age.
Get your tickets to Legoland Waterpark here
Bollywood Parks: The world's first and only theme park based around the Indian movie industry based in Mumbai. The theme park allows you to experience thrilling rides, high voltage performances and also star in the remake of a Bollywood movie!
Get Your tickets to Bollywood Parks here
Motiongate Dubai: A Hollywood theme-based amusement park that is divided into five areas – The Smurfs Village, Dreamworks, Lionsgate, Columbia Pictures and Studio Central. The park offers 27 rides and live shows based on the movies produced by these production houses.
Get Your tickets to Motiongate Dubai here
Riverland: A free to enter, clam place in the middle of all these extravagant theme parks is Riverland. The premises have the look of a medieval French village with cobblestone streets, stone walls, windmills and a river with a bridge over it! It's a great place for a picnic with your family.
The theme parks are relatively small and you can make the most of your visit by booking a 1 day 2 pass ticket. You can choose the parks you shall be visiting while booking the ticket.
Day Trips from Dubai: Hatta
Distance from Dubai: 134 kms. 1.5 hours by car
Hatta is probably the most unique of all the day trips from Dubai you can take.
Take a break from the hustle and bustle of the manmade attractions of Dubai and head east in the lap of nature to experience a side of Dubai you never expected.
Hatta, a village located in the midst of the picturesque Hajar mountains, offers a whole different scenery to what you'll be used to in Dubai.
It features a defensive tower, stone houses and the star attraction – Hatta Green Lake. The lake, with the backdrop of the Hajar mountains is a place of absolute serenity and tranquility.
You can swim in the lake or opt for renting a kayak. So, make sure you pack your swimsuit.
The best time to visit is early in the morning before the heat increases or in the evening to witness the magical sunset.
You can pack a picnic basket and make an adventurous day our of your trip to Hatta, that includes hiking, kayaking and chilling by the lake.
You can also swim in the Hatta Rock pools and visit the heritage village and honey bee discovery center.
Please note: The lake dries up during the summer months and is a let down for many tourists. Visit Hatta only during the colder months to ensure an amazing experience. You can choose the other options for day trips from Dubai mentioned in this article.
To make things easier, book this highly rated Hatta Private tour from Dubai with a designated guide, including kayaking.
Day Trips from Dubai: Fujairah
Distance from Dubai: 123 kms. 1.5 hours by car
Our list of the best day trips from Dubai would not be complete without the inclusion of the cultural city of Fujairah. Fujairah is the only Emirati city located in East, on the Gulf of Oman.
This gives Fujairah an unrestricted shoreline and beautiful, unexplored sandy beaches. Hire a sun lounger and chill by the beach or go snorkeling in the sea.
Off the shores of Fujairah, adorning the skyline of the Gulf of Oman is the popular Snoopy island.
The waters surrounding this island offer an excellent opportunity for Scuba Diving enthusiasts – beginners as well as experts.
The seabed is covered with colorful corals, a wide variety of fish and most importantly, a rich population of sea turtles!
Book your guided Scuba dive tour here
On the cultural side, you can visit the ginormous, modern Sheikh Zayed Mosque of Fujairah that is the size of 3 football fields and boasts of six 100-meter-high minarets.
Non-Muslim visitors are allowed only between 9 AM to 12 PM from Saturday to Thursday to witness its grand architecture.
Day Trips from Dubai: Ras Al Khaimah
Distance from Dubai: 113 kms. 1.5 hours by car
Located on near the Northern border of UAE, near the Oman Border, is the town of Ras AL Khaimah.
This town has become a hot-pot of new activities and attractions in recent times, making it the newest option among all the day trips from Dubai you can take.
Ras Al Khaimah is already famous as a great beach town with  family friendly luxury resorts that don't dig a hole in the pocket.
However, there's an amazing new attraction in RAK, Jebel Jais Sledder – the longest toboggan ride in the region.
It covers 1,885 meters and takes 8 minutes offer spectacular views of the Hajar mountains. Who said mountain coasters are limited only to Switzerland?
Adventure enthusiasts can also try Jais Flight – the longest zipline in the world, acknowledged by the Guiness book of world records.
Located at a height of 1680 m above sea level the zipline takes a good 2 minutes to cover the 2.83 km distance with speeds going as high as 150 km/hour!
Day Trips from Dubai: Mussandam Peninsula, Oman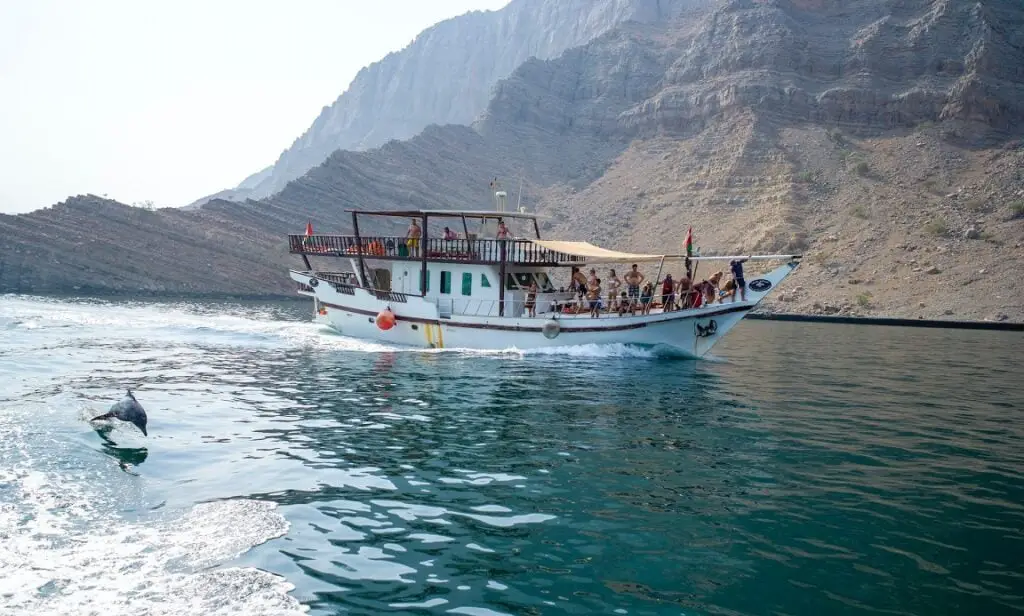 Distance from Dubai: 200 kms. 3 hours by car
How about making day trips from Dubai to an entirely different country!? Oman is a culturally rich country often ignored by tourists due it its more popular neighbor, the UAE.
However, it offers a completely different flavor of travel with the Musandam Peninsula.
Musandam Peninsula is often dubbed as the Norway of the Middle East and it's easy to see why.
The fjord-like bays, the jagged mountains and the glistening green-blue water have earned this reputation for Musandam.
You can hire a car and drive to the Musandam via the Al Qir border post. However, ensure that you mention your trip to Oman to the rental company.
You shall need certain documents from the rental company such as Omani Insurance, No Objection Certificate for crossing the border and a mention of your trip to Oman in your car rental agreement.
 Many nationalities have Visa on Arrival at Oman. Ensure the same and obtain a visa in advance in case you are not eligible. You shall be charged a UAE exit fee of 35 AED and an Oman entry fee of 50 AED at the border.
Once you reach, the Peninsula, go for a full day dhow cruise that includes swimming, snorkeling, dolphin watching and lunch!
Of course, if you don't wish to go through all this hassle, book this highly rated (⭐4.5/5) Musandam Khasab Day Trip and Dhow Cruise from Dubai.
This way, the tour company will take care of all details and formalities while you can enjoy the sites and scenery of the beautiful fjords!
Day Trips from Dubai: Al Ain
Distance from Dubai: 146 kms. 1.5 hours by car
One of the best day trips from Dubai for travelers interested in ancient history, is the oasis city of Al Ain.
There is evidence that the Al Ain city was established in the 3000 BC, making it the only site in the country to be declared a UNESCO World Heritage site.
The city is known for its beautiful palm groves and natural hot water springs since the bronze age. Hence, it's imperative to witness its millennia old traditional irrigation system known as Al Fahaj.
This extraordinary system has led to the creation of the Al Ain Oasis that house almost 150,000 date trees.
You can also visit the Al Ain Palace museum, which is the home of the founder of the UAE. It is a royal, sand colored building with Bedouin architecture and scenic gardens.
The palace was converted to a museum in 2001 to showcase its exquisite stone collection to tourists. Entry to the museum is free.
We suggest not to take a tour here. You can easily make this day trip from Dubai by renting a car as all the major attractions are free to enter.
Day Trips from Dubai: Love Lake and Al Qudra Lake
Distance from Dubai: 60 kms. 1 hour by car
Love lakes is one of the best free things to do in Dubai and also one of the most unique day trips from Dubai. These are two inter-twined lakes shaped in the form of hearts.
It's a very popular spot for a day trip from Dubai, family picnics, barbeque parties and camping.
Take a walk along the lakes and you will see the hearts being replicated in the motifs and trinkets that adorn the trees surrounding the lake.
These days there are also photo spots around the lake for that perfect shot for Instagram. The walking track has become a very popular attraction among joggers, sunset chasers and bikers.
About 30 minutes away from Love lakes is the Al Qudra lake. It is a haven for bird watching as it houses a total of 175 species of birds, including some endangered species.
Take the last exit at Al Qudra lake and you'll come across a food truck park serving a wide variety of lip-smacking food. The perfect way to end your trip to the two lakes.
This brings us to the end of our list of Unique Day trips from Dubai that will truly enhance your Dubai trip. Did we miss any?
Let us know in the comments below if you have visited any of the attractions mentioned above. Or reach out to us on our Instagram handle @worldwidewander_org to add a suggestion.