North Bali itineraries aren't very popular among tourists visiting Bali. This beautiful region of the island paradise is often ignored because of its more popular southern getaways. However, North Bali is the perfect way to enjoy Bali to its Full potential.
 We visited North Bali while following our 14 Day Bali Itinerary and we've been telling everyone to dedicate a couple of days to it. We couldn't find a detailed account on things to do in North Bali on the internet. Hence, we have created this North Bali tour guide to answer question you might have about visiting North Bali.
Also, check out the following blog posts to convert a good trip to Bali to an EPIC trip to Bali!
Is North Bali Worth Visiting?
North Bali is definitely worth visiting if you wish to explore a part of Bali away from the tourists and discover some hidden gems. North Bali has the best waterfalls in Bali, the black sandy Lovina Beach, lots of Instagram spots and the most pristine lake temple in Bali. It is definitely a must visit if you're staying in Bali for more than a week.
Where to Stay in North Bali?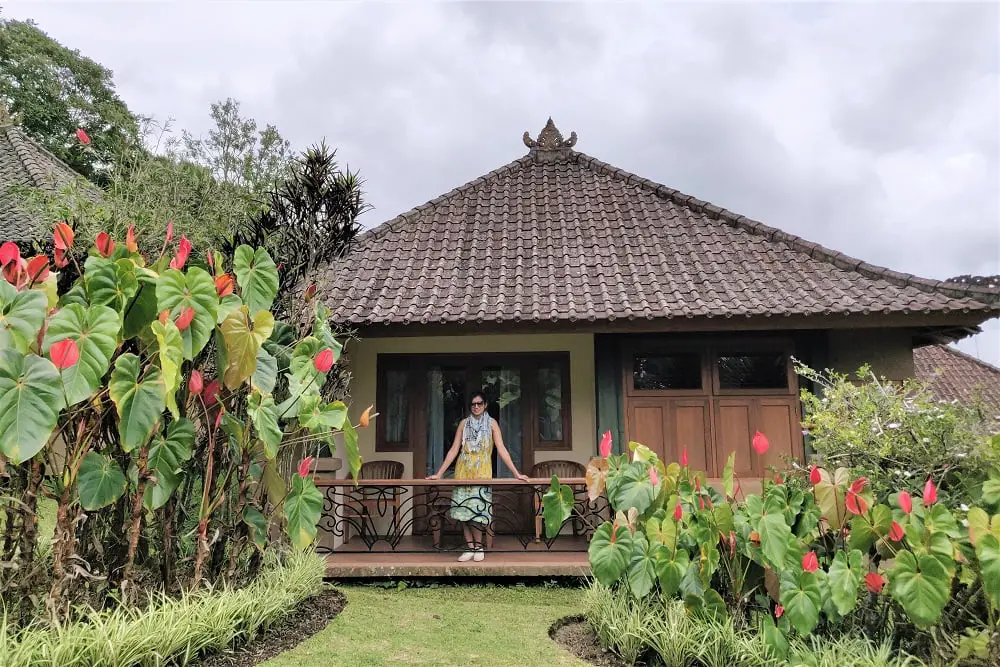 North Bali is a mountainous region and is hence, not densely populated. As a result, there are fewer towns and resorts you can choose from. However, we believe these to be the best areas for you to stay to cover all the things to do in North Bali:
Bedugul: The most practical area to stay in North Bali to cover everything listed in this blog post. It is close to the Ulun Danu Beratan temple, the Handara gates and the Wanagiri Hidden hills. The waterfalls in the area are also easily accessible by car or scooter. We stayed here at the Strawberry Hill Hotel. A resort located in the middle of a strawberry farm!
Munduk: If you're looking to stay somewhere exotic, head to the jungle area of Munduk. The best place to stay in Munduk is the Munduk Modling Plantation Nature Resort and Spa. It has one of the best infinity pools in Bali located in the middle of a spice and fruit plantations.
Lovina: It is the northern most part of Bali where the Insta-famous black sand beaches are located. The resorts in Lovina offer luxury at affordable rates and impeccable service. However, if you stay in Lovina, you'll be pretty far away from all the other attractions of North Bali.
Now that we have the basic FAQs answered, let's explore all the amazing things to do in North Bali.
Visit the Waterfalls of North Bali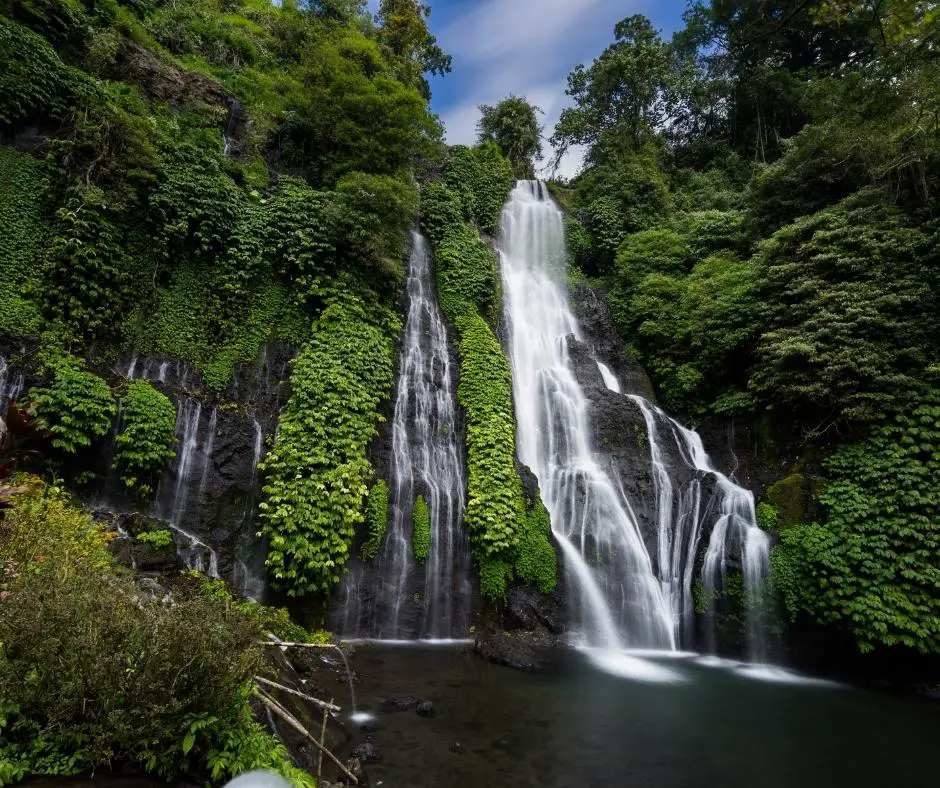 North Bali is a mountainous region and it receives plenty of rainfall. As a result, there are numerous picturesque waterfalls in this region. You can witness the following North Bali waterfalls during your tour:
Sekumpul Waterfall – A Jurassic Park like waterfall in the middle of the forest. You'll have to trek for 20 min. from the scooter parking. A guide is recommended.
Fiji Waterfall or Lemukih Waterfall – Another beautiful waterfall near Sekumpul waterfall. It is a part of a huge area where you might get lost without a guide. There are water slides nearby to make the most of your visit.
Git Git Waterfall – A tall and picturesque waterfall in the middle of the jungle. The approach trek is easy but beware of guides trying to charge exorbitant fees.
Aling Aling Waterfall – Our favorite waterfall in Bali. You can go cliff jumping, swim in the nearby blue lagoon and go on adventurous water slides to have an epic day of water activities.
Munduk Waterfall – A lone waterfall in the middle of a secluded jungle. There aren't a lot of people here due the popularity of other waterfalls in this list.
Banyumala Twin Waterfall – The most beautiful and popular waterfall in North Bali. It has created a decent sized lake for people to swim in. These are two waterfalls side by side. We recommend spending a good a mount of time here as just going in for some photos and coming out will not do justice to its beauty.
Important Tip for Visiting North Bali Waterfalls
You can visit all of the above waterfalls by yourself but the drive is pretty steep and dangerous for inexperienced scooter drivers. Also, you will need a guide to take you through the dense vegetation as the waterfalls are located inside the jungle and there are chances to get lost in the process. There will be guides at the entrance that will charge you really high fees. Make sure you pre-book a tour for visiting these North Bali waterfalls that include transportation, entrance fees and a great guide who will also take your pictures for Instagram! The following are our favorite tours:
Click a Picture in front of the Handara Gates
The Handara gates are the most popular photo spot in North Bali. They are often confused with the Gates of Heaven in Pura Lempuyang. However, instead of a temple, these gates are the entrance to a very good golf course.
We reached there at about noon because our vehicle broke down and had to wait in a line to get our pictures clicked. Hence, visit early in the morning to beat the crowds as the popular Instagram hotspot gets pretty busy later in the day. A small entrance fee is charged to take the picture. However, if you visit early enough, you might also be able to avoid it!
There's not much else to do there after you've taken that quintessential Instagram shot. So, head over to the nearby Wanagiri hills.
Witness the Beauty of Wanagiri Hidden Hills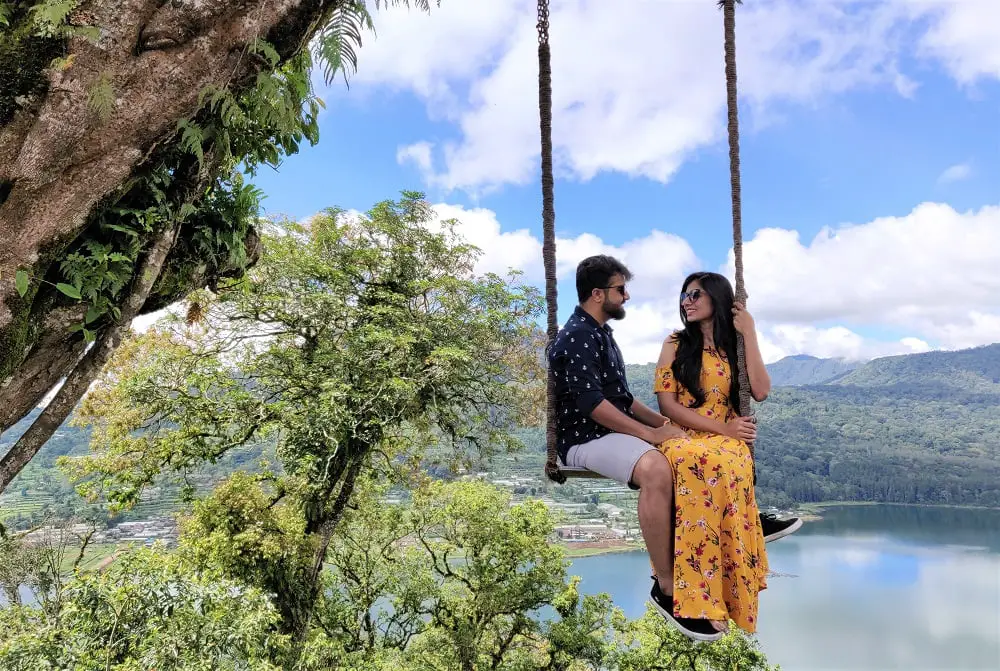 Speaking of great photo-spots, Wanagiri hidden hills is in fact a hidden gem! It is located just a 5 min scooter ride away from the Handara Gates and overlooks a beautiful lake from a great vantage point.
The road side is populated with a number of "selfie parks". These parks contain manmade photo structures that highlight the beauty of the background lake when captured in a photograph. We're talking about swings, over-hanging nests, winged platforms and the likes. Entrance fee is a humble 100,000 IDR per person that goes into supporting the local community.
Some people do call this a tourist trap but it's an honest business that provides livelihood to the locals and in return, you get some amazing pictures like the one above! It's a win-win!
Visit Ulun Danu Baratan Temple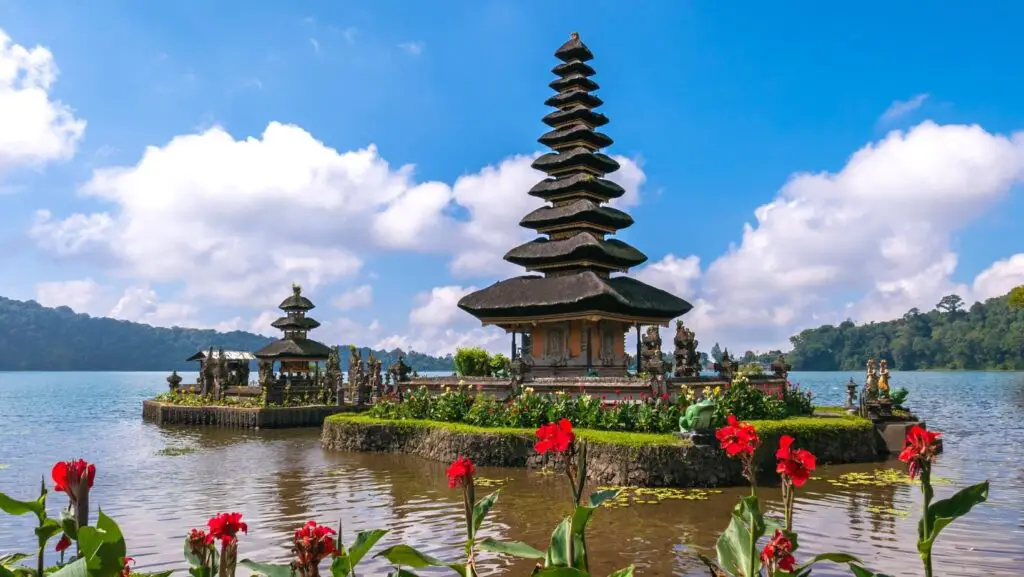 Ulun Danu Baratan temple is the most pristine and the most popular temple in all of Bali. It is an island temple situated in the middle of the calm Baratan lake.
The lake itself is surrounded by lush green hills of North Bali, making it an absolute must visit when you're in the region. In addition to the temple, the premises also house a splendid garden with sculptures and photo spots. Your ticket includes access to those as well.
It's better to come early in the day and on weekdays as the local schools often organize their weekend school trips to this temple.
Trek the Busungbiu Rice Terraces in North Bali
We mentioned visiting Tegalalang rice terraces in our 3 Day Ubud itinerary. If you wish to enhance your experience further, visit the Busungbiu Rice terraces.
These rice terraces are surrounded by the beautiful hills of North Bali, which provide an additional level of greenery to the scene. Moreover, there are a lot less tourists here and the farmers are a lot more accomodating than the ones in Tegalalang. Probably because they're not as bothered by the tourists as their southern counter parts.
You can trek on the rice fields, see the farmers in action, swing on their local swings and learn about life in the northern farmland.
Hike Mount Batur For a Spectacular Sunrise
Mount Batur is an active volcano in the North-Eastern part of Bali. It is very much visible from the Kintamani village in Ubud and towers over the entire island like a monolith!
If you enjoy hiking, you should definitely go on a Mount Batur sunrise hike. It is one of the most sought after experiences in Bali! We recommend booking a guided tour like this one in advance as there are limited spots available.
You shall be picked up from your hotel at around 2 AM depending upon your location. Upon reaching the base you shall be given basic instructions by your trek guide. This is followed by a 1.5 to 2 hour hike to the top of the mountain. At the end of the trek, you shall see some of the most surreal views of Balinese sunrise as you shall be literally above the clouds!
Advance booking is recommended as slots tend to fill out very quickly. Book a tour like the one below that also includes a visit to the hot springs to relax after the tiresome hike!
Recommended Tour: Mount Batur Sunrise Hike and Natural Hot Spring (⭐4.8/5)
Take a Dip in Banjar Hot Springs, North Bali
Banjar Hot Springs are located about a 15-minute car ride from Lovina beach. It is a hot water spring complex established about a 100 years ago in the middle of a jungle. There are a number of small pools and one big pool for visitors to bathe in. The changing rooms and showers are modest and you are expected to bring your own towels.
Note: You need to bring your swim suit to bathe in the hot springs. Without it you shall not be allowed to enter the pools and most likely will be asked to leave the complex.
Also, It is a sacred place for the locals as well so be respectful of people's space and the also the adjoining temple.
Stay at Munduk Moding Plantation, Munduk
Munduk Moding Plantation is grows some of the best spices, coffee and fruits available in Bali. It is located in the middle of the Munduk jungle and you can often hear the nearby waterfall.
In the middle of this plantation, there is an award-winning resort with luxury cottages and villas. The highlight of the resort is what might arguably be the best infinity pool in Bali. The skies and the pool create a mystical view offering amazing golden hour photo opportunities and a sunset view you will remember for years!
The resort offers all inclusive packages and a lot of other activities like plantation visits, nature trails and educational lessons in coffee plantation.
Brahma Vihara Arama Monastery, North Bali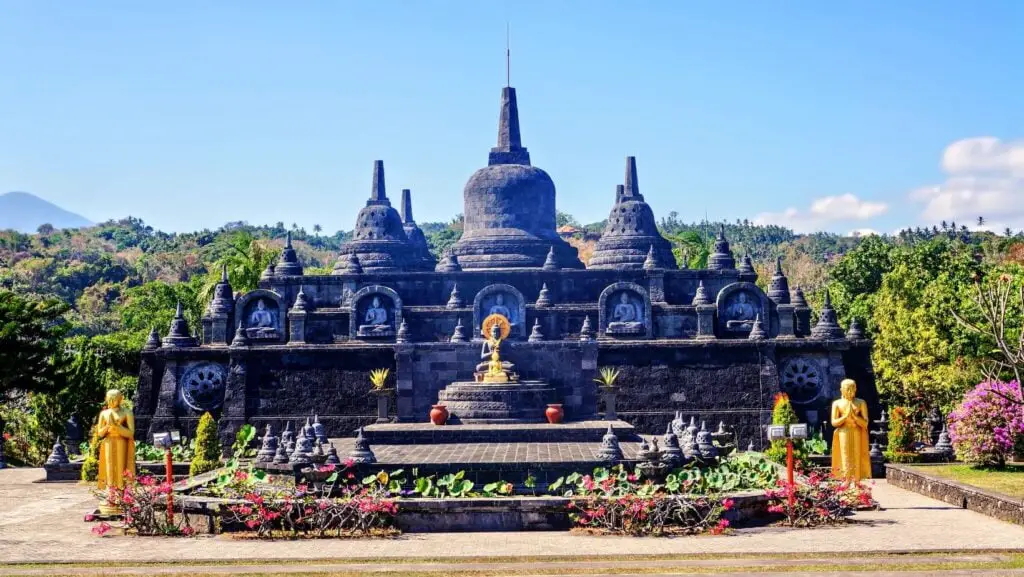 A rare Buddhist monastery in the middle of all the amazing Hindu temples in Bali. A lot of tourists call it a scaled down version of the famous Borobudur Temple in Java.
This Monastery is ideal for those seeking some peace and quiet between all their site seeing. When we visited there was a meditation session in progress. The gardens surrounding the temple are beautifully landscaped and adorned with intricate sculptures of Buddhist deities.
Entry fee is a mere 20,000 IDR and like all temples in Bali, you need to wear a sarong to enter.
Note: You will need to climb a lot of stairs to reach the temple. So, this activity is not recommended for everyone.
Chill at the Black Sand Beach of Lovina
Lovina is a town situated on the Northern coast of Bali. Most of the luxurious North Bali resorts are located in Lovina.
However, you don't need to stay in these hotels to enjoy the beauty of Lovina beach. It is the most unique beach in Bali because of its black sand and lack of commercialisation. There are numerous restaurants and small warungs selling drinks and food for you to enjoy the sunset.
While you're hear, you shall be approached by a lot of people selling dolphin watching tours and magic mushrooms. Beware of such people as a majority of them are scammers. Also, refrain from indulging into consuming mushrooms as it is a criminal offense in Bali. It is one of the popular Bali scams you need to be aware of and many unsuspecting tourists have been arrested for the same.
Go on a Dolphin Spotting Tour
Dolphin spotting is in fact one of the main reasons why even locals visit North Bali! You will be approached by a number of boatmen on Lovina beach for booking a tour with them.
You will be taken in a slender motorized boat to the location early in the morning. When we visited, it seemed as if there were a 20 other boats like ours waiting for the dolphins to show up. After about 10 minutes of waiting and readjusting our position, we saw them. A group of 30 – 40 dolphins, jumping over the waves one by one. For somebody like me, who had never seen dolphins before, this was a magical experience, despite the crowds.
This is a weather sensitive activity and a lot of tourists have complained about boatmen not showing despite taking an advance payment for the booking. This is why we recommend booking a tour with a reputed company like the one below.
Recommend Tour: Sunrise Tour with Dolphins, Waterfalls & Temples (⭐4.7/5)
Snorkeling and Scuba Diving in the North Bali Sea
If you wish to take your trip to the iconic Lovina beach up a notch, opt for the various snorkelling, free diving and scuba diving trips. Lovina beach has some of the clearest waters and the corals and marine life make it an alluring spot for divers.
We skipped this as we were short on time and we had already had our fill of scuba diving during our 3 days in Nusa Penida. However, our friends who have done both told us that the corals in Lovina beach are a lot better those in Nusa Penida.
In a Nutshell
So, these were some of our favorite things to do in North Bali. A lot of people ignore it due to its more popular neighbours down south. But we hope that this blog convinces you to include it in your Bali itinerary.Let us know in the comments if you have any questions and we shall be happy to answer them at the earliest. Alternatively, you can also reach out to us on Instagram @worldwidewander_org in case you need some quick info or just wish to say hi.