Nusa Penida is the largest of the three Nusa Islands (the other two being Nusa Lembongan and Nusa Ceningan) located off the eastern coast of Bali. With its unadulterated beauty and a lack of commercialization, it reminds you of what Bali used to be 15 years ago. In our opinion, any itinerary of Bali must include a trip to Nusa Penida. This article is primarily about our 3 day Nusa Penida Itinerary, but we have also provided an option of a day trip to the island in case you are short on time.
This article contains affiliate links. This means that we earn a small commission for purchases made through these links at no extra cost to you. Kindly read our full disclosure and privacy policy for more details.
How Many Days are Enough in Nusa Penida?
The length of your stay in Nusa Penida depends upon the length of your Bali trip. We spent 2 weeks in Bali and hence were able to spend an entire 3 days in Nusa Penida.
You May Also Like : The Most Practical Two Week Bali Itinerary
If you're staying in Bali for only a week, it's better to book a day trip to Nusa Penida. 
A lot of tourists opt for this option due to time constraints. It allows them to zip through the main attractions that the island has to offer.
You can book this day trip with a number of tour operators in mainland Bali. However, it's better to be cautious and book it through reputed booking sites like this one.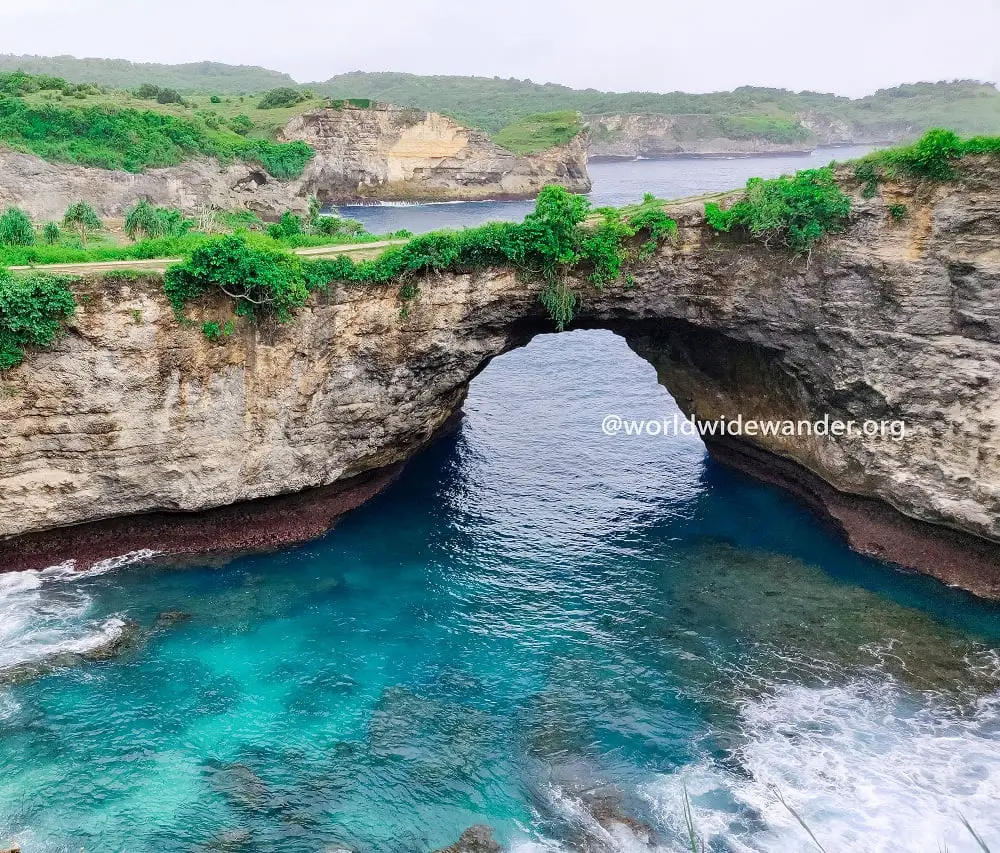 These sites vet the tours for you to avoid any scams or fraud and you can also check the reviews of each operator to be sure about your booking. The sites also have clear cancellation policies and 24×7 support in case things don't go as per plan. 
A good day trip to Nusa Penida includes the following:
Transportation from your hotel in Bali to Sanur port.
Ferry tickets from Sanur Port to Nusa Penida
Full day Transportation in Nusa Penida in an air-conditioned vehicle with driver
Entry tickets to at least three of the major attractions listed below. (read on for specifics)
Lunch at a traditional warung (Indonesian Restaurant)
A professional guide
Return ferry ticket from Nusa Penida to Sanur
We highly recommend this highly rated day trip if you don't wish to spend more than a day in Nusa Penida. Through this tour you shall be able to visit most of the attractions in a single day. It also allows you to save precious time as they take care of everything and all you need to focus on is taking those epic shots for Instagram.
If you are spending Two Weeks in Bali like we did, three days should be ideal to explore Nusa Penida at a leisurely pace. Read on, for a day-wise itinerary.
How To Reach Nusa Penida from Bali?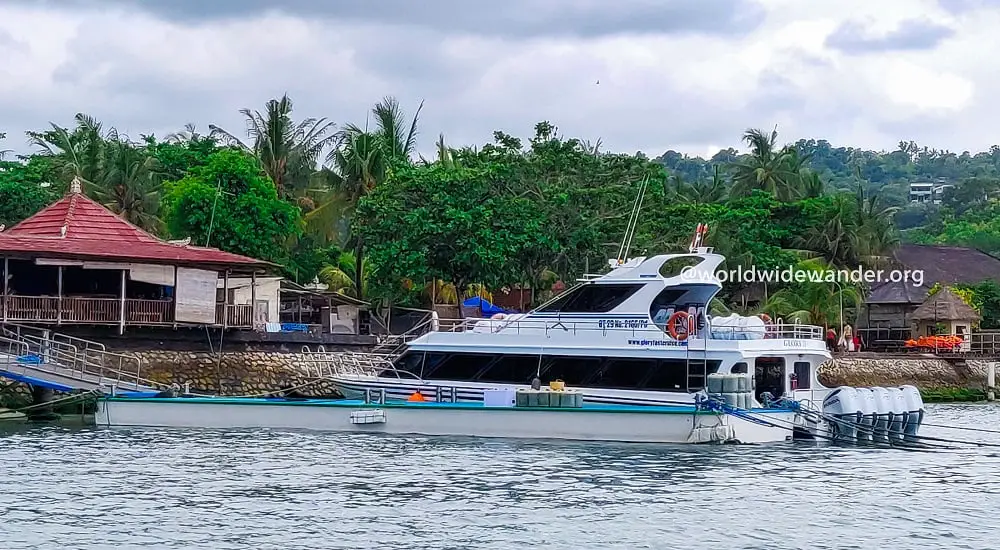 Like I mentioned above, Nusa Penida is an island off the east coast of Bali. Hence, the only way to reach is by ferry.
If you're coming from mainland Bali, you need to reach Sanur port to catch a ferry. It is great if you follow this after a trip to Ubud. The beaches and cliff sides of Nusa Penida will give a nice contrast to the temples, rice fields and all other amazing things to do in Ubud.
You can reach Sanur port from Ubud in one hour and from Seminyak in half an hour. The approximate cost of taxi from Ubud to Sanur shall be 130,000 IDR (~$10) and that from Seminyak shall be 70,000 (~$5). These prices are applicable if you book a taxi through Gojek or Grab. Do not catch a taxi from an unregistered taxi or you might fall prey to one of the Common Tourist Scams of Bali.
At Sanur Ferry terminal, you shall find a number of travel agencies selling tickets for the slow or fast ferry to Nusa Penida. The fast ferries are more comfortable and take about an hour to reach Nusa Penida. The slow ferries are mainly used by locals and take about 2 hours. We recommend the fast ferry as the local ones become overcrowded and not very well maintained.
The fast ferry ticket should not cost you more than IDR 250,000 so bring your bargaining skills as the vendors at the terminal might quote really high because you're a tourist.
How to get around Nusa Penida?
The ferry shall drop you at the Nusa Penida ferry portal where you will be greeted by the sound "Scooter? Scooter?"
Lots of locals will crowd around the arriving tourists to lease their scooter.
While a scooter is the best way to explore the island, don't say yes to the first guy you meet.
Walk out of the port and you shall see a line of scooter rental shops. If you haggle properly, you can hire a scooter here for around 60,000 IDR (~$5) per day.
Check the scooter properly for some pre-existing damage and click pictures of the same for your records. Point out the damages to the scooter and make the owner acknowledge them before finalizing the deal.
Doing this saves you from another popular scam in Bali.
Caution: It is important to know that Nusa Penida does not have a very developed road network. There will be times when you'll have to drive on gravel or a very steep local road. Hence, rent a scooter only if you have prior experience of handling a scooter. Learning to ride a scooter for the first time is definitely not one of the things to do in Nusa Penida. There have been numerous incidents in Nusa Penida where tourists have been seriously injured because they weren't adept at riding a scooter.
In such cases, the best option is to hire an air conditioned car with a driver.
Hiring a Driver and Car has a number of benefits:
1. The driver is experienced and knows his way around the island. So you won't need to worry about getting lost or driving after dark.
2. The car can accomodate 5 people. This is very convenient in case you're traveling in a group and the cost can be split.
3. Cars are a lot more comfortable and safe on the underdeveloped roads of Nusa Penida.
4. You won't get stuck somewhere in case of bad weather conditions like rain or extreme heat.
Nusa Penida Itinerary : Where to stay?
As mentioned above, Nusa Penida is still quite underdeveloped for tourism.
We're not just talking about hotels or resorts but also restaurants, grocery stores, roads, money exchange places and the likes.
Though there are quite a good number of resorts and Airbnbs around the island but they're scattered and sparse. 
This has created small clusters around the island. These clusters comprise of hotels, small warungs, stalls selling fresh coconuts or fruit juices and grocery stores.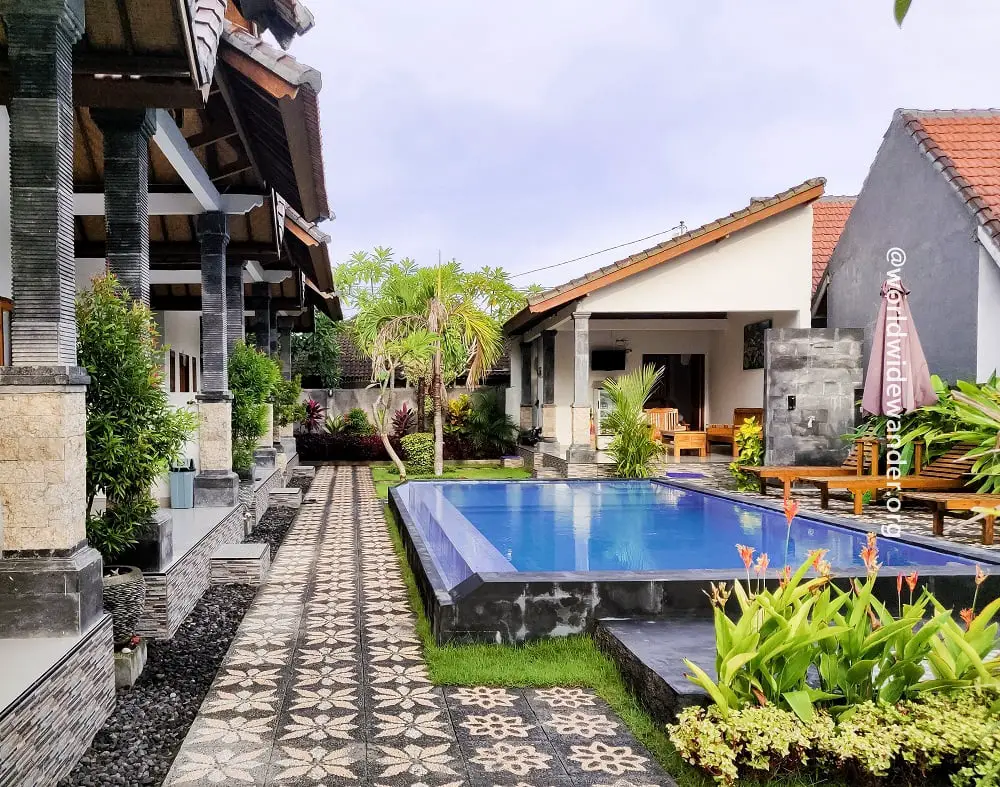 You'll have to choose your stay in Nusa Penida from one of these clusters.
According to us, the best cluster to live in is in the North West part of Nusa Penida. You can pick from a range of luxury, mid-range or budget resorts. The roads are better than most of the others on the island and it has a good range of restaurants. Also, it is close to the major attractions on the island.
We once also lived in the southern part of the island, closer to the ferry terminal and the Diamond Beach (explained below). This proved to be a bad decision as there were hardly any restaurants around and the road to Diamond Beach (the reason why we chose this location) was probably one of the worst I've traveled on. The resort was pretty close to the ferry terminal but for everything else, we had to drive our rusty scooter to the Northern side every day.
Hence, from personal experience, we would recommend the North-Western side unless you are on a shoestring budget. Since it is more developed, the prices of hotels in the North are higher. 
Choose your hotel keeping the above in mind.
Major attractions and locations
We have listed the major attractions in the form of an itinerary as you need to visit them in a certain order.
Though the island is pretty small and the attractions might be only a couple of miles away from each other, the condition of the roads and traffic make the trip time consuming and tiring. 
Catch an 8:30 AM ferry from Sanur and reach Nusa Penida early so that you have enough time to enjoy all the epic locations on the island. Explore the following in the specified order and you shall be good to go.
Nusa Penida Itinerary : Day 1
Book your scuba diving session
Make sure this is the first thing you do. Drop your luggage at your hotel and head out to book your dive in the blue waters of Nusa Penida. The island has some of the best underwater flora and fauna. You shall see hundreds of different varieties of tropical fish, corals, rare sea turtles and manta rays. There have been incidents where divers have also witnessed killer whales (orcas) at certain sites!
Diving in Nusa Penida is pretty cheap. The trip generally starts at 7:30 AM and goes on till lunch. Hence, book your dive on the second day of your 3-day trip to Nusa Penida as the first and third day would involve travelling to and from Bali.
There are plenty of dive resorts on the western side of the island. Take your pick from the lot. 
We booked with Mambo Dive Resort. Read on for more details.
Diamond Beach
Once you have booked your dive for the second day, grab your scooter and head straight to Diamond beach on the other side of the island.
Pro Tip: Use the coastal road that runs along the Northern coast line of Nusa Penida to reach Diamond Beach. Google maps may show you a shorter route that goes across the island, but traveling on that road shall leave you with a backache. Google gives you the shortest route, not the least bumpy one. The coastal road on the other hand is pretty well developed as it connects a lot of resorts and other tourist attractions.
Once you reach Diamond Beach, you will have to buy the 10,000 IDR ($0.7) entrance ticket.
Visit the diamond beach view point which is a 5-minute walk from the parking.
The view point is something right out of a post card.
Palm trees, large rock formations, the crystal blue waters, white sand and limestone formations shall dominate the pictures you click here.
They have also carved out stairs out of the limestone that go down to the beach. These stairs have become a new Instagram favourite.
The hike down is not very comfortable but also not as tough as the one in Kelingking beach.
It is not recommended to swim at Diamond beach as the sea current is quite strong and often brings along coral debris with it.
Also, Diamond beach is quite secluded and there might be no help available in case of any unfortunate events.
Atuh Beach
Atuh Beach is located on the other side of the Diamond Beach viewpoint mentioned above.
Just continue along the trail that lead you to the Diamond beach stairs and you'll find another set of stairs descending to Atuh beach.
These stairs are more like a trail that goes through thick vegetation. Five minutes after walking through the vegetation, Atuh beach reveals itself – yellow sands and Turquoise blue waters.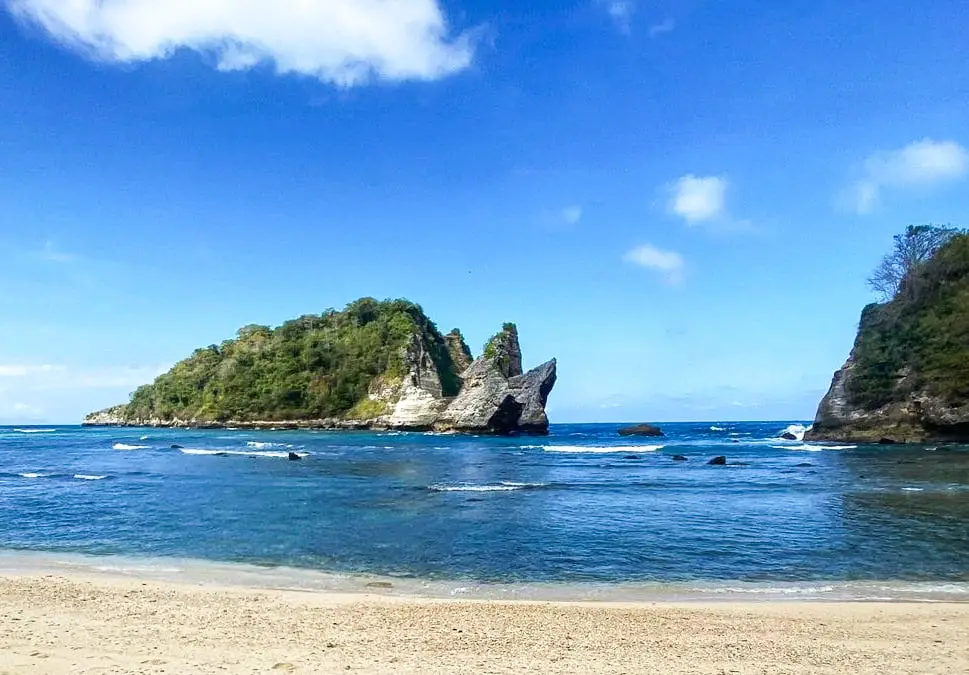 The most iconic part of Atuh Beach is the broken limestone cliff right in front of the beach. Sea water has created a small archway in the middle of the cliff.
The beach itself is big enough to accommodate a couple of beach shacks and two lines of sunbeds.
You can hire the sunbeds for anywhere between 25k IDR to 40k IDR for the entire day or lay your own beach towel.
The beach bars serve slushies and beer and also some bar snacks. Don't expect to find a lot of food here but you can have the popular Indonesian dish Nasi Goreng here for around 30k IDR.
It is not recommended to swim on Atuh Beach as beyond a couple of meters from the beach, the seabed is covered with small stones that can hurt your feet.
However, during favorable tide conditions, you can go cliff jumping from the famous archway.
Enjoy the sunset at Atuh beach and leave for your hotel before dark to avoid any mishaps on the rocky road.
Nusa Penida Itinerary : Day 2
Scuba Diving:
Scuba diving was the highlight of our trip to Nusa Penida. The water is clear blue and certified instructors run all the dive centers.
Our dive included the following:
Pre-dive instructions
Practice sessions in the in-house tank
Dive Gear
Transportation to and from the dive spot(s) in a motorboat
Two Dives – One in Manta Bay and another in Crystal Bay
A certified diver to escort us through the waters
Pictures and video of the dive
Packed lunch after returning to the dive centre.
The experience begins at 7:30 in the morning. Make sure you reach there by 7 so that you can change into your gear and have more time to practice.
Pre-dive Instructions
Your instructor shall give you a lot of important information about where you're going to dive, how deep it might get, what you can expect and most importantly, how you are going to communicate underwater.
After you've memorized the communication code, the instructor shall take you to a practice tank where he will guide you and assess your performance. They will not take you for your dive until they are convinced that you can handle yourself underwater. It's a little strict but it is for your own safety so follow all the instructions by the book.
The Dive
You shall then leave for your dive site on a motorboat. The dives last for about an hour so that you can spot as many rare creatures as possible.
Both of our dives were a huge success as we saw 8 of the 10 rare fish that can be spotted during a dive.
The highlights were the three manta rays we spotted at Manta Bay and the two cute sea turtles in Crystal bay.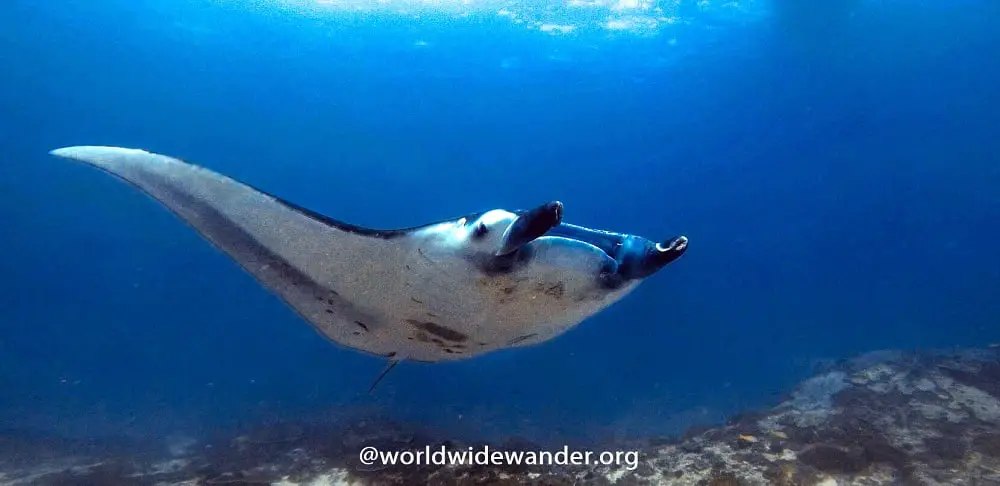 You shall return by noon and will sit down for lunch shortly after.
Note: If you are a vegetarian like us, make sure you mention it to the dive center so that they can arrange accordingly.
You'll be exhausted from the dives so return to your hotel and get some rest before heading out to Broken Beach.
Broken Beach
Broken beach is one of the most Instagram-famous spots of Nusa Penida and Bali. It is a natural cove along with a perfectly-shaped arch through which the waves enter.
The land mass forms a circular loop around the cove with plenty of spots to capture the beautiful arch which in-turn serves as a natural bridge over the perfectly blue water entering the cove.
Broken beach is located in West Nusa Penida and will take at least an hour from the closest hotel or the harbor.
Entrance Tickets:
When we visited, the entrance ticket was 5,000 IDR ( ~$0.35) and an additional 1000 IDR for parking.
Best Time to Visit: The best time to visit Broken Beach is in the morning to catch the sunrise. In any case, don't visit after 10 AM as that is when the influx of day-trip tourists starts. Alternatively, you can also visit at sunset to capture some golden hour snaps and the day trip tourists would also have left by now as the last ferry to Bali leaves at around 6 PM.
Can you swim at Broken Beach?
You cannot swim at Broken Beach as there is no way that you can descend to the beach from the cliffs.
Hence, unfortunately (or fortunately), this spectacle of nature is to be admired from afar only.
For those who want to take a dip near Broken Beach, visit Angel's Billabong.
Angel's Billabong
After you've parked your scooter and paid for the entrance ticket of Broken Beach, you'll come across Angel's Billabong.
It is a natural infinity pool created by the water left behind by waves during high tide.
The reservoir is surrounded by rocky cliffs so you can admire the clear pool from above, but it also has a trail leading down to the pool in case you want to take a dip.
Few things to note if you plan on swimming in Angel's Billabong:
Check the tide chart before swimming. The current is quite strong and swimming in a cliff top natural pool can be fatal if you flip over the slippery edge of the reservoir.
The pool is quite shallow and is covered with rocks, so diving should be avoided.
There is no official life guard or help of any kind available around as the area is quite secluded and is visited only by tourists. Decide to swim only if you think it is absolutely safe to do so.
Nusa Penida Itinerary : Day 3
Kelingking Beach
Kelingking beach is arguably the most famous beach in not just Nusa Penida but also Bali.
When viewed at a certain angle from above, the rock formation looks like the head of a T-Rex (the most dangerous dinosaur in Jurassic Park).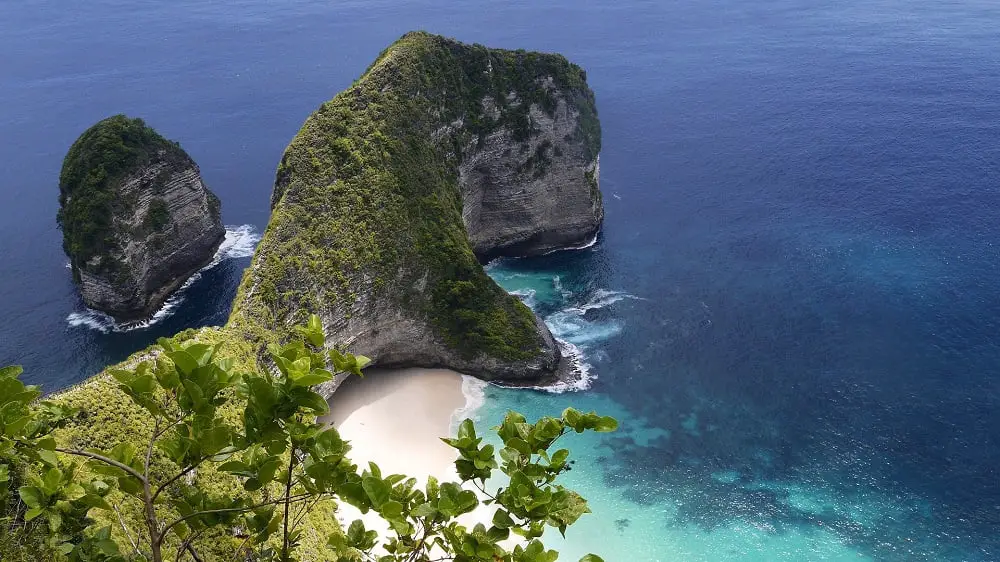 Because of this iconic reference, hundreds of tourists flock to the Kelingking viewpoint to get that iconic picture for Instagram.
Visit before the day-trippers arrive at 9 to get that cool Instagram shot and descend down to the beach to swim in the cleanest blue waters.
Ticket Price: 5,000 IDR for entrance and 1,000 IDR for scooter parking
Can you Swim at Kelingking Beach?
Yes!! You can and you definitely should! Kelingking beach has the bluest waters and the whitest sands.
The hike down to the beach is a pretty steep one though. There are stairs at the top but as you descend further, you might have to walk on rocks.
However, due to the steep descent, not a lot of tourists come here and there is also a possibility that you have the entire beach to yourself.
There might be a little shack serving drinks but don't expect anything more. In general, Nusa Penida is not very developed in that matter and cannot boast eateries that can compare to the best restaurants in Bali.
Go early in the morning, so that you have plenty of time to spend at our next destination – Crystal Beach before catching an afternoon ferry back to Bali.
Crystal Bay Beach
Crystal bay is about an hour from Kelingking beach and shall be about half an hour from the resort rich northern-western part of Nusa Penida.
This makes it the perfect place to spend your last few hours in Nusa Penida.
There is no entrance fee to crystal bay but you might have to pay 5,000 IDR to park your scooter. This fee is neither official nor regulated as we have heard of people paying absolutely nothing to about 10,000 IDR for the same.
To reach the beach from the parking you shall have to walk through a dense and beautiful forest of palm trees.
The beach also has lots of palm trees lined up perfectly along the shore. Because of this, there are numerous warungs (local Indonesian restaurants) on the beach serving refreshments.
Have an orange slushy or a Bintang or a fresh coconut and chill on the sunbeds along the beach.
You can also rent snorkeling by renting gear for IDR 50,000 and swim a little further into the sea to see a wide range of fish and corals. After all, crystal bay is one of the hottest snorkeling and scuba diving locations on the island.
Have lunch at one of the warungs on your way back to the hotel, collect your bags, and catch an afternoon ferry to Bali.
Specific tips for your Nusa Penida Itinerary
We found only one ATM in Nusa Penida and we had to travel a little out of the way for that too. Withdraw all your money in Bali before coming to Nusa Penida.
Same thing is applicable to money exchange. There was only one proper money exchange place in Nusa Penida and even that had higher rates than those in Bali. Exchange your money in Bali.
Don't buy anything from Nusa Penida. Everything available here is brought in from the main island of Bali. If you want to buy something as a souvenir, read this blog post on what to buy in Bali.
Most of the attractions and the main harbor seem to be close to Southern Nusa Penida. Hence, you might be to book your accommodation there. DO NOT fall for this trap. The road connectivity from the southern side to the rest of the island is horrendous and it'll take the same amount of time as a trip from Northern Nusa Penida. There are hardly any restaurants nearby and the area gets dark and eerie after sunset due to the absence of street lamps.
Stay in the northern part of Nusa Penida. The area has a lot of hotel options, the best restaurants and most importantly, great road connectivity.
Rent a scooter only if you are an experienced driver. There have been numerous accidents where tourists have been injured or they have had to pay large sums of money because they damaged the scooter.
Check the tide chart before planning your trip to Nusa Penida. During low tide a lot of the beaches would lose their charm and you might be staring at vast expanses of sea bed.
In a Nutshell
This itinerary is a pretty good guide to visit the highlights of Nusa Penida without feeling rushed or extra touristy. It covers attractions, activities and offers you a good time to enjoy the peace and tranquility that the island offers.
We hope this post allows you to plan your trip to the Nusa Penida