Are you planning to send 3 days in Ubud? This practical 3 days Ubud itinerary shall help you plan the best trip to the central region on Bali.
Ubud is our favorite region in Bali and for good reason. It is centrally located, has the best spas in all of Bali and is surrounded by sprawling rice terraces.
Moreover, it is home to pristine temples and is close the best waterfalls of Bali. This 3 Day Ubud itinerary shall cover all of the above in a short span of time.
We spent two weeks in Bali and our time in Ubud was a proper mix of adventure, sight seeing and relaxation. Hence, we have created this perfect Ubud itinerary so that you can have the same. Without further ado, let's dive in.
Also, check out the following blog posts to convert a good trip to Bali to an EPIC trip to Bali!
This article contains affiliate links. This means that we earn a small commission for purchases made through these links at no extra cost to you. Kindly read our full disclosure and privacy policy for more details.
Day 1 of 3 days in Ubud
Day 1 of your 3 days in Ubud shall involve visiting the popular temples along with a famous waterfall on the way. Also, you shall end the day with the best spa Bali has to offer.
Campuhan Ridge Walk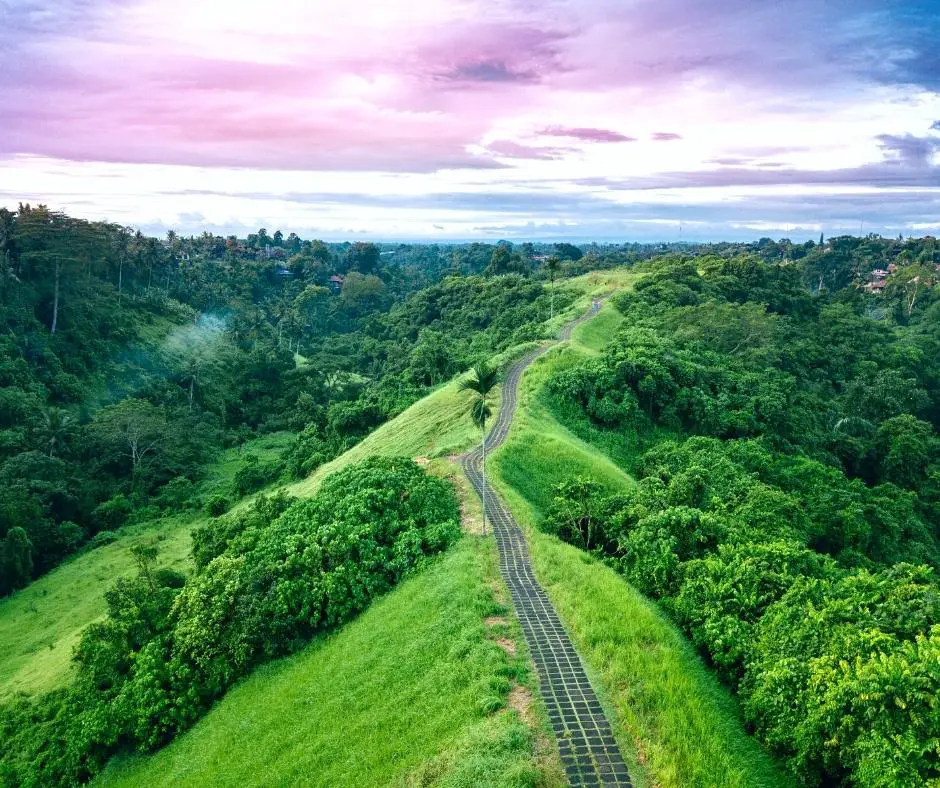 The Campuhan ridge walk is something that we recommend doing on the very first day of your 3 days in Ubud. This activity involves one of the most scenic walks in Bali through the forest vegetation.
It is a beautifully paved walkway that is perfect for an early morning sunrise walk if you are not an avid hiker like us. It gets crowded and hot later in the day so it's best if you do this early in the morning.
Note: If you're up for the challenge and wish to go for a proper hike, we would suggest you to go for the Mt. Batur early morning hike. This hike is the highest rated hike in Bali that not only takes you on top of the volcano for some splendid views of the sunrise, but you also visit to nearby hot springs for some much-needed relaxation.
Ubud Palace
The best way to start exploring a region is by learning about its roots. And, the roots of Ubud lie in the Ubud Palace. The Ubud Palace is the home of the Ubud royal family and there's not better way of starting your 3 days in Ubud than a dash of little history.
Today, it has become a popular tourist site that has preserved its ancient Balinese architecture and beautiful garden settings that are accessible by the public.
The Ubud palace is also the best place to view traditional Legong dance performances. Buy your tickets in the afternoon if you wish to see the evening show.
Ubud Monkey Forest
The sacred monkey forest in Ubud is a great way to not only explore the jungles of Ubud but also witness the Balinese Long Tailed Macaque in its natural habitat.
See the monkeys and their super cute babies roam around, eat, jump in pools and play with different objects they find lying around.
The area is full of moss-covered sculptures and little ponds for the monkeys to take a dip in.
Be careful about your belongings here as the Balinese monkeys are quite infamous for snatching cell phones, glasses and hats.
You can buy the ticket at the counter once you reach there. Or you can opt for this highly rated Monkey forest and rice fields tour that we cannot recommend enough!
Kanto Lampo Waterfall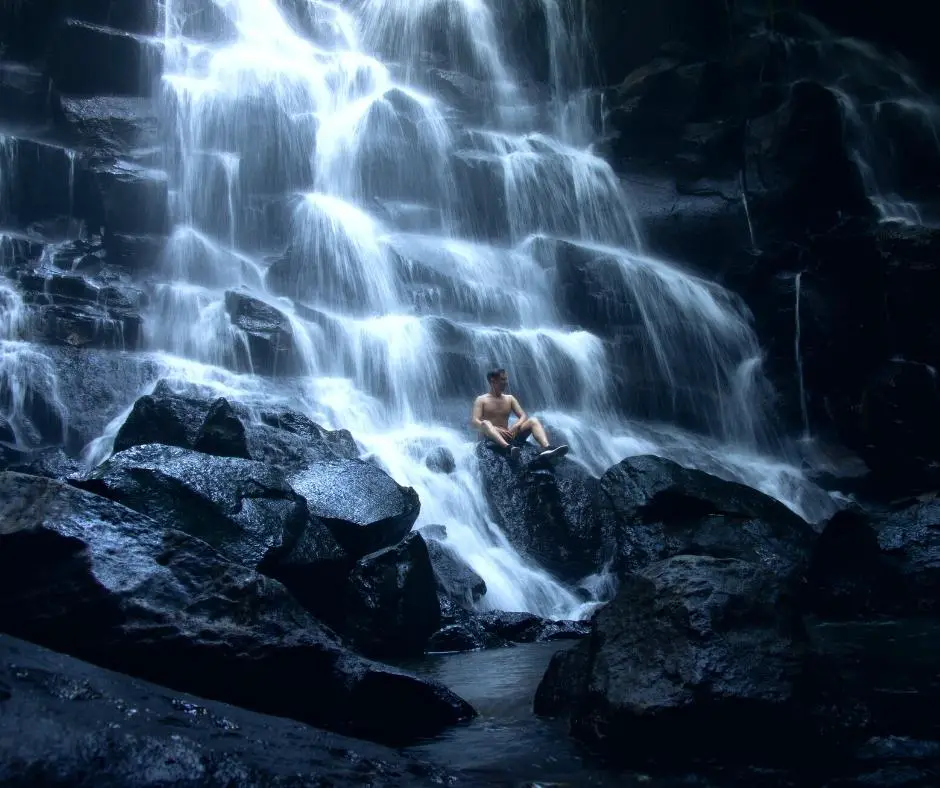 Arguably the most picturesque waterfall in Bali, Kanto Lampo Waterfall is pretty close to central Ubud. Like all other waterfalls in Bali, there is a short hike involved in reaching this magnanimous piece of natural beauty.
Stairs are provided for your convenience and there are shops near the entrance where you can buy refreshments.
Needless to say, do not litter and travel sustainably to preserve the natural environment of the region.
Spa Treatment of your choice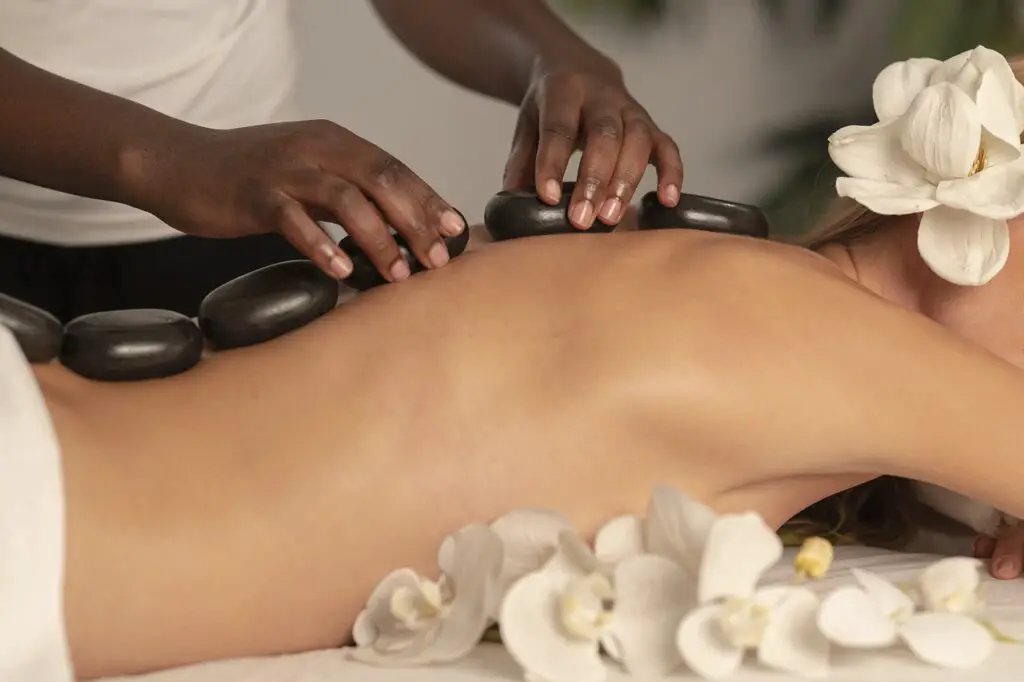 After a day full of exploring the splendid Ubud landscape, reward yourself with a spa of your choice. It is the best way to end day 1 of your 3 days in Ubud.
You can go for a traditional Balinese massage or a hot stone massage. You should also try an exfoliating coffee scrub or opt for the Instagram-famous flower bath.
We highly recommend this 2-hour river side spa that includes a full body massage, foot reflexology, frangipani scrub and a rejuvenating milk bath. Oh, and did we mention that this entire experience takes place by the river side to the sound of waterfalls and chirping birds? It doesn't get better than this!
Day 2 of 3 days in Ubud
The second day of our 3 days in Ubud itinerary shall cover places that are a little farther away from Ubud town. All of these locations are some of the best Instagram spots in Bali.
The best way to visit these places is through a customizable tour like this highly rated Instagram Highlights tour. It takes you to all the places mentioned below along with an amazing massage as an add on!
Tukad Cepung Waterfall
This famous waterfall in Bali has one of the best hikes. The route to the waterfall is covered with huge rocks and lush vegetation, making the journey as beautiful as the destination.
Walk through the forest, cross the stream and climb boulders for an amazing shot like the one above.
The entire path to the waterfall is like a canyon with a canopy of trees. It creates an amazing picture of nature as the sunrays peek through the dense foliage.
Pura Tirta Gangaa
Pura Tirta Gangaa is one of the most photographed temples in Bali. It is dedicated to the Deity Ganga in Hinduism, a sacred river in India.
The temple is often referred to as the water palace as it is a maze of fountains and pools with little stone steps that allow you to cross the pool for that beautiful photograph.
There are stone bridges and carvings that add to the beauty of the palace. Needless to say, like all other temples in Bali, be respectful to the culture and place.
There are certain guidelines to be followed while visiting temples in Bali and we request you to follow them.
Pura Lempuyang
You have most definitely seen a picture of this temple whenever you have googled Bali. Pura Lempuyang is probably one of the oldest and holiest of all temples in Bali and is a must visit during your 3 days in Ubud.
To the western world, the temple is popularly known as The Gates of Heaven. There are actually seven temples within the premises and the Gates of heaven are located in the first one.
A picture between the Bali Gates of Heaven is a rage on Instagram and is included in this perfectly planned Instagram tour. As always, be respectful towards the culture and people of the temple.
Also, beware of people asking for mandatory donations. Temple donations are a matter personal choice and nobody can force you for the same.
If someone is asking you for a mandatory donation, the money is most-likely going in his pocket. Avoid this as it is one of the most rampant scams in Bali. You can politely refuse and walk away from that person.
Tegallalang Rice Terrace
After covering the above locations, head to rural Ubud for a taste of the farmer's life in Ubud. You shall hike among the rice terraces and enjoy the beautiful vistas of the lush green vegetation.
The farmers in Ubud practice terrace farming to adjust with the landscape of the region and to make the most of the heavy rainfall in the region.
Caution: The farms that you walk through are private properties and there might be chances that the gates to a certain farm are closed and you're stuck there till someone comes down to open them for you. To avoid something like this, it's better to book a tour like this one where the guide knows the farmers and can make things easier for you. We have a lot of tourists who had to retrace their hike just because a farmer refused them entry into his farm.
Bali Swing
While exploring the rice terraces, you shall come across a number of swings after almost every three or four farms.
The cost of these swings range from 50,000 IDR to 500,000 IDR depending on location, popularity, duration and safety standards.
There have been incidents, albeit a few, where the swing has malfunctioned causing injury to the passenger. Hence, it is best to opt for jungle swings that take proper safety measures even though they might be a little more expensive.
Note: This amazing Instagram Highlights tour of Bali includes all of the above locations including the rice terrace hikes and the jungle swing. It comes with services of a professional guide and pick up from your hotel. It is the best way to enjoy this 2nd day of your Ubud itinerary to perfection!
Day 3 of 3 days in Ubud
Day 3 of our 3 Days in Ubud shall entail the highlights of Northern Bali followed by Bali souvenir shopping in the Ubud Art market. This day shall also include a visit to one of the most adventurous waterfalls in Bali, so pack a swimsuit with you.
Ulun Danu Baratan Temple
Ulun Danu Baratan temple is the image you see when you google Bali temple.
The picturesque temple is located in the middle of a lake, surrounded by rolling, lush green forest-covered hills.
The temple premises also house a beautifully landscaped garden with flower plantations, photo spots and sit outs where you can relax and take in the views of the mist covered lake.
It gets pretty crowded later in the day, so it's best if you visit this pristine temple as early as possible.
Handara Gates
The next stop shall be a famous Instagram spot in Bali – The Handara Gates. We're sure you have seen these gates if one of your friends has visited Bali.
These gates are often confused with the Gates of Heaven mentioned above. The Handara gates are an entrance to the beautiful Handara Golf Resort. So, if a golf resort is your idea of Heaven, then sure, these are the Gates to Heaven.
There is a small entry fee to enter and take as many pictures as you want. Apart from that, there isn't much to do here, unless of course, you wish to play a game of golf.
If you're not interested in taking that picture (you really should be), you can skip it.
Wanagiri Hills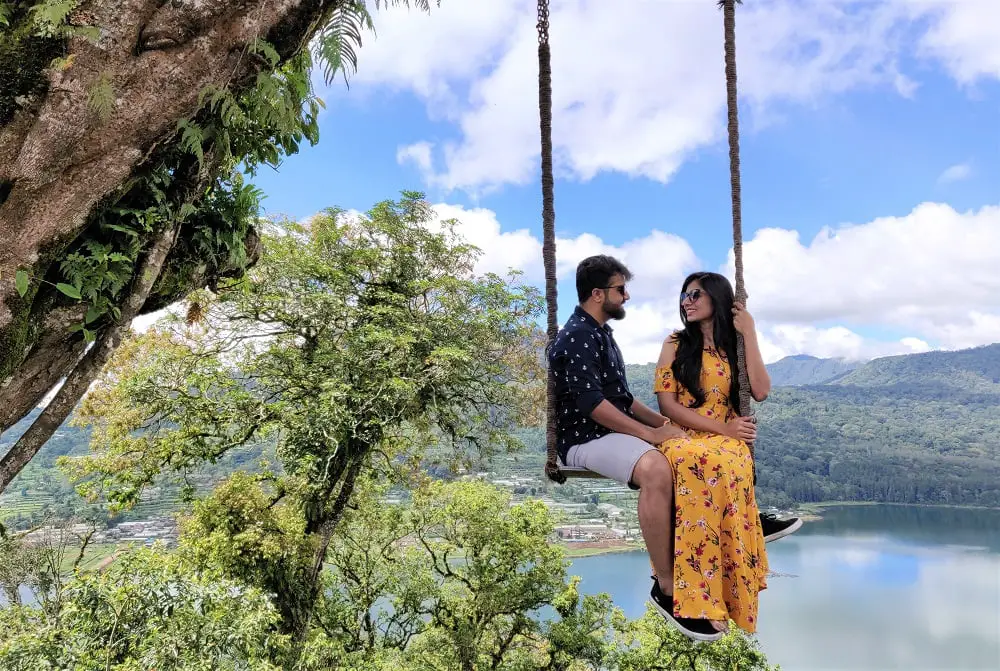 As you proceed ahead from the Handara gates towards Aling Aling waterfall, you shall encounter a beautiful road over-looking a calm lake.
This area is known as Wanagiri which means a hill of monkeys and sure enough, you shall see a lot of monkeys on the sides of the road.
Along the road, there are many parks where you can sit and enjoy the view and also take a lot of great pictures (like the one above) with the lake as a back-drop.
Aling Aling Waterfall
Our final destination in North Bali is the most fun activity you can do during this action packed 3 days in Ubud.
The Aling Aling waterfall is not just a 35-meter waterfall you can marvel at. It is the most happening area in Bali for adventure lovers. Here you can participate in adrenaline pumping activities like waterfall sliding and cliff jumping!
You can also swim in or relax by the Blue lagoon, a beautiful little lake surrounded by lush green vegetation and multiple waterfalls in the area.
The waterfall is located quite inward and it's easy to get lost on the trek as the trail from the parking to the locations is long and confusing. Hence, we recommend you book a private tour like this one. It includes transportation and your driver shall guide you through the trail. He shall also take care of your belongings while you're out adventuring and shall also be your handy photographer.
This activity is really difficult to do without a local.
Ubud Art Market
After a day full of adventure, head to the Ubud market to shop for some amazing souvenirs. The Ubud art market is the answer to where and what to buy in Bali.
The market houses some of the most artistic pieces of Balinese handicrafts. Select from a range of wooden carvings, masks and paintings. You can also shop traditional Ikat and Batik work clothes, rattan bags and wooden homeware products.
3 Days in Ubud Itinerary Add-Ons : Other Unique Things to Do in Ubud
If you have a couple of days extra in Ubud or you're free from the above activities early, you can add the following must-have experiences in Bali to enhance your stay in the magical island.
Floating Breakfast and Hot Air Balloon Experience
The most iconic experience in Bali is a floating breakfast.
You shall be served a range of western or Indonesian delicacies along with the freshest fruit platter in a floating tray, all while you're relaxing in an infinity pool.
This highly rated experience, serves a bottle of sparkling wine along with your breakfast, which is followed by a hot air balloon ride over the lush green forests of Ubud.
Cannot rate this experience enough!
Mount Batur Sunrise Hike
This is the most sought-after experience among the young and the young at heart travelers of Bali.
It involves a hike to the tallest volcanic crater in Bali. It is followed by breakfast and amazing views of the island from the summit. Post that soothe away your fatigue and pains in the natural hot springs
You shall be picked up from your hotel between 1:30 to 2:30 AM depending on your location. Next, a 1.5 hour trek to the top to witness the sunrise. Relax in the natural hot springs at 9:00 AM followed by a visit to a coffee plantation. Check out the prices and availability of this must have experience here.
We recommend doing this on day 2 of your 3 days in Ubud.
River Rafting with optional Quad Biking adventure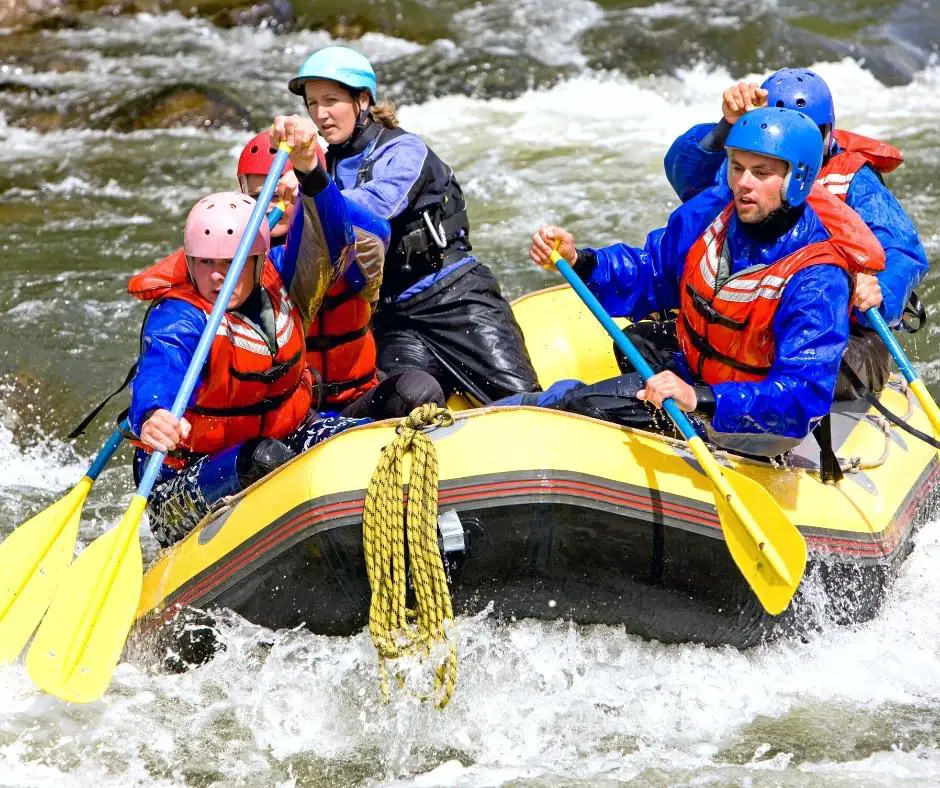 The Ayung river is the longest river in Bali. It has some amazing class 2 rapids that rise to class 4 rapids in the rainy season.
This Rafting tour includes Hotel pick up, rafting gear, a professional guide and a sumptuous Indonesian breakfast post the activity.
If you're a lot more adventurous like us, you can opt for a combined Rafting and Quad Biking jungle ride experience. Along with river rafting, it takes you through the thick forests of Ubud on an adventurous trail.
This experience includes river rafting for two hours with a professional. It is followed by quad biking for 1.5 hours through rice fields, bamboo forests and tropical plantations. A sumptuous lunch is included between the two activities. It was one of our most favorite things to do in Ubud.
Silver Jewelry Making Class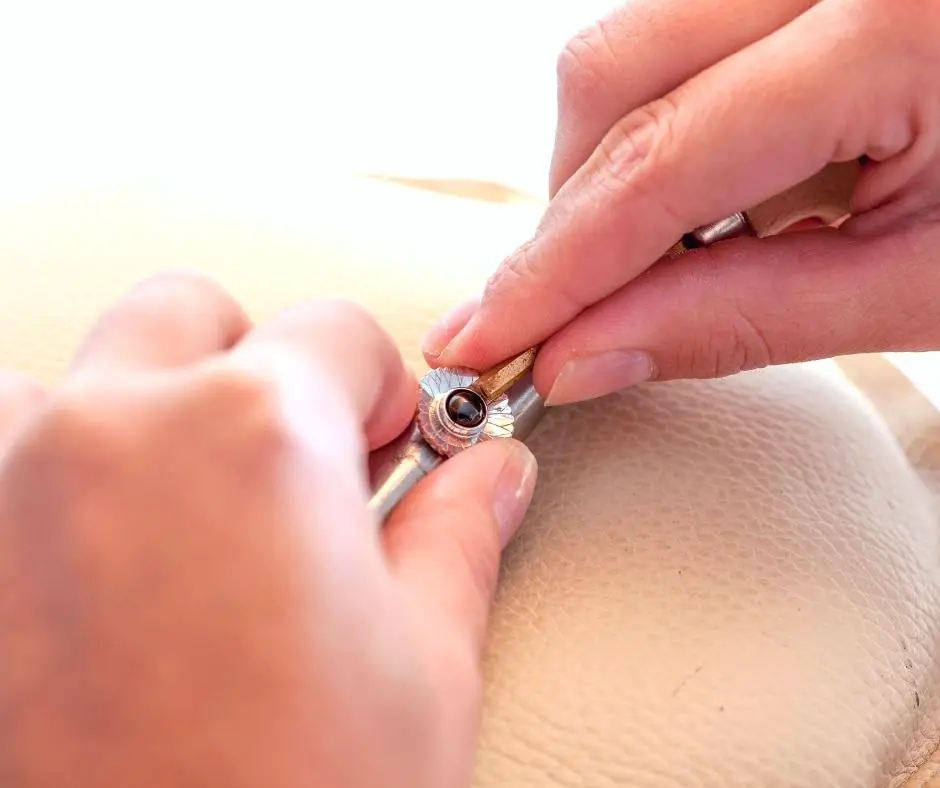 Ever heard of the saying, buy experiences and not things as souvenirs from your travels? Well, this experience is something that shall give you both.
This half day activity shall help you convert 5 grams of silver into personalized wearable jewelry. It makes for a great souvenir that you cherish and show off to your friends back home.
The activity takes three hours and is conducted by a skilled jewelry artisan.
Wood Carving Workshop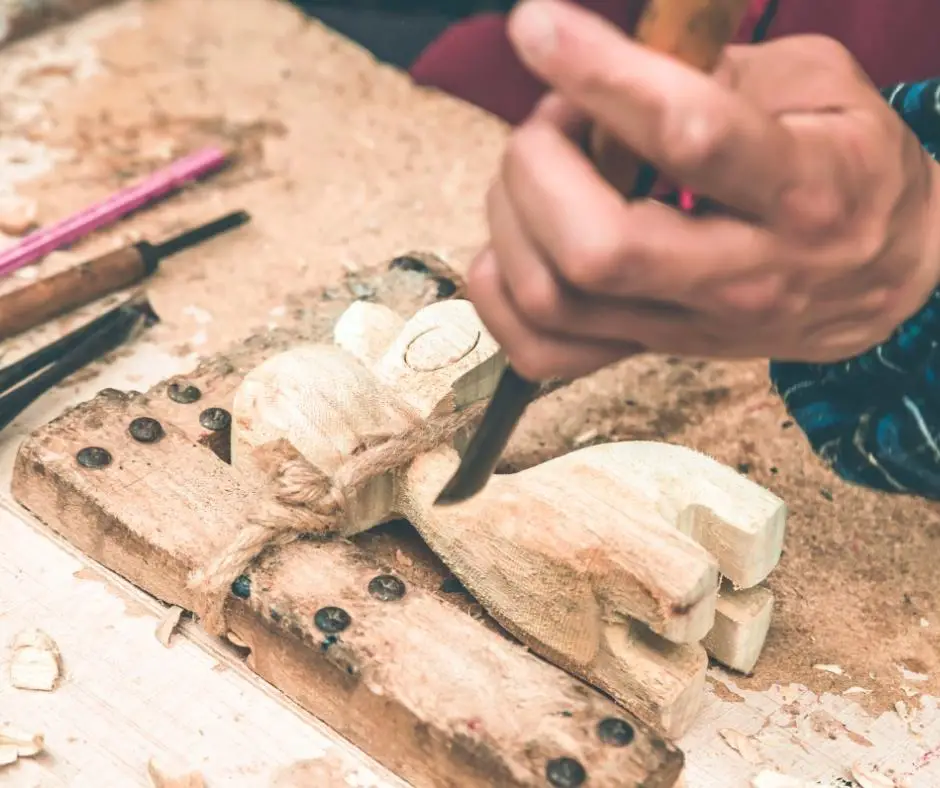 Another fun and educational experience you can have in Bali is this out-of-this-world, highly rated Wood carving class.
You shall convert a block of wood into a masterpiece under the guidance of a local master carver who has been carving the famous wooden artifacts of Bali since the age of 12!
The master carver shall continuously monitor your work, help in the process and make sure that you're having fun during the entire 3 hours of the activity!
What's more, you get to learn about the techniques of wood-polishing of famous Bali wooden artifacts and get to keep your creation as souvenir to take back home!
Authentic Balinese Cooking Class
What if we told you that for the price of a meal in Bali, you can learn to make an authentic 3 course Bali meal with 3 appetizers, 4 main courses and 1 dessert and then eat it too!
That is exactly what this superbly rate cooking class offers, if not more!
You shall be picked up in an air-conditioned vehicle and taken to a morning market for selecting fresh ingredients for your dishes, followed by a visit to the rice fields and then to a kitchen in a local village.
After you've prepared your food under the amazing guidance of the chef, you shall all sit down and savor the meals prepared by you and your fellow cooks!
What a way to spend a morning!
Ubud Itinerary FAQs
How Many Days is enough in Ubud?
If you're short on time, 3 days is a good time to cover the highlights of Ubud. But we do recommend that you spend 5 days to enjoy all the amazing experiences mentioned in this blog post
How To reach Ubud?
The best way to reach Ubud from the airport or from any part of Bali by booking a cab. Public transport isn't very developed and renting a scooter can be tricky due to various factors.
However, cabs from the airport are one of the biggest scams in Bali, so we recommend booking one in advance like this one as it shall be cheapest option.
The cab divers at the airport shall charge 5 times the actual amount in the link above.
You can also ask your hotel to arrange a pick up but they shall charge you for a two way fare that will be double the cost of booking a cab online over here.
How To Get Around Ubud?
While all the activities you book in Ubud is inclusive of pick up and transportation, you can book a private car with driver over here.
There is a cheaper option of renting a scooter as well, but you need to be aware of the scooter scam explained here. Also, ensure that you have enough experience driving a scooter as Bali roads are infamous for bad traffic and the rains can make it risky too.
That brings us to the end of this blog post on spending 3 days in Ubud. Let us know in the comments if you have any other questions or any other suggestions that you think we missed in this article. Check out our other blogs on Bali here like our full 14 week Bali itinerary and our famous 3 day Nusa Penida itinerary to plan the perfect vacation in Bali!