Bali is one of the most sought after tropical tourist destinations in the world. It receives approximately 7 million visitors annually and the number keeps growing every year. Providing a range of activities for every type of traveler, there's never a dearth of things to do in Bali. We spent two weeks in Bali and tried covering every great experience that the island had to offer. Looking at our Instagram feed, a number of people asked us about our Bali itinerary and specific tips for visiting Bali; leading to the creation of this Blog post.
Also, check out the following blog posts to convert a good trip to Bali to an EPIC trip to Bali!
Bali Itinerary – How to Use This Blog Post?
We wanted to cover everything but details mean a long article and a long article means boredom. So we want you to treat this post as an index to other useful articles that you need to plan your trip to Bali.
Also, if you need a Bali Itinerary for 10 days only, like a lot of our recent readers, feel free to do just a day trip to Nusa Penida and remove a day from Nusa Dua and you shall have an equally amazing 10 day Bali itinerary
Certain aspects of the trip needed some extra explanation so feel free to open the links to the articles that interest you. Read on to get a comprehensive idea about our amazing two week Bali itinerary and let us know in the comments if we missed out on anything.
Pro Tip: If you book mark/pin/save this page, you'll have access to almost all of our articles that'll help you plan your first trip to Bali.
This article contains affiliate links. This means that we earn a small commission for purchases made through these links at no extra cost to you. Kindly read our full disclosure and privacy policy for more details.
Bali Itinerary Day 1-4: Seminyak/Kuta/Legian
We would recommend you to spend your first few days in the Seminyak/Kuta/Legian area of Bali as it is the closest area to the airport. It is also the perfect place to start your two weeks in Bali. Reaching Seminyak from the airport should not take more than 7-8 USD if you know how to avoid the scamming taxi drivers at the airport.
Seminyak is the party capital of Bali. The place is littered with the best cafes in Bali and is central to the Kuta region. Rent a motorbike for IDR 50K per day ( 1 USD=IDR 14K) and travel around to Kuta, Canggu, Legian and even Jimbaran or Ulluwatu! We would recommend you to rent a scooter rather than depending on a taxi as cabs are one of the most rampant tourist scams in Bali. Although, make sure that you know how to drive a scooter or practise a little before taking on the street traffic of Bali.
Things to be included in your Bali Itinerary for Seminyak:
a. Visit some of the most Instagrammable cafes in Bali:
 Seminyak has the most diverse food culture in all of Bali. From the best vegan/vegetarian cafes of Bali to cafes that make your Instagram feed the talk of the town, Seminyak has got it all! Check out our post on the Most Popular Cafes of Bali on Instagram here.
b. Practise or Learn Surfing
Whether you're a beginner or a pro, you have to try surfing in Bali. If you're a seasoned surfer, we recommend you to try the Canggu beaches in the North Kuta region as the waves are a lot more challenging there. Similarly for beginners, head to the Kuta or Legian beach. You can hire a professional instructor for USD 10 for two hours and spend the rest of the day practicing. The $10 fee includes surf board rental for the day, two hours of training and a couple of pictures.
Make sure you book through Airbnb experiences beforehand so that you don't end up paying exorbitantly for the services.
c. Experience the best sunsets in one of the happening beach clubs
Seminyak and central Kuta have some of the best beach clubs in Bali. The drinks are relatively cheap, the vibe is great and the sunsets will make you feel like there's no better place to be at!
d. Visit Tanah Lot Temple:
Pura Tanah Lot is an iconic Hindu Temple situated on a rock overlooking the sea on the western coast of Bali. It is one of the most photographed temples of Bali and is also a great place to witness a sunset. Hence, Grab a scooter and drive down to the temple from Seminyak. It takes hardly half an hour and the route is worth is equally beautiful.
e. Rent a luxurious Villa with a private pool for cheap:
The Seminyak/Kuta/Legian area has some of the most amazing villas plush with a private pool, a well-manicured garden and sometimes even a perfectly placed Jacuzzi. Villas like these might cost a thousand dollars in Europe. In Bali, you can rent them for a fraction of the price. You can book these though any of the booking websites including booking.com and Airbnb.
Bali Itinerary Day 4-6: Bedugul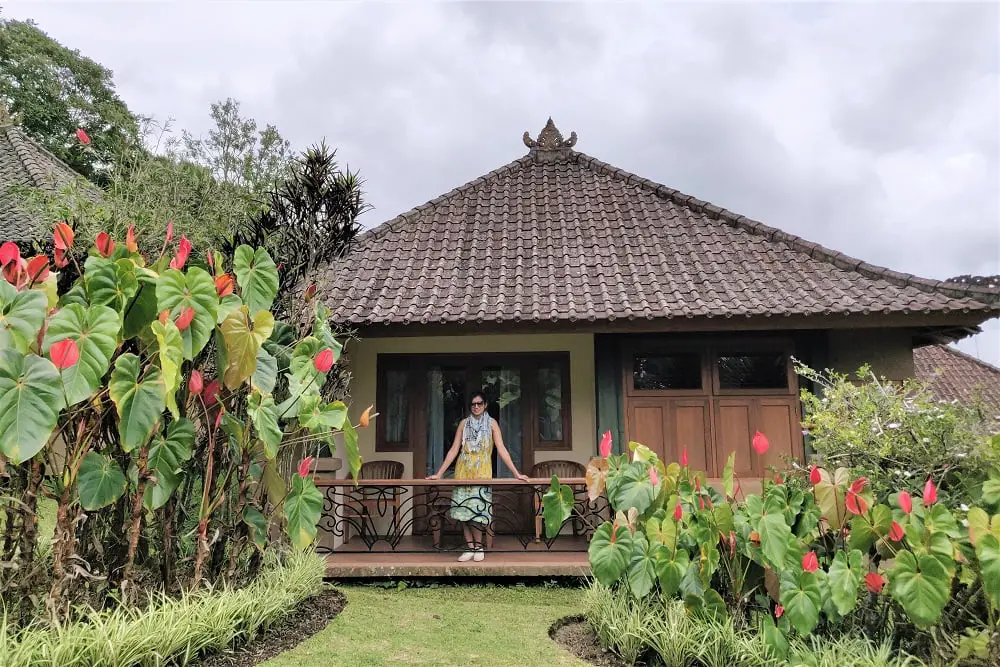 Bedugul is situated in north Bali and is often overlooked by most visitors. Situated in the hills, this place is home to the best waterfalls in Bali and closer to all the famous sites people plan to visit from Ubud!
Most travelers stay in Ubud, take a 1.5-hour drive to visit these sites and drive another 1.5 hours back to their hotel! Isn't that exhausting?
Hence, we instead stayed in Bedugul among strawberry fields and explored these must visit places:
a. Ulun Danu Beratan Temple
A beautiful temple built in the middle of a pristine lake. It does get a little too crowded because of its popularity but definitely an unmissable monument.
b. The famous Handara Gates
The iconic gates have become the post card of Bali in recent times. They're the gates of a golf resort and have become a rage on Instagram.
3. Wanagiri Hidden hills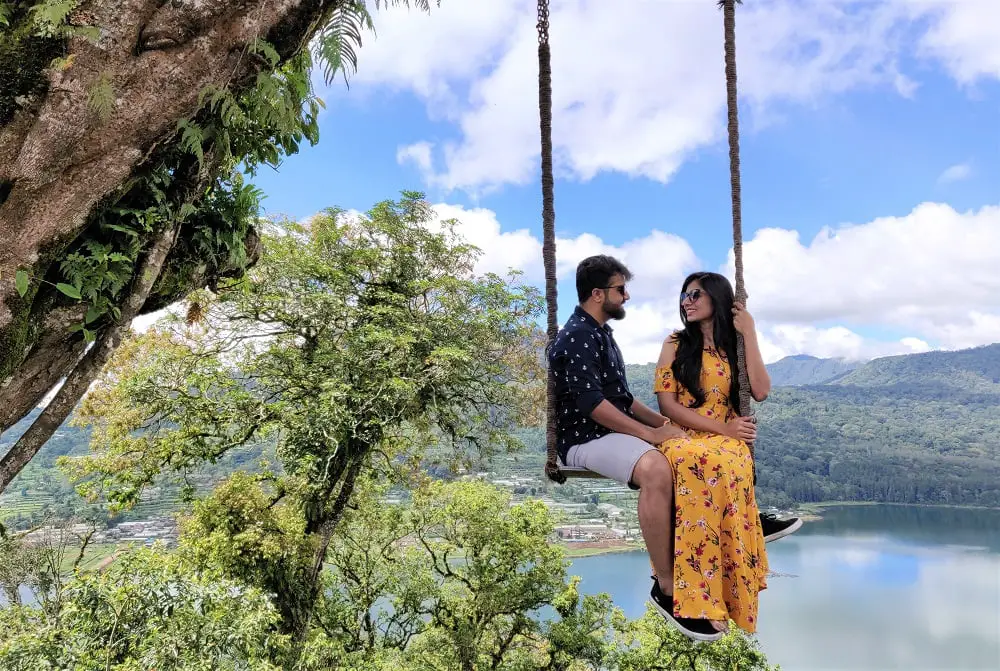 Some of the best photo spots in Bali are in these mountains that surround a beautiful lake. Come here to find some tranquility and some beautiful pictures!
4. Aling Aling Waterfall
If you had the time to visit just one waterfall in Bali, visit the Aling Aling Waterfall. It is one of the places where you can do cliff jumping in Bali and is surrounded by a couple of other waterfalls that make up for the long trip north.
Bali Itinerary Day 6-10: Ubud
If there's only one place you can visit in Bali, visit Ubud. With a plethora of beautiful waterfalls, innumerable temples and the best Spa treatments in all of Bali, it's not hard to see why Ubud is the best place on the island.
While we you can check out our detailed Ubud Itinerary for 3 days here, the following should be the highlights of your Ubud stay:
a. Visit the pristine temples
Due to its central location, Ubud is the best place to visit some Bali's most iconic temples. Goa gajah, Gunung Kawi, The Saraswati temple and Pura Tirta Empul are located in Ubud itself!
b. Trek the best waterfalls in Bali
Ubud is surrounded by the most picturesque waterfalls in not just Bali but probably all of South East Asia. Grab a motorbike, start your day early and make sure you pack your swimsuit. The motorbike parking for these waterfalls will be near the main road and then you'll have to trek a little to reach the waterfall itself. You can do it yourself but if you're not a big group or if you don't know how to ride a motorbike/scooter, it's better to get a guide who will also take care of your transportation.
c. Swing over the Tegallalang rice terraces
Swings in Bali have become so popular over the years that there are hundreds of them across the island. The most famous ones though are over the Tegallalang rice terraces. From IDR 50K for 20 minutes to IDR 500K for 10 minutes, you'll find a range of swings for that perfect Instagram shot.
We recommend The Bali Swing as they were the first ones who started this trend and they take great care of your safety. They also have a little park with indigenous settings like a nest, a couple's swing, a balcony overlooking the terraces and many more for that perfect picture.  
d. Experience the most authentic Balinese Spa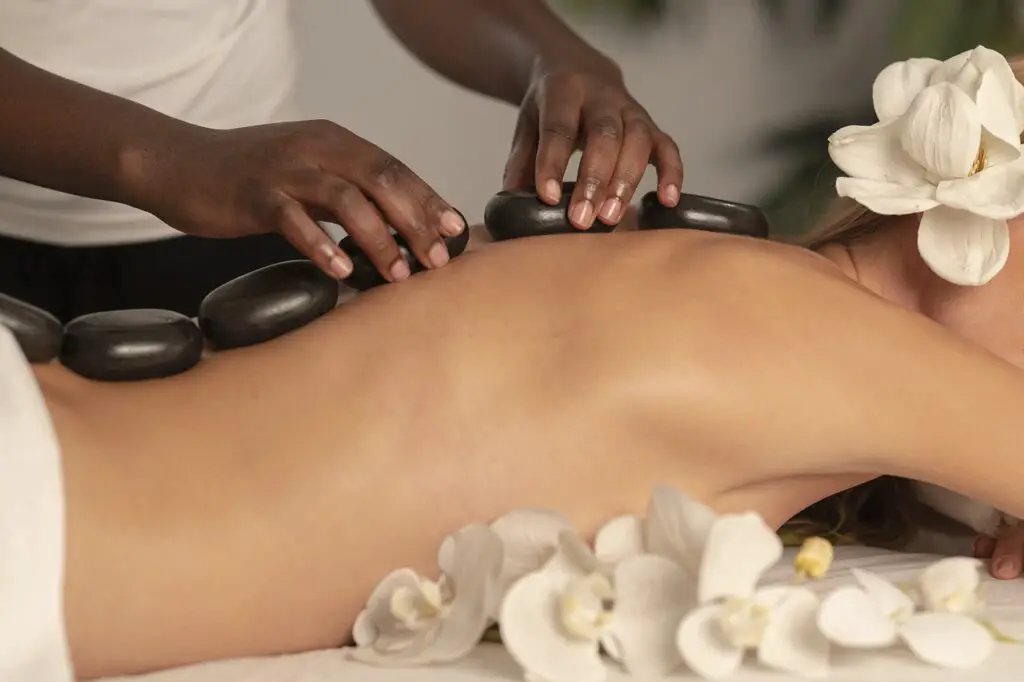 If you go for a Spa in Bali, make sure you get it in Ubud. Everywhere else in Bali, it'll either lack the authenticity or will cost a bomb. You can choose from a variety of treatments like traditional Balinese Massage, Hot Stone Massage, Coffee Spa, Flower baths, milk baths and a host of other prominent Ayurvedic Treatments. We went for 5 different treatments and the experience was out of this world!
This Spa treatment also includes a bath in the famous petal pool of Bali and a floating breakfast.
e. Visit the Monkey Forest
Also known as the Sacred Monkey Forest Sanctuary, it is inhabited by the Balinese Long Tailed Macaque. Over a thousand monkeys inhabit this area and roam around freely even in the presence of tourists.
Be careful around the monkeys as they have a knack for grabbing whatever is within reach including glasses, cell phones and cameras.
In addition to this, Ubud is also the best place to get some of the best Bali souvenirs. Click here to see what and where to buy them!
Bali Itinerary Day 10-12: Nusa Penida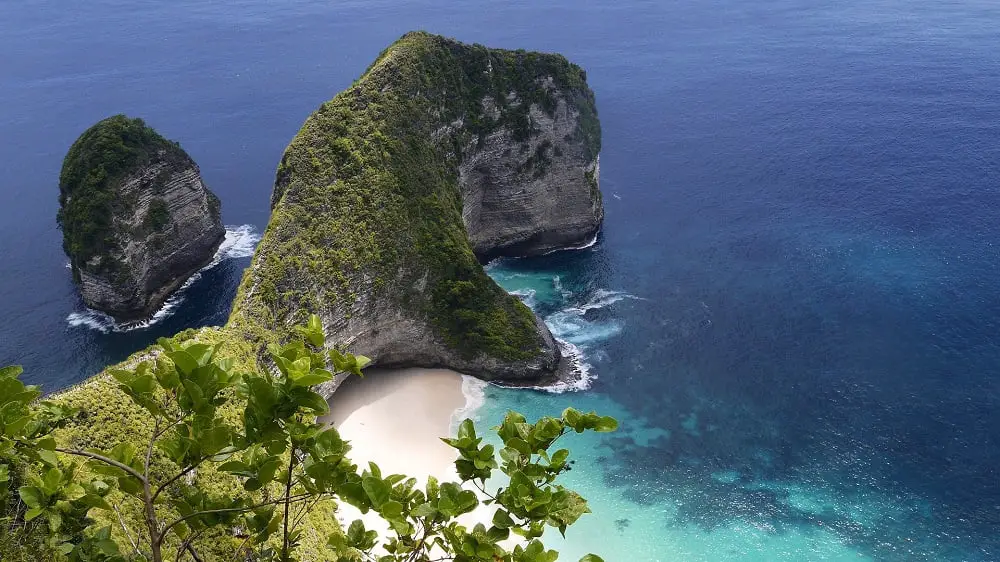 Nusa Penida, an island off the coast of Bali, is what Bali was 15 years ago. Take a break from the overtly crowded conventional Bali spots and catch a ferry to Nusa Penida to experience what Bali would look without over-commercialization.
With famous white sandy beaches, turquoise-blue waters and a marine life that is a fantasy of every scuba diver, it's easy to spend 3 days in this paradise. If you are in Bali for a short period of time, you may opt for a this highly rated Day trip to Nusa Penida like thousands of others.
Must do things in Nusa Penida:
a. Go beach hopping!
Penida is home to beautiful beaches that you have to trek down to reach and the destination is well worth the effort. Hop from Kelingking beach (shaped like a dinosaur) to Diamond beach to Broken beach for that epic Instagram post.
b. Visit a natural infinity pool – Angel's Billabong
On the way to Broken beach, visit Angel's Billabong, an infinity pool made by the waves and the mountains surrounding it. It is a good place to chill by the sea or you can even take a dip in the pool. Be careful around the edge and don't dive as the pool is not very deep.
c. Scuba Dive with Manta Rays
Nusa Penida is home to two great diving spots where you can swim with Manta Rays-the broad fish that, in Finding Nemo, carries Nemo and his friends to school. Some lucky divers also claim to have spotted the elusive Killer Whale in the Nusa Penida waters!
Since, Nusa Penida has not been bitten by the tourist bug yet, you might need these tips from our detailed 3 day Nusa Penida Itinerary for planning a trip to Nusa Penida.
Bali Itinerary Day 12-14: Nusa Dua
We chose Nusa Dua for the last few days of our Bali trip as it is full of Five star resorts lined up, one after the other and after constantly visiting all the places listed above, we just wanted to relax in luxury over the last few days of our trip.
Choose from a range of beach facing luxe resorts, relax on the resort's private beach, get a hot stone massage, swim in the infinty pool and sip a couple of cocktails while sitting in the lap of luxury.
That's what we did in Nusa Dua, however, if your wanderlust is not yet satiated, you can get a car or scooter and do the following:
a. Visit the Garuda Visnu Kenkana Park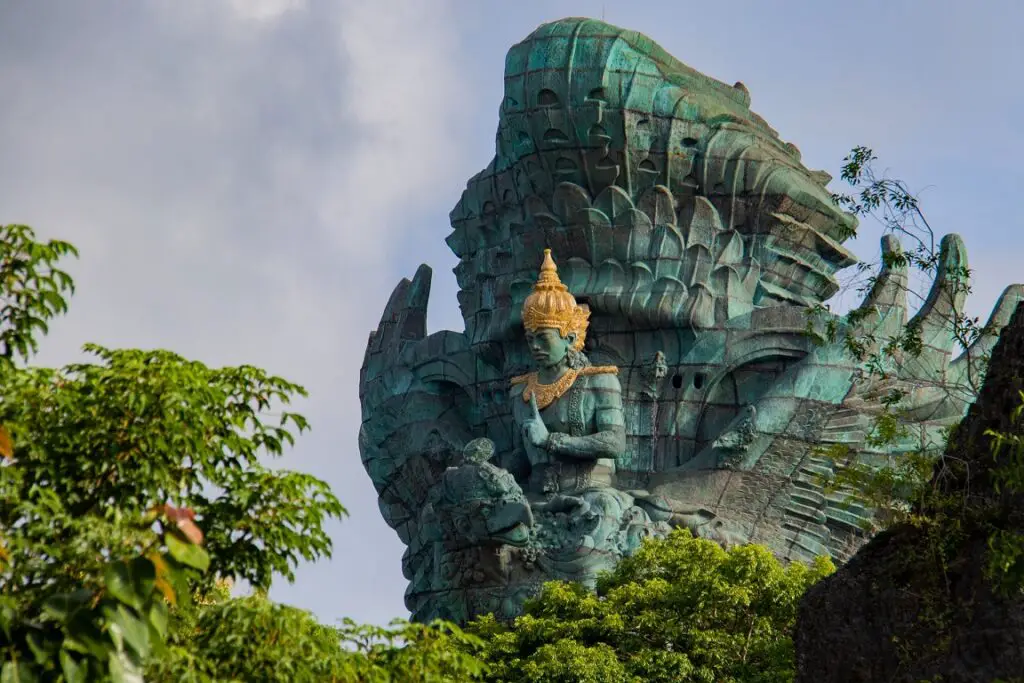 A 20-minute drive away from Nusa Dua, this park houses The Garuda Vishnu statue, a 121m tall statue that you probably noticed when you landed in Bali. The park has a couple of other sculptures of the beloved Hindu God and is a good place to spend an early morning or a late afternoon.
b. The Water Blow Look out, Nusa Dua
The water blow is a south eastern cliff where the rapid waves of the Indian ocean constantly crash against the limestone edges of the cliff. The lookout provides you a 240-degree view of the seascape and the waves provide a unique music to the entire scene.
c. Pandava Beach
This beach boasts of  a 1-km long coast, that is hidden behind lime stone cliffs. The cliffs were cut down to make winding roads to the beach, and the ocean facing side features beautiful arches along with statues, each portraying a hero-one of the five Pandavas, from the Hindu Epic the Mahabharata.
That brings us to the end of our two week Bali Itinerary. It's better to choose Nusa Dua for your last day as the airport is just a 20 minutes' drive away.
We hope that this post helps you in planning the perfect Bali Itinerary for your trip. If you have already visited Bali, what else did you include in your Bali itinerary? Did we miss out on anything? Let us know in the comments so that we can visit it in our next trip to Bali.