Bali is one of the most exotic locations on Earth. It has a diverse landscape that includes mountains, tropical rainforests, white sand beaches and a semi-active volcano! This also makes shopping in Bali a unique experience, often confusing travelers with what to buy in Bali.
We spent Two entire weeks in Bali and found the following list to be the unique offerings of the island that you can bring back as Bali souvenirs.
Also, check out the following blog posts to convert a good trip to Bali to an EPIC trip to Bali!
This article contains affiliate links. This means that we earn a small commission for purchases made through these links at no extra cost to you. Kindly read our full disclosure and privacy policy for more details.
What to Buy in Bali: Rattan Sling Bags
A rattan sling bag is the quintessential thing you have to get from Bali. Bali is the place where these bags are hand-made and shipped across the world.
Rattan is a tree native to the region and is harvested for making baskets and bags across Bali.
Be careful while shopping for these as there are a lot of fakes that sell machine made bags from plastics. These are produced in China and not Bali.
How to identify a fake Rattan bag? For starters, rattan is very difficult to be painted on. So if you see these bags in bright white or some other color, it's probably not rattan.
Also, the texture of the plastic bag is different from that of a Rattan bag.
Where to Buy the Rattan Bag?
The best place to buy a Rattan bag in Bali is at the Ubud Art market. The quality here is superior to the ones in Seminyak and there are lesser chances of getting a fake one.
Here you will also find other items made from Rattan like serving trays, jewelry boxes, etc.
What to Buy in Bali: Ikat and Batik Fabric
Ikat and Batik are centuries old traditional tie die techniques that are now replicated throughout South East Asia.
While, Batik is a resist dying method used on the cloth, in Ikat the resist is applied to the yarn before the cloth is woven.
You shall find lots of hand woven Ikat and Batik fabrics in boutiques across Bali. We request you to go to a boutique or directly a handloom facility and not fall for street side vendors.
This material is a bit too precious and respected to be sold on the streets. You can buy bedsheets, pillow cases, tops, pants and Balinese dresses in Ikat or Batik.
Where to buy Ikat or Batik in Bali?
You can buy these gems from boutiques in Ubud or bigger towns like Denpasar, Sanur or Sukawati. Buy this fabric from a boutique and they shall explain to you how it was made and also stitch it according to your size.
What to Buy in Bali: Bali Sambal
Bali is known for its amazing South East Asian cuisine with a certain Indian influence. Well, the Bali Sambal is the influence we are talking about.
Sambal is a paste (or a chutney) or red and green chilis that may or may not have other ingredients like garlic, ginger, shallots, mustard, cumin, etc. for enhanced flavor.
Sambal is generally served with every meal in Bali as an add on. While you can definitely recreate your own Sambal at home, the ingredients are a little difficult to come by outside of SE Asia.
We suggest you to take a bottle of your favorite Sambal home to add that extra bite of flavor to all your meals.
While we love the green sambal, the red sambal is a major hit among all other tourists.
Where to buy the Bali Sambal?
You can buy sambal at any departmental store in Bali. The brand which we liked the mast is called Asli. Ensure that you buy the regular sambal and not the hot sambal as it is a bit too hot for the western palate.
What to Buy in Bali: Balinese Wood Carvings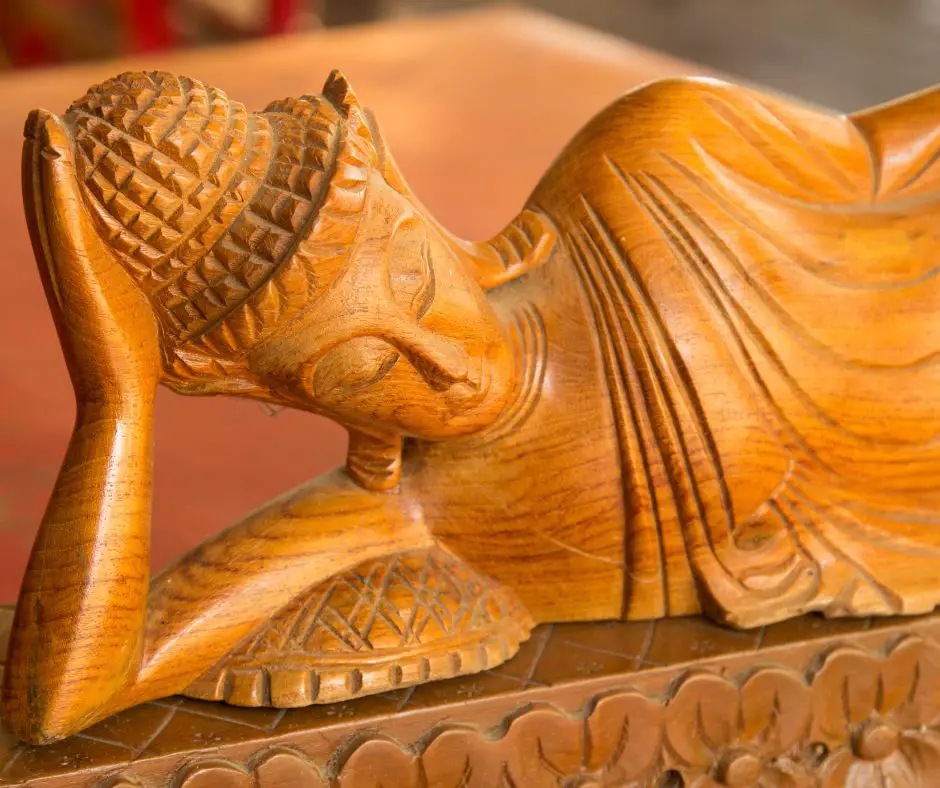 If you follow our popular 3 Day Ubud itinerary and visit the Pura tirtha ganga temple, you shall see the road lined with beautiful (and quite huge) wooden carvings! You shall find wooden Buddhas, horses, Hindu gods, animals, artifacts and even 7 foot cellos!
These wooden beauties are works of art created by artisans who have been practicing this craft for generations! What's more, they're termite free and can be shipped to any corner of the world!
They shall be an amazing piece of décor in your home and the perfect Bali souvenir from this tropical island!
Where to buy Balinese Wooden Carvings?
There are a number of showrooms on the road to Sukavati from Ubud. You can explore all the showrooms for the perfect installation according to your need and taste. Ensure that if you select a bigger piece, they ship it to your country.
What to Buy in Bali: Barong Masks
A wooden carving that you can actually carry in your luggage, is a Barong mask. Balinese Barong masks are a great piece of art and can be available in large number of shapes, sizes and colors.
These can be wooden as well as ceramic but we recommend getting a wooden one so that they're easier to handle and don't get damaged in transit.
In Balinese culture, these masks are said to ward off evil and they shall also make a good conversation starter with your guests about your exotic trip to Bali!
Where to buy Barong masks in Bali?
The best place to buy these masks is in the Ubud art market where you shall be spoilt for choices and the prices shall be a fraction of the ones available in other street side stores.
What to Buy in Bali: Spa Accessories
Bali is the spa capital of the world! So, naturally, spa accessories are no doubt of the best things to buy in Bali and take home with you.
We are talking about essential oils, scented candles, pastel hand towels, wooden oil dispensers, artistic incense burners and specialty body scrubs.
If you experience a spa in Bali (especially this one), it'll be a terrific idea to share the experience with your friends and family back home by getting this perfect Bali souvenir.
Where to Buy Spa Accessories in Bali?
You can buy Essential oils and soaps from Blue stone Botanicals, bath salts from Kou Bali, teas and scrubs from Utama spice and wooden dispensers from the Ubud Art market. All the shops above are located in Ubud, Bali.
What to Buy in Bali: Wooden Homeware and Utensils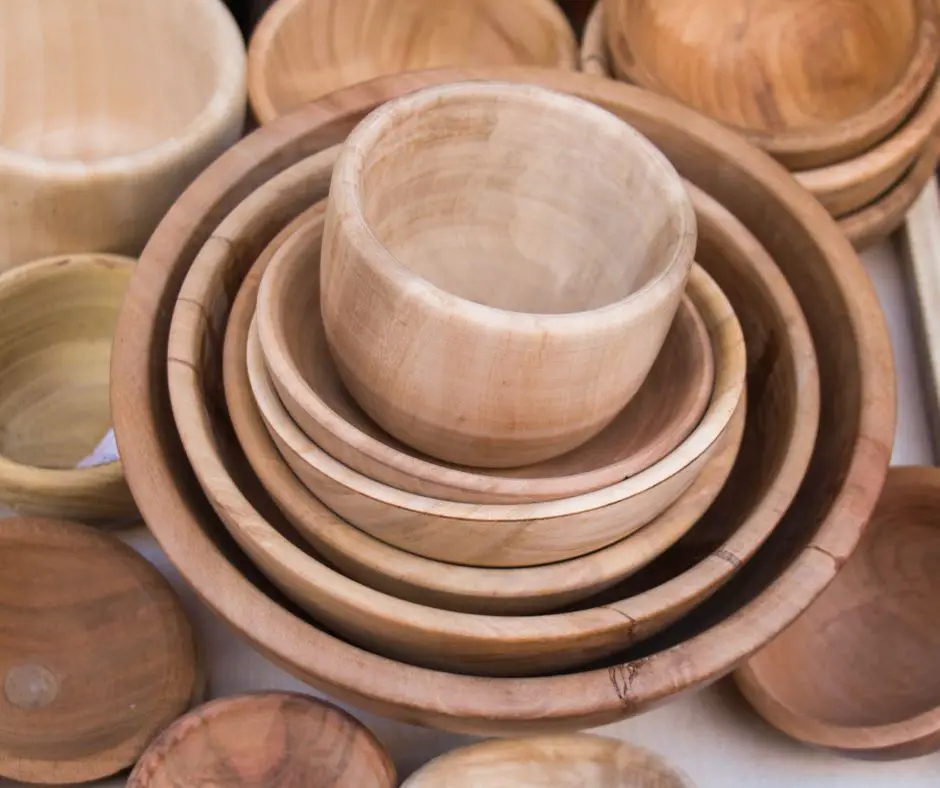 The most practical, eye-catching and recommended Bali souvenirs you should get are wooden homeware products and utensils.
You can find wooden bowls, Tiki glasses, bamboo straws, salt and pepper shakers, platter trays, dipping plates and many more of these for your home.
Look for designs that are yet to be polished if you have a specific theme in your home. For example, every wooden object in our home is in walnut finish, hence, we got the unpolished products from Bali.
Once we were home, we got them polished in walnut to match the rest of our home!
Where to buy Wooden homeware and utensils in Bali?
The Ubud art market has the maximum variety of wooden bowls, spoons and platter plates. It is also the most accessible market in case you are visiting Ubud.
However, if you go a little east to the Sukawati art market, you will find much better deals as majority of the wood workshops are located nearby!
What to Buy in Bali: Kopi Luwak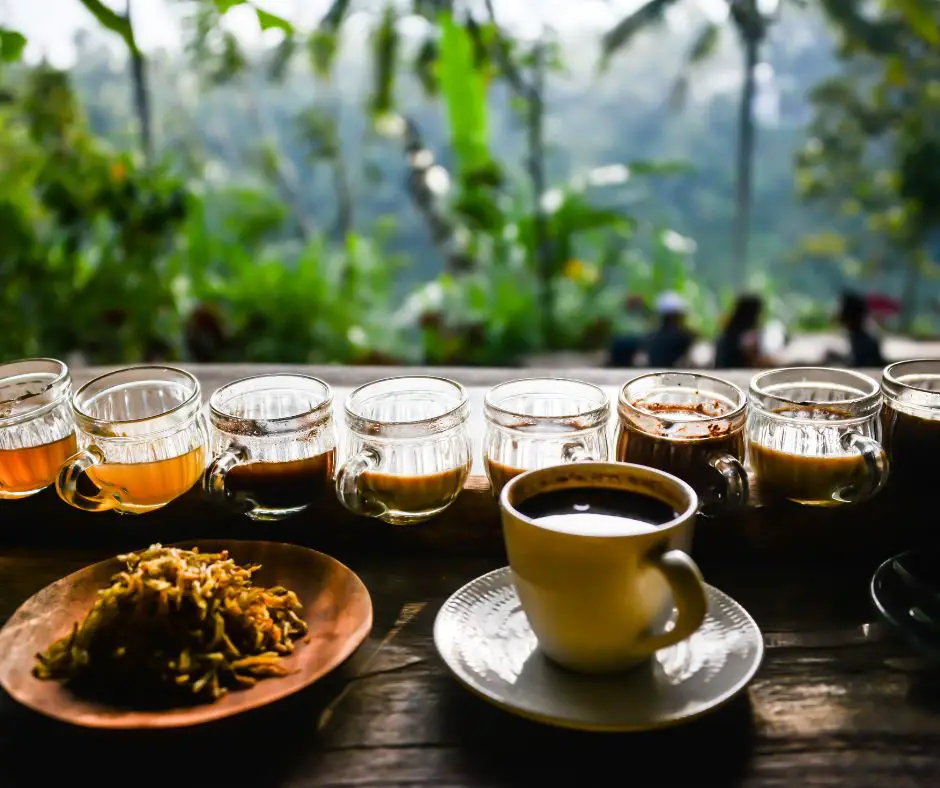 Kopi Luwak or Civet coffee is the most expensive coffee in the world. It is created from the coffee beans that are consumed by the civet cat. The undigested coffee beans are collected, cleaned and roasted for maximum flavor and aroma.
Bali is the best place to buy Kopi Luwak as the area produces some of the best coffee in the world and the wild civet cat is native of Bali. Plus, the low cost of production really brings down the price of this most adored coffee.
Where to buy Kopi Luwak in Bali?
There are a number of Kopi Luwak plantations in the Gianyar province where Ubud is located. You can book a tour of the coffee plantation, understand the process, sample some beautiful coffee and buy some for taking back home.
Ensure that you book your tour with a trusted agency as cheap, fake tours are one of the popular Bali scams you should be aware of. This Jungle trampoline, swing and Luwak tour is highly recommended.
What to Buy in Bali: Furniture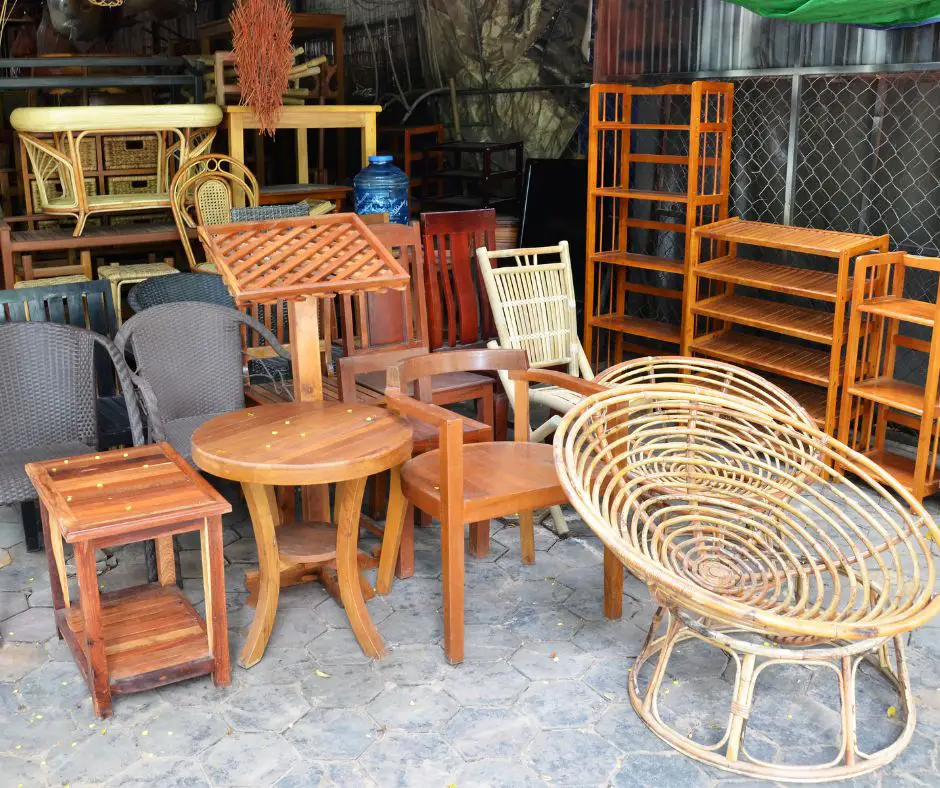 In our popular two-week itinerary of Bali, we have recommended visiting the Sukawati market for traditional wooden souvenirs. On the way to the Sukawati market, you shall notice a number of wood workshops with beautiful patio furniture on display.
Enter one of these workshops and you shall be introduced to a whole new world of beautiful Balinese furniture that stylish, sturdy and might cost a bomb in the U.S.
The intricate designs, the carvings and the detailed craftmanship are unmatched and hard to come by.
A lot of these workshops will have offices in the front where you can negotiate the price and discuss logistics. These shops will take care of the delivering the furniture to your home.
Where to buy furniture in Bali?
The best place to get furniture in Bali is from the wood workshops on the way to Sukawati Art Market. You can select the designs from the albums or sit with the master craftsman and discuss your requirement.
The front office shall take care of the commercial and logistical part of shipping the furniture to your home in your native country.
What to Buy in Bali: Pie Susu
Pie Susu is the most loved and iconic dessert in Bali. Susu in Balinese means milk. This is essentially just a milk pie but what sets it apart is the freshness, the lightness and the decadence of the ones available in Bali.
Where to buy Pie Suu in Bali?
The best and the most recommended place to buy Pie Susu in Bali is at Pie Susu Asli Enaak. These guys have been around since 1989 and have the creamiest milk pies wrapped in homemade pastry dough and baked to perfection.
They don't add any preservatives, which is why these pies are made fresh everyday in small batches and often run out. We advise you to pre-book them for the last day of your trip so that you can take them for your friends and family back home.
What to Buy in Bali: Preserves and Nut Butters
Bali is one of the most Vegan friendly countries we've travelled to. On top of that, the region produces a ton of oats, almonds, soya bean and coconut!
So naturally, it has the best variety of dairy substitutes like almond butter, cashew butter and bean curds!
Also, northern Bali is famous for berry and fruit plantations. As a result of which, you can readily find the freshest fruit preserves like strawberry jams and orange marmalades.
These were one of our most relished Bali souvenirs.
Where to buy Fruit Preserves and Nut Butters in Bali?
Our absolutely favorite and go-to place for nut butters is this little bakery and specialty store in Ubud called Bali Buddha. The place is a vegan's paradise and has everything you could ask for.
The bakery is also pretty good, serving fresh bread and pastries to go with the butters and jams.
We hope we have given you enough inspiration to buy some creative Bali souvenirs and a good insight into what to buy from Bali. We hope this makes your experience of shopping in Bali a lot more fruitful than just getting a fridge magnet. Which one is your favorite? Let us know in the comments below!