A trip from Bangalore to Coorg is the most popular weekend getaway among Bangalorites. However, while planning our trip, we couldn't find a definitive guide about the things to do in Coorg. Hence, just like our Mcleodganj Itinerary, we have created this post, to answer all your questions in order to plan a 3-day Coorg itinerary.
If you enjoy bite sized travel guides instead of long posts, follow our Instagram feed. We regularly post travel content there in the form of reels like the one below!
This article contains affiliate links. This means that we earn a small commission for purchases made through these links at no extra cost to you. Kindly read our full disclosure and privacy policy for more details.
Best way to travel from Bangalore to Coorg?
The most efficient and affordable way to travel from Bangalore to Coorg is by an overnight sleeper bus. The journey takes roughly 6 hours. That way you not only save money but also time by using your sleeping hours for reaching your destination.
However, if you have trouble sleeping in a moving vehicle or enjoy the road, you can hire a car or a cab as per your preference. It'll take the same 6 hours to reach Coorg from Bangalore but you'll also be spending a big part of your day just to reach your destination.
The nearest domestic airport to Coorg is Mysore which around 3-4 hours away. However, the flight frequency is low and it'll be a lot more economical to fly to Bangalore and take a cab from there.
Are 3 days enough for Coorg?
We believe 3 days is more than enough to cover all the sights in Coorg without feeling rushed. You can visit all the sights in Coorg in 2 days as well; but then you will not have time for leisure which is quintessential to absorb the essence and flavor of Coorg.
Best time to visit Coorg?
The best time to visit Coorg is through the months of September to March. Our favourite month to visit Coorg is September as the entire landscape of Coorg is lush green because of the heavy rainfall in the months of July and August.
That said, if you wish to cover a lot of sights mentioned in this Coorg itinerary, you should avoid the months of July and August. Coorg receives heavy rainfall during this period and it'll be pretty difficult to follow this 3-day itinerary during this time.
However, if you are visiting Coorg just to relax and rejuvenate, Coorg is magical during these months. You can live on a coffee plantation, sip some of the best coffee in India, read a book and enjoy a relaxing spa, all while looking at the rain outside, transforming Coorg's landscape.
Things to Do in Coorg : Itinerary Day 1
Day 1 of your 3 day Coorg itinerary shall be spent in Madikeri and shall entail the following activities:
Arrival in Coorg and Check In
Marvel at the Majestic Abbey Falls
Coffee Plantation Tour
Enjoy the views at Raja's Seat
Visit Madikeri Fort
Arrival and check in
As stated above, reach Coorg by an overnight sleeper bus. You can pre-book a taxi with your hotel if it is located far away or catch an autorickshaw/tuk-tuk from the bus stand. There are no Uber or Ola services in Coorg. So be prepared to haggle as the taxis at the bus stand tend to overcharge.
For the sake of this itinerary, it is best to book a cab for three days or if you're a self-initiator, rent a scooter or car. You can check the cost of renting a car on popular websites like Zoomcar and scooters are available for rent at a rate Rs. 500 per day.
Book your hotel or homestay in the Madikeri area to be central to all the locations in this itinerary. Check in to your hotel, freshen up and set out for our first location of the day.
Things to Do in Coorg : Visit the Majestic Abbey Falls
Abbey falls is one of the most picturesque locations in all of Coorg. With water falling from a height of 70 feet, it is a sight to behold. It is also one of the wider waterfalls that you'll see in the area that gives a milky white appearance to the visitors. The entrance fee is merely Rs.15 and it involves light trekking on paved steps leading to this natural megalomania.
Visit the Abbey falls as early as possible to avoid crowds and to enjoy the serenity of the waterfall the in all its glory.
Things to Do in Coorg : Coffee Plantation Tour
Book a scenic coffee plantation tour and understand the entire lifecycle of coffee from bean to cup! Your guide shall take you on a trail and explain all the different types of coffee and spices that grow in his sprawling estate. Along with coffee you shall see cardamom, green pepper, vanilla bean, fig trees, passionfruit and sweet lime trees in the estate.
We recommend this highly rated coffee plantation tour for this ultimate experience, accompanied by fresh aroma, nature trails and a fluent guide!
Things to Do in Coorg : Madikeri Fort
Built in the early 17th by king Mudduraj, the Madikeri fort is a peak into history of various dynasties that ruled the region. A unique thing about this fort is that it houses a temple, a church, a prison and museum! Different rulers have used and refurbished the fort for their purpose, making it an intriguing amalgamation of cultures.
The fort is located between lush greenery and rolling hills, making the journey to the fort as beautiful as the destination. Currently, the office of deputy commissioner of Madikeri is located within the fort premises. You can book a heritage tour of Coorg like this one to visit the Madikeri fort.
Things to Do in Coorg : Electric Bike tour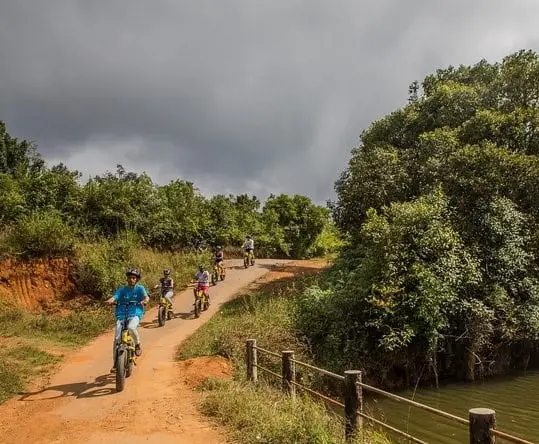 One of our favourite activities to do in Coorg was this electric bike tour. The tour lasts for 3 hours and takes you through the coffee and tea estates. You shall join a small group, make new friends and enjoy a leisurely ride through backwaters, sunrise points and spice plantations.
Age and fitness shall not be an issue for this activity as the electric bike will make it a lot easier to traverse the beautiful Coorg landscape. You shall be provided safety gears, refreshments and the services of a trained tour captain. This is a must do activity in Coorg.
Things to Do in Coorg : Visit Raja's Seat
Perched at an elevation of 1525 metres, Raja's seat is the best place to witness the famous Coorg Sunset. The place is called Raja's seat because the king of Coorg use to spend hours here enjoying the beautiful vistas from the mountaintop.
Today, there is a sprawling garden here complete with animal sculptures and a viewing deck with beautiful benches lined across the paved cliff. A very nominal entrance fee of Rs. 10 is charged at the entrance.
Things to Do in Coorg : Itinerary Day 2
On Day 2 of our 3-day Coorg itinerary, we head over to the scenic area of Kushalnagar. It shall entail the following activities:
The Bamboo Forest of Nisargdham
Dubare Elephant Camp
River Rafting
Tibetan Monastery
Shopping
Things to Do in Coorg : Nisargadhama Forest
Have you ever seen a picture of the Arashiyama Bamboo forest in Kyoto, Japan? Well, Nisargadham is something similar to that. While the bamboo trees aren't as tall, the forest is pretty dense and makes for a good picnic spot.
Nisargadhama is infact an island in the Kaveri river and is connected to the mainland by a suspended bridge. The forest also has a flock of deer roaming around on the other side of fence and sculptures that depict the life of the tribals who used to live nearby. Definitely one of the unique things to do in Coorg.
Things to Do in Coorg : Dubare elephant camp
The Dubare Elephant camp is a fun activity, esp. if you're visiting with kids. You shall be taken to the camp on the other side of the river by a ferry.
Here, you can witness the elephants as they play, eat and bathe!
A lot of these elephants have been brought to the camp for treatment of diseases or are rescued from poachers. The nominal entrance fee of Rs. 80 goes towards the maintenance and upkeep of the camp.
The camp is open from 9:30 AM to 1 PM in the morning and from 4 PM to 6 PM in the evening so plan accordingly.
Things to Do in Coorg : Kaveri River Rafting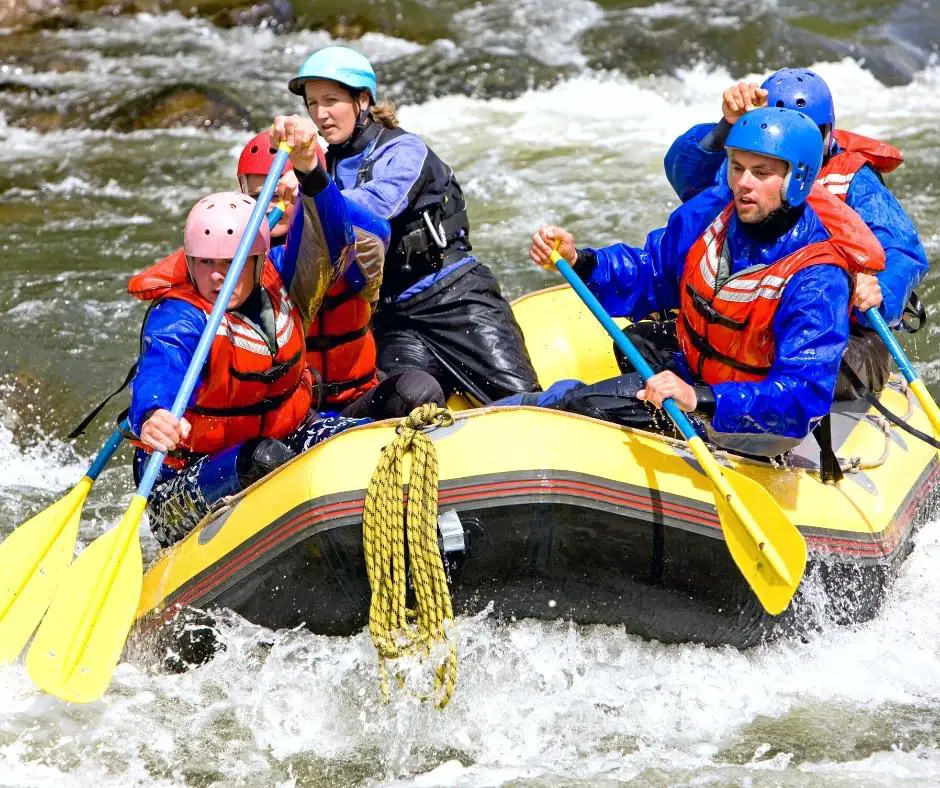 Right next to the ferry pick up point, you will see people gearing up for a river rafting experience on the Kaveri river.
This is a government run river rafting program to promote adventure tourism costs as little as Rs. 600.
However, Kaveri is a relatively calm river and you shall not encounter any major rapids. River rafting here is not as adventurous as the one in Rishikesh, but it is pretty exciting.
Things to Do in Coorg : Visit Namdroling Nyingmapa Monastery
After visiting beautiful monasteries in Himachal Pradesh and Ladakh, we weren't very excited when our driver told us to visit Namdroling Monastery.
Once inside, we knew that it was nothing short of spectacular!
The monastery walls are beautifully adorned with intricate murals and the temple tower is an exquisite example of Tibetan architecture.
But the biggest spectacle is the set of three 40-feet high golden statues of Tibetan gods – Guru
Padmasambhava, Buddha Sakyamuni and Amityaus. This is probably why; this Monastery in Coorg is also referred to as the Golden Temple.
The peace and tranquillity emanating from the temples are amplified by the well-manicured gardens surrounding it.
Shopping in Coorg
Coorg is a beautiful, tropical rain-forest famous a lot of agri-based and forest-based products. Coffee, spices and home-made wines are some of the best Coorg souvenirs you can take back home. WE have created a whole different blog post on what special items to buy from Coorg as souvenirs for your home and your friends and family.
Things to Do in Coorg : Itinerary Day 3
The last day of your 3-day Coorg itinerary involves a visit to the southern part of Coorg. We recommend booking a cab so that you can sit back and enjoy this scenic journey. Also, today's attractions are located pretty far away and you shall be exhausted by the end of the day.
You shall be visiting the following places on Day 3 of your Coorg itinerary:
Iruppu Falls
Brahmagiri Peak
Safari in Nagarhole national Park
Things to Do in Coorg : Iruppu falls in Coorg
Located in the middle of Brahmagiri forest reserve, Iruppu falls in another great gem of a waterfall in Coorg. The waterfall has three layers and is quite a steep hike. The higher you hike, the better the rewards.
You shall need to pay an entrance fee of Rs. 50 to enter the Brahmagiri forest reserve (Rs. 25) and the Waterfall (Rs. 25). The initial path up to 40% are concrete steps while the rest is a combination of moss-covered rocks, an unpaved mud path and vegetation. There is provision for bathing in the waterfall on the thierd tier of the waterfall.
There is not restaurant around the waterfall as it is in the middle of the Brahmagiri National Park. So, pack a picnic basket or some snacks and water to keep you full till you reach a decent restaurant.
Things to Do in Coorg : Safari in Nagarahole National Park
Nagarahole National Park, also known as Rajiv Gandhi National Park, is a dense tropical forest that comes under Project Tiger and Project Elephant. So naturally, there are high chances (but no guarantees) of spotting an Asiatic Elephant and a Bengal Tiger in these forests.
The Nagarahole National Park safari also gives you a chance to spot Leopards, Wild dogs, Bears, Sambar deer, spotted deer, antelope and many other species of birds.
Nagarahole Safari timings are from 6 AM to 9 AM in the morning and  3 PM to 6 PM in the evening in two 1.5 hour slots. Since you won't be able to make the morning safari, it's advisable to book the evening safari in advance. Individual safari cost for Nagarhole National Park is Rs. 250 per person for Indians and Rs. 500 for non-Indians. For more details for advance booking of the safari visit the official Nagarhole National Park site here.
After your safari, return to your hotel, collect your luggage and catch your over night sleeper bus from Coorg to Bangalore.
This brings us to the end of our 3-day Coorg itinerary for a weekend Coorg getaway from Bangalore.  As promised, it covers everything from sight-seeing to adventure to leisure. If you wish to convert this to a Coorg itinerary for two days, you can do only the first two days in the above itinerary. Did we miss out on anything? Let us know in the comments!