Mcleodganj is a quaint little town nestled in the Himalayas just 5 kms above Dharamshala. It is often overlooked due to more popular hill stations like Shimla, Manali and Dalhousie but it offers just as much, if not more. Hence after, the success of our Dubai Itinerary and our famous Ladakh bike trip itinerary, we have created this Mcleodganj Itinerary for everyone seeking to explore this little town, highly influenced by Tibetan culture.
If you enjoy bite sized travel guides instead of long posts, follow our Instagram feed. We regularly post travel content there in the form of reels like the one below!
This article contains affiliate links. This means that we earn a small commission for purchases made through these links at no extra cost to you. Kindly read our full disclosure and privacy policy for more details.
Before starting with our itinerary, we shall be answering a few important FAQs about the region:
How Many Days are enough for Mcleodganj?
3 full days are enough to see all the sights in and around Mcleodganj and Dharamshala. But in our experience, it's better to experience any Himalayan town at a slow, leisurely pace in about 5 days.
However, if you don't have a lot of time, it's best to book a sight-seeing tour like this one to see almost all the sights in a single day! The tour includes a private vehicle with a driver who shall also be your guide during the trip.
What is the best time to visit Mcleodganj?
Spring and Summer months from March to June constitute the best time to visit Mcleodganj. The temperature is cozy and perfect to escape the heat of rest of India.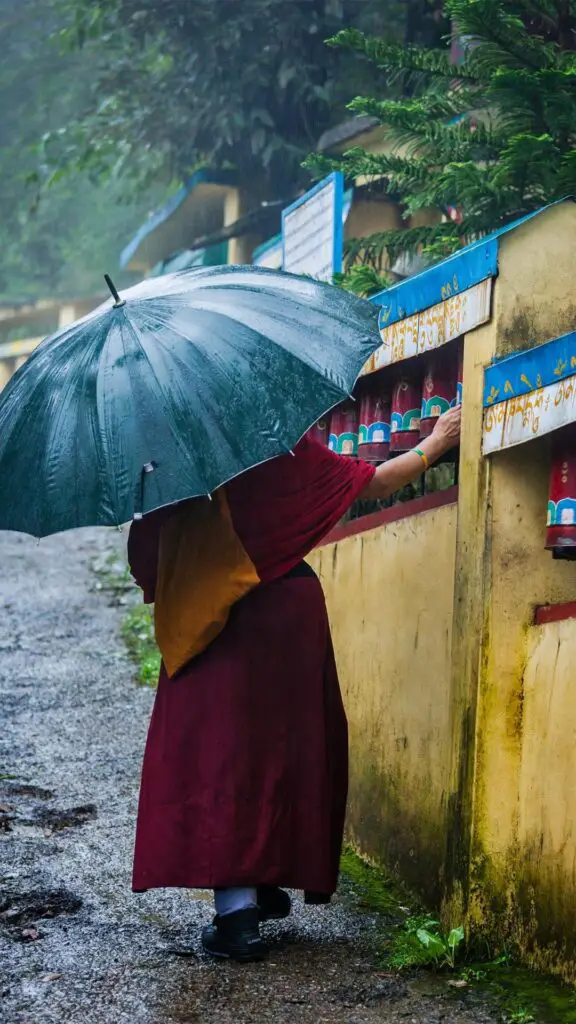 December to February are the coldest months and are a favorite among honeymooners to experience snow and some romantic weather.
The monsoon season from July to October is the low as the treks are closed due to landslides. The Himalayan rainfall is beautiful to witness but doesn't allow for a lot of sight-seeing.
How To Reach Mcleodganj?
The closest metro city to Mcleodganj is Delhi. We shall be breaking the Journey from Delhi to Mcleodganj in two parts – Delhi to Dharamshala and Dharamshala to Mcleodganj.
How To Reach Dharamshala from Delhi?
The best and cheapest way to reach Dharamshala from Delhi is by an overnight bus. Lots of companies including the government run HRTC offers very comfortable buses that leave Delhi at night and reach Dharamshala by 7 AM the next day.
If you don't like traveling in buses or are in a hurry, there are direct flights available from Delhi to Dharamshala. However, due to low traffic, these often get cancelled or are super expensive. Also, in this case, you will also have to pre-book a pick-up taxi like this one as the airport is pretty far away from the city and the taxi drivers at the airports charge exorbitantly.
How To Reach Mcleodganj From Dharamshala?
If you're reach Dharamshala by air, hiring a taxi is the only option for you as stated above.
If you're reaching Dharamshala by bus, you need to get down at the last stop i.e. Maan Filling Station – a BP Petrol Pump near the Dharamshala Bus Stand.
As soon as you de-board the bus, a lot of taxi drivers shall hound you quoting exorbitant prices to take you to your final destination. Ignore them.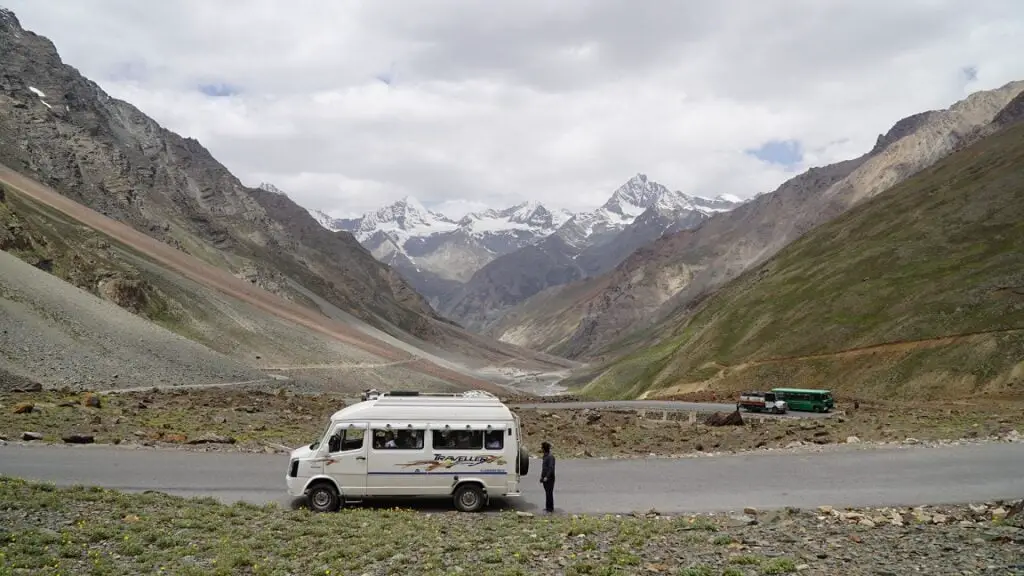 Instead, walk a little ahead towards the bus stand, you will have a lot of options to choose from.
Private Buses: These buses run almost every half an hour and pretty convenient to reach Mcleodganj. This is how the locals travel and is the cheapest way ~Rs. 20 one way.
Shared Cabs: These are jeeps that will take as many travelers as they can fit. They're faster than the bus but cost a 50% more. It's a good option if you're in a group.
How To Travel Around Mcleodganj?
The best way to travel around Mcleodganj is by renting a scooter. It is efficient, saves time and perfect to travel within and beyond Mcleodganj. If you are fit and have a lot of time on your hand, a cheaper option would be to hike everywhere. Cars are not recommended in the narrow lanes or Mcleodganj.
Now that we have the basics covered, let's dive into our itinerary.
Day 1 of Mcleodganj Itinerary
Your first day in Mcleodganj shall entail reaching and checking into your hotel/hostel.
We recommend reaching Mcleodganj in the morning via any of the aforementioned modes to have the most efficient itinerary. If you are reaching Mcleodganj in the evening or later, consider the next as Day 1 of this Itinerary.
Also, to make the most of this itinerary, we advise you to stay in Mcleodganj instead of Dharamkot or Bhagsu. That way you shall be central to all the locations covered in this itinerary.
Visit Tsuglagkhang Complex and Namgyal Monastery
After checking in, freshen up and head to Tsuglagkhang complex, the home of the Dalai Lama. This complex is holy pilgrimage for all Tibetans as it showcases their life and culture, the sacrifices made by them and their ancestors in their struggle for existence.
You can also pair your visit to the Tsuglagkhang complex with the Namgyal Monastery and the Tibet Museum as they are located next to each other.
Namgyal Monastery is distinguished as the largest Tibetan monastery outside of Tibet. More than 200 monks reside here, spending their time in prayer and meditation.
After visiting the complex, you can go for little hike on a forest trail that goes around the complex. The trail is beautifully lined with prayer flags and prayer wheels giving it a touch of spirituality.
Visit Naddi View Point and Kareri Dal Lake
After your dose of spirituality in the Namgyal Monastery, have a late lunch at one of the many amazing restaurants surrounding the monastery or in the main square.
Post lunch, head to Dal lake – a beautiful lake surrounded by Deodar trees and an equally beautiful trail to walk around and admire all this beauty.
You can also rent a paddle boat and go boating in the lake. This Dal lake is not as big or picturesque as the one in Srinagar, but it does have its own charm of being a serene lake on top of a mountain.
After Dal lake, grab your scooter and head further up visit Naddi Point to witness your first beautiful sunset of Mcleodganj and some amazing golden hour shots.
Day 2 of Mcleodganj Itinerary
The second day of your itinerary shall involve the triund trek, visiting the sites on the way and overnight camping. We advise you to book your Triund Trek in advance over here to avoid any last minute issues.
If you are an experienced climber or is someone who doesn't shy away from a challenge, you can also book an even more challenging but extremely rewarding, Laka Glacier Trek here. The Laka Glacier is one of the most sought after Treks to experience snow and a proper hiking challenge among trekkers.
Visit the following places on your Second Day:
Bhagsunag Temple and Bhagsunag Waterfall
Triund trek starts from Bhagsu, a little village about 3 kms from Mcleodganj.
Visit the Bhagsunag temple, one of the oldest temples in the region next to the surprisingly well maintained public swimming pool of Bhagsu.
Head further on the paved pathway, ignoring the salesmen of the many shops selling everything from winter wear to hiking gear, on the stairs leading to Bhagsunag Waterfall.
The waterfall is not deep enough to swim in, but is one of the most popular places to chill among trekkers. Grab a cup of tea, soak your feet in the water and enjoy the sound of crystal-clear, flowing water. If you're lucky like us, you might also find a group of musicians jamming by the waterfall!
Trek To Shiva Café
The next stop on our way to Triund is Shiva Café – the most popular café amongst backpackers.
The trek to the café from Bhagsunag Waterfall is fairly easy and is a small part of the trail to Triund top, our final destination for the day.
 The café is a favorite amongst trekkers and hipsters because of its laidback vibe, Bob Marley Paintings, outdoor seating overlooking the valley and murals of Lord Shiva and other Hindu gods on the outer walls.
The location of the café makes it the perfect spot for lunch as it is located at the halfway mark of the Triund Trek.
Mcleodganj to Triund Trekking And Overnight Camping
After Shiva Café, the trek becomes a little steep and that's when this hike starts getting a little serious.
Moderate levels of fitness are required to do the Triund trek. Beginners with any health ailments are best advised to consult their doctor before attempting the hike.
You shall reach your campsite by late after/ early evening. Set up camp and enjoy the golden sunset followed by bonfires and dinner.
Day 3 of Mcleodganj Itinerary
The third day doesn't involve any specific sites. After breakfast, enjoy the trek down from Triund top and take in the sites one the way!
Once you reach Mcleodganj by lunch time, have a hearty lunch in one of the many amazing restaurants in Mcleodganj.
Go shopping on Jogibara Road or the Tibetan mini market and the small stalls near the Dalai Lama temple.
You can also treat those sore muscles from the trek by opting for an authentic Tibetan massage.
In general, spend this day getting back to your hotel in Mcleodganj and relaxing or rejuvenating for the next day.
Day 4 of Mcleodganj Itinerary
 For our last day of this Mcleodganj itinerary, we head down to Dharamshala. You can choose from the following experiences to end this trip on a high:
Dharamshala Skyway
Opened recently in February 2022, the Dharamshala – Mcleodganj Skyway is a quick and convenient way to transit between two hill stations.
The gondola ride offers unique views of the valley and the snow covered peaks of the Dhauladhar Mountain range.
One way tickets of Dharamshala Skyway cost Rs.300 and return tickets cost Rs. 500.
Dharamshala Cricket Stadium
The Himachal Pradesh Cricket Association (HPCA) Stadium is the official name of the Dharamshala Cricket Stadium.
With a seating capacity of 23,000 it might not be a huge stadium but located at 1,317 meters above sea level, it is definitely one of the highest stadiums in the world.
Entry tickets to the Dharamshala Cricket stadium are as low as Rs. 30 per person and the visit generally doesn't take more than half an hour.
Dharamshala Tea Gardens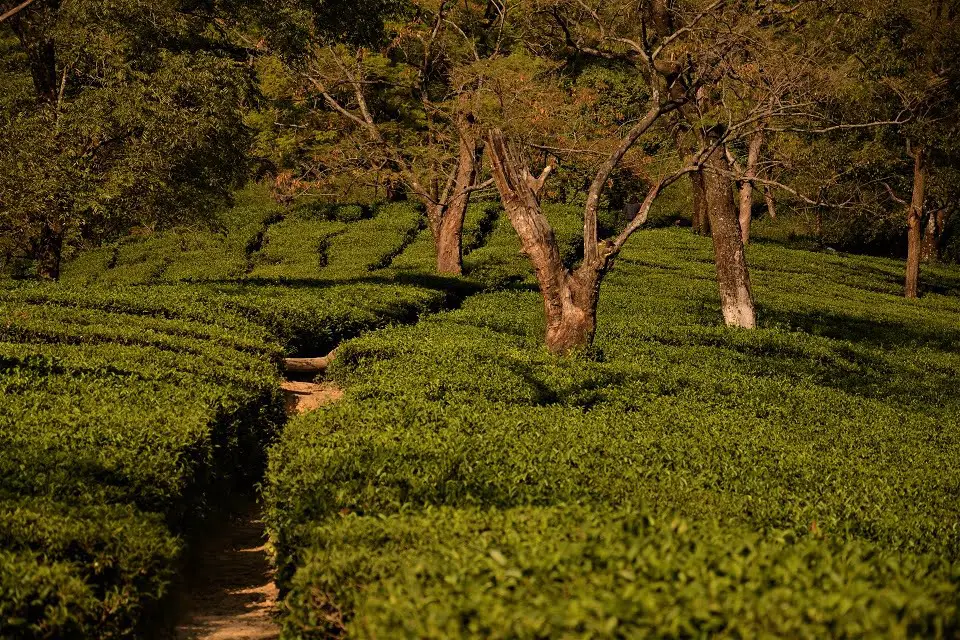 There are some beautiful tea gardens en route Mcleodganj. While they are not as expansive as their counterparts in Assam or Kerala, they definitely worth a stroll while you're in the area.
St. John in the Wilderness
On your way back to Mcleodganj from Dharamshala, stop by this neo-gothic style church with intricate Belgian stained glass windows.
The church is located in the middle of the woods giving it, it's unique name. Cameras and photography of any kind is not allowed inside the church.
There's also a cemetery behind the church so be respectful around the area and maintain the peace that this place exudes.
Tips for 5 Day Mcleodganj Itinerary
The above itinerary shall keep you pretty busy for 4 days. If you have a spare day, you can easily extend this Mcleodganj itinerary to 5 days.
One easy method is to take your time exploring all the above places, spend some more time in cafes exploring the café culture of Mcleodganj or hiking on the numerous trails around this beautiful little town.
However, if you wish to add some more activities to your spare day in Mcleodganj, consider the following:
Party in Dharamkot
Dharamkot is located about 3 kms from Mcleodganj is home to a lot of Israelis who decided to settle down in the Himalayas and enjoy the slow life.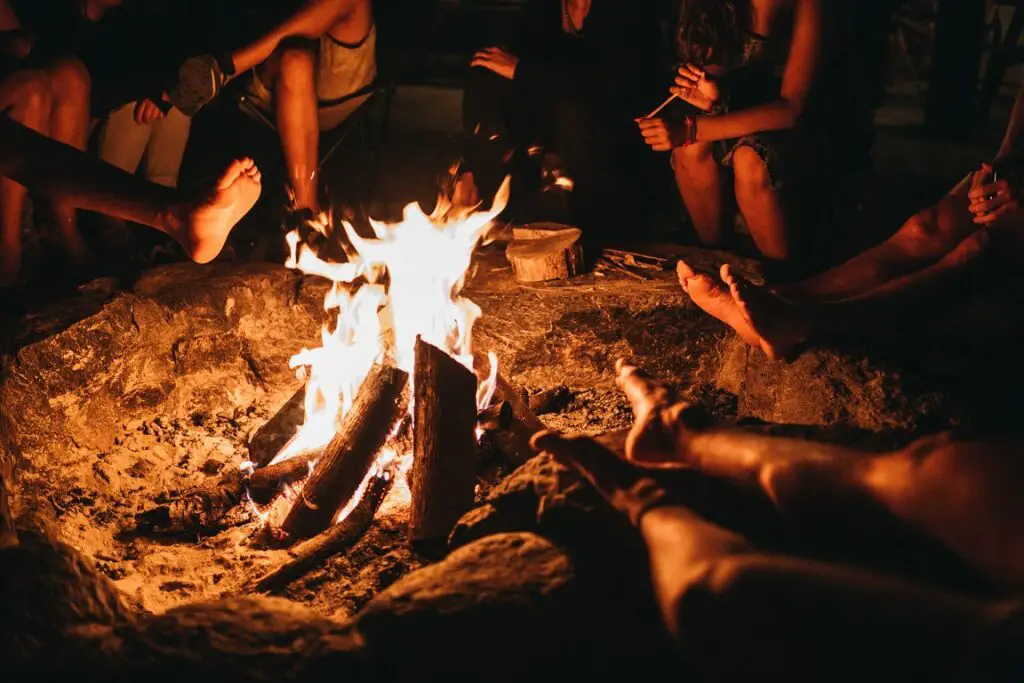 This little town is home to some of the most hipster hostels and happening cafes serving everything from local fare to Israeli and Italian delicacies.  
At night, you shall see numerous bonfire parties playing great music with the whole backpacker – hipster crowd having the time of their life.
These places are often closed during the winter months, so do your research and plan accordingly.
Go Paragliding
While Bir-Billing (located about 2.5 hours away from Mcleodganj) is probably the most sought after location for Paragliding in the Himalayas, a lot of paragliding agencies have opened up in Dharamshala as well.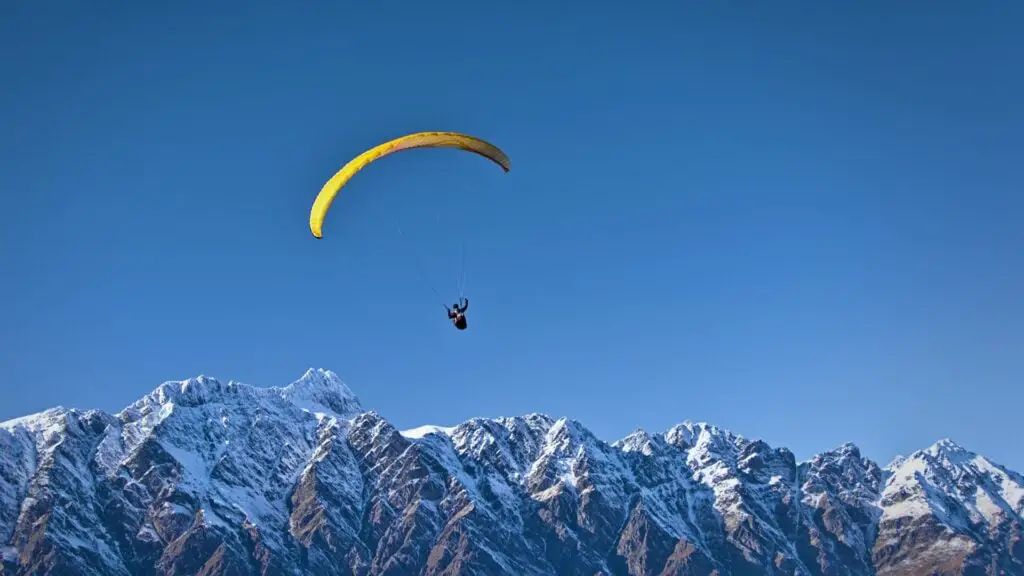 We recommend that if you don't have the time to make the to and fro journey from Mcleodganj to Bir, you go paragliding in Dharamshala.
You can have a bird's eye view of the whole town, the Dhauladhar mountain range and the cricket stadium.
The flight time is much lesser than the one in Bir Billing as you are taking off from a much lower altitude but you shall otherwise never get a chance to see Dharamshala or Mcleodganj from such a splendid viewpoint!
Mcleodganj Itinerary Conclusion
I hope that the information provided above shall help you in planning your trip to Mcleodganj and Dharamshala.
Share this blog post with your travel tribe so that we can help as many people travel to this beautiful little town in the mountains.
We create bite sized travel guides on our Instagram account – worldwidewander_org. Follow us there if you like our content.
Happy Travels!