Every biker dreams of riding in the mystical lands of Ladakh. The cool mountain air, the calmness of the road, the beautiful Himalayan vistas and the rhythmic sound of your bike make a Leh Ladakh bike trip an absolute must for any motorcycle enthusiast. We have been to Ladakh twice and have created this perfect 14 Day Leh Ladakh itinerary to help you plan your trip.
While there are a number of tour operators who offer tour packages for various durations, often times people don't know what to expect them to include in their tour. Keep reading to ensure that you know all the details of a exploring Leh-Ladakh on a motorcycle.
If you're a group with 3 or more motorcycles, you can follow this itinerary word by word and ensure an epic Ladakh road trip! However, if you're a solo rider or just two bikers, we recommend you join a group just to ensure that there's some kind of help while accessing the remote areas of Ladakh. You can either find fellow travelers on Facebook groups or approach these groups at different road stops on Ladakh highways. Bikers are generally a friendly bunch and look out for each other. Hence, they won't mind if you join them.
Before delving into a detailed itinerary, we have attempted to answer a couple of common questions that people have asked us numerous times while while planning their Leh Ladakh bike trip.
How Long is the Leh Ladakh Bike Trip?
The most popular and endearing Leh Ladakh bike trip is about 15 days long and it covers all the important stops around Leh. This trip generally starts from Jammu/Srinagar and ends in Manali. There also people who choose to fly directly into Leh and just see the important locations around Leh. Such a trip can be completed in 5 to 6 days. We've explained how you can easily convert this 14 day itinerary to a 5 Day Leh Ladakh itinerary below.
Leh Ladakh Bike Trip Best Time
The best time for a Leh Ladakh Bike trip is from May end to September when the temperatures are bearable and the mountain passes have opened. After September, the mountain roads generally close due to extreme temperatures and landslides. Before April, due to harsh winter conditions and unpredictable rainfall, it becomes a little risky to conduct a Ladakh bike trip.
Leh Ladakh Bike Trip Cost
An average Leh Ladakh bike trip cost for 15 days is somewhere around Rs. 27,000 to Rs. 30,000 per person if you're taking your own private vehicle. This cost includes food, accommodation in guest houses or camps and fuel.
Camps and homestays generally have options that include breakfast and dinner and the cost is very reasonable. While riding, there are numerous shacks/dhabas where you can have a good meal for as low as Rs. 100. These include breakfast options like parathas, omelets, sandwiches, butter toasts and coffee while lunch options include Tibetan delicacies like thukpas, momos, chowmein and local North Indian delicacies. If you opt for Non-vegetarian food, it'll cost youa little more.
If you're renting a bike for the entire trip, this cost will rise to Rs. 55,000 to Rs. 60,000 per person. The bike rent and fuel cost shall be divided into two in case you're taking this Leh – Ladakh bike trip with a pillion rider.
Your total cost also depends on the type of bike that you're renting. The following are the latest bike rental rates in Ladakh for the most popular brands:
Royal Enfield Classic 500 CC – Rs. 2,000/day
Royal Enfield Himalayan – Rs. 2,500/day
BMW/GSR 310 CC – Rs. 3,500/day
Bajaj Avenger 220 CC- Rs. 1,500/day
Scooty (Activa/Access) – Rs. 1,100/day
An additional Rs. 150/day is charged for Ladakh carrier and saddle bag.
Leh Ladakh Packing List
Despite recent developments, Ladakh is still quite a remote location. Basic utilities might be readily available in the town of Leh, but in more remote areas, they are quite scarce. So, it's better to pack them in advance to avoid shortage or paying premium prices for the same.
Also, you shall also need to pack weather sensitive clothing like rain covers, thermal wear, safety gear for riding a bike in Ladakh and some common spare parts for your bike. In addition to this, it's necessary to carry medication for basic ailments as you don't know when you might need them. Pack a go-to medication kit along with your bike's first aid kit to take care of this.
To guide you better for your Ladakh trip, we have created this detailed Leh Ladakh Packing List that you absolutely should follow. We recommend referring this list to ensure that you are prepared for all contingencies during your Leh Ladakh Bike Trip.
Leh Ladakh Bike Trip Route
The best and the most convenient route for your Leh Ladakh bike trip starts from Jammu/Srinagar and ends in Manali. For a classic Leh Ladakh Itinerary travel in a clockwise direction starting from Jammu and take stops at the following hubs:
Jammu
Srinagar
Kargil
Leh
Nubra Valley
Pangong
Sarchu
Manali
For visiting Nubra Valley and Pangong Lake, you shall need to come back to Leh to resume your journey as there are no proper roads connecting these locations. There is a new direct route that connects Nubra Valley to Pangong lake via Shyok Village and Wari La. Despite the development of this route, it's a little riskier to travel by bike. Hence, we recommend that you go back Leh and leave for Pangong Tso the next day.
This Leh Ladakh bike trip route is planned in such a way that it takes care of acclimatization and comfort for beginners as well as advanced riders. The important thing is, that you start from Srinagar or Jammu side.
Why it's better to start your Ladakh Bike Trip from Jammu?
We have visited Leh twice. Once from Jammu side and once from Manali side and we recommend choosing the former route. The following are the main reasons for starting your Ladakh bike trip from Jammu side:
If you're taking your own bike to Ladakh, the best, most convenient and cheapest way to transport it is by train. Indian Railways does a fabulous job of packing and transporting your bike to Jammu (the most well-connected station near Ladakh). A lot of trains from all over India reach Jammu and your Bike will reach there in great condition without any hassle.
Jammu is a great hub for bikers riding towards Kashmir, Ladakh and the rest of Himalayas. Hence, with an abundance of mechanic shops, it's easier to get a couple of modifications done to your bike in Jammu before you start your Leh Ladakh bike trip. We're talking about adding saddle bags or fitting a luggage rack on your bike or evening getting your bike serviced and ready for exploring Ladakh!
However, the most important reason for starting your Leh Ladakh trip from Jammu/Srinagar, is that the ascend to Ladakh from Jammu is a lot easier compared to the one from Manali. The route from Manali side is a lot steeper and a lot of riders struggle with acclimatization. The steeper the ride, the lesser time the body gets to adjust to the change in climate. Acute mountain sickness or any other disease can absolutely ruin your trip.
Now that we have the answered some common questions about a Ladakh road trip, check out the following Leh Ladakh itinerary. We followed this itinerary and had the best time in Ladakh.
14 Day Leh Ladakh Bike Trip Itinerary
The crux of this Ladakh Bike trip itinerary is that you start your ride early in the morning. Through out the route, there's a possibility of road blockage due to onrushing water due to the melting ice. The later you start, the higher your chances of encountering flooded roads and long traffic jams. Hence, we recommend waking up at 6 in the morning and starting your ride 7 AM. This also allows you to reach your destination earlier and enjoy it more during day time. Additionally, it allows you to take longer breaks at interesting locations enroute.
Leh Ladakh Itinerary Day 1: Arrival in Jammu and gearing up
Your first day entails your arrival in Jammu and collecting your bike from the transporter (like the Indian Railways suggested above) in case you're using your own vehicle for your Ladakh bike trip. If you're hiring a bike, you'll have to either hire it from a dealer who can collect the bike from Manali. If you don't find such a dealer, you can ride back to Jammu (400 kms) instead of Chandigarh (300 kms) as proposed below.
After collecting your bike, get it checked thoroughly by the expert mechanics in the Jammu city center. You can make some modifications like a luggage brace or replace your break liners for better performance.
You can spend the rest of the day exploring Jammu. Popular places include the Amar Mahal Museum, Bagh-E-Bahu, the Bahu fort and Shree Ranbireshwar Temple.
Leh Ladakh Itinerary Day 2: Jammu To Srinagar
Distance: 250 kms
Duration: 8-9 hrs. considering usual conditions
Start early in the morning for Srinagar on NH 44. The road condition is great and you might find usual traffic of goods vehicles. Enjoy the first time joy of riding in the mountains here. NH 44 is the most well developed road in this entire Leh Ladakh bike trip.
Stop for Lunch at near Peerah village. Khajuriah Vaishno Dhaba in Peerah is arguably best place to have Rajma Chawal in the world. The perfectly cooked Rajma, rice, dollops of desi ghee and the lip-smacking anar-dana chutney make this the perfect spot for an early lunch.
Farther on the way, you shall cross Jawahar Tunnel, one of the oldest Himalayan tunnels in India. Moreover, at the time of its construction, it was one of the longest such tunnels in Asia!
You shall reach Srinagar by late afternoon. Check into your hotel/house boat and head over to Dal Lake for an evening walk on its beautiful boulevard. You can also opt for a Shikara ride in the lake.
Leh Ladakh Itinerary Day 3: Srinagar to Kargil via Sonamarg and Draas
Distance: 205 kms
Duration: 7 – 8 hrs. considering usual conditions and traffic on Zoji La
You can start off early in the morning from Srinagar and head to the beautiful valley of Sonamarg. Sonamarg exemplifies why Kashmir is known as heaven on earth.
After a quick breakfast stop at Sonamarg, you shall head towards Kargil via Dras. The route that you shall be taking is the mighty Zoji La. Zoji La is one of the steepest and most under developed mountain passes of the Himalayas. It has been under redevelopment for quite some time. While one side is pretty well developed, the other side is quite a task. Ensure that you are with your group and be extra careful while driving here. The local drivers are quite rash and accidents are quite common.
After descending from Zoji La, you shall see a lot of small yurts selling delicious food cooked by locals. Have a hearty lunch here after an arduous bike ride on Zoji La.
Alternatively, you can take a lunch break in Dras, another quaint little town on the way to Kargil.
Overnight stay in Kargil.
Leh Ladakh Itinerary Day 4: Kargil to Leh
Distance: 220 kms
Duration: 8-9 hrs. considering usual conditions
The mountain pass that you shall be crossing on Day 4 of your Ladakh bike trip is known as Namika La. The road is very well developed by the Border Road Organization, fondly abbreviated BRO 😅.
After scaling Namik La, visit the famous Lamaryu monastery and its lunar landscapes that have earned it the name Lamaryu Moonland. The landscape formations due to lacustrine deposits in this region reminded us about our epic 4 days in Cappadocia, Turkey.
Your next photo stop shall be the popular Magnetic Hill. It's a good place to take a break as there are a number of small yurts/shacks selling regional food.
You shall reach Leh by late afternoon or evening depending on the number of stops you've taken. You can stay in guesthouses or camps that include dinner. Hence, you don't have to roam around for food after an entire day of riding.
Leh Ladakh Itinerary Day 5: Leh Local Sight Seeing and Permits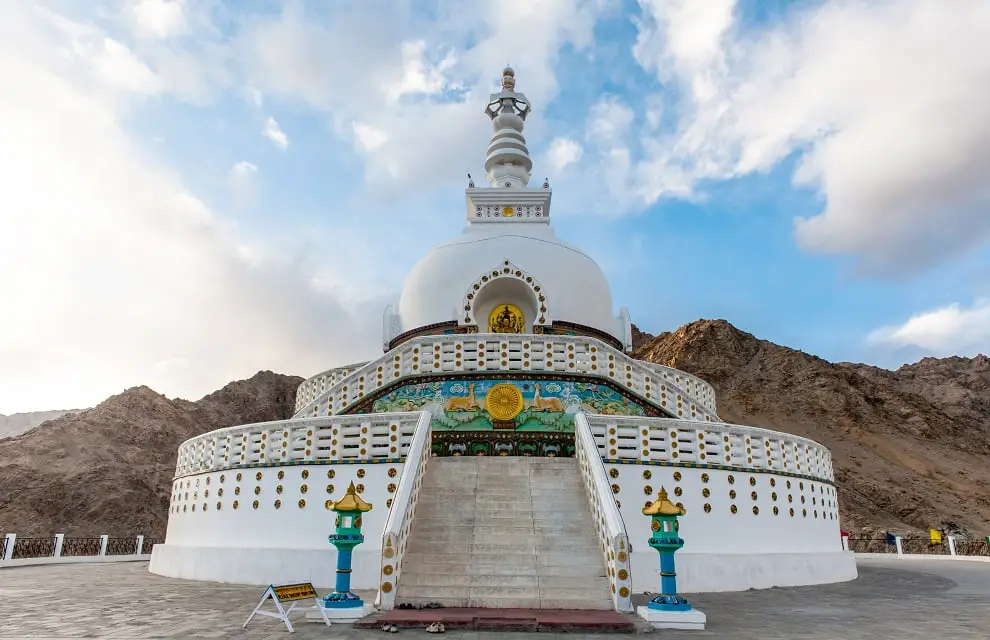 Dedicate Day 5 of your Leh Ladakh itinerary to local sight seeing and getting the inner line permits for various mountain passes. You can get these permits online at the official website of Leh District Tourism.
💡Pro Tip: It's easier to print the permits at home and get them stamped at the Leh Tourist Information Centre or Leh DC office. You will not be able to find a lot of print shops or reliable internet in the mountains.
Local sight seeing in Leh involves the following must visit places:
The Khar – A structure that towers over the entire city of Leh. It houses the Leh Palace, the Tsemo Castle and the Namgyal Gompa.
Shanti Stupa –  A Buddhist white domed shaped Stupa located over the Chanspa hill.
Hall of Fame – A museum respecting the fallen heroes of the Kargil war and highlighting the hardships of the lives of the soldiers stationed at Siachin Glacier.
Leh Main Market – The central market of Leh where you can shop for local crafts like shawls, souvenir t shirts and enjoy a lunch at some cute cafes.
💡Insider tip: We advise you to book your hotel/camp in such a way that you can keep your luggage in the Leh hotel when you make trips to Nubra Valley and Pangong lake. This way, you won't have to mount, dismount, carry and unload all your heavy luggage at each destination. This way, you will have a room every time you return to Leh but will not be charged for the time you're staying in Nubra Valley or Pangong Tso. A lot of hotels are accommodating this request.
Call in an early night as the next day, you shall be driving on one of the highest motorable roads on earth – Khardung La.
Leh Ladakh Itinerary Day 6: Leh To Nubra Valley
Distance: 130 km
Duration: 5-6 hrs. considering usual conditions and breaks
On Day 6 of your Ladakh tour, you shall be scaling the mighty Khardung La – one of the highest motorable roads on earth located about 17,582 feet above sea level.
The road is reasonably well-developed. However, there can be traffic congestion due its recent popularity with tourists. Moreover, due to the melting ice in the summers, the pass can be flooded and also lead to breakdowns. Hence, we recommend starting your journey early in the morning. By doing so, you shall reach Khardung La top way before other tourists and might even get the entire place to yourself along with the Indian army personnel stationed there.
💡Insider tip: The army serves a spiced herbal tea free of cost at the top. It's a great way to warm yourself up in the cold and also indulge in some great conversation with the army personnel.
At the top, a lot of tourists and bike groups get pictures like the one above with the Khardung La top milestone. This picture is an amazing souvenir to get from your Leh Ladakh bike trip.
After reaching Nubra Valley, head over to the famous sand dunes of Hunder and get a picture with the Himalayan Bactrian Camels. These camels are unlike any that you might have seen. They are furry, sturdy and have two humps instead of a single one like regular camels.
A lot of people opt to ride these camels. We request you not to do so as the it's cruel and the camels hardly get any rest due to the onslaught of tourists. Instead, get a picture with them for a memorable, cruelty free souvenir from Ladakh.
Leh Ladakh Itinerary Day 7: Relax day at Turtuk Village
Distance: 85 kms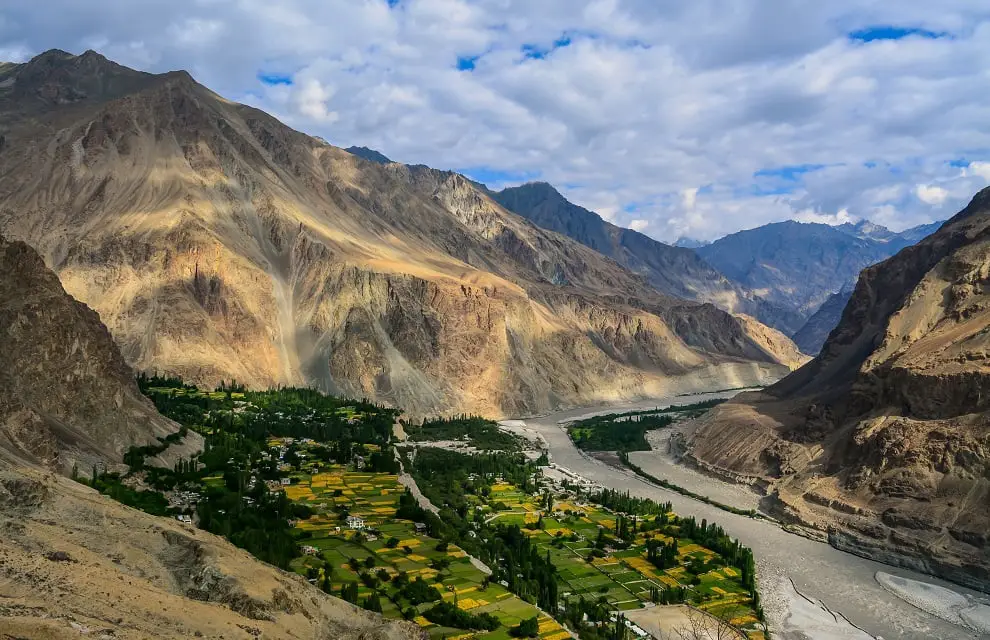 Take a well deserved break from long bike rides in the beautiful Turtuk village in Nubra Valley. The village is located very close to the Line of Control (LOC) and is known as the gateway to the Siachin glacier.
You will have to park your bikes at the designated parking spots at the entrance of the village and continue on foot. The village is constructed like a beautiful maze set between cherry and mulberry orchards. You might even encounter a lot of cherry trees in the streets of Turtuk village.
Turtuk is a photographer's dream. It is located in a beautiful valley surrounded by towering mountains. The landscape is green in contrast to the rest of Ladakh as it is irrigated by glacier water distributed in the village through canals constructed 200 years ago.
There are a number of small cute cafes serving piping hot food. Some of our favorite dishes in Turtuk were Spicy Chowmein, buckwheat pancakes with walnut puree, freshly squeezed mulberry or cherry juice and any local dish made from mulberry, cherry, walnut or apricot!
Moreover, you can also ask for a guided tour of the numerous walnut, cherry or apricot orchards and buy some fruits for home as well if you can accommodate them in your luggage.
Return back to Hunder at your camp/guest house. Overnight at Hunder.
Leh Ladakh Itinerary Day 8: Nubra Valley To Leh
Distance: 130 kms
Duration: 7-8 hrs. considering usual conditions and breaks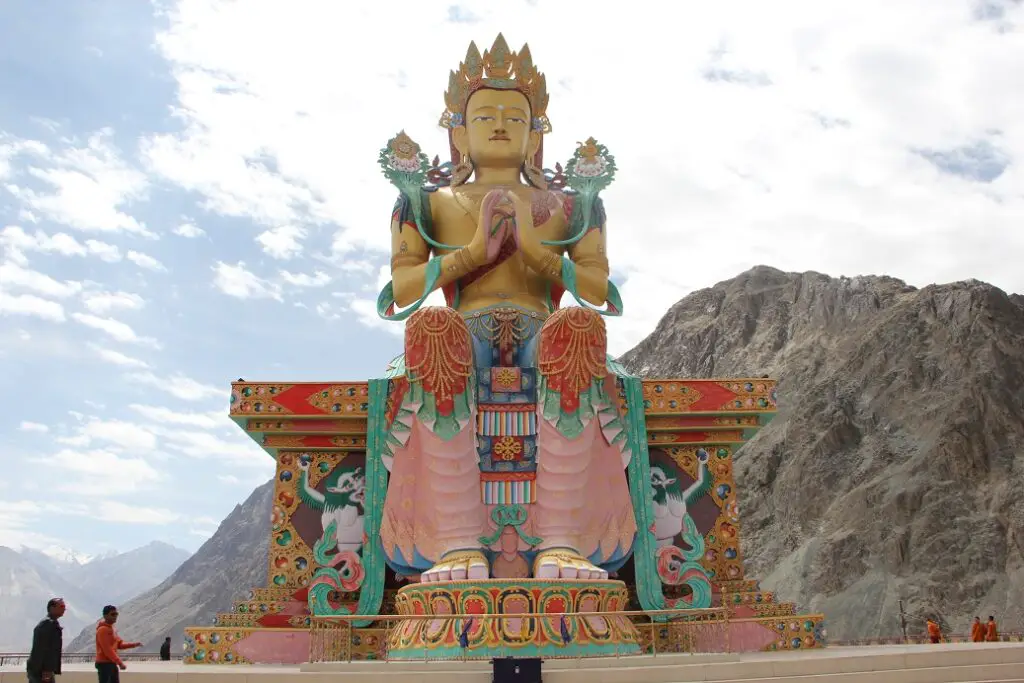 Start your return towards Leh early in the morning as you shall be taking a pretty long stop at Diskit.
The Diskit Monastery houses the tallest Lord Buddha statue in India, that is visible even from its approach road. The statue stands an impressive 106 feet and is an amazing photo spot. Click some great pictures here and explore this 14th century Diskit Monastery before heading back to Khardung La for your return leg to Leh.
Upon reaching Leh, rest and recover in the innumerable cafes or shop for souvenirs in Leh Main market. Overnight at Leh.
Leh Ladakh Itinerary Day 9: Leh to Pangong Lake
Distance: 223 kms
Duration: 5-6 hrs. considering usual conditions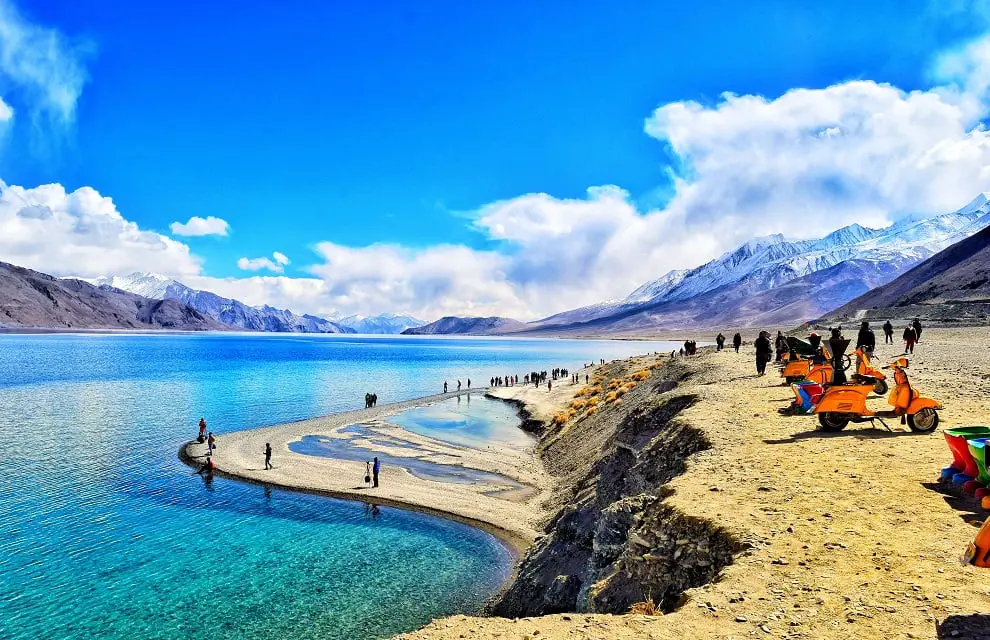 On day 10 of your Ladakh bike trip, start at 7 AM towards the Instafamous Pangong Tso via the mountain pass Chang La.
Pangong Tso or Pangong Lake is the pristine lake that features in the hit Bollywood movie, 3 Idiots. This is very evident as tourism and commercialization have set up many photo spots with "3 Idiots" references.
You shall be reaching the lake rather quickly as the road is quite well developed to boost tourism. Upon reaching the lake, find a spot that's away from the scores of tourists. The lake is a tranquil paradise and its beauty is in its serenity. Don't let the crowds take that away from you.
That being said, you still have to get those pictures with this piece of natural beauty. So, sit on some lonesome rock in the middle of the lake and ask one of your rider friends to start clicking. The rush of tourists increases with each passing hour. Hence, visit the lake as early as possible.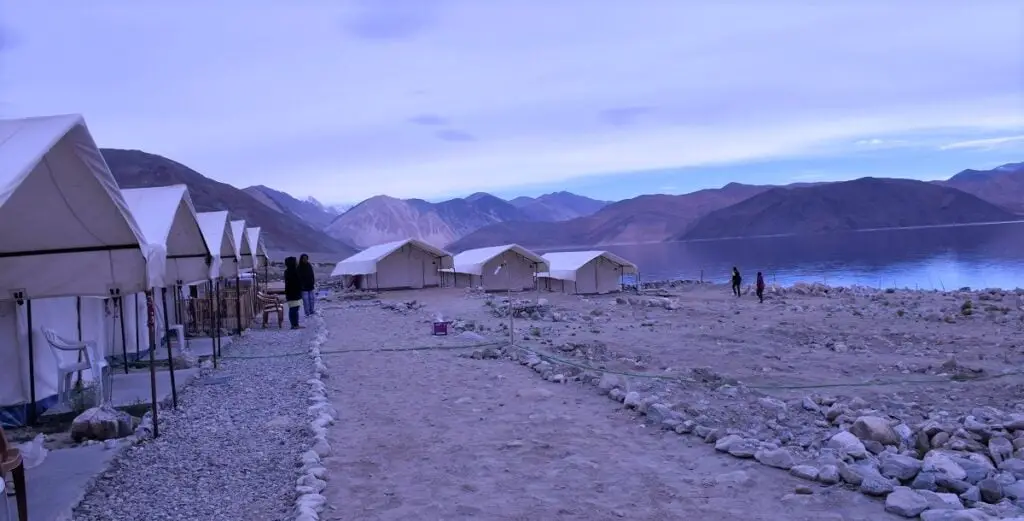 Most tourists make a day trip to Pangong lake. However, we highly recommend staying a night in one of the camps along the shores of the lake. This not only gives you private access to the lake without the tourists but also provides you with an opportunity to witness one of the most magical sunrises (picture below) you will ever see.
Overnight in Spangmik.
Leh Ladakh Itinerary Day 10: Pangong Lake to Leh
Distance: 223 kms
Duration: 8 – 9 hrs. considering usual conditions and long stay at Thiksey Monastery
Wake up early in the morning to witness a magical sunrise as pictured above. Relax at the camp by the calm waters of the lake.
Day 10 of your Leh-Ladakh trip entails your return to Leh from Pangong Lake and doesn't involve any major sites or congested mountain passes. Hence, you can afford to start today's ride a little late. After a hearty breakfast and a fun bonding session with your bike gang by the lake, start your return journey.
On the way back, pay your respects at the majestic Thiksey Monastery. This humongous temple complex houses the Maitreya (Future Buddha) standing tall at 15 meters, inside the temple complex. The monastery is known for its well-planned architecture, spectacular views and calm vibes.
You shall return to Leh by evening. Overnight in Leh.
Leh Ladakh Itinerary Day 11: Leh To Tso Moriri
Distance: 250 kms
Duration: 8-9 hrs. considering usual conditions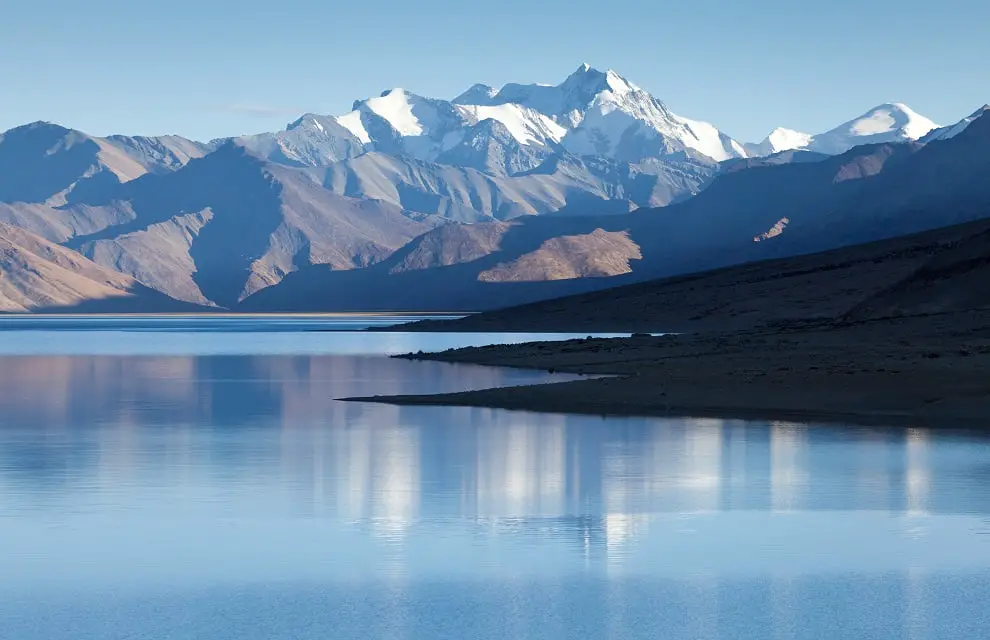 On Day 11 of your Ladakh bike tour, head to Tso Moriri – one of the highest mountain lakes in the world. The lake stretches out till about 28 kms and provides some of the most beautiful and serene views in the world.
You shall be passing the second highest motorable road in Ladakh, Taglang La. There is another less popular route as well, but if you're a biker, you'd definitely not want to miss out on scaling Taglang La. It was my favorite mountain pass to cross in the entire duration of my Ladakh bike trip. It is very well developed, provides beautiful views of snow covered mountain peaks and the traffic is considerably manageable as well.
Post Taglang La, the route to Tso Moriri is a rather steep one. The road isn't that developed, the incline is considerable high and you might have to go off road for longer durations. If you're not an experienced biker or if you're driving in the mountains for the first time, I would recommend you to skip Tso Moriri and head straight to Sarchu.
Leh Ladakh Itinerary Day 12: Tso Moriri to Sarchu
Distance: 230 kms
Duration: 9-10 hrs. considering usual conditions
Start early in the morning from Tso Moriri so that you can reach your next stop, Sarchu before dark.
On the way, you shall be crossing More Plains. More plains are a rare flat land in the Himalayas where there are no ascents or descents on the road and you just keep driving on a flat road. The road is adorned with large stone hills on either side along with plain lands that create an ideal photo spot for you and your bike. Ever seen those Ladakhi pictures of a bike parked on the side of a long, never ending road with mountains on either side? Yes, that picture (like the one above) was taken on More plains. No other road in Ladakh provides the luxury of such an amazing picture.
After crossing More plains, you shall be driving on the main highway connecting Ladakh to Himachal Pradesh. So, expect a lot of truck traffic and be careful as a number of accidents have taken place on these roads.
Reach the tent city of Sarchu before nightfall. There is one main bridge that connects Sarchu to the main highway. If the bridge gets flooded, you might not be able to enter Sarchu.
There are a number of budget, mid-range and luxury camps in Sarchu for your night stay which also include dinner and breakfast in the room rate. Sarchu has been developed as a tent city as it falls at a convenient distance for bikers riding from Leh to Manali. So, finding food and accommodation shall not be a problem. However, advance booking is still recommended.
Overnight at Sarchu.
Leh Ladakh Itinerary Day 13: Sarchu To Manali
Distance: 180 kms
Duration: 6 hrs. considering usual conditions and breaks
Start the 13th day of your Himalayan bike ride from Sarchu for Manali. The distance is quite short but traffic and fog can be deterrents to a short ride.
On the way, cover the pristine Suraj Tal and Deepak Tal lakes that are visible from the roadside itself.
Have lunch in Keylong, one of our favorite Himalayan towns that has great options for food with numerous cafes.
When we visited for the first time, we had to take the route through Rohtang Pass that added an additional 3 hours to our ride time due to the risky roads, traffic and the fog. However, after the construction of Atal Tunnel, the travel time and distance have greatly reduced. Take the Atal tunnel to save time or visit Rohtang if that's on your bucket list.
After reaching Manali, visit the Hidamba temple or roam around on Mall road to explore Manali at your pace.
Overnight in Manali.
Leh Ladakh Itinerary Day 14: Manali To Chandigarh/Jammu/ Delhi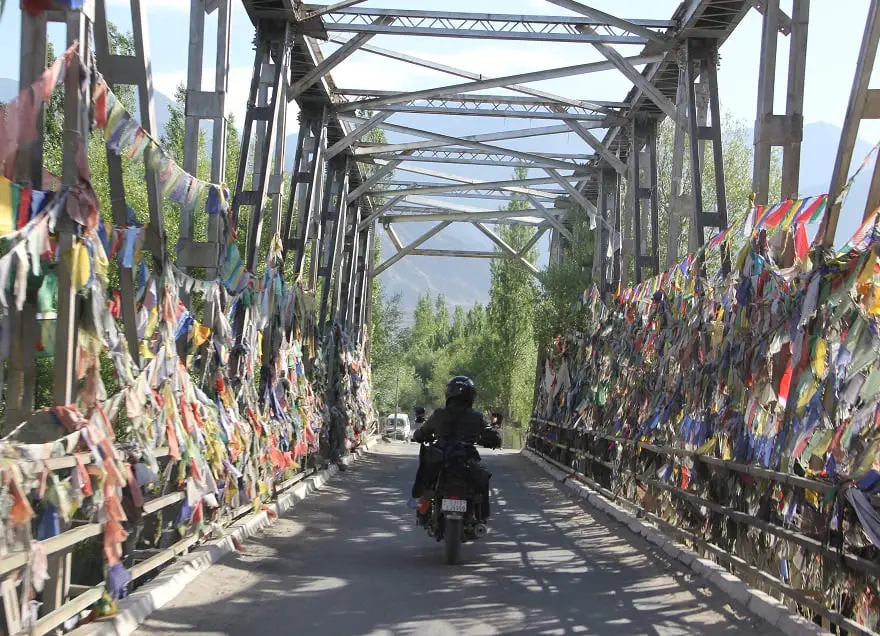 This brings us to the 14th day of your Leh Ladakh Bike trip. We have kept the option open for you to chose the destination as per your convenience.
You can opt to ride to Chandigarh (300 kms) like we did since it was the nearest, well connected hub for us to transport our bikes back to our home town.
You can head back to Jammu (400 kms), in case you have rented your bike from there and you need to return it back to Jammu.
If you've rented your motorcycle from a dealer who doesn't mind collecting the bike from Manali, you can take an overnight sleeper bus to Delhi and return home.
15 Day Leh Ladakh Itinerary: Buffer Day/day exploring any of the locations in detail
You can easily add another day to your 14-day Leh Ladakh bike trip by keeping a buffer day for unforeseen circumstances like landslides, road closures, harsh weather, etc. If there are no such unavoidable situations, you can dedicate an extra day to any of the locations mentioned above to explore them further or relax and take in its beauty.
We suggest that you don't add any additional location from the ones stated above on your extra day. That will lead to increased fatigue and lesser joy. You are on a holiday after all.
Suggested 5 Day Leh Ladakh Itinerary
If you only wish to spend 5 days in Leh Ladakh, you can easily convert this itinerary to 5 day Leh Ladakh itinerary. Just fly in and out of Leh from Delhi and skip Days 1, 2, 3, 4, 11, 12, 13, 14 of the above itinerary. In addition to that, do a day trip to Turtuk instead of dedicating another entire day to it.
You can easily land in Ladakh, drop your luggage at a base hotel in Leh, hire a bike from Ladakh and visit all the important locations around Ladakh in 5 days.
In a Nuthsell
This brings us to the end of our Leh Ladakh bike trip itinerary. We advise you to take a print out of this itinerary for reference as internet connection isn't very reliable in Ladakh. If you still have any questions, ask us in the comments below and we shall be happy to answer them to the best of our knowledge. You can also reach out to us on Instagram @worldwidewander_org. Check out our other blogs on India travel if you plan to club an epic India trip with your Ladakh trip!