Cappadocia is the quintessential travel destination of any trip to Turkey. No vacation in Turkey is complete without experiencing a hot air balloon ride in Cappadocia. However, there is very little information on the internet about things to do in Cappadocia apart from the balloon ride. Hence, we have created this 4 day Cappadocia travel guide to help you plan your trip better.
If you're planning a trip to Turkey, the follow blog posts may prove to be the difference between a good trip and a GREAT trip!
This article contains affiliate links. This means that we earn a small commission for purchases made through these links at no extra cost to you. Kindly read our full disclosure and privacy policy for more details.
Cappadocia Travel Guide: Best Time To Visit Cappadocia
December to May is the best time to visit Cappadocia to capture the beauty of the region and to avoid crowds. These months fall in the winter season where Cappadocia becomes a snowy wonderland and the spring season which is the best time to visit Cappadocia for hot air ballooning.
The Summer months (June to September) are hot with temperatures rising above mid-30 degrees Celsius. This makes hiking and exploring the magnificent terrains of Cappadocia very uncomfortable. Also, summer is the peak season because of summer breaks in schools around the world, leading to crowds and high prices.
Autumn/Fall (October and November) is very humid with frequent rains and short days. These conditions may lead to cancellation of Hot Air Balloon rides.
 Cappadocia Travel Guide: Where to Stay in Cappadocia
It is to be noted that Cappadocia is a region that consists of a number of small towns or villages.
You can book a hotel at any of these villages but if it is your first time in Cappadocia, we recommend you stay in Goreme or Uchisar.
Why Stay in Goreme
Goreme is the most developed town in Cappadocia for tourism. There are a number of hotels for all price ranges. Restaurants serving Turkish and International cuisine are easily available and majority of tour operators have their offices in Goreme.
Also, we recommend staying in a Cave hotel instead of a regular hotel. The experience of staying in a room carved into the gigantic, rock formations of Cappadocia will add an additional dash of authenticity to your trip.
We stayed in Kayatas Cave Suites for the beautifully carved cave rooms and Mithra Cave Suites for that Insta-famous terrace breakfast shot.
Why stay in Uchisar
Uchisar is another popular destination because of its proximity to popular must visit sites of Cappadocia like the Uchisar castle.
It is a lot less crowded that Goreme making it a very sought after destination for high end and VIP tourists. Museum Hotel, one of the most luxurious cave hotels in all of Cappadocia is located in Uchisar. Check it out here.
Cappadocia Travel Guide: How To Reach Cappadocia
By Air:
Cappadocia has two major airports Kayseri airport and Nevsehir airport.
Of the two airports, Nevsehir is closer to the Goreme. However, both the airports have frequent direct flights from major cities like Istanbul and Antalya.
Once you reach the airport, you may book a shared transfer like this one or a private transfer like this to your hotel. It is important that you book this in advance as the airports are 40 kms away and the local taxi drivers take full advantage of this.
You can book these highly rated transfer services:
Shared transfer from Cappadocia airport
Private Transfer from Cappadocia Airport 
By bus: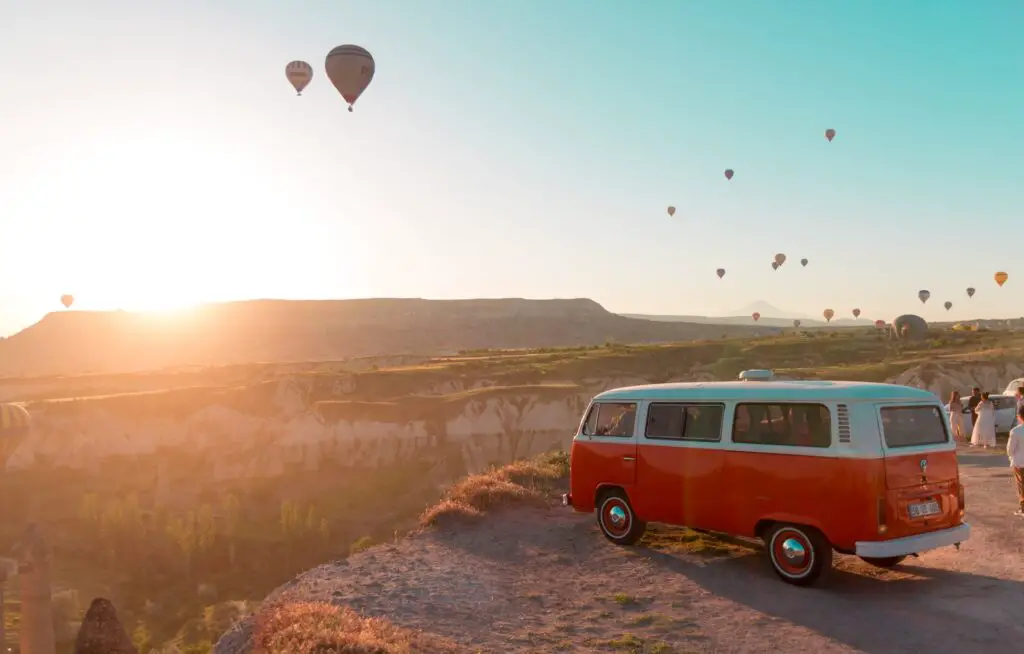 Reaching Cappadocia by an overnight bus is not only easy and comfortable but also budget friendly as you save on one night's accommodation.
We used this option for reaching Cappadocia from Istanbul.
The buses are super comfortable with reclining seats, an infotainment system and frequent restroom stops.
If you travel by bus, you can also catch the beautiful Cappadocia sunrise and admire the surreal landscape as soon as you open your eyes.
Another advantage of taking the bus is that it will drop you directly in Goreme and you wouldn't have to worry about taxis or shuttles from the airport.
Now that we have established the basics, let's dive into a day-wise break up of things to do in Cappadocia.
Cappadocia Travel Guide : Day 1
Arrival in Cappadocia – Getting Acquainted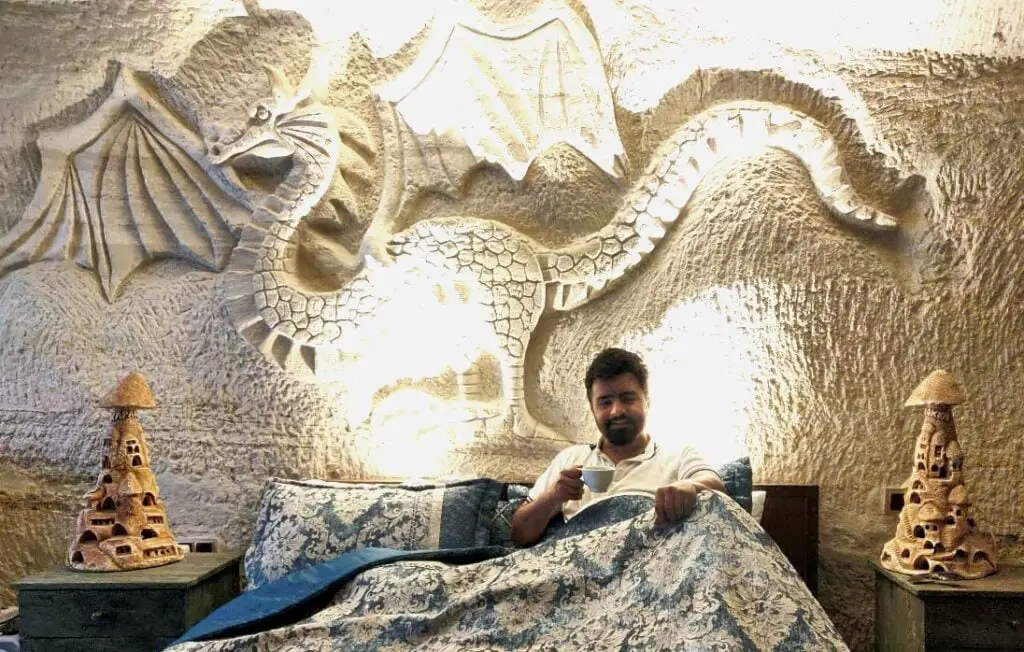 Your flight/bus shall be reaching Cappadocia between mid-morning to noon. Check into your hotel, chill in your beautiful cave room or lounge by the hotel pool.
Head down to the town (most hotels are located on the hills surrounding the town) to get some lunch. If you're a vegetarian like us, you will be pleased to know that you will have plenty of vegetarian friendly Turkish dishes available in most of the restaurants.
Galerie Ikman
Post lunch, head to Galerie Ikman, a local carpet shop that has recently become a rage on Instagram. We have all seen images of people sitting in this colorful veranda covered with beautiful carpets.
You can get some beautiful photographs here including a drone shot as the establishment has recently started providing that service.
However, I recommend that you also have a conversation with the owner. He's passionate about his business, loves to explain how each carpet he'll be showing you is made, where it is made and what makes the design unique.
It is an excellent place to know about carpets even if you couldn't afford to buy them (some of them are a worth tens of thousands of dollars).
Explore Cappadocia on Horse Back
Once you're done marveling at the carpets in Galerie Ikman, reach your hotel where a private vehicle shall pick you up for your sunset horseback ride into the valleys.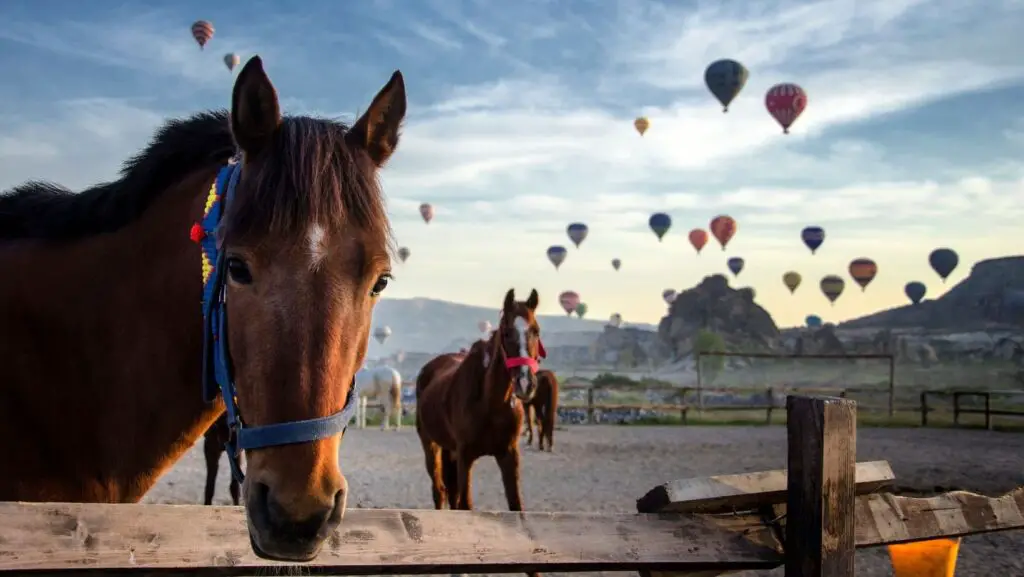 You need to book this experience in advance over here as the slots are limited and it is something you do not want to miss.
Cappadocia in Turkish means Land of Beautiful Horses. So it's imperative that you explore this land..on a beautiful horse!
You will be taken to the ranch where they'll show you how the horses are taken care of, what makes them special, the basics of horse riding and the route you're going to take.
You shall be trotting across Rose Valley, Red valley and Sword valley as the sun sets, revealing beautiful orange vistas of the Cappadocian landscape. The horses are well trained and two guides shall accompany you for your two hour trek.
Take a hat with you as the experience and the landscape often makes you feel like a cowboy from an old American western.
This activity is a must do and one of the most unique things to do in Turkey.
After the tour, grab dinner to call in an early night as you have an early morning appointment with the best experience of your life.
Cappadocia Travel Guide: Day 2
Hot Air Balloon Ride
A hot air balloon ride over Cappadocia is the quintessential thing to do on your trip to Turkey. You lift off in your colorful balloon before sunrise with hundreds of others and glide over the surreal landscape of Cappadocia.
It is advisable that you book your hot air balloon ride on your first full day in Cappadocia. Thus, if your flight gets cancelled because of bad weather on your first day, it can be rescheduled for the next morning.
Like most of the best experiences in Cappadocia, you need to book your ride in advance as the slots are limited and get sold out very fast.
The best way to book is via a booking website like Getyourguide. They deal with a good network of tour operators in Cappadocia and have a good cancellation policy. We recommend booking this Hot Air Balloon Ride as it is cheaper than most, does not compromise on quality and is the best reviewed ride.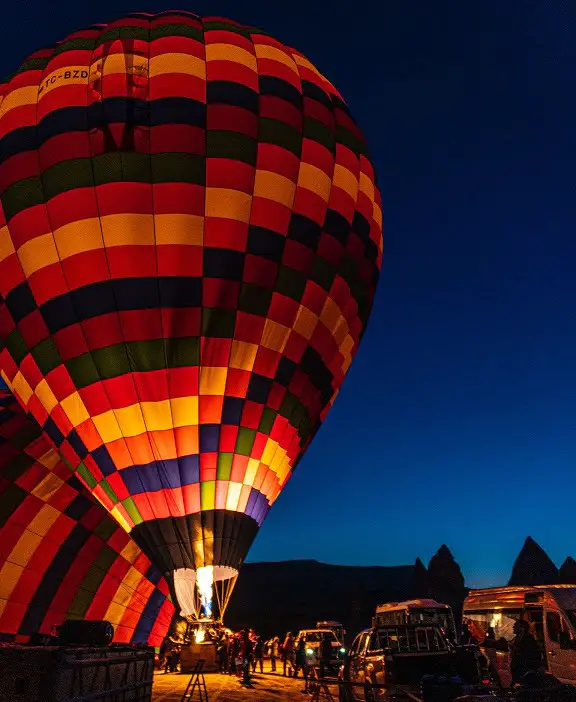 What is included:
A hot air balloon ride should involve pick up form your hotel, a small breakfast, at least one hour of hot air balloon ride, a small celebration after landing and drop off to your hotel.
The cost of this activity depends on three factors:
The size of the basket – how many people will accompany you in the same balloon (generally 16 to 24)
The duration of flight (one hour to 3 hours)
The availability of slots – prices are higher during peak tourist season or if you book last minute.
To avoid last minute charges book your balloon flight in advance here.
Red Tour of Cappadocia
Your hot air balloon tour company shall drop you off at your hotel by 8 AM. Enjoy a lavish breakfast at your hotel and get ready for one of the signature tours of Cappadocia, the Red Tour.
The Red tour is a very convenient way to explore the top sites of North Cappadocia. 
Your tour operator shall pick you up from your hotel at around 10 o clock in the morning. Though we have explained this in detail in our separate Red Tour post, here's a little snippet: The red tour lasts for about 8-9 hours and includes the following must visit sites of Cappadocia:
1. Goreme Open Air Museum
2. Uchisar Castle
3. Avanos Town and pottery workshop
4. Pasabag or Monk's Valley
5. Devrent Valley aka Imagination Valley
6. Love Valley
7. Urgup wine cellars.
Certain tour operators exclude one or more of the above from the tour to scam tourists so it's better to pre-book these tours via a legit booking site here. Lunch is generally included in the tour price but it's better to check beforehand.
Caution: Many people make the mistake of visiting the above places individually by hiring a car. However, if you add up the cost of individual tickets to the above locations, the cost of hiring a car and fuel, the overall cost is more or less similar to this red tour. Plus, you get the expert services of a local tour guide and a driver.
You shall be dropped off at your hotel by sunset. Smoke a Sheesha and have some raaki at a nearby cave café followed by dinner.
Cappadocia Travel Guide: Day 3
Morning At Leisure
Keep the morning free so that if at all your Hot Air Balloon flight from the previous day has been cancelled because of bad weather, the tour operator can schedule it for today.
If your Balloon ride has gone as per plan, enjoy the morning from the terrace of your hotel and witness the beautiful Cappadocia sunrise with the sky filled with those colorful balloons.
Click some pictures for Instagram, have a hearty breakfast and get ready for a long but adventurous day ahead.
Green Tour Of Cappadocia
The Green Tour covers the attractions in the southern region of Cappadocia.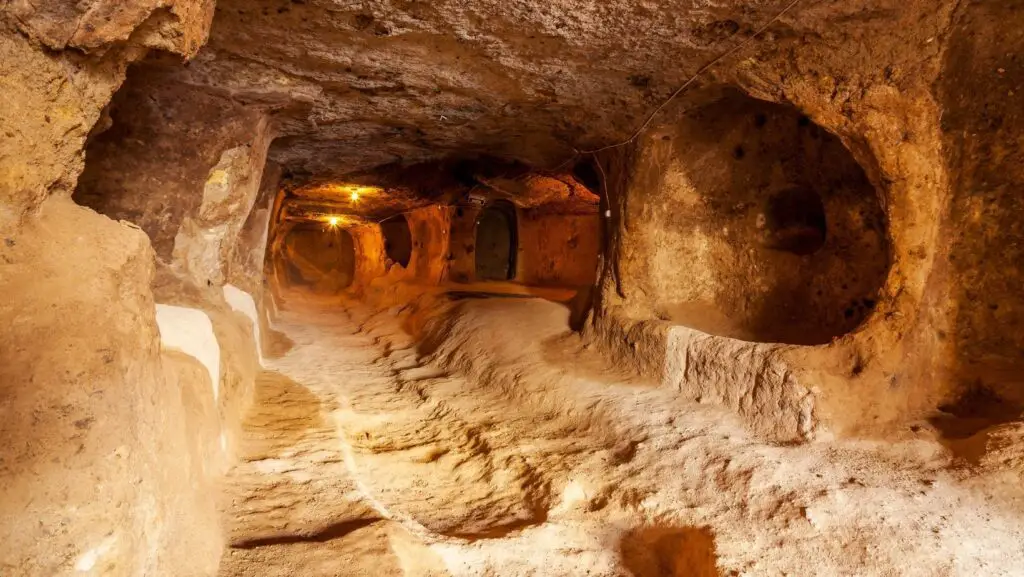 A little longer than the red tour, the green tour starts at 9 in the morning and lasts till 6 in the evening. The green tour consists of the following attractions:
1. Underground City
2. Ihlara Valley Hike
3. Selime Monastery
4. Pigeon Valley View Point
5. Goreme Panorama Viewpoint
6. Onyx Jewelry factory
Each and every one of the above sites have a unique history and are surreal experiences to have in Cappadocia.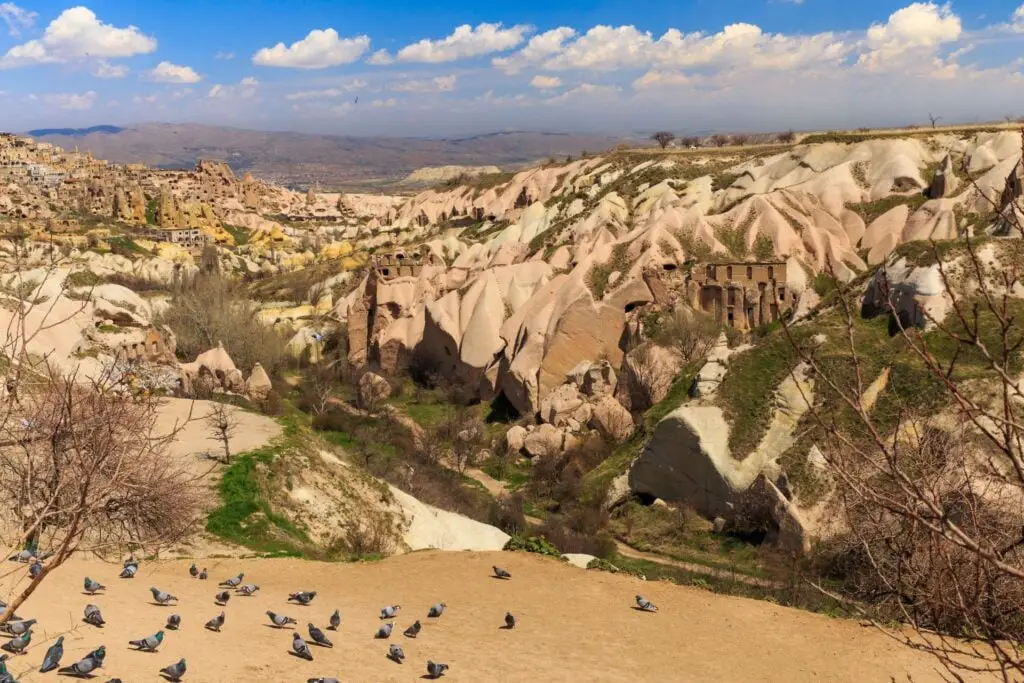 Book a tour that includes lunch and you shall be sorted for the day. This Green Tour operator arranges lunch in the middle of a river! Check it out!
Again, it's better to book via an online activity portal like getyourguide to ensure safety and accountability.
Pro Tip: The Green Tour is longer and more enervating than the Red Tour because of the hikes in Ilhara Valley and exploring the Underground City. So make sure that you don't combine it with any other activity like hot air ballooning or horse riding. Also, if you are short on time and can't complete both the Red and Green tour, opt for this specially curated combined tour, that covers the major attractions of both the tours!
You shall be dropped back to your hotel by 8 PM.
Cappadocia Travel Guide: Day 4
The first three days of this itinerary cover the must do activities of Cappadocia. The fourth day is a buffer day to accommodate all those activities that might have been cancelled due to the weather or time constraints.
If none of the activities were missed and everything had gone as per plan, consider the following activities that may add a different dimension to the previous three days. Click on the links for details like eligibility and price.
Sunrise Horse Back Riding Experience
If you have missed your sunset horseback riding experience on the first day because you reached late or because you didn't sleep well the night before, you can opt for this Sunrise Horseback tour of Cappadocia.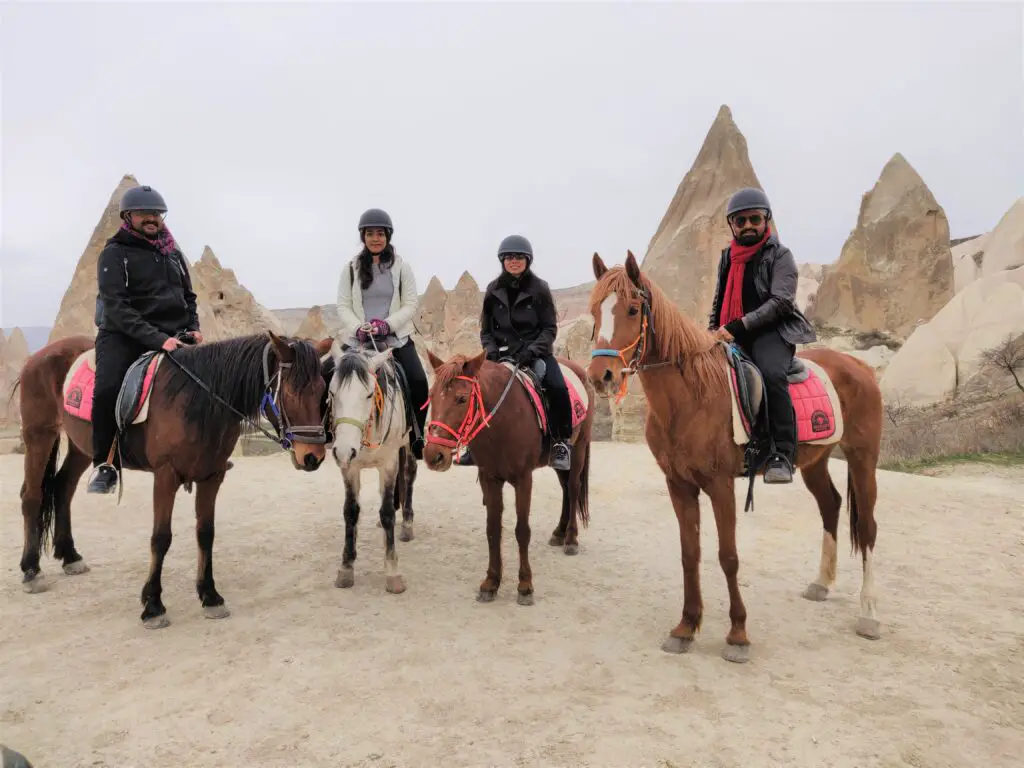 This is a surreal experience as you shall travel across the Red Valley and the Rose Valley as the hot air balloons rise around you.
Explore the valleys on an ATV
For those of you looking for an adrenaline boost, opt for this highly recommended Quad bike (ATV) tour. You shall be exploring Sword Valley, Red Valley and Rose Valley along with your guide and a safety instructor with plenty of time to click some great pictures.
Paragliding In Cappadocia
You have already tried Hot Air Ballooning in Cappadocia. Why not check paragliding in Cappadocia off the bucket list as well!
While hot air ballooning is a more leisurely activity, paragliding offers a certain thrill to the young and the young at heart travelers out there.
Enjoy Sheesha and Drink Raki in a Cave Restaurant
If you are leaving Cappadocia by a late night bus like we did during our Two weeks in Turkey, the best way to end your Cappadocia trip is by smoking a Nargile (Sheesha) and having Raaki in a cave restaurant in Cappadocia. These are two of the Must-Have Experiences in Turkey and probably a national leisure activity of the Turks.
These are our suggestions for spending 4 days in Cappadocia, feel free to contribute to this Cappadocia Travel Guide in case we missed something.
Check out our other blog posts on Turkey in case you are planning your trip anytime soon.