Cappadocia is the most popular tourist destinations in Turkey. The Insta-famous Hot Air Ballooning, the surreal landscape and a plethora of activities is what makes it a must for any trip to Turkey. As the attractions are located at quite a distance from each other, it can be a challenge to visit them all in a short span of time. That's where the Cappadocia Red Tour comes in.
We spent 4-days in Cappadocia out of a total of Two Weeks in Turkey. It would've taken us a lot longer had it not been for pre-arranged tours like the Cappadocia Red Tour and Cappadocia Green Tour that helped us save invaluable time, money and a whole lot of effort.
With this in mind, we have endeavored to provide as much information as possible in this blog post. Read on for more details. 
If you enjoy bite sized travel guides instead of long posts, follow our Instagram feed. We regularly post travel content there in the form of reels like the one below!
This article contains affiliate links. This means that we earn a small commission for purchases made through these links at no extra cost to you. Kindly read our full disclosure and privacy policy for more details.
Cappadocia Red Tour: What is It?
As stated above, because of the distance between the attractions it takes a lot of effort, time and money for a tourist to cover all the amazing things that Cappadocia has to offer.
Thus, the local guides have divided the attractions according to the geography and have created two tours: the red tour and the green tour.
The Red Tour consists of all the attractions in the Northern part of Cappadocia. Hence, it is sometimes also known as the North Cappadocia tour.
Cappadocia Red Tour: How to Book it
While there are a lot of travel agencies in Goreme that offer the red tour, it's impossible to differentiate one from the other and know which is better.
Thus, it is imperative that you book through an activity booking platform like GetYourGuide or Viator that has detailed reviews of the activities that are offered.
Also, one of the most important guidelines to follow while traveling during and after the COVID-19 pandemic is that you book activities that offer free cancellation and are refundable. Both, GetYourGuide and Viator offer free cancellation up to 24 hours before the activity start time.
Note: There will be numerous tours on GetYourGuide at different prices but we recommend this highly rated Cappadocia Red Tour as it included all the attractions and the quality and speed of the tour was much better than other tours that our friends went on.
Cappadocia Red Tour: What Is Included?
The following should be a part of your Cappadocia Red Tour:
1. Pick up and drop off in a shared vehicle
2. All the attractions listed below
3. Entrance fees to the said attractions and national park tickets
4. Lunch
5. A Professional Guide
6. All Taxes, fees and handling charges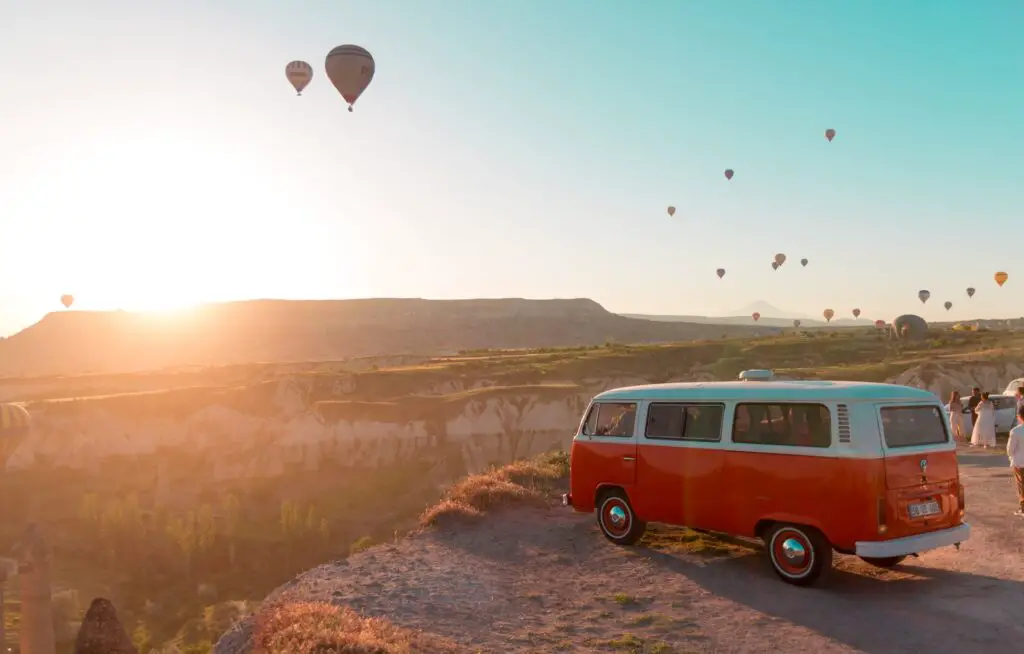 We opted for this highly rated Small Group Red Tour of Cappadocia and had the best time. The guide was a professional art historian, spoke good English and had a good sense of humor. Also, the restaurant where we had our lunch had decent vegetarian options which is a blessing if you're a vegetarian in Turkey.
Since this tour was a small group tour, we spent more time exploring, less time waiting for others and most of the time enjoying the experience thoroughly. We cannot recommend this tour enough!
Cappadocia Red Tour: Attractions
Devrent Valley
Devrent Valley consists of incredible pink hued rock formations in the shape of animals and other odd shapes that run your imagination. Due to these reasons, it is often called Imagination valley by tourists. 
The easiest animal formations to spot are the camel, snake, dolphin, seal and alligator.
If you have the time, you may also book a horse back safari or a quad biking experience here over and above the red tour to experience the valley to the fullest.
Monks' Valley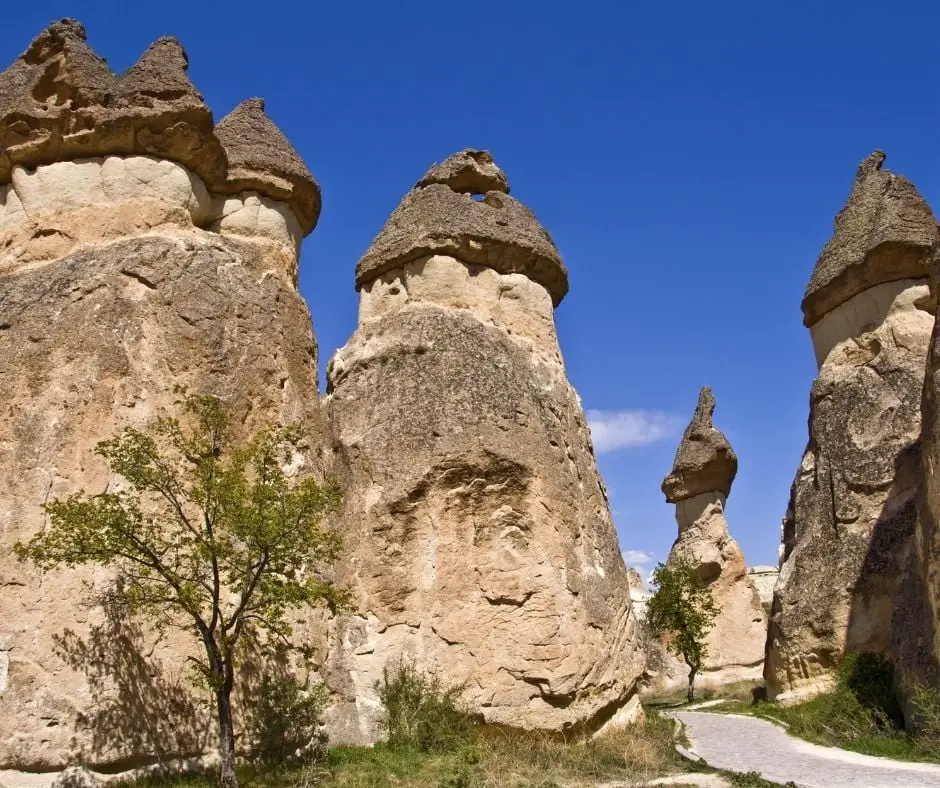 Monks valley or Pasabag, is one of the most popular tourist spots in Cappadocia. It has these epic fairy chimneys that resemble mushrooms (among other things). Along with fairy chimneys it also has cave dwellings where the Byzantine monks lived, earning it the name, monks' valley. The valley has one of the best landscapes in Cappadocia and provides opportunities for some really beautiful pictures.
Open Air Museum
This is the most famous attraction of Cappadocia after the hot air balloons. Located about 1 km uphill from the Goreme city centre, this museum is a collection of churches, chapels and monasteries carved into the rocks of Cappadocia.
You shall also find beautiful ancient byzantine paintings and frescoes in the walls and ceilings of the church. Not to be missed.
Avanos Town and Pottery workshop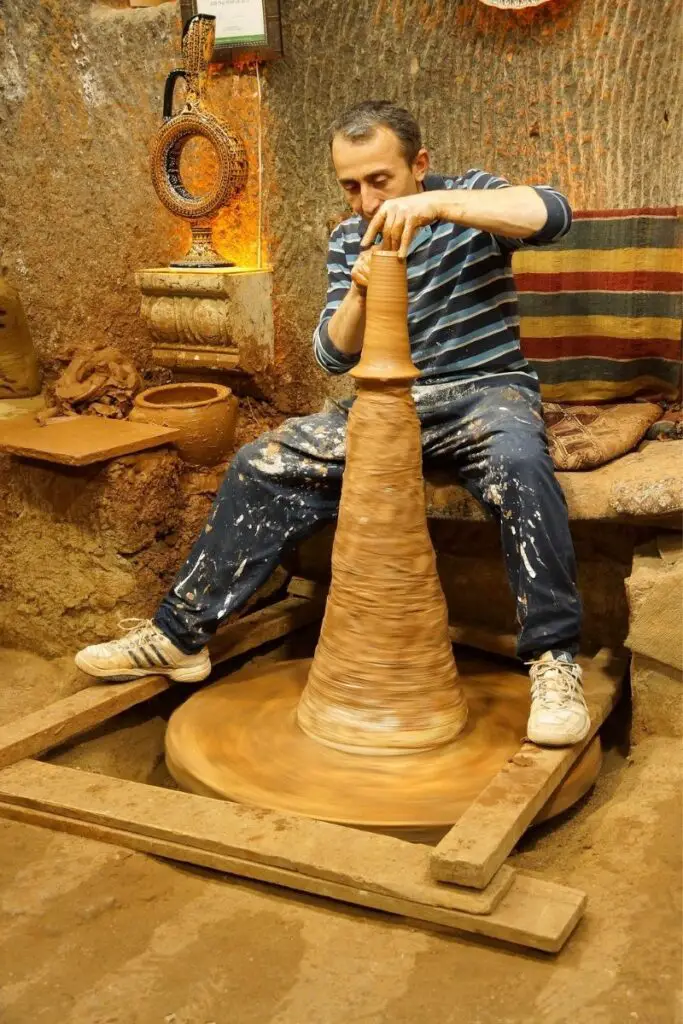 Avanos town is located about 8 kms from the town of Goreme. It is located on the banks of the Red river. The river is aptly named as it churns out Red clay on the banks which is used by the artisans to make beautiful hand crafted pots, vases, wine jugs for Turkey and abroad.
You will get a live demonstration of how the artist makes these pots using traditional techniques and may also get to try your hand at pottery. The demonstration is to encourage you to buy a souvenir from the artist's shop where you may or may not get a steep discount. I don't think it's a tourist trap, just a way to support the local artists and the dying art.
Love Valley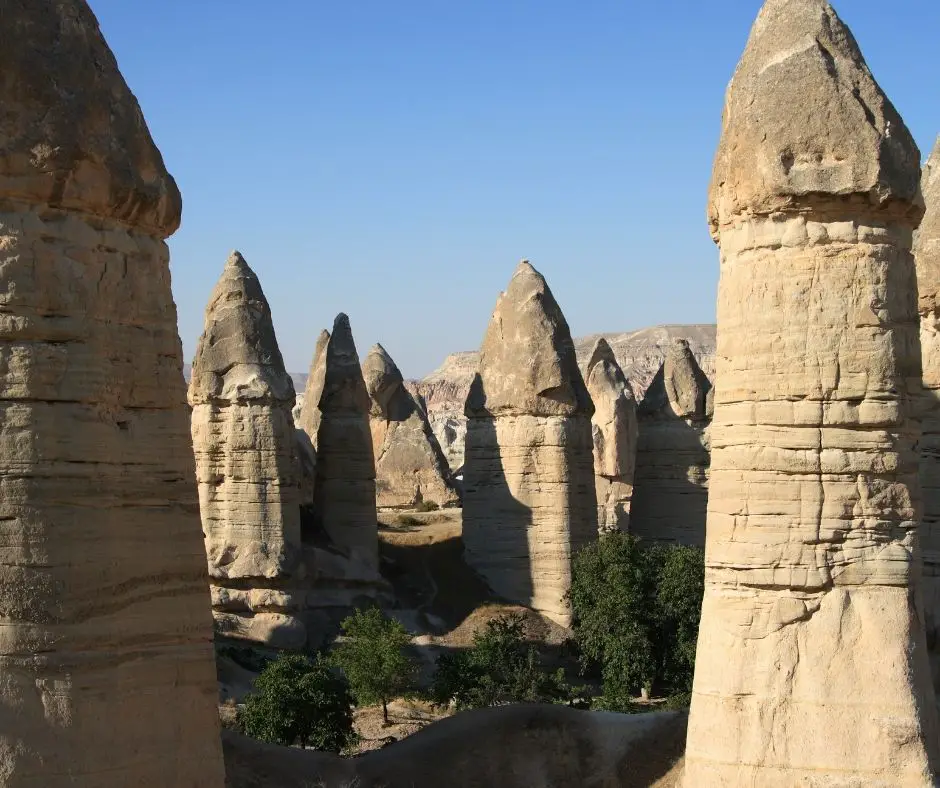 Love valley is the most famous valley in Cappadocia owing to its, well, odd shaped rock formations. As you can see in the picture, the rock formations have a certain resemblance to male private parts. These formations will enable you to spot love valley from your hot air balloon ride as well. The love valley is one of the sought after hiking trails as the hike is relatively easy and views are absolutely phenomenal.
Uchisar Castle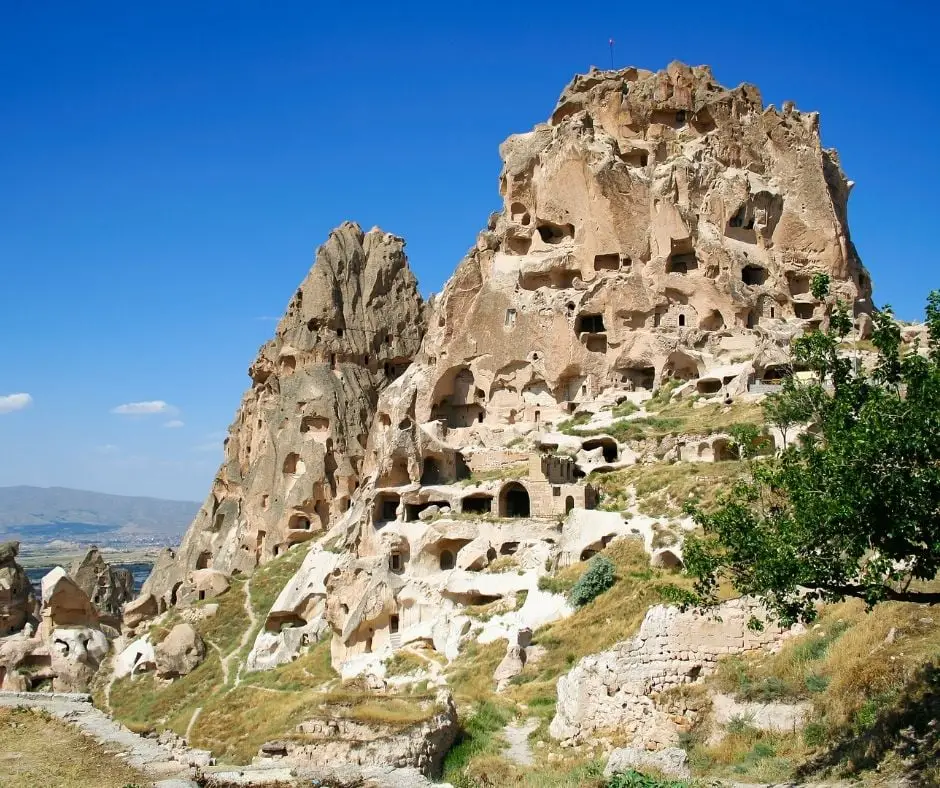 Uchisar castle, located in the town of Uchisar, is one of the highest points of Cappadocia. The castle used to be the first line of defense against invading forces but is, now, nothing more than a set of rooms carved into rock and connected via stairs and corridors.
Although, the hollow rooms of the castle are a fun place for some pictures or to play hide and seek, the real price is at the top. You are guaranteed unprecedented views of fair chimneys, various valleys and the town of Uchisar from some of the top most points of Uchisar castle.
Urgup Wine Cellars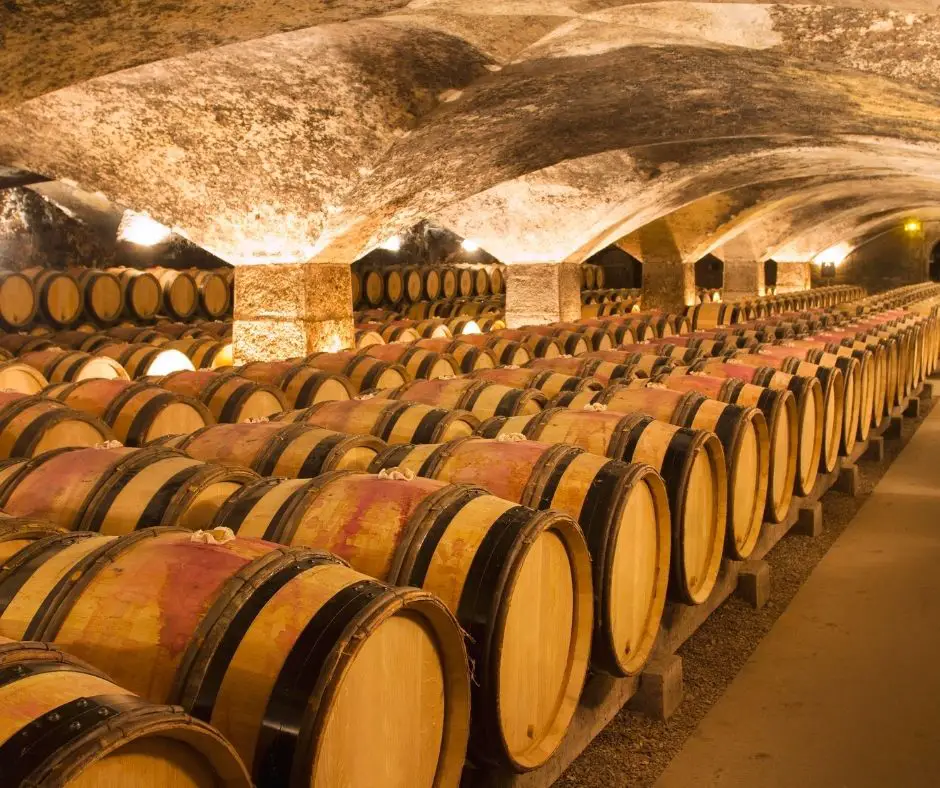 Many Red tours include a visit to the famous wineries of Urgup. The wineries produce some of the finest wines in Turkey as Cappadocia produces some of the best grapes in Turkey. Moreover, these wineries stock the grapes in caves which has a beneficial effect on the quality of wine as it is stored at a constant temperature. Hence, you get to enjoy a wine tasting where you least expected it, at a price that cannot be matched anywhere else in the world.
Cappadocia Red Tour: How Much Time shall it take?
Our tour, started at 10 AM in the morning with our hotel pick up and we were dropped back by around 6 PM in the evening. If you're not in a small group tour like us, it'll take you longer as pick up and drop off times of more people shall be taken into account. Make sure you book this tour so that you can spend more time exploring and less time waiting for others!
We hope this Red Tour of Cappadocia helped you with all the information you needed to plan your trip. If you have a question or a suggestion mention it in the comments below.