Istanbul, formerly known as Constantinople has been one of the world's most active trade centers in history. In today's day and age too, the sheer number of shops, bazaars, shopping streets and street side stalls is overwhelming. During our 5-day trip to Istanbul, we too were confused about which Turkish souvenirs to buy in Istanbul and where to shop for them. We have thus created this list of Turkish souvenirs that will make shopping in Istanbul a breeze.
If you're planning a trip to Turkey, the follow blog posts may prove to be the difference between a good trip and a GREAT trip!
This article contains affiliate links. This means that we earn a small commission for purchases made through these links at no extra cost to you. Kindly read our full disclosure and privacy policy for more details.
Best Turkish Souvenirs No. 1 : Turkish Tea/Coffee Sets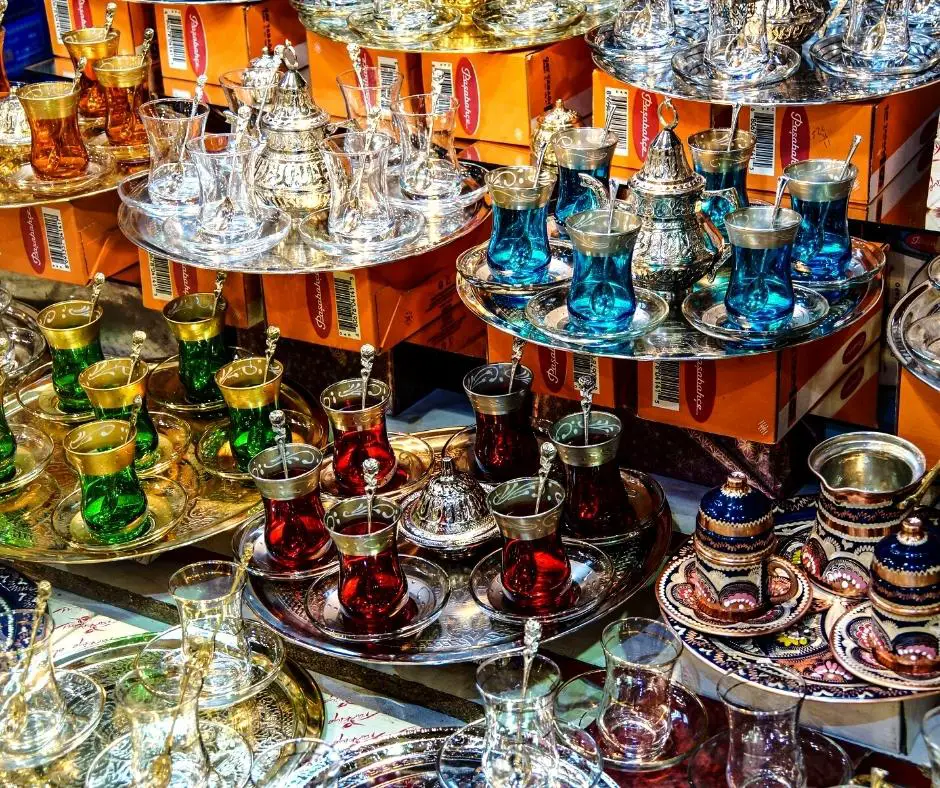 The tea and coffee culture in Istanbul is nothing like what we see in the United States or the rest of the world. It is considered to be a proper leisure time activity that also enables socializing. Hence, the tea/coffee sets in Turkey are pretty ornate and artistic with metal plating and gold patterns.
You can buy a wide variety of tea sets complete with cups, saucers, tea pots, sugar bowls and a beautiful serving tray. Just ensure that the set that you buy is meant for use and not just decoration. There are certain vendors in the grand bazaar who sell beautiful Tea sets but they are meant only for decorations.
Where to shop in Istanbul?
The best place to buy these tea/coffee sets AS Turkish Souvenirs is in the grand bazaar or Istiklal Street if you're looking for those crystal and gold ornate sets. These sets cost around 300 to 400 TL. However, if you wish to go for a more budget yet beautiful tea set you can buy those at the local Migro's – a departmental store around Turkey, for as less as 50 TL.
Best Turkish Souvenirs No. 2 : Handmade Olive Oil Soap
The whole world is now preferring paraben free beauty products and hand made soaps are a speciality in Turkey. Turkey is one of the highest producers of olives in the world.
Olive oil soaps are a significant part of the Turkish Hammam culture and it's imperative that you make it a part of your daily lifestyle. The soap makers use olive oil and other botanical extracts and natural fragrances to make these soaps that leave your skin as soft as a baby's.
Where to shop in Istanbul?
The best place to buy these soaps are in the Egyptian Spice Market where you shall find them in a plethora of options. Our favourites are lemon and jasmine making them some of our favourite Turkish souvenirs.
Best Turkish Souvenirs No. 3 : Turkish Towel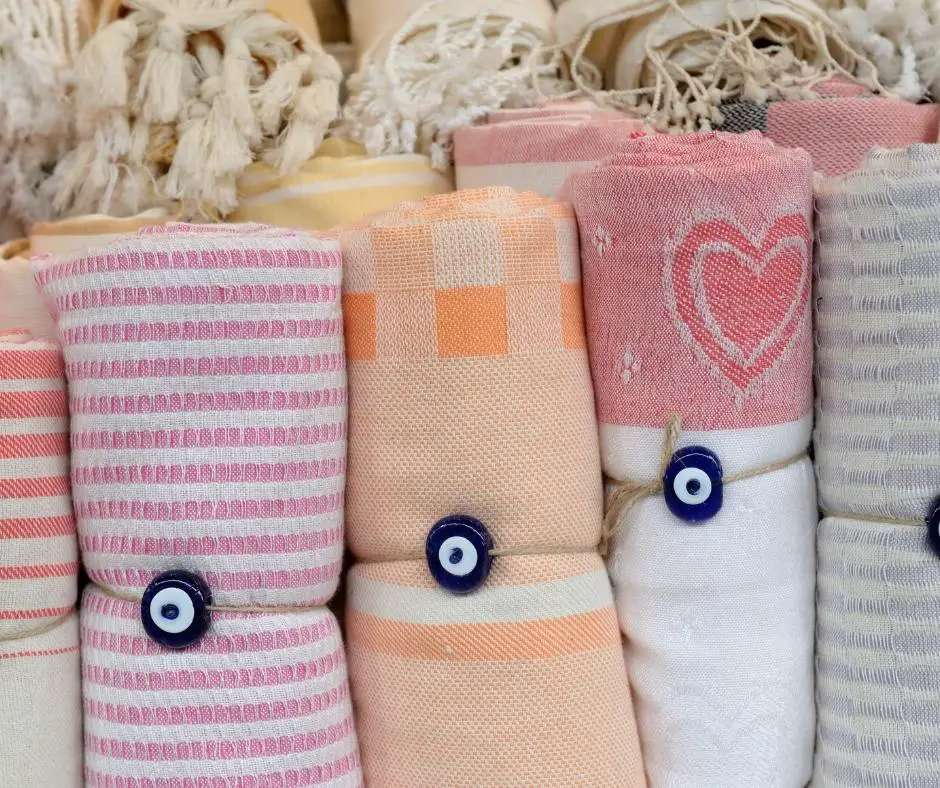 Another prominent part of the Turkish Hammam culture is the Turkish Bath Towel.
These towels are a lot thinner than our usual towels, highly absorbent and super quick to dry. These qualities make them the perfect beach or travel towels and absolute must Turkish souvenir.
Where to shop in Istanbul?
Turkish towels are a basic necessity and hence aren't sold by any fancy shops in the grand bazaar. You can buy them at any local shop or departmental store near your hotel. However, if you need a huge variety and rock bottom prices, you can explore the whole sale Kadikoy market – a well kept secret about shopping in Istanbul.
Best Turkish Souvenirs No. 4 : Ottoman Jewelry
Ottoman jewellery is something unique to Turkey. Every other item in this list can be mass produced and exported. However, authentic Ottoman jewellery is a dying art and many jewellers are closing shop in favour of producing other more popular items.
So, if you're looking for a gift from Istanbul for someone special or are a jewellery connoisseur yourself, get yourself one of these. Ottoman jewellery uses stone found in the Anatolian region more than any other metal and makes for the best gift for someone who loves to wear jewellery.
Where to shop in Istanbul?
You shall find a number of shops in the Grand Bazaar and the Egyptian spice market who sell this but the shops with the best collection are located on Istiklal street, near the Dutch Consulate.
Best Turkish Souvenirs No. 5 : Turkish Lamps and Lanterns
Speaking of artistic antiques, there's no better Turkish souvenir for your home than a hand painted, intricately designed Turkish Lamp or lantern.
You might have seen a lot of pictures on Instagram of people browsing the lamp shops of the Grand Bazaar. These lamps shall make a statement piece in your home and they also make for great gifts for friends and family.
Where to shop in Istanbul?
Needless to say, the best place to buy these lamps is the Grand Bazaar. But make sure you haggle properly and get a good enough discount on the quoted price. Unlike other places in the world, haggling for a better price is welcomed in Istanbul and is also one of the best experiences you can have in Turkey.
Best Turkish Souvenirs No. 6 : Turkish Ceramics
Another great artistic addition for your home shall be Turkish ceramics. Turkish artists combine various geometric designs with floral notes of roses and most popularly, tulips!
You can buy hand painted bowls of various sizes (serving bowls, noodle bowls, dipping bowls) and intricately designed vases, trays, tea sets and even kettles!
Where to shop in Istanbul?
While shopping in Istanbul, you might come across these amazing designs in the Grand Bazaar. However, to get the most value for your money, head to the Egyptian spice bazaar.
There have been instances when the rates here are almost half that of the ones in the Grand Bazaar.
Best Turkish Souvenirs No. 7 : Turkish Coffee
Turkey has a bustling coffee culture which is a lot different from the one in the USA. Coffee here is served in small cups and is brewed along with sugar in a traditional coffee pot called Ibrik/Cezve.
Turkish coffee is rich, creamy, frothy and one of the best Turkish souvenirs you can take back with you. Also, make sure you buy the traditional copper/brass coffee pot as well to make it at home.
Where to shop in Istanbul?
The best place to buy Turkish coffee is Kurukahveci Mehmet Efendi near the spice bazaar. You will smell this place before you see it as the you take in the aroma of roasted coffee beans. It is one of the oldest coffee stores in Istanbul that opened in 1871. The long cue outside speaks volumes of the quality of the coffee they sell.
Best Turkish Souvenirs No. 8 : Turkish Delight
If you are buying Turkish coffee, you should definitely not pass up on some amazing Lokum or Turkish Delight. This chewy sweet is always served with a cup of Turkish coffee in cafes or even waiting lounges.
Turkish delight is fun and cheap Turkish souvenir to bring back from Turkey for your home, friends, relatives and even office colleagues. They come in a variety of traditional flavours like coconut water, pomegranate, pistachios, rose water and some modern flavours such as choco-almond, Nutella and tiramisu.
Where to shop in Istanbul?
The best place to buy these is at the Egyptian spice market for sheer variety it offers and, off course, the cheaper prices. You can sample them before buying so feel free to enjoy this unique experience of shopping in Turkey. You might even find packed boxes of Turkish delight at the airport if you're transiting but may not get a lot of variety.
Best Turkish Souvenirs No. 9 : Nuts and Dried Fruits
Turkey is one of the largest consumers and producers or walnuts and pistachios in the world. Hence, the quality and prices of nuts and dried fruits available here will be better than anywhere in the world.
You can find superior quality pine nuts, pecans, walnuts, macadamia nuts, hazelnuts, dried apricots, almonds and so many more at a fraction of the price that you get anywhere else in Europe or USA.
Where to shop in Istanbul?
Again, the best place to buy these is at the Egyptian spice bazaar as a number of shops competing with each other shall be willing to offer you steep discounts to make a sale.
Reserve some extra baggage space in your luggage to bring as much as you want of this unique Turkish souvenir.
Best Turkish Souvenirs No. 10 : Raki
Raki is an alcoholic drink of made with anise seeds and is the most popular and delicious drink in all of Turkey. Some people even call it the national drink of Turkey.
It is transparent in colour and turns milky white after adding water or ice. It is best paired with feta cheese, salted nuts and thinly sliced Turkish oranges. Yeni Raki is the most popular brand of Raki.
Where to shop in Istanbul?
You can find these in any super market in Istanbul but I believe the best place to buy it would be from the Duty-free store at the airport. This will not only be cheaper but also convenient as you won't have to carry it around with you during your trip.
Best Turkish Souvenirs No. 11 : Kilims – Turkish Carpets
We have kept the best of Turkish souvenirs for the end. Turkey is country that prides itself on its rich tradition and culture. Turkish rugs and carpets form a big part of this culture as every home in Turkey shall have these beautifully designed carpets in various sizes.
When you will go to buy a carpet you the salesman shall tell you everything about where this carpet was made, what was the fabric that was used and which style was used in making the carpet. Anatolian style seems to be one of the most revered and popular choice of carpets or kilims among locals as well as tourists.
Where to shop in Istanbul?
The best place to buy these is at the huge stores in the Grand Bazaar where the shopkeepers shall also ship them to your home country. It is very convenient as you won't have to worry about carrying it around in your flight back home.
This was our list of the best Turkish souvenirs that you bring for your family and friends. Remember, shopping in Istanbul is an experience in itself and you are expected to haggle for the best price that you're willing to pay.
Check out our other blogs on Turkey here and make the most of your trip to the Istanbul!