One of the most important aspects of our travels is the food. Be it cheesecakes in New York, wood fired pizzas from Naples, Sushi in Tokyo or the culinary extravaganza of India, what you eat in a country often defines your experience there. However, if you're a vegetarian, your choices are often limited and naturally you become skeptical about visiting the country because you have no idea about what's in store (or kitchen) for you there. Luckily, finding vegetarian food in Turkey was really easy and we have created this guide.
Don't have time to read the entire article right now? Pin it for later!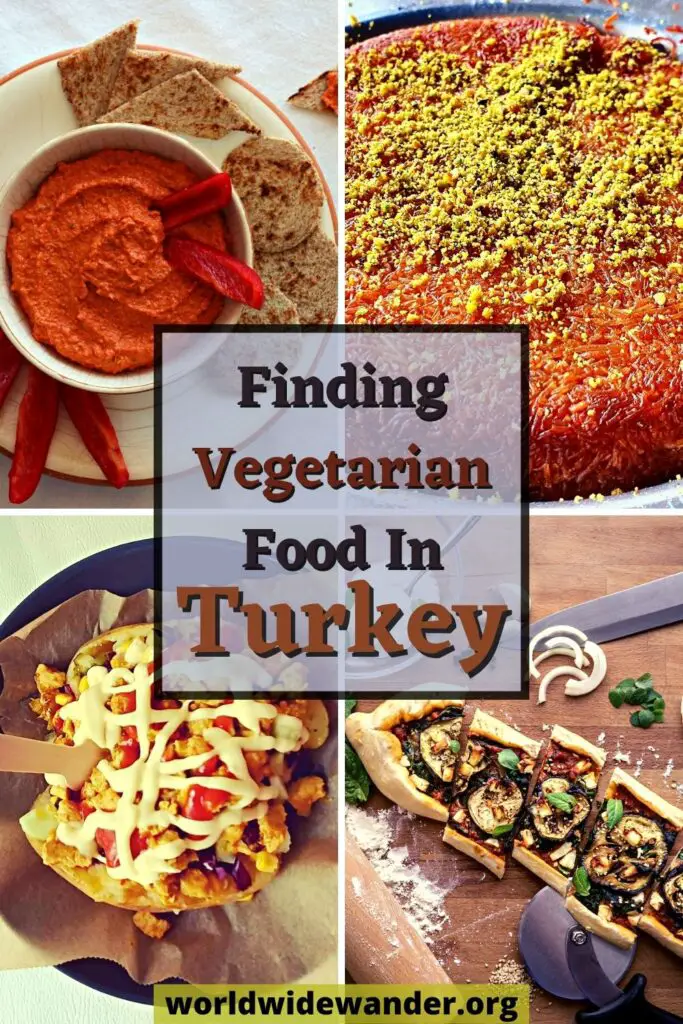 If you're planning a trip to Turkey, the follow blog posts may prove to be the difference between a good trip and a GREAT trip!
Finding Vegetarian Food in Turkey
While Turkey is predominantly a meat loving country as it is often associated with Kofte(meatballs) and Doner Kebab, the culinary scene of the nation is so diverse that you will never be short of choices as a vegetarian in Turkey.
Through our travels, we have endeavored to enlist all the vegetarian food options that you may have when you visit Turkey. Be it breakfast, lunch or dinner, we discovered that it was surprisingly easy to find cheap vegetarian food in all the places we visited in our 14-day Turkey itinerary. You may find plenty of vegetarian options in the Indian, Mexican, Italian and Thai restaurants of Istanbul, but the purpose of this article is to introduce you to all the meat-free dishes that Turkish cuisine has to offer.
 A couple of things to keep in mind if you wish to survive as a vegetarian in Turkey:
The Turks love variety in their meals. Hence, you will realize that every meal is an assortment of 5-6 different dishes. There will be meat free options in at least 4 out of those 6 dishes.
Turkish Breakfast: Speaking of assortment of dishes, the Turkish breakfast is probably the most lavish spread I have enjoyed in my life and it is one of the 14 best experiences you should have in Turkey. It comprises of various types of bread, flavored yogurt, different types of cheese, olives, jams, jellies and hazelnut spreads accompanied by Kahve (Turkish coffee). All of these things are vegetarian friendly and can be consumed individually any time of the day.
Bread, yogurt and nuts dominate Turkish cuisine and are present in every meal in one form or the other.
Street food is going to be your best friend for some cheap vegetarian food in Turkey. Unlike other parts of the world, being a vegetarian in Turkey is not expensive at all.(Keep reading for more information on street food.)
Speaking of cheap food, try finding small, deli-like restaurants where the locals eat on a regular basis. These are great places to get some soup and bread or bread and dips or even salads that pack a lot of flavor. The food is healthy, delicious and easy on the pocket.
With the above points in mind, let's explore all the delicious things you can hog on as a vegetarian in Turkey. I have also taken the liberty to mention the price of the item in Turkish Lira for your reference.
Vegetarian Food in Turkey – Breads:
Gozleme (30-35TL):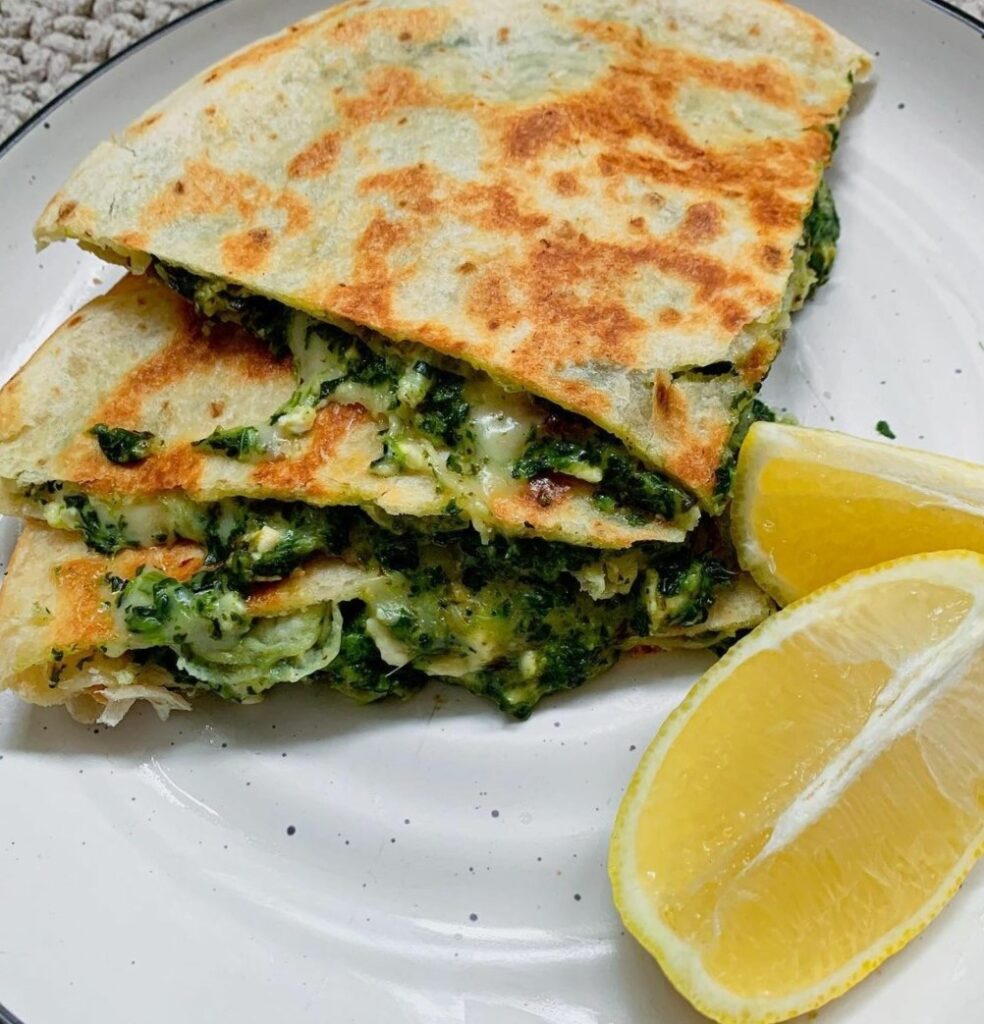 Gozleme is a thin flat bread that is stuffed with a varied number of fillings. Vegetarian fillings include mashed potatoes, spinach-cheese, lentil paste and some places also offer a spicy corn and tomato stuffing. It is easily available in all restaurants, is relatively cheap, delicious and vegetarian friendly!
Pide (20-25TL):
Pide is often termed as a Turkish version of pizza. Instead of being round, it's shaped in the form of an eye and is very easily available without meat. Our favorite toppings were tomato-basil (like a Margherita pizza) and grilled peppers with olives. You can also add toppings like onions, potatoes and mushrooms.
Bazlama (6-8 TL):
Bazlama is a flat circular bread similar to Naan in India or Pakistan. It is best enjoyed piping hot along with lentil soup or ezme or cacik (these are two different types of dips explained below)
Pogaca (5 TL):
Pogaca is a bun shaped bread topped with toasted sesame seeds and stuffed with cheese, olives, tomatoes or potatoes. Our favorite was a cream cheese and parsley filling and you shall find a lot of street vendors selling Nutella Pogaca near the Hagia Sofia.
Vegetarian Food in Turkey – Dips to go with your Bread:
Like I mentioned before, every Turkish meal consists of an assortment of small dishes. A number of these dishes are dips/salads made up of a variety of ingredients. These can be enjoyed with bread as a snack or with aperitifs before a meal. The following are some of my most preferred vegetarian ones:
Ezme: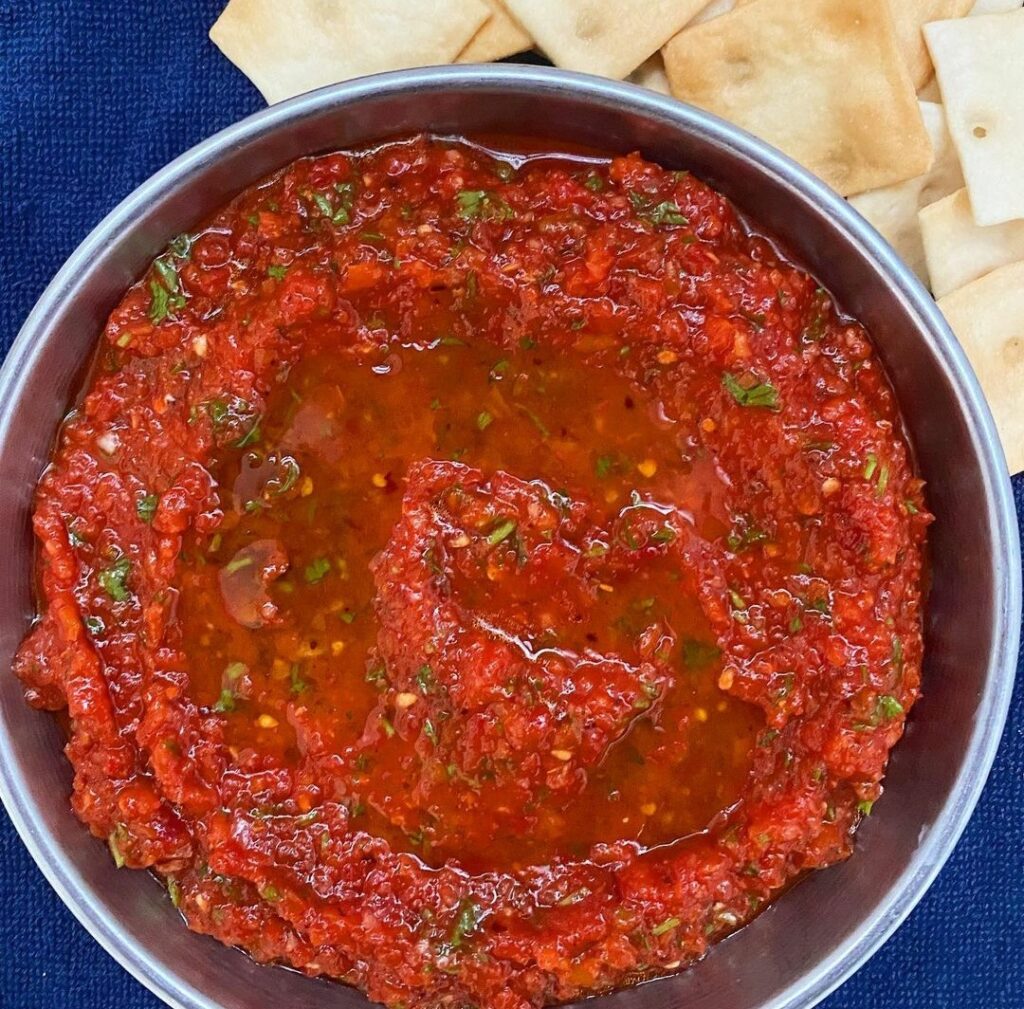 Ezme or Acili Ezme is a spicy concoction of tomatoes, onions, chilies and other spices that complement the famous anise flavored Turkish drink – Raki. It tastes quite similar to a spicy salsa but the consistency is a lot finer and it is made with a lot of olive oil.
Cacik:
If Ezme is a bit too hot for your taste, consider dipping your chips/bread/boreks in Cacik. This is a Yogurt based creamy dip made with cucumbers, tomatoes and mint. It tastes a lot like Raita from India but is much thicker.
Muhammara:
Muhammara is the best of both worlds when it comes to dips. It is made up of red hot peppers and walnuts, giving it a creamy hummus like consistency but the heat of the red peppers gives a very welcome punch to it.
Apart from the above, Hummus is available almost everywhere and don't miss the hazelnut dip and the honey with clotted cream dip served along with breakfast.
Vegetarian Food in Turkey – Mains:
Pilav (20-30TL):
Pilav is a dish common to Turkey, Iran and the Indian sub-continent ( where it is called Pulav). The dish consists of rice sautéed with onions, tomatoes, spices and other vegetables. The dish can be made meat free and most restaurant owners shall be willing to oblige for the same. Pair it with some spiced yogurt and you have a cheap, vegetarian Turkish meal.
Sarma (30 TL for a plate of 6):  
Sarma in Turkish means wrapped. These are little rolls made of pickled vine leaves stuffed with vegetables or rice or both. It's a very popular side dish in a Turkish meal.
Mercimekli Kofte (30-35TL):
Kofte is one of the most popular Turkish delicacies around the world. However, since it is made up of meat, vegetarians traveling to Turkey are often bereft of enjoying it. However, Mercimekli Kofte are made from red lentils instead of meat and offer a great vegetarian option for trying kofte in Turkey.
Borek (30 TL for a plate of 6):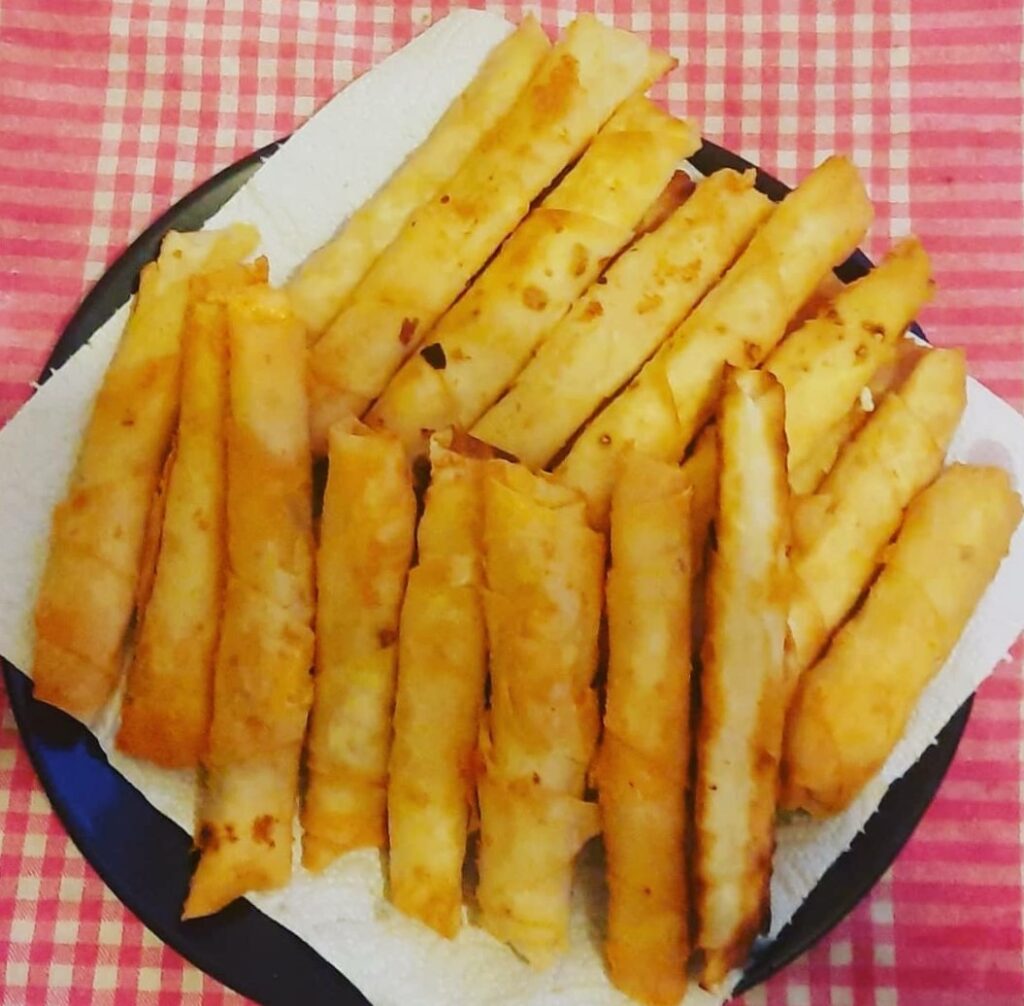 Also known as Sigara Borek because of its shape resembling that of a cigar, these are Turkish spring rolls filled with a variety of stuffing. My favorite one was the feta cheese and parsley filling. It is crisp on the outside because of the paper thing wrapping sheet and soft and gooey on the inside because of the cheese. A perfect side dish to have with drinks.
Lentil soup (15 -20TL):
Whenever we you need a filling, cheap and hearty meal, think of Lentil soup. This soup is a life saver for vegetarians visiting Turkey. It is available in all eateries whether big or small and can be customized to your taste with the condiments available at the table. It is served with bread and makes for a comforting yet cheap vegetarian Turkish meal.
Spinach and Cheese Manti (25-30TL):
Manti is to Turks what Ravioli is to Italians. These are dumplings that are generally made with meat fillings but is also available with a vegetarian filling of spinach and cheese. Sadly, this was the only vegetarian option we were able to find during our trip to Turkey, but we met a couple who had tried manti made up of sauteed vegetables in Cappadocia. Make sure you ask the restaurant if they can provide the same to you.
Vegetarian Food in Turkey – Desserts:
Turkish Delight (Price Varies per Flavor):
This one is something that everybody has heard of and is always served with a hot cup of Turkish Kahve (coffee). Turkish delight (or lokum) is a chewy sweet treat available everywhere and in flavors hard to keep count of. The flavors range from the simple coconut water, pomegranate, rose water lokums to more Americanized versions like Nutella and Tiramisu along with our favorite flavors of pistachio, walnuts and almonds. These also make for the perfect souvenirs to take back home from Turkey for your friends and family.
Baklava (20-25TL):
The most loved dessert of Turkey, Baklava is a dish made up of thin layers of pastry stacked on top of one another, with a pistachio or walnut filling, splashed with a generous amount of sugar syrup. The dish is available in every street side bakery of Istanbul and if the bakery has an open kitchen, you might even be able to see the chef make them in some places. Do not miss this if you have a sweet tooth or if you enjoy sweets with nuts. 
Khunefe (25-30TL):
Khunefe is my favorite dessert from our trip to Turkey. It is a circular dessert made with pastry shaped like vermicelli. The pastry is filled with gooey dessert cheese, baked on a flat pan and occasionally topped with pistachios or other nuts. Sweet. Nutty. Gooey. Delicious!!
Satluc (22-25TL):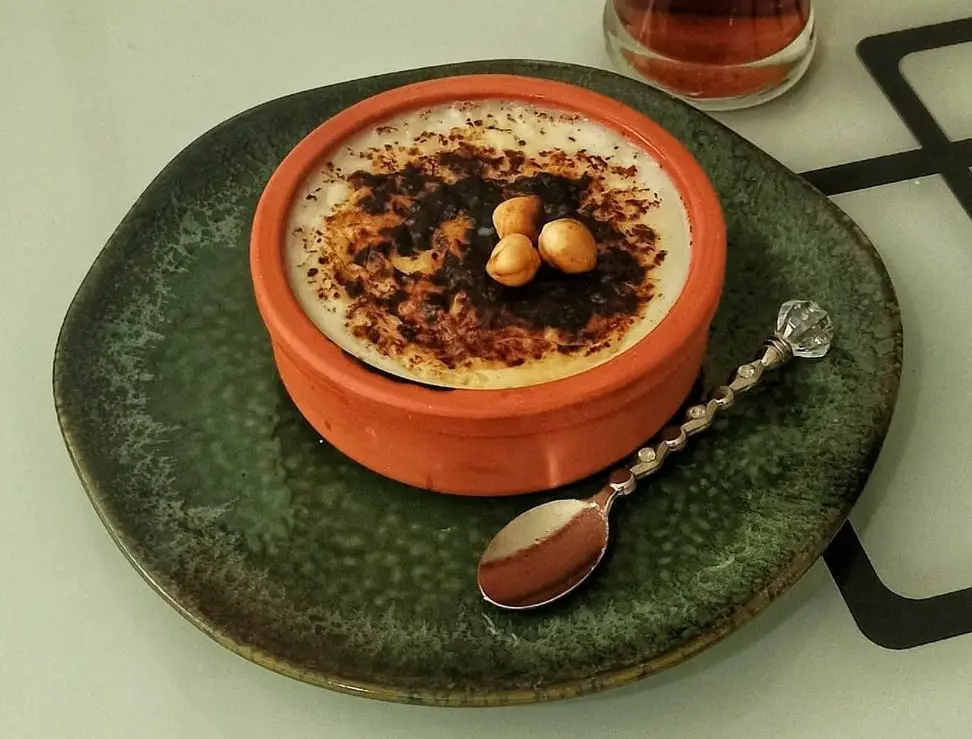 Satluc is rice pudding with a Turkish twist. It is made up of milk, sugar and rice, spiced with cardamom or nutmeg and Garnished with pistachios for that additional crunch and kick of flavor. It is very similar to kheer or phirni available in India.
Dondurma (Turkish ice cream: 25-35TL):
We have all seen videos of Turkish Ice Cream served to customers in the most playful manner on the streets of Istanbul. Apart from the obvious entertainment, the ice cream offers a chewy texture, decadent flavours and a unique experience. The reason why the ice-cream is so chewy is because one of the more prominent ingredients is purple Orchid root extract. Combine different flavours to get the most out of your scoop. Our favourite flavours are pistachio, chocolate, raspberry and pineapple.
Vegetarian Food in Turkey – Street food:
Simit(5TL):
As you will wander around the Sultanehmet area, you will notice lots of small stalls selling these round, bagel-like breads. These are crunchy on the outside, with a fluffy inside and topped with toasted sesame seeds. They are perfect for snacking between meals and are often available with a chocolate or Nutella filling. 
Kumpir (25-30TL):
If there is only one street food you try in Turkey (please try them all) let it be Kumpir. It is a baked whole potato, cut into a half, mixed with generous quantities of butter and cheese and topped with all different types of toppings like corn, olives, lettuce salads, barbeque sauce and ketchup. These are available in abundance in the Besiktas area of Istanbul with hordes of street stalls lined up to customize the dish according to your taste. Choose the stall with the biggest que.
Kozde Misir (5 TL):
Kozde Misir is grilled corn on the cob. Unlike American corn, this corn is not sweet. After grilling it to your satisfaction, the server shall ask you for your choice of toppings. We opted for lemon, black salt, chilli powder and cumin. Other toppings include mayonnaise, nutmeg, cheese, butter and some stalls even offered Nutella!
Kestane (20 TL for 100gms):
The vendors selling grilled corn shall also be selling this popular Turkish snack. Make sure you snack on Kestane while wandering between sites in Sultanahmet, Istanbul. These are smoked chestnuts, available in every nook and corner of the city. Served piping hot they make a great little something-to-nibble-on alternative to packets of chips or cookies while you are busy exploring the streets of Istanbul.
In a nut shell, with a plethora of options at your disposal, it is an absolute joy to be a vegetarian visiting Turkey. I hope this list addresses your apprehensions about the food in Turkey and encourages you to visit this beautiful country.
Do check out our other blogs on Turkey travel. We have published a lot of other tips to plan your Turkey holiday, so make sure you subscribe to our newsletter so that you don't miss out on the action. Reach out to us on our Instagram handle @worldwidewander_org if you still have any questions.
Tesekkur Ederim.
(Thank you in Turkish)