Jawai is the new hot destination for safari lovers in India. This little village in the middle of Rajasthan has suddenly become a part of many bucket lists. It has quickly become the go-to destination for spotting the ever-elusive leopard and indulge in some truly amazing glamping experiences. During our trip, we discovered some unique things to do in Jawai.
And, since we couldn't find a lot of details on the internet about how to plan our Jawai trip, we thought of creating this detailed guide to Jawai, just like our popular 3 Day Coorg itinerary , so that you have everything you need to plan your vacation.
Let's start with the basics.
This article contains affiliate links. This means that we earn a small commission for purchases made through these links at no extra cost to you. Kindly read our full disclosure and privacy policy for more details.
How many days are enough in Jawai?
Jawai is a relatively small destination that makes it a perfect weekend getaway. You can see and do everything in Jawai in a matter of two full days. However, if you really wish to relax and enjoy living in nature at leisure, you can stay there for 3-4 days. 
Where is Jawai Located in Rajasthan?
Jawai is located in the Sumerpur Tehsil of the Pali district of Rajasthan. It is named after the Jawai river over which the famous Jawai Bandh is constructed.
How to reach Jawai?
The village of Jawai is kind of in the middle of a jungle and granite hills. So there aren't any direct public transport links to the place. Hence, we suggest you to reach one of the nearest transport hubs in the area and book a taxi accordingly. The following are the easiest ways to reach Jawai.
By Air: The nearest airport to the Jawai bandh is located in Udaipur that lies about 150 kms away. Jodhpur is another alternative which is also about the same distance. You can take a flight to either city and book a taxi to take you to Jawai.
By Rail: There are three major railway stations near Jawai. The first and the closest one is Jawai bandh. Alternatively, you can also get down at Falna or Rani stations in the Pali district and book a cab from there.
By Road: The entire state of Rajasthan is pretty well connected by road. You can hire a car and go on a fun road trip through Rajasthan while enjoying everything that the colorful state has to offer! However, if you're looking for a bus ride, you will get it only till Abu Road station. From there, you'll have to a book a cab to Jawai.
A lot of our friends, opted for this 2 day trip from Udaipur to Jawai that includes transportation, stay, food and safari! It is a very convenient option as everything is taken care of!
Best Time to visit Jawai?
The best time to visit Jawai is during the colder months of November to February. The chances of spotting a leopard are the highest as they come out of their caves in the day to bathe in the sun. Also, the migratory birds visit Jawai during this time. So, it's another great experience you can have if you visit Jawai in the winter.
That being said, a lot of locals believe that Jawai is a year-round destination as Leopard spotting is guaranteed in almost any weather. But in our opinion, it's a lot easier to spot them when the bushes they hide in have dried up.
Where to Stay in Jawai?
This is the decision that will make or break your experience in Jawai. Since Jawai is a small village in the middle of a Jungle, there aren't a lot of local businesses that can cater to your need. Hence, you will be entirely dependent on your resort as it will take care of everything including your stay, safari, food, transportation, recreation, etc. Make sure you chose your Jawai resort wisely and after thorough research. Also, go for the full board plan while booking your resort as there really aren't any restaurants in the area.
Here are our recommendations.
Luxury: Sujan Jawai
The crème-de-la crème! The most luxurious of all the hotels in Jawai Bandh. If you have the budget, Sujan Jawai provides the best glamping experience with luxurious tents, a plethora of activities and the lip-smacking food.
Click here to check rates of Sujan Jawai!
Mid-range: Sultan-e-Jawai
Part of the iconic Ananta group of hotels, Sultan-e-Jawai is a great option for someone who wishes to enjoy glamping but cannot splurge on expensive accommodation like the one above. We stayed here during our trip to Jawai and our experience was nothing short of amazing. The owner, the manager and the entire staff took personal care of all our needs to ensure optimum levels of Rajasthani hospitality.
Click here to check rates of Sultan-e-Jawai!
Budget: Homestays
For those on a budget you can book one of the new homestays and farm stays that have been sprouting up due to the sudden rush of tourists in the region. The Jawai Backpackers Hostel and Jawai Balwant Villas are the recommended ones. Here you can opt for a full board package or carry your own food to cook in the common kitchen.
Things to do in Jawai: Jawai Leopard Safari
This is the reason why Jawai has gotten so famous in recent times. There are around 60 to 65 leopards in the region of the Jawai Bandh. The millennia old granite hills have numerous caves and crevices where these leopards have made their home.
What's surprising is that the Jawai leopards are living in perfect harmony with the human population of the nearby village. There are not boundaries between the jungle and the village and leopards frequent the farms and temples without harming any humans. The people of Jawai consider the leopard a sacred deity and any kind of hunting or poaching is looked down upon.
The safari takes place early in the morning or at twilight as those are the best times for spotting. You shall be taken to good vantage points in an open jeep where you can witness these leopards to your heart's content. We spotted two female leopards, four cubs and a male leopard in our two safaris.
Things to do in Jawai: Jawai Bandh
Jawai is also popularly known as the Jawai bandh. Bandh means dam in Hindi. The Jawai dam was constructed by Maharaja Umaid Singh of Jodhpur. The construction of the dam has led to the creation of this beautiful reservoir that is soon becoming a popular Instagram location!
The reservoir is a treat to watch in the early mornings due to the mist that covers the surface. As the mist dissipates, you shall be presented with beautiful vistas of centuries old granite mountains that engulf this picturesque lake.
 A lot of resorts offer to set up a breakfast table at one of the many beautiful vantage points overlooking the lake.
Things to do in Jawai: Crocodile Spotting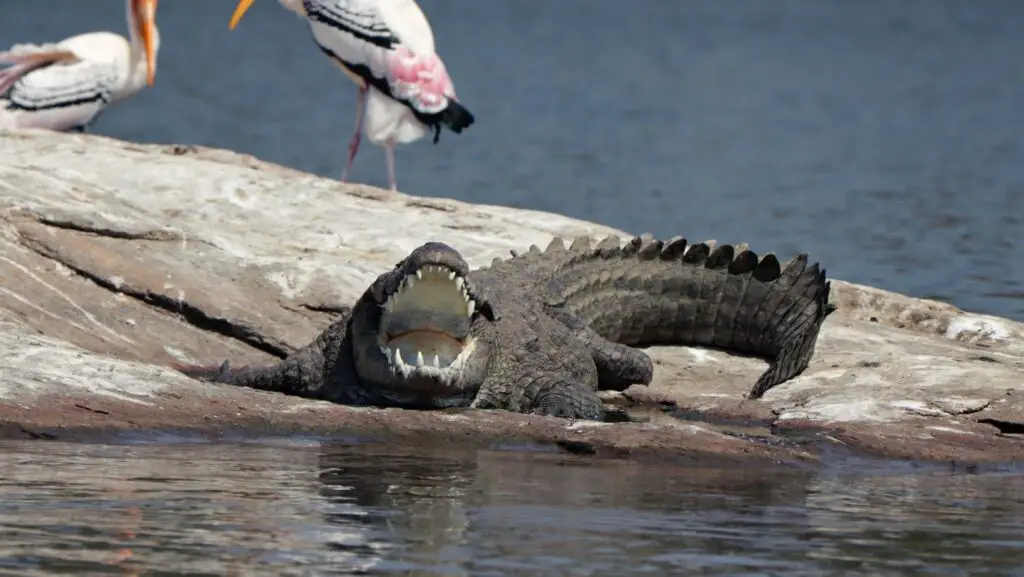 Another predator that inhabits Jawai is the crocodile. In fact, the number of crocodiles in the Jawai bandh is 377, far more than the number of leopards. On your visit to the Jawai Bandh, you shall get the opportunity to witness these crocodiles idling on a rock in the middle of the lake or on the banks of the river below. There have been times when tourists have also been fortunate enough to witness these crocodiles catching their prey!
Things to do in Jawai: Wildlife Safari
Leopards and crocodiles aren't the only animals in the jungles of Jawai. There are many other animals like hyenas, sloth bears, deer, porcupines and wolves that can be spotted on a separate wildlife safari.
Your leopard safari will be in the granite mountains while this wildlife safari will be in the dense jungle. Ensure that you mention this to your tour provider. Both the safaris can be clubbed together in case you are short on time.
Things to do in Jawai: Migratory Bird Watching
During the colder months of November to February, over a hundred different species of migratory birds visit the Jawai bandh. Flamingos, Pelicans, varied species of Guls, Geese, Pochards, Pintails and Teals come in large numbers here! If you're an avid bird watcher, like us, you absolutely need to do this activity in Jawai!
Things to do in Jawai: Luxury Glamping
Glamping is the way to visit Jawai. Imagine going to South Africa and not living in a game lodge! As explained above, there are a number of camp sites that offer packages for every budget. These are self-sufficient sites with everything that you might need on your holiday. Choosing a camp operator is the most important part of your Jawai trip as they shall be arranging everything for you from safaris, meals, recreational activities and even transportation!
Things to do in Jawai: Nature Trails
Many camps conduct several nature walks through the forest. You shall be guided by a local and in some cases, even a ranger. These nature walks are an excellent way to spot smaller creatures such as wild rabbits, foxes, jackals, mongoose, deer and a variety of birds. The walks generally take place around sunset for the best spotting.
Things to do in Jawai: Chase the Sunsets!
Also, if your camp is located near one of the hundreds of granite mountains in the regions, you can go for a sunset hike to the summit! Some of the best vantage points are from the top of these mountains. It is a must-do activity for anyone who loves hiking!
Things to do in Jawai: Bon Fire Parties
After sunset, your camp will invite you for a bon fire party. If you're visiting in a group, you shall have a private set up, complete with a personal manager. The manager will take care of the maintaining the bon fire, music, seating arrangements, food and drinks!
If you're not in a group, you shall be invited to the common bonfire party that generally goes on till the early hours of the morning! Bon fires are our favorite part of glamping!
Things to do in Jawai: Village Tours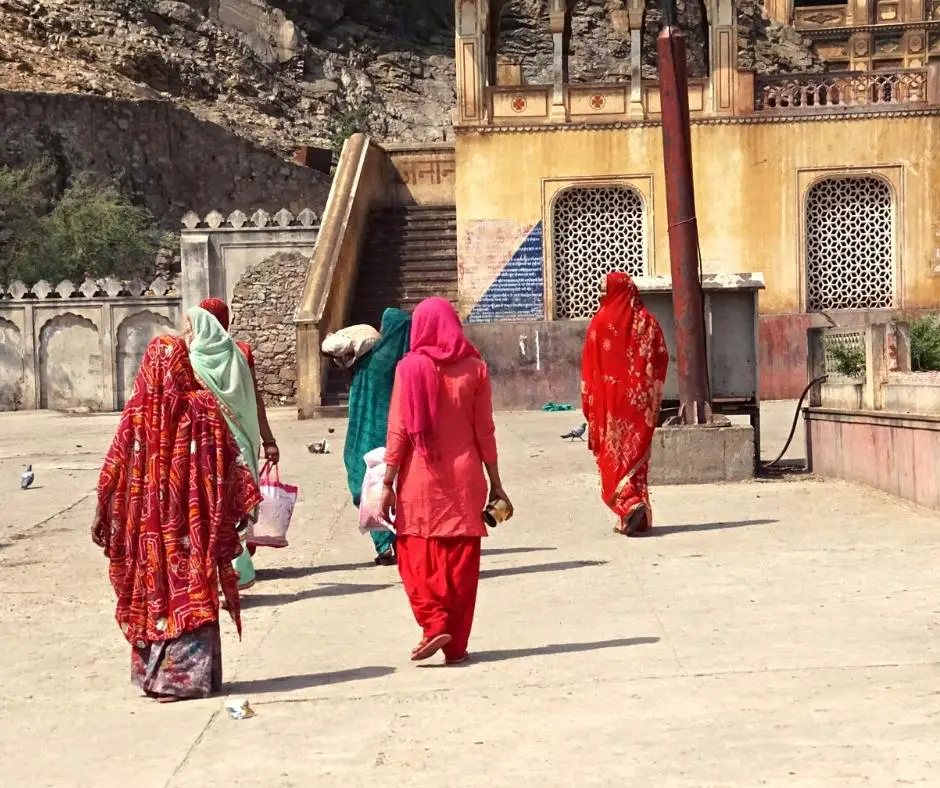 When you're done spotting leopards in the wild, pay visit to the local village to see how they live. Their lifestyle is a lot different from the ones in Indian cities and they have the best leopard stories in the land! This activity provides a fun peak into their lives and also supports the local Rajasthani communities in their livelihood. Also, if you get a chance, you can try the local cuisine that is nothing like what we get in the cities.
Things to do in Jawai: Granite Mountain Temple Visits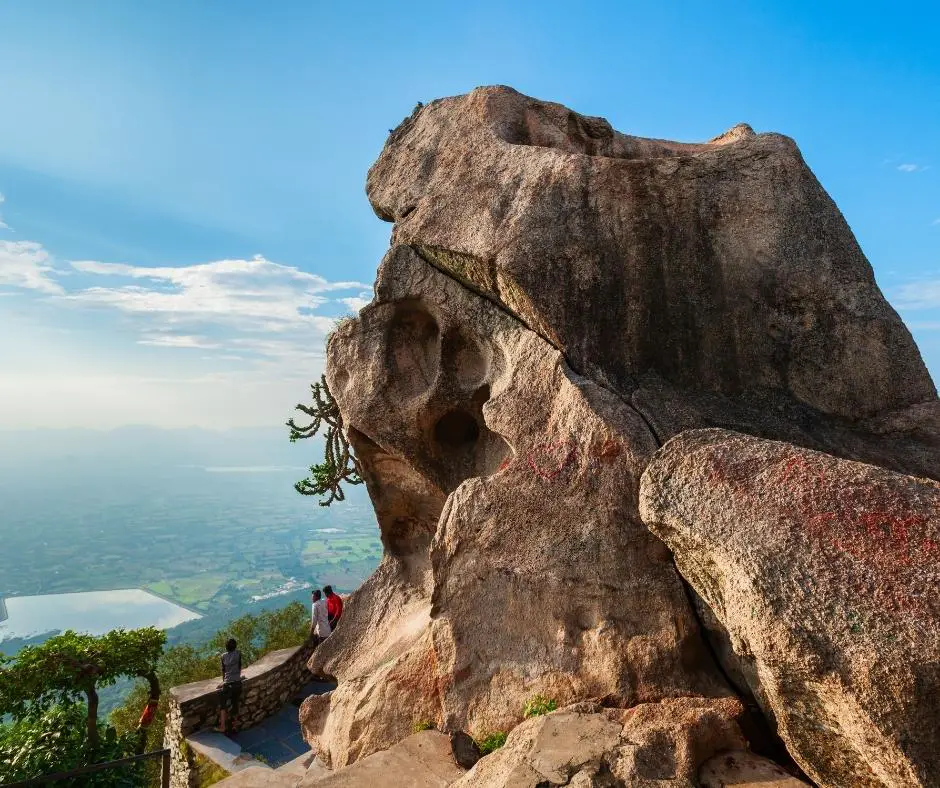 While touring the villages, don't miss out on the many unique temples carved into the granite mountains. These temples are often located a little above the village, so it might involve another hike. However, you might find a surprise while hiking those temple stairs. There have been numerous incidents where leopards sit on these stairs. Nobody knows why they visit, but they sit peacefully on the stairs during the day without disturbing anyone. This experience, will be the closest you shall be to a leopard in your life. The leopards don't really harm anyone, but just to be on the safer side, ensure that you're always with a guide.
This brings us to the end of our guide to all the incredible things you can do in Jawai. We hope this article helps you plan your Jawai trip in detail. If you still have any questions, drop them in the comments below and we shall be happy to answer them.