Holi is the most colorful festival in India. Through out the country, people celebrate the victory of good over evil with utmost enthusiasm and fervor! However, Holi in Vrindavan, Mathura and Barsana is on a completely different level.
These are the places where the beloved Hindu God, Lord Krishna, spent his childhood and youth. His legends, popularly known as Leela, during the joyful festival or Holi are enacted and celebrated by the people of Vrindavan, making it a must-visit experience for any traveler!
People from all over India and the world come here to witness the scale of the celebrations that encapsulates everyone its colors of love and joy.
It is definitely one of the best places to celebrate Holi in India. While the festival encourages you to be spontaneous, it's better to prepare well in advance.
Read on for our complete guide to spending Holi in this wonderful abode of Lord Krishna – Braj-Bhoomi.
Dates for Celebrations of Holi in Vrindavan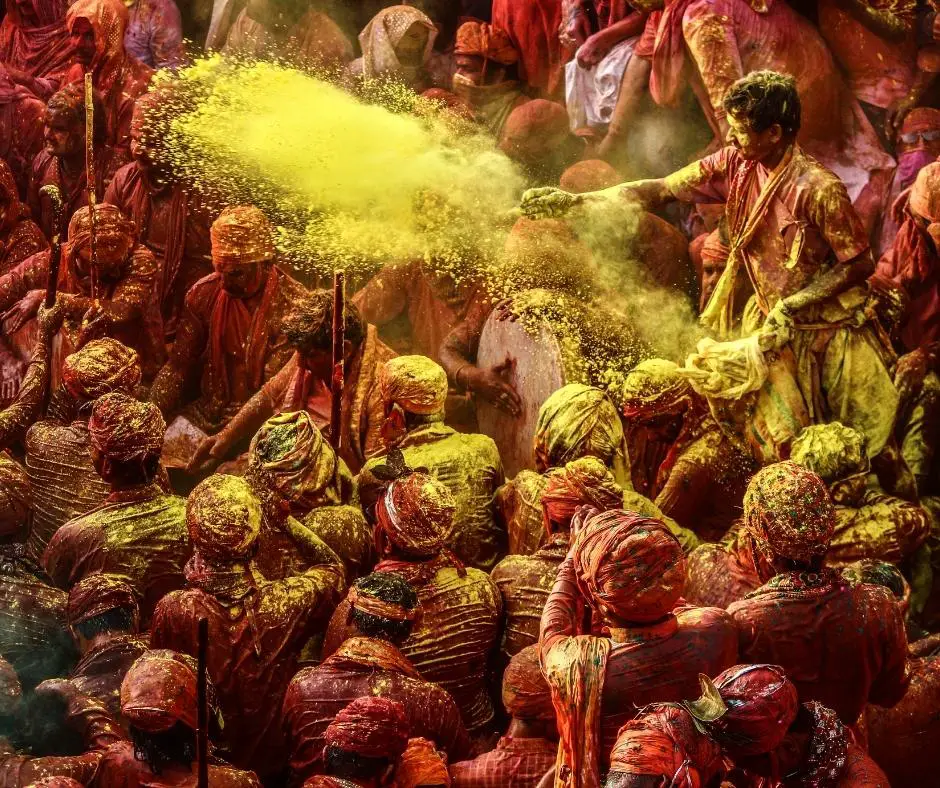 The dates of Holi are according to the Hindu calendar and hence, change every year in the conventional calendar. In 2023, Holi falls on the 8th of March.
However, Holi celebrations in Vrindavan and around, start as early as Basant Panchmi, which takes place on 26th January, 2023.
Where to stay to celebrate Holi in Vrindavan?
Mathura and Vrindavan are the two big centers where you will find decent accommodation. We recommend staying in Vrindavan though.
That way, you'll be right in the middle of the celebrations, ensuring minimum transit time.
The best hotels in Vrindavan shall not charge you more than Rs. 4,000 per night and decent budget hotels with proper hygiene and basic rooms will run you around Rs. 900 per night.
Here's a list of the best hotels in Vrindavan with rates!
How Many days are enough to witness Holi in Vrindavan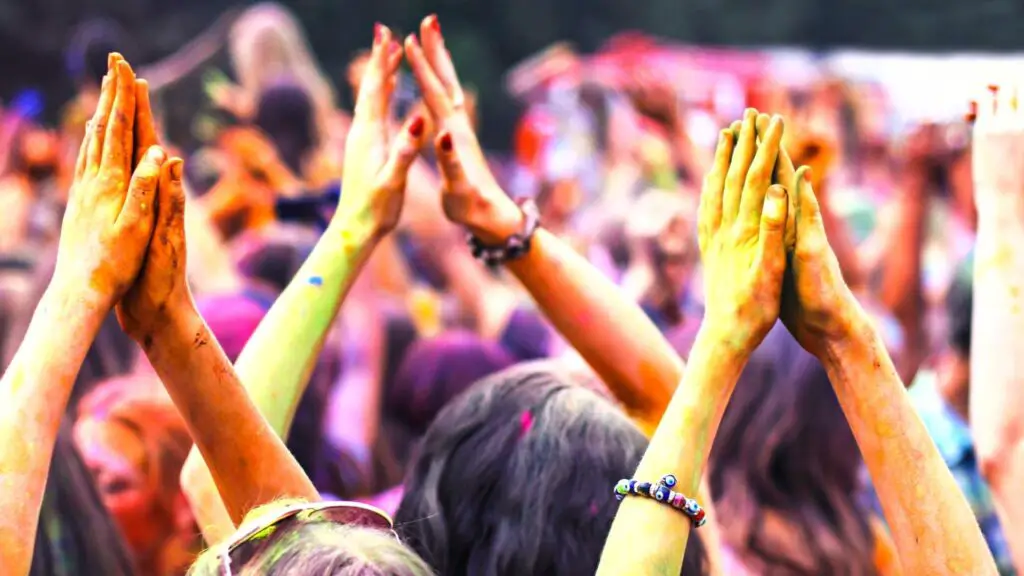 To witness all the different celebrations in this article, we recommend arriving a week before Holi. If you don't have that much time or don't wish to witness Lath Maar Holi, you can visit 2 days before Holi and leave the day after Holi to ensure a good experience.
How to reach Vrindavan?
The most well-connected airport closest to Vrindavan is Delhi. Hence, you can reach Delhi and then take a bus to Mathura which is located about 180 kms away via the Yamuna expressway.
You can take the state transport buses if you're on a budget or the more comfortable private buses that run very frequently between the popular locations.
From Mathura, you can take a shared auto-rickshaw that will take you to Vrindavan for about Rs. 20. If you hire a private auto, it'll run you about Rs. 200 to reach Vrindavan.
You can also ask your hotel to pick you up from Mathura bus stand, but that'll be costlier than the above options.
Now that we have addressed the basics, let's dive into all the different Holi celebrations you can witness in Vrindavan. We have maintained this list in a chronological order so that you have a better idea in planning your trip.
Holi in Barsana: Laddoo Holi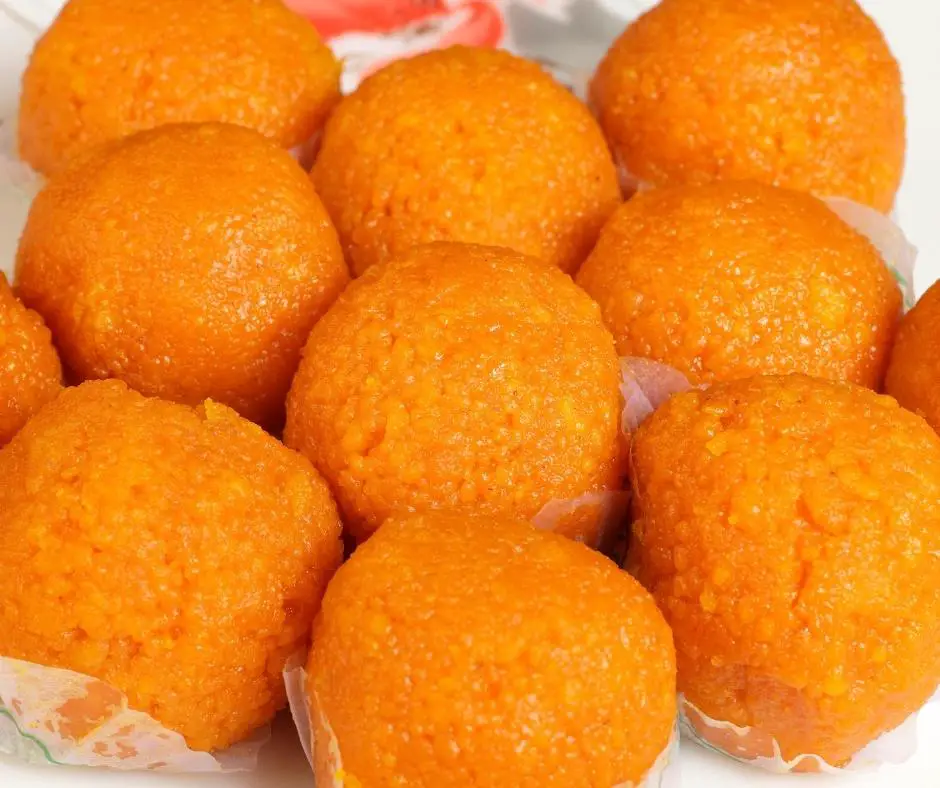 This event takes place in the village of Radha ji, Lord Krishna's beloved, located about 50 kms from Vrindavan.
The best way to reach here is by a shared auto-rickshaw or state transport buses. The event takes place about 8 days before Holi, also known as Falgun Shukla Ashtami.
It formally marks the start of Holi as people from Nandgaon visit Barsana to invite its natives to celebrate Holi together.
According to Indian traditions the start of any auspicious event has to be marked by consuming something sweet. Laddoo is a circular Indian sweetmeat that crumbles easily.
Hence, in the spirit of the festival, Boondi Laddoos as well as yellow powder colours are used to play Holi on this day.
The celebration takes place for a very short while in the public square and can be easily missed. So, we suggest that you consult a local in Vrindavan about the timings.
Holi In Barsana: Lathmar Holi
Lathmar Holi is one of the most bizarre celebrations of Holi in Vrindavan you will ever witness in India.
It has a unique tradition where the women of Barsana village chase the men and beat them (playfully) with sticks! The entire atmosphere is that of youthful flirtations and playful mischief.
Like all things Indian, there is a popular legend behind this celebration as well. In his youth, Lord Krishna and his buddies use to visit Barsana to tease Radha ji and her friends.
This prompted the women to chase them and beat them up with lathis (sticks), giving this celebration its name Lath (stick) Maar(hit) Holi.
The people of Nandgaon (Lord Krishna's village) and Barsana have kept the tradition alive and they recreate it it every year.
Everyone is dressed in traditional attire. The men wear turbans and use shields in order to protect them from the playful beatings of the women.
There's music, there's dance, there's colors and there are lathis. This celebration takes place a week before Holi and is a must-have experience for anyone wishing to witness Holi in Vrindavan.  
Holi in Gokul: Chhadi Maar Holi
Gokul is a village located about 27 kms from Vrindavan and the place where Lord Krishna spent his toddler years.
As Lord Krishna was just an infant while he was in Gokul, all the temples in Gokul worship His toddler form.
There is a huge procession where His idol is paraded across the village as people throw colours at each other, have bhaang-thandai and play with chhadis(sticks smaller than lathis).
This is a milder version of Lathmar Holi, but is celebrated with utmost pomp and show!
Holi in Vrindavan: Flower Holi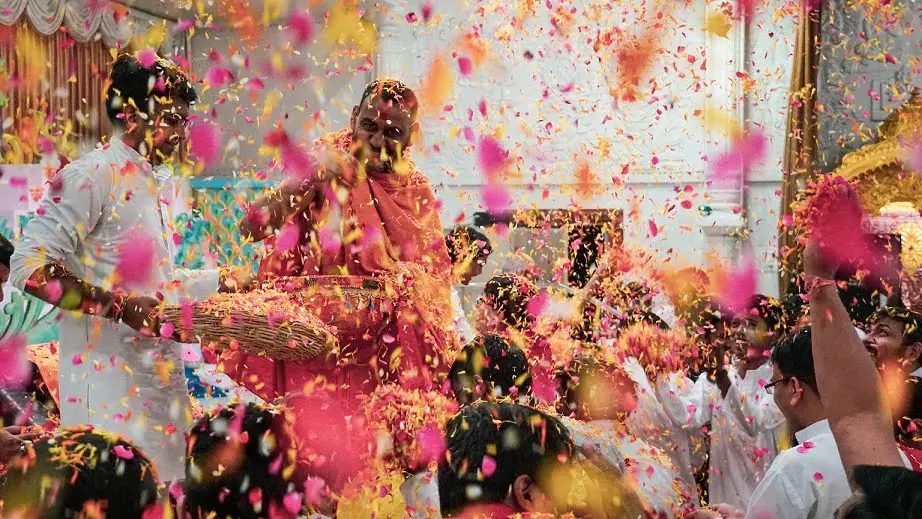 Flower Holi, locally known as Phoolon Wali Holi in Hindi, is a sight to behold in Vrindavan. As the name suggests, in this celebration, instead of powder colors, people play Holi with flower petals.
The event takes place four days before Holi on the pious Hindu date of Ekadashi, and lasts for barely 20 minutes in the iconic Banke Bihari Temple!
The temple gates open at 4 PM and the temple priests throw flower petals at the devotees and the visitors!
Photographers shall have a field day here as you stand a chance to capture some breath-taking pictures of the colorful occasion.
Ensure that you reach the temple at sharp 4 PM as the celebration is over rather quickly.
Holi in Braj: Krishna Leela
As mentioned above, Lord Krishna was known for his heroic legends and mischievous shenanigans. These are often enacted by performance artists in the form of Krishna Leela.
These skits or street plays take place in Braj, near the famous Goverdhan Parbat and are often accompanied by music, songs, prasad and dancing.
During the days of Holi, a special performance of what Lord Krishna used to do during Holi is depicted. If you're in Vrindavan or Mathura during Holi, this activity is not to be missed
Holi in Vrindavan: Widow's Holi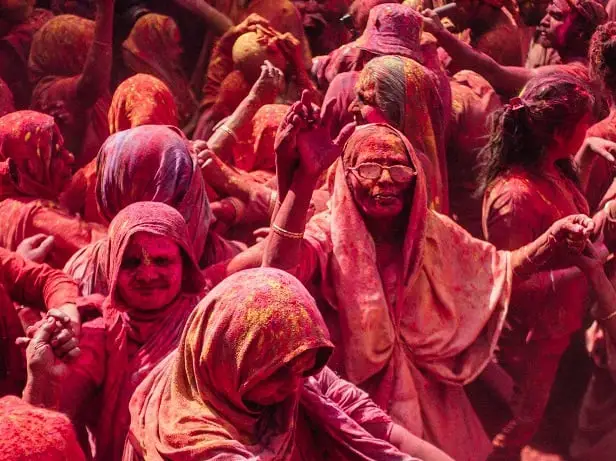 The most endearing Holi experience you can have in the world. For a very long time in India, the life of widows was something marred with neglect and misery.
They were often ostracized not only by the society but also by their families. These women used to spend life away from society in nearby ashrams without any hope of happiness or freedom.
Today, because of education and awareness about this social evil, things are a lot better. However, there are still a few such women left in ashrams, living a life without color.
One such ashram in Vrindavan, called Pagal Baba Ashram organizes Holi celebrations for these women. Holi is the time of the year where they can let go of all inhibitions and breakaway from stereotypes to enjoy Holi to their heart's content.
A request: If you're a photographer, this celebration will allow you to capture not only colors but also a plethora of emotions! However, please don't ask them to pose for you if they're not willingly doing it. These women have been listening to the society for quite a long time. So, don't force them to listen to a photographer's direction on their day of freedom. Instead, play Holi with them. Share their joy and merriment and the memories shall probably be the most heart-warming souvenir you take from Vrindavan.
Holi In Vrindavan: Banke Bihari Temple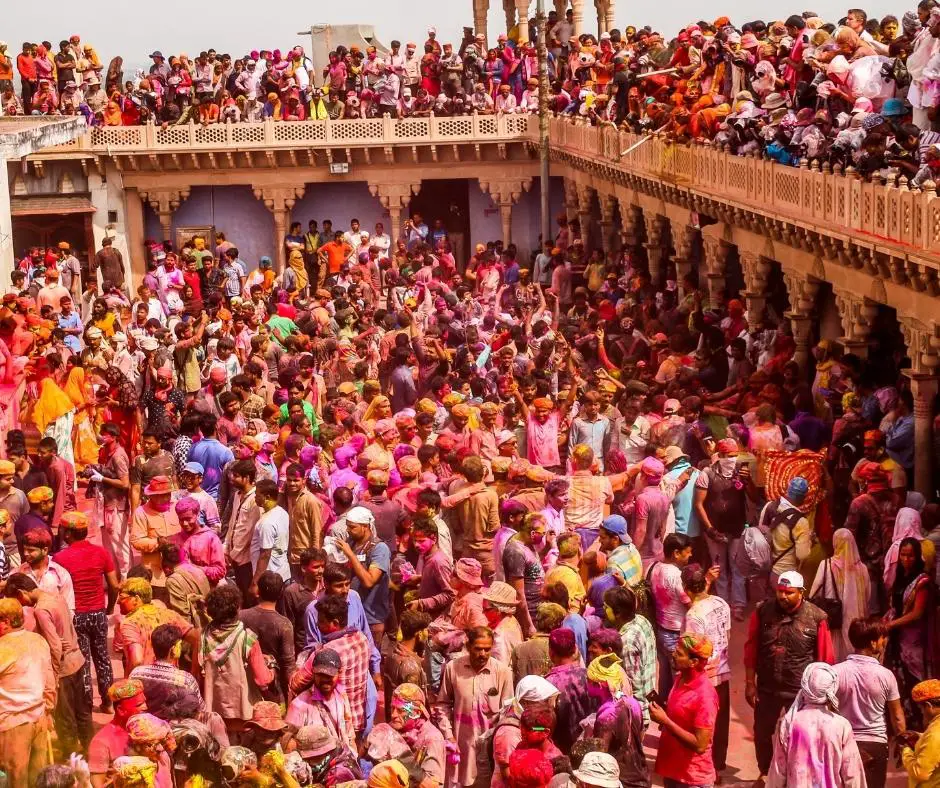 This is the grand event! The event that has made celebrating Holi in Vrindavan a spectacle not to be missed! The reason why you're reading this blog post. It takes place on the day before Holi inside as well as outside the Banke Bihari Temple.
The temple opens its gates to everyone who wishes to play Holi. Devotees, locals, tourists, the priests, everyone participates in the festivities.
The constant chanting of hymns inside the temple adds an energetic divinity to the atmosphere!
Outside the temple, the streets are full of people colouring each other with gulaal (powder colour), hugging, greeting, dancing to the constant beats of the dhols.
All this, irrespective of whether they know each other or not. The atmosphere is fully charged and the streets are completely packed. The experience is a little too awesome to describe it in words.
Caution: Because of the nature of celebrations, Holi can become an unpleasant affair especially for women. There have been complains of eve teasing and unwarranted behavior towards women during the celebrations. Please note, Holi in Vrindavan is pretty safe but such asocial elements are sadly pretty ubiquitous in events involving crowds like the Tomatina festival in Bunol and Sparties in Budapest. It's advisable for women to travel in groups with men who can shield them from over enthusiastic groups.
Holi in Mathura: Holi procession and Holika Dahan
The celebration in Banke Bihari Temple will get wrapped up by 1 PM. Post that, catch a rickshaw and head to Mathura for the grand procession.
The procession starts from the Vishram Ghat, with the deity in a rath, accompanied with a couple of cars and people playing Holi with colors.
We even witnessed little kids who dressed as Lord Krishna in the procession. Play Holi, dance with the locals, sing bhajjans and enjoy a Bhaang-Thandai, a popular drink consumed during Holi.
In the evening, an effigy of the demon queen, Holika, is burned to commemorate the Legend of Prahlaad. The effigy burning is a retelling of this legend where the demon queen was burnt alive and the pious child, Prahlaad, was saved from her murderous attempts.
Locals pray to the fire and believe that this fire shall burn away all their sins, problems and future hardships. It's a spectacle not to be missed.
A Few Practical tips for celebrating Holi in Vrindavan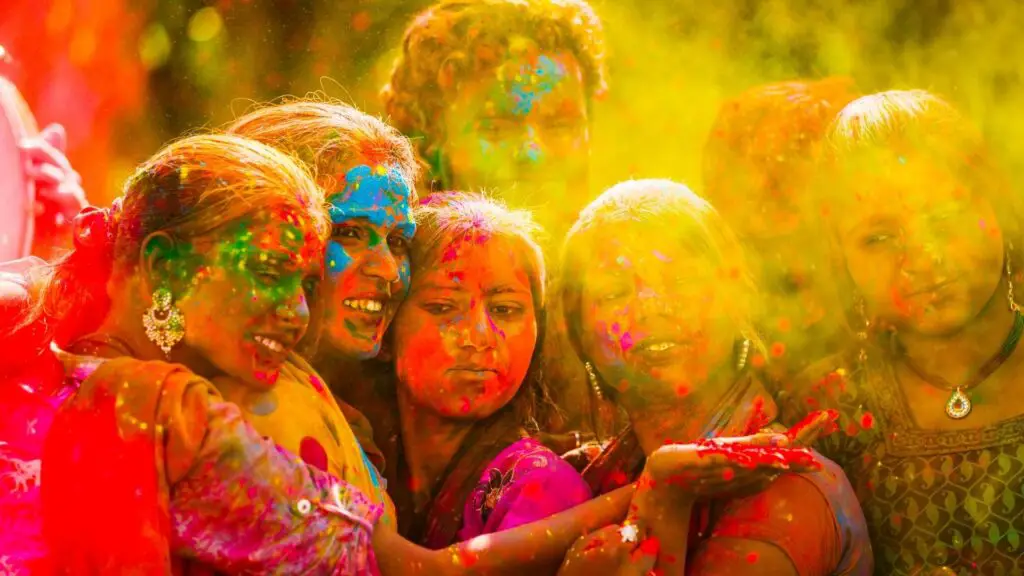 The festivities will be crazy! So be prepared to be splashed with colors, water, butter, laddoos and in some very rare cases, even cow-dung. You will soon be able to wash it away as water is constantly sprayed around on everyone.
The popular drink Bhaang is made with leaves of the cannabis plant and and might give you a high. Consuming small amounts is fine. If you have never tried it, you can consume some in your room to gauge its effect beforehand or avoid it all together.
Coating the exposed parts of your body with oil before participating in the celebrations is the best way to get rid of color later on. So, Coat your hair, face, beard, nails and toes. You will thank us for this.
For additional protection, cover your hair with a cap or a bandana. Buy a pair of cheap shades from a local shop to protect your eyes. Keep your regular Ray-Bans at the hotel as you might lose them or break them.
You will not be able to reuse the clothes that you wear during the celebrations. The color is a bit too hard to get off. The only way you can use these clothes again will be as souvenirs.
As explained above, female travelers should be accompanied by men who can shield them. During the celebrations, certain liberties are taken and consent is generally assumed if you are standing in the street. If you're a solo traveler, you can ask a group from your hotel or hostel to celebrate together.
It is very important to Holi-proof your smartphones and camera. We're talking about making them dust proof and water proof. Water and powder colours can really damage your equipment, so take adequate measures.
In a Nutshell!
Finally, above everything stated above, make sure you have the best of time. The festival encourages freedom, joy, merriment and romance.
Make the most of your trip for celebrating Holi in Vrindavan and tag us on Instagram @worldwidewander_org if this article helped you plan your trip. If you have any other questions, feel free to drop them in the comments below!