Welcome, wanderers, to the enchanting city of Granada! Nestled in the heart of Andalusia, this vibrant destination beckons travelers from around the world with its rich history, captivating architecture, and a culture that weaves together Moorish, Spanish, and gypsy influences. We spent 2 days in Granada while following our 14 days Spain Itinerary. Our immaculate planning was key to make the most of our time there. Hence, we've created this 2 Days Granada itinerary to help you experience the same.
Join us on this two-day adventure as we explore the hidden gems, iconic landmarks, and cultural delights that make Granada a must-visit destination for any traveler seeking an immersive experience.
In this Granada travel guide, we'll dive deep into the wonders of Granada, revealing the secrets of its most renowned attractions and uncovering hidden treasures that only the savviest explorers know. From the iconic Alhambra, a UNESCO World Heritage site that stands as a testament to centuries of Moorish rule, to the mesmerizing Generalife gardens, where fountains dance amidst lush greenery, every step in Granada reveals a story waiting to be told.
We'll meander through the narrow streets of the historic Albaicín neighborhood, where Moorish architecture blends with charming whitewashed houses, and the vibrant Sacromonte neighbourhood where flamenco rhythms echo through its intimate caves.
But Granada is not just about its awe-inspiring landmarks; it's a city that indulges all the senses. We'll delve into the culinary wonders of Granada, where the tradition of free tapas accompanies every drink, allowing you to savor a variety of flavors while immersing yourself in the local culture. From vibrant street markets offering fresh produce to cozy taverns serving authentic Andalusian delicacies, Granada will tantalize your taste buds with its gastronomic delights.
As we navigate the streets, we'll guide you to hidden corners and off-the-beaten-path gems like the picturesque Paseo de los Tristes, where you can take a leisurely stroll by the riverside and soak in the mesmerizing views of the Alhambra. We'll also unveil the natural wonders of Los Cahorros, where hiking trails lead you through breathtaking landscapes, waterfalls, and hanging bridges.
So, fellow adventurers, get ready to embark on a thrilling journey through Granada, a city that seamlessly blends its rich history with a modern spirit. Whether you're captivated by the architectural marvels, seduced by the flamenco rhythms, or simply seeking to immerse yourself in a vibrant and welcoming culture, Granada will leave an indelible mark on your wanderlust-filled heart.
Let's set forth on this two-day adventure and discover the magic of Granada together. But first, here are answers to some of the questions you might have about planning your Granada itinerary.
How Many Days in Granada?
We recommend spending at least 2 full days in Granada to truly immerse yourself in its rich history, culture, and attractions. With 2 days, you'll have ample time to explore the iconic Alhambra, wander through the charming streets of the Sacromonte neighborhood, savor the flavors of tapas, and even venture to nearby natural wonders like Los Cahorros.
Where to Stay in Granada?
When it comes to choosing where to stay in Granada, you'll be spoiled for choice with the variety of accommodations available. The city offers a range of options to suit different preferences, from charming boutique hotels to budget-friendly hostels and comfortable vacation rentals. Here are a few areas to consider when deciding where to base yourself during your visit:
Albaicín: This historic neighborhood is known for its narrow, winding streets, traditional whitewashed houses, and stunning views of the Alhambra. Staying in Albaicín immerses you in Granada's rich Moorish heritage and provides easy access to the Alhambra, the Paseo de los Tristes, and the vibrant Sacromonte neighborhood.
Centro: The city center is a popular choice for those who want to be in the heart of the action. Here, you'll find a wide range of accommodations, from luxury hotels to budget-friendly options. Staying in the Centro area puts you within walking distance of the Granada Cathedral, the Royal Chapel, and the bustling streets filled with shops, restaurants, and entertainment venues.
Realejo: Located next to the Alhambra, the Realejo neighborhood offers a mix of history, charm, and a vibrant atmosphere. It's a great choice if you want to be close to the Alhambra and enjoy the lively ambiance of the city's streets. You'll also find plenty of tapas bars, boutique shops, and cultural attractions in the area.
Ronda District: Situated just a short walk from the city center, the Ronda district is a quieter residential area that provides a more relaxed atmosphere. It's an ideal option if you prefer a peaceful environment while still being within easy reach of the main attractions. The Ronda district also offers beautiful views of the city and the Sierra Nevada mountains.
Alhambra Hill: For a truly unique experience, consider staying near the Alhambra itself. There are a few hotels located on the hill, offering stunning views and convenient access to the palace and its gardens. Keep in mind that these accommodations can be more expensive due to their prime location.
When choosing your accommodation, consider factors such as your budget, preferred amenities, proximity to attractions, and the overall atmosphere you're seeking. It's also advisable to book in advance, especially during peak tourist seasons, to secure the best options.
Remember, wherever you choose to stay in Granada, you'll be surrounded by the city's rich history, enchanting architecture, and vibrant culture. Each neighborhood has its own unique charm, so take your time to find the perfect accommodation that suits your travel style and enhances your experience in this captivating city.
How to Reach the Alhambara?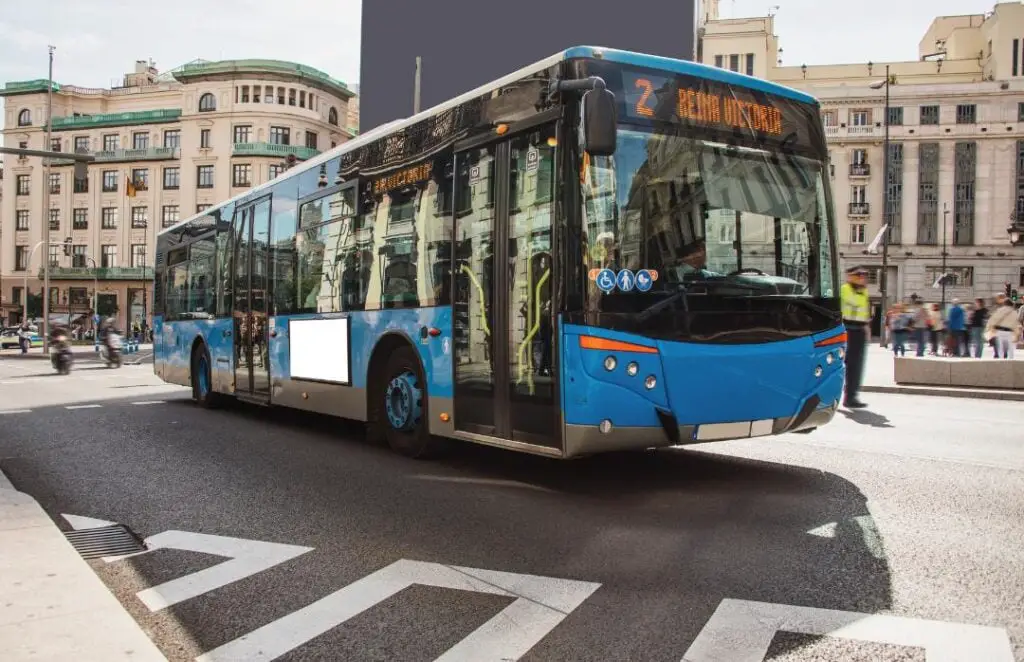 Reaching the Alhambra is an exciting part of your journey in Granada! The Alhambra is perched on a hill, offering breathtaking views of the city and the Sierra Nevada mountains. Here's how you can reach this magnificent UNESCO World Heritage site:
On foot: If you're staying in the city center or nearby neighborhoods like Albaicín or Realejo, you can reach the Alhambra on foot. It's a pleasant and scenic walk, but be prepared for some uphill sections. Follow the signs directing you to the Alhambra, and you'll find pedestrian-friendly routes that will lead you there. This option allows you to take in the charm of Granada's streets and enjoy the beautiful surroundings.
By bus: Granada has a well-connected public bus system that can take you to the Alhambra. Look for bus lines C30 or C32, which specifically serve the Alhambra. These buses depart from various points in the city center, including the Gran Vía de Colón and Plaza Isabel la Católica. The bus ride itself provides a convenient and comfortable way to reach the Alhambra, and it saves you from the uphill walk if you prefer.
By taxi: Taxis are readily available throughout Granada, and they can take you directly to the Alhambra. You can either hail a taxi on the street or find one at designated taxi stands. Inform the driver that you want to go to the Alhambra, and they will take you to the entrance. Taxis provide a convenient and time-saving option, especially if you're traveling with luggage or prefer door-to-door transportation.
By car: If you have a rental car or prefer to drive, you can reach the Alhambra by following the signs and directions provided. Keep in mind that parking near the Alhambra can be limited, especially during busy periods. There is a parking area called Parking 1 at the Alhambra, but it's recommended to arrive early to secure a spot. Another option is to park in the city center and take a bus or taxi to the Alhambra to avoid parking challenges.
Is there Free Tapas in Granada?
Yes, indeed! Granada is famous for its tradition of serving free tapas with every drink you order at many bars and restaurants. It's a delightful culinary custom that allows you to enjoy a variety of delicious bites while socializing and immersing yourself in the local culture.
The concept of free tapas originated in Granada and has become a beloved tradition throughout the city. When you order a drink, whether it's a glass of wine, a beer, or a soft drink, you'll often receive a complimentary tapa to accompany it. The tapas can range from simple bites like olives, almonds, or potato chips, to more substantial offerings like fried fish, grilled vegetables, or traditional Spanish dishes.
The beauty of free tapas in Granada is that they're not pre-selected or limited to a specific menu. The tapas you receive can vary depending on the establishment, the time of day, and even the bartender's creativity. It's a delightful surprise that adds an element of adventure to your culinary experience.
To enjoy the free tapas culture in Granada, simply find a local bar or restaurant and order a drink. Keep in mind that the custom of free tapas is more prevalent during lunchtime and in the early evening. Some establishments offer a larger selection of tapas during certain times of the day, while others may have a set menu of tapas to choose from.
Exploring the narrow streets of Granada's city center, especially in areas like Calle Navas and Plaza Nueva, will lead you to a plethora of bars and restaurants where you can indulge in the free tapas tradition.
So, when you visit Granada, be sure to embrace the tradition of free tapas and savor the delectable flavors that accompany your drinks. It's a unique and enjoyable experience that adds an extra layer of enjoyment to your culinary adventures in this enchanting city.
Day 1 of 2 Days in Granada
A major part of Day 1 of your 2 days in Granada shall go in exploring the majestic fortress that towers over the city, Alhambara. Hence, it's obvious to plan the rest of your Granada itinerary for the day around it. Here's how we made the most of our visit.
Granada Itinerary Stop No. 1: Alhambara
When you visit the Alhambra, make sure to plan ahead and book your tickets in advance. It's an incredibly popular site, and tickets can sell out quickly, especially during peak tourist seasons. You can purchase your skip-the-line tickets online here.
Once you're inside the Alhambra, prepare to be amazed by its beauty. The complex is divided into several sections, each with its own unique features. The Nasrid Palaces are the highlight of the Alhambra, showcasing intricate carvings, stunning tilework, and tranquil courtyards. Take your time to explore the different rooms, including the famous Court of the Lions, and admire the exquisite architectural details.
After visiting the Nasrid Palaces, take note of the Alcazaba, the fortress portion of the complex. Climb to the top of the towers for panoramic views of Granada and the surrounding Sierra Nevada mountains. You'll get a sense of the strategic importance of the Alhambra and its role in history.
To make the most of your visit, book a highly rated guided tour like this one. The guide can provide you with detailed information and stories about the Alhambra's rich history. They can help you uncover hidden gems and provide insights that will enhance your experience.
Remember to wear comfortable shoes, as there will be a fair amount of walking involved. It's also a good idea to bring a hat, sunscreen, and a water bottle, especially during the warmer months, as the Andalusian sun can be quite intense.
Lastly, keep in mind that the Alhambra is a UNESCO World Heritage site, and it's important to respect the rules and regulations in place to preserve its beauty. Avoid touching the delicate decorations and be mindful of other visitors who are also exploring this remarkable place.
The Alhambra is a true masterpiece that offers a glimpse into Spain's vibrant past. With its stunning architecture, captivating gardens, and breathtaking views, it's no wonder why it's one of the most visited attractions in the country. Make sure to allocate enough time to fully immerse yourself in the wonders of the Alhambra during your two days in Granada.
While exploring the Alhambara, you'll come across the Generalife Gardens. These lush and serene gardens were designed as a place of leisure and relaxation for the Moorish rulers. We loved the Generalife Gardens so much, we think that it deserves section of its own. Read on.
Granada Itinerary Stop No. 2: Generalife
Ah, the Generalife Gardens! They are a true oasis of tranquility within the magnificent Alhambra complex in Granada. These gardens were designed as a place of leisure and beauty for the Moorish rulers, and they continue to captivate visitors with their enchanting atmosphere.
When you enter the Generalife Gardens, you'll be greeted by a symphony of colors and fragrances. Take a moment to breathe in the scents of the aromatic plants and flowers that adorn the pathways. The gardens are meticulously maintained, showcasing lush greenery, vibrant blooms, and exquisite water features.
As you wander through the Generalife, you'll come across a series of terraces, courtyards, and pavilions. The layout is designed to create a sense of harmony between the natural surroundings and the man-made structures. You'll find beautiful fountains, cascading water channels, and serene pools that reflect the beauty of the gardens.
One of the highlights of the Generalife Gardens is the famous Patio de la Acequia. This stunning courtyard features long pools flanked by flower beds and shaded walkways. The sound of trickling water and the refreshing breeze make it an ideal spot to relax and take in the peaceful ambiance.
Don't miss the chance to climb up to the Mirador de la Sultana, a viewpoint that offers breath-taking vistas of the Alhambra and the city of Granada. From here, you can admire the intricate architecture of the palace complex and the surrounding landscape. It's a truly magical experience that allows you to appreciate the grandeur of the Alhambra from a different perspective.
As you explore the Generalife Gardens, take your time to sit on the benches scattered throughout. Find a quiet spot to soak up the serenity and enjoy the beauty that surrounds you. Whether you're a nature lover, an architecture enthusiast, or simply seeking a moment of tranquility, the Generalife Gardens will leave you spellbound.
Do not under-estimate the size of the Alhabara and Generalife gardens. You can expect to spend close to 6 hours to see it all. Guided tours like this one last for 3 hours, following which you can explore the complex on your own and click some great pictures. Remember to bring a camera to capture the enchanting moments and vistas. Your Instagram game will enhance multi-fold.
Granada Itinerary Stop No. 3: Hammam Al Andalus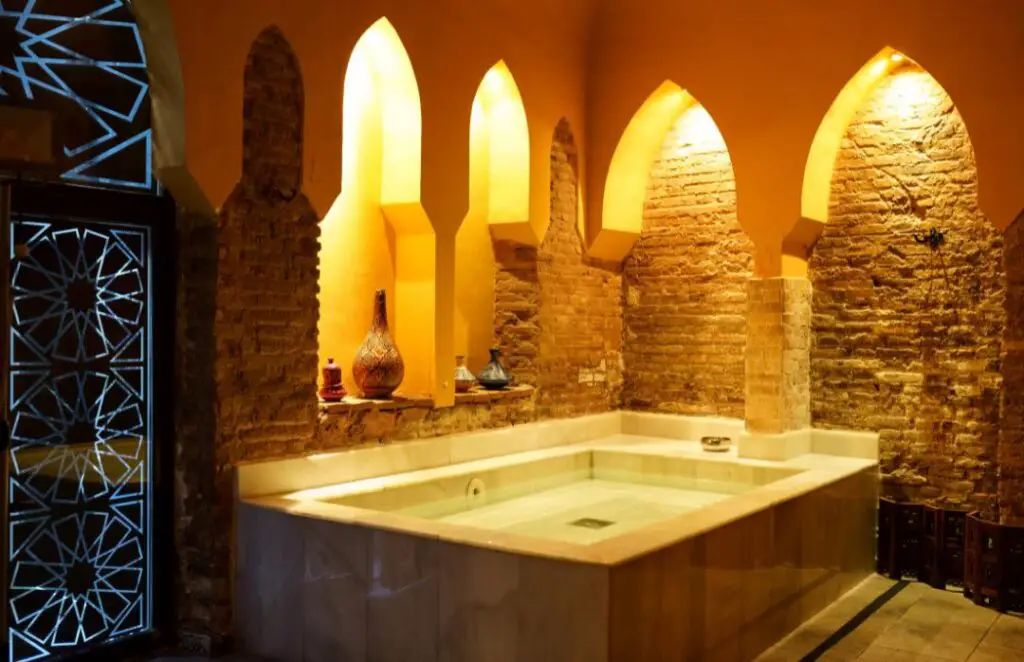 After all that walking and climbing while exploring the Alhambara, you absolutely deserve a little pampering. And what better way to do it than a traditional Arab bath-house. Step into a world of serenity and indulge in the ancient rituals of cleansing and rejuvenation.
The Hammam Al Ándalus offers a luxurious spa experience inspired by the centuries-old tradition of hammams in Al-Andalus. And what's more, it's located right at the foot of the Alhambara!
As you enter this tranquil oasis, you'll be greeted by a soothing ambiance, dim lighting, and the gentle sound of water flowing. Your journey at the hammam begins with a warm welcome and a cup of refreshing tea. You'll be provided with a towel, a robe, and slippers, allowing you to fully immerse yourself in the experience. The bathhouse is divided into different thermal baths, each with a unique temperature and atmosphere.
Start your relaxation ritual in the warm bath, where the water's gentle warmth will help you unwind and prepare your body for the cleansing process. From there, move on to the hot bath, where you can let the heat melt away any tension in your muscles from a day full of walking. Take your time and allow the steam to envelop you, promoting detoxification and a sense of deep relaxation.
Afterward, cool off in the cold bath or the refreshing plunge pool, a revitalizing experience that invigorates the body and tightens the pores. This contrast in temperatures is an essential part of the hammam ritual and contributes to its overall health benefits.
Once you've completed the thermal circuit, indulge in the ultimate pampering session: a massage. Skilled therapists at the Hammam Al Ándalus will help release any remaining stress or tension, using traditional techniques to relax your muscles and soothe your mind. The aromatic oils and gentle strokes will transport you to a state of pure bliss.
Throughout your hammam experience, take breaks in the relaxation areas, adorned with beautiful mosaic tiles and comfortable seating. Sip on some infused water or tea and allow yourself to fully absorb the tranquillity of the surroundings.
To ensure a seamless experience, it's recommended to make a reservation in advance here, as the Hammam Al Ándalus has limited slots for the day. Consider choosing one of their packages, which often include a longer bathing time, a massage, and additional amenities.
Once you book your Hammam experience here, you'll be given instructions to familiarize yourself with their policies and any specific guidelines you need to follow. Remember to bring your swimwear and any additional personal items you may need.
The Hammam Al Ándalus offers a blissful retreat where you can unwind, rejuvenate your body, and immerse yourself in the rich bathing traditions of Al-Andalus. It's an experience that combines history, wellness, and tranquillity, making it a memorable addition to your 2 day itinerary in Granada.
Granada Itinerary Stop No. 4: Paseo De Los Tristes
After relaxing in the hammam, take a stroll across the adjacent Paseo De Los Tristes during golden hour. Prepare to be enchanted by this charming and picturesque promenade located in the heart of Granada. Its name, which translates to "Walk of the Sad," may sound melancholic, but don't let it deceive you. The Paseo de los Tristes is a vibrant and lively place that offers a unique blend of history, culture, and breathtaking views.
Situated at the foot of the Alhambra, the Paseo de los Tristes is a delightful riverside walkway that meanders along the Darro River. The cobblestone pathway is lined with traditional white-washed houses, quaint cafés, and inviting terraces. It's the perfect place to take a leisurely stroll and soak in the captivating atmosphere of Granada.
As you wander along the Paseo de los Tristes, you'll be treated to stunning views of the Alhambra, with its majestic palaces and fortified walls towering above. The sight is especially magical during sunset when the warm hues of the setting sun bathe the Alhambra in a golden glow. It's a moment you won't want to miss, so be sure to have your camera ready to capture the beauty.
The promenade is also known for its lively ambiance, with street performers, artisans, and musicians adding a touch of entertainment to the surroundings. You might encounter flamenco guitarists strumming their instruments, artists displaying their vibrant paintings, or even a talented dancer captivating passersby with their moves. Embrace the festive atmosphere and let yourself be carried away by the energy of the Paseo de los Tristes.
If you're in the mood for a bite to eat or a refreshing drink, you'll find plenty of charming cafés and restaurants along the way. Take a seat on one of the inviting terraces and indulge in delicious tapas, traditional Andalusian dishes, or a refreshing glass of sangria. The combination of good food, stunning views, and a vibrant atmosphere creates an unforgettable dining experience.
Whether you're looking for a peaceful riverside walk, a place to enjoy a delightful meal, or a starting point for further exploration, the Paseo de los Tristes is the ideal destination in Granada. Immerse yourself in the rich history, cultural vibrancy, and captivating views that make this promenade a true gem. It's a place where you can create beautiful memories and experience the essence of Granada's charm.
Day 2 of 2 Days in Granada
Day 2 of your Granada itinerary involves a bunch of things to do in Granada instead of things to see in Granada. It involves a small hiking trip in the morning, a visit to the much revered Granada Cathedral and enjoying the nightlife of Granada in the cave bars of the Sacremonte neighborhood. Let's get into the details.
Granada Itinerary Day 2 Stop No. 1: Los Cahorros
Start your day early and prepare yourself for an exhilarating adventure in nature when you visit this stunning natural area located near Granada. Los Cahorros is a haven for outdoor enthusiasts, offering breathtaking landscapes, thrilling hiking trails, and unforgettable experiences.
The main highlight of Los Cahorros is its breathtaking gorge, carved by the Monachil River over thousands of years. The rugged terrain, towering cliffs, and crystal-clear waters create a dramatic backdrop for your outdoor escapades. The area is renowned for its hanging bridges that sway above the rushing river, providing a thrilling crossing and fantastic photo opportunities.
We booked this tour in advance and that saved us a lot of hassle including transportation, not missing out on the best trails and viewpoints or wasting time in finding the best spots. This tour saves you a lot of time and is very reasonably priced for the value it offers. Here's a little overview of what you can expect.
To begin your adventure in Los Cahorros, start by following the well-marked hiking trail that takes you through the gorge. As you hike, you'll encounter stunning natural features, such as narrow passages, natural rock formations, and dense vegetation. Keep an eye out for the abundant wildlife that calls this place home, including birds, lizards, and maybe even a glimpse of an ibex.
One of the highlights of the hike is crossing the hanging bridges. These suspended structures offer a unique and adrenaline-pumping experience as you navigate your way across the gorge. The views from the bridges are simply awe-inspiring, allowing you to admire the rugged beauty of the surroundings.
As you continue along the trail, you'll come across picturesque waterfalls and tranquil pools. During the warmer months, many visitors enjoy taking a refreshing dip in the crystal-clear waters. It's a wonderful way to cool off and connect with nature in a truly immersive way.
The hike through Los Cahorros is of moderate difficulty, so it's important to wear sturdy footwear and be prepared with plenty of water and snacks. Additionally, be cautious when crossing the bridges and navigating the sometimes-uneven terrain.
If you're seeking an extra thrill, consider trying your hand at rock climbing. Los Cahorros offers fantastic opportunities for climbers of various skill levels. The vertical walls and crags provide a challenging and rewarding experience, and the breathtaking views from the top are truly worth the effort. This tour offers a combined package of hiking and rock-climbing! You shallclimb the Monachil and rappel down a 15 meter waterfall!
For those who prefer a more relaxed experience, there are several picnic areas along the trail where you can sit back, relax, and savor a delicious meal while surrounded by nature's beauty. It's the perfect opportunity to soak in the peaceful atmosphere and enjoy the company of friends and loved ones.
Remember to respect the natural environment and follow Leave No Trace principles by taking your garbage with you and leaving everything as you found it. This ensures that future visitors can enjoy the pristine beauty of Los Cahorros.
To make the most of your visit to Los Cahorros, it's advisable to allocate several hours for the hike and exploration. The trail is approximately 8 kilometers long, so plan accordingly to ensure you have enough time to fully immerse yourself in the stunning surroundings. Our small group tour of 8 people, took about 4 hours and it was the perfect way to spend our morning on day 2 of our Granada itinerary.
Granada Itinerary Day 2 Stop No. 2: Granada Cathedral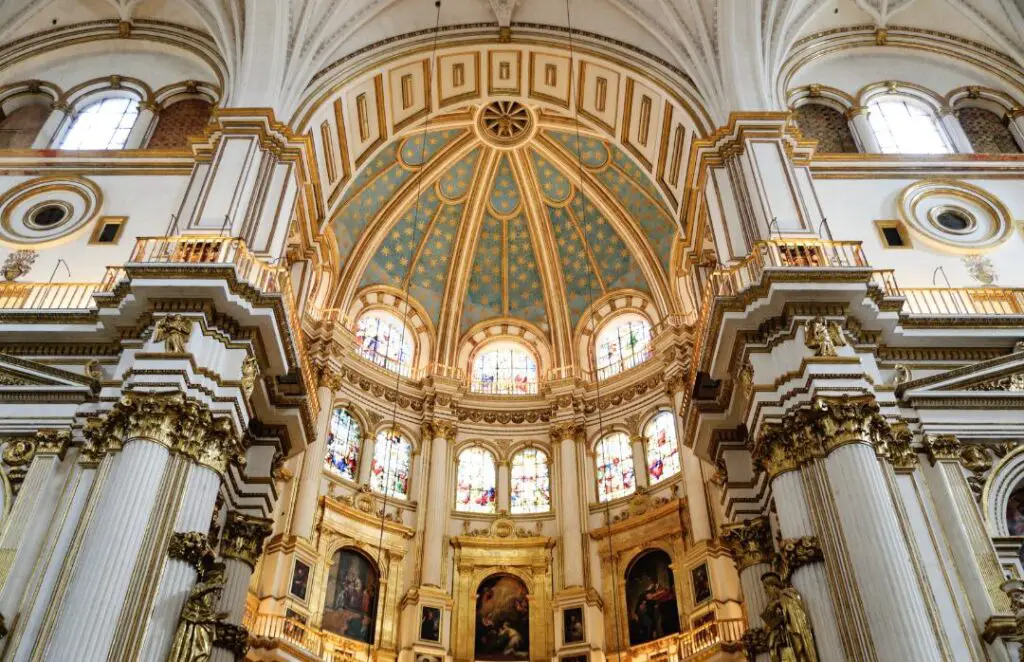 After an active morning, go for an easy viewing stroll at the majestic Granada Cathedral. Prepare to be amazed by the grandeur and beauty of this architectural masterpiece located in the heart of Granada. The cathedral, officially known as the Cathedral of the Incarnation, is a must-visit attraction of Grananda that showcases exquisite craftsmanship and a rich history.
When you approach the Granada Cathedral, you'll be greeted by its imposing presence and intricate façade. The construction of this impressive structure began in the 16th century and took over 180 years to complete. Its design seamlessly blends Gothic and Renaissance styles, resulting in a unique and captivating architectural gem.
As you step inside, you'll be greeted by a vast interior adorned with soaring vaulted ceilings, ornate chapels, and stunning works of art. The sheer scale of the cathedral is awe-inspiring, and it's easy to get lost in its grandeur. Take a moment to admire the intricate details of the altarpieces, the beautiful stained glass windows, and the meticulously carved wooden choir stalls.
One of the highlights of the Granada Cathedral is the Royal Chapel, which houses the tombs of the Catholic Monarchs, Queen Isabella I of Castile and King Ferdinand II of Aragon. The chapel is a true testament to the power and influence of these monarchs and their role in shaping the history of Spain.
Climb the tower of the cathedral for a panoramic view of Granada's cityscape. From the top, you'll be rewarded with breathtaking vistas that stretch across the city and offer a unique perspective on the Alhambra and the surrounding Sierra Nevada mountains. It's a truly magical experience that shouldn't be missed.
To enhance your visit, consider buying a ticket with an audio guide or joining a guided tour like this one. These resources will provide you with detailed information about the cathedral's history, architecture, and the significance of its religious artworks. They often reveal fascinating stories and anecdotes that bring the cathedral to life.
When planning your visit, be sure to check the opening hours of the Granada Cathedral, as they may vary depending on the time of year and any ongoing events or religious services. It's also advisable to dress modestly, as the cathedral is a place of worship.
The Granada Cathedral stands as a testament to the city's rich history and architectural brilliance. With its intricate design, stunning artworks, and panoramic views, it's an absolute must-visit during your two-day adventure in Granada. Immerse yourself in the splendour of this magnificent cathedral and let its beauty leave a lasting impression on your Granada trip.
Granada Itinerary Day 2 Stop No. 3: Flamingo in Sacremonte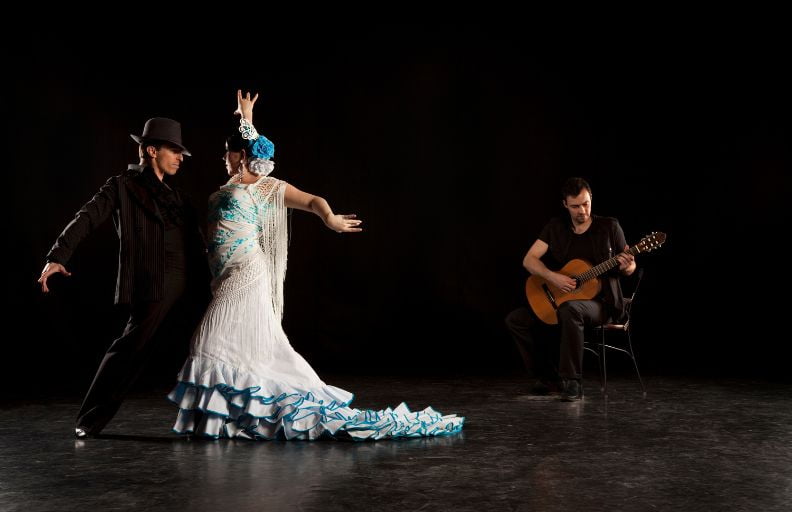 The Sacromonte neighborhood and its vibrant flamenco shows! Prepare yourself for an evening filled with passion, rhythm, and the soul-stirring artistry of flamenco. Sacromonte is the heart of flamenco culture in Granada, and it offers a truly immersive experience that will leave you enchanted.
Located on the hillsides overlooking the Alhambra, Sacromonte is known for its cave dwellings, which have been transformed into intimate flamenco venues. These caves provide an authentic and intimate setting for experiencing the raw emotion and expressive movements of flamenco performances.
To fully appreciate the essence of Sacromonte and flamenco, we recommend starting your evening with a stroll through the neighborhood. As you wander the narrow, winding streets, you'll encounter whitewashed cave houses and colorful flower-filled patios. Take in the bohemian atmosphere and the rich cultural heritage that permeates the area.
When it comes to flamenco shows, you'll find a variety of venues in Sacromonte, ranging from small, family-run caves to larger, more renowned establishments. Each venue offers a unique interpretation of flamenco, showcasing the talents of talented dancers, passionate singers, and skilled guitarists.
To ensure you have a memorable experience, it's advisable to book your flamenco show in advance, especially during peak tourist seasons. Many venues offer different showtimes, so you can choose the one that best suits your schedule. Some shows even include dinner, allowing you to savor delicious local cuisine while being serenaded by the rhythms of flamenco.
We loved this show and recommend it to all our friends that are planning a visit to Granada. If you don't book a show in advance, you'll have to visit shows that offer walk-ins and they're generally not as good compared to shows like this that get sold out quickly!
During the performance, prepare to be captivated by the intense footwork, intricate hand movements, and heartfelt vocals. The fusion of music, dance, and singing will transport you to the very soul of Andalusian culture. The energy and emotion emanating from the performers will envelop you, creating an unforgettable connection with this passionate art form.
After the show, take a moment to express your appreciation to the artists. Many venues allow you to meet the performers and gain insights into their craft. It's a wonderful opportunity to learn more about the history and traditions of flamenco directly from the passionate individuals who keep this art form alive.
The Sacromonte neighborhood and its mesmerizing flamenco shows offer a unique and immersive cultural experience. Allow yourself to be swept away by the passion, rhythm, and artistry that define flamenco, and embrace the spirit of Andalusia as you delve into the heart of this captivating neighborhood. It's an enchanting way to end the evening of the last day during your 2 days Granada itinerary.
In a Nutshell
As we come to the end of our 2 days in Granada, we hope that this itinerary has provided you with a roadmap to uncovering the magic of this captivating city. From the awe-inspiring Alhambra to the charming streets of Paseo De Los Tristes , Granada offers a blend of history, culture, and natural beauty that will leave you spellbound.
By following our Grananda itinerary, you've experienced the grandeur of the Alhambra, wandered through the labyrinthine streets of the Albaicín, witnessed the passion of flamenco in Sacromonte, and savored the delightful tradition of free tapas. You've explored the hidden corners of Granada, from the scenic Paseo de los Tristes to the natural wonders of Los Cahorros.
But remember, this Granada itinerary is just a starting point. Granada is a city that invites you to wander, discover, and create your own memorable moments. Take the time to get lost in its streets, interact with the locals, and stumble upon hidden gems that may not be on any map.
Whether you're a history enthusiast, a food lover, or an avid adventurer, Granada offers something for every traveler. Its unique blend of Moorish and Spanish influences, coupled with a vibrant and welcoming atmosphere, sets the stage for an unforgettable experience.
As you bid farewell to Granada, carry with you the memories of the Alhambra's intricate beauty, the echoes of flamenco in your heart, and the taste of tapas lingering on your palate. Remember the breathtaking views, the warmth of the locals, and the sense of wonder that permeates every corner of this remarkable city.
We hope this 2 day Granada itinerary has inspired you to embark on your own journey of discovery. As you continue to explore the world, may your wanderlust lead you to many more remarkable destinations, but always remember the magic of Granada, a city that will forever hold a special place in your travel memories.
Safe travels, adventurers, and may your wanderings continue to ignite your spirit of exploration. Granada awaits, ready to captivate the hearts of all who venture within its walls.